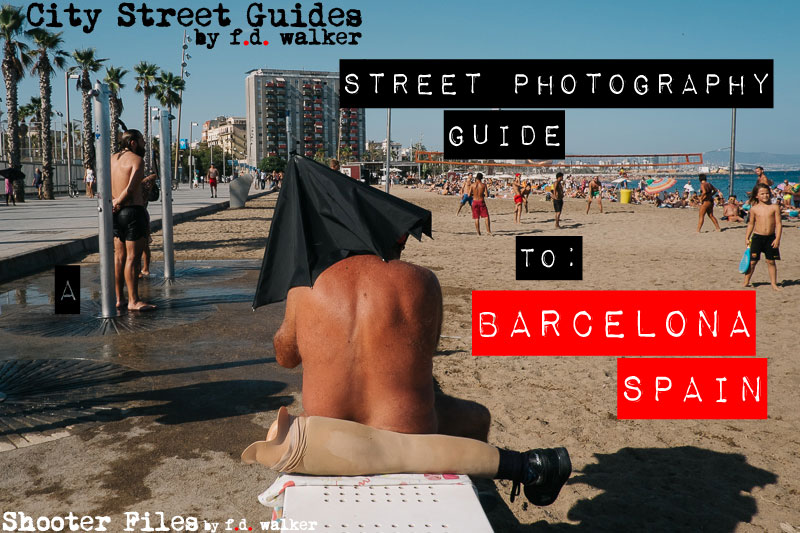 *A series of guides on shooting Street Photography in cities around the world. Find the best spots to shoot, things to capture, street walks, street tips, safety concerns, and more for cities around the world. I have personally researched, explored and shot Street Photography in every city that I create a guide for. So you can be ready to capture the streets as soon as you step outside with your camera!
Barcelona
Overview:
Barcelona's appeal attracts a variety of interests. People come for the beach and sun, the gothic and Gaudi architecture, the rich culture and art scene, the party until sunrise nightlife, and all the vibrance of the largest metropolis on the Mediterranean Sea. With so much to attract visitors, Barcelona has changed over the years with all the tourism. For some, it's not the city it used to be, but for most, it still has plenty deserving of being a top visited city in Europe. And that includes street photography.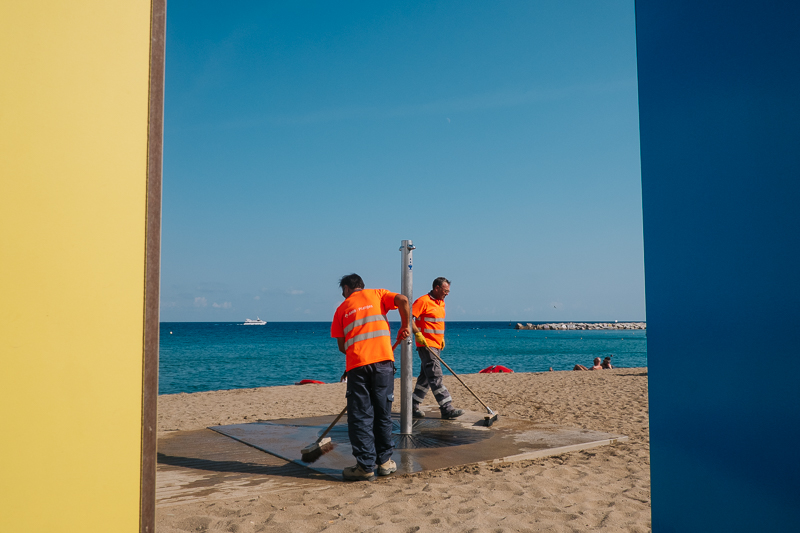 So here's a Street Photography guide so you can be ready to capture all that Barcelona has to offer before you even arrive!
Map:
Barceloneta Beach
La Rambla/La Boqueria
Bari Gotic
Plaça de Catalunya
Arc de Triomf
La Sagrada Familia / Plaça de les Glòries Catalanes
Top 5 Street Spots:
1. Barceloneta Beach
Barceloneta Beach is one of the most popular spots in Barcelona. Once the city's traditional fishing districts, today it fills with tourists and locals coming to enjoy the sun, beach, restaurants and bars. On one side you have the old harbor, Port Vell, and on the other side you have a long stretch of sandy beach and boardwalk.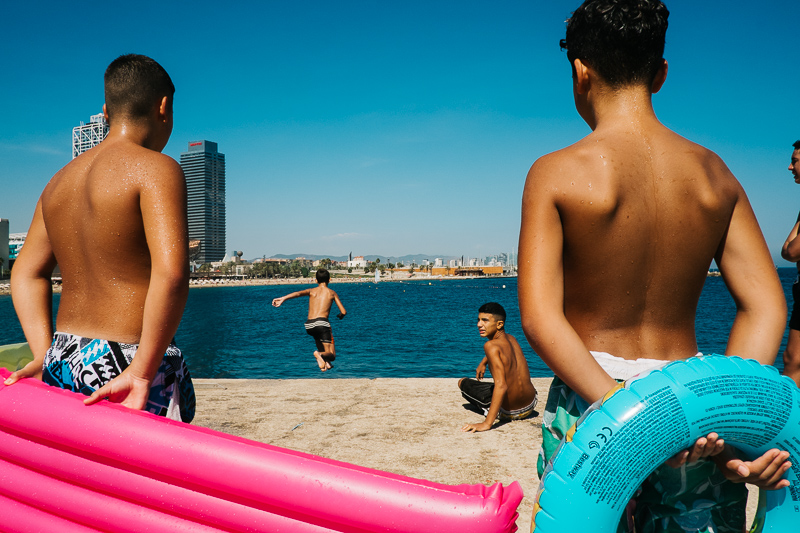 I enjoy big city beach life for candid photography and Barcelona has some of the best around. It provides a different setting within the city, it's open and full of light, and you usually get a mix of characters in an atmosphere where they relax and let go compared to the city streets.
Barcelona already has a free vibe, but it's even more so at Barceloneta beach. Here, you have even a wider mix of characters than most city beaches. You have your tourists, shops and food stands, but you also have plenty of locals. From old to young, nudists next to families, everyone comes here for sunbathing, beach games, water sports, relaxing, sipping drinks at a beach bar, or just for a stroll along the boardwalk. And when you're done with the beach, there's a nice little neighborhood to explore here too that gives a laid-back atmosphere.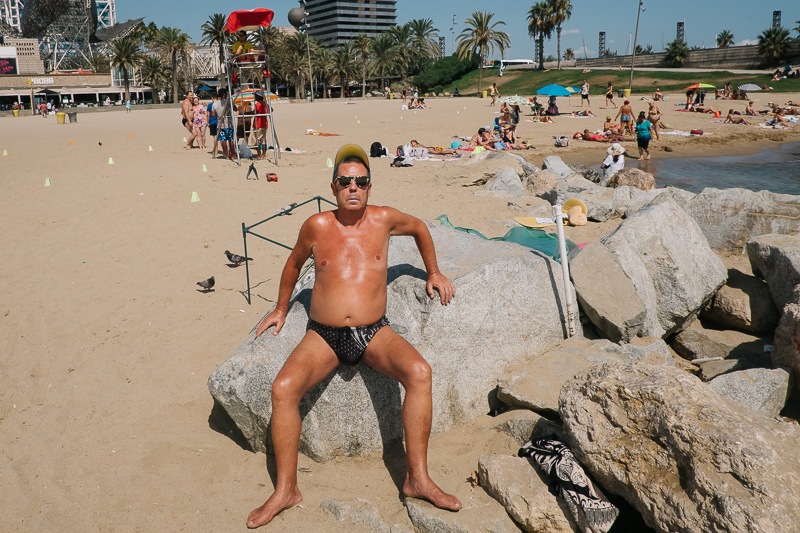 One spot I especially like is around the beach gym. In addition to all the people working out here from day to night, the surrounding area provides a mix of activity. The beach goes on for a while too, with a long walkway next to the sand. Exploring some of the nearby streets past the beach shops can provide some more good street photography too, with clothes hang drying by windows on old low-rise homes. Barceloneta goes active from sun up through the night so you can come here anytime.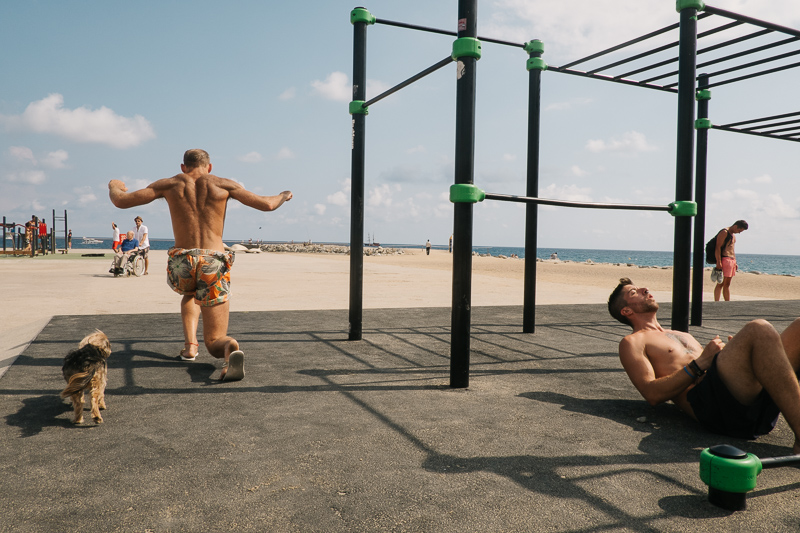 2. La Rambla/La Boqueria
La Rambla is the most popular pedestrian street in the city, and one of the most crowded you'll find anywhere. Personally, it's not my favorite, but it needs to be included. A pedestrian street doesn't get much more famous than this one. The wide, 1.2km long pedestrian boulevard lined with trees and gothic buildings provides an impressive setting. And people pack that setting as much as possible the whole length.
With all the crammed people moving in every direction among the souvenir stalls, florists, newsstands, and street performers, it gets really messy here. For many, it still would make a top spot for street photography, but for me it's just gotten too commercialized and crowded for anything authentic. Still, you have to come check it out for yourself if you're in Barcelona. I'll admit, the people watching is great so maybe you'll enjoy its photographic opportunities more than me (most likely).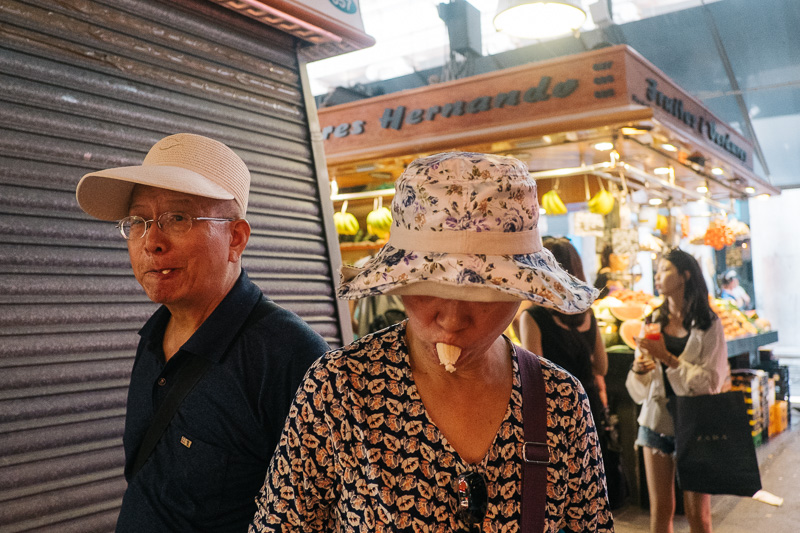 La Boqueria market is also located on this street, which is another very famous crowded tourist spot, but worth checking out. It's a colorful inside market selling everything from fish to fruit, making one of the top attractions in the city.
3. Bari Gotic
While La Rambla doesn't get a strong recommendation from me for street photography, the surrounding Gothic Quarter can be good. Once a Roman village and later becoming the Gothic quarter during the middle ages, today there's a mix of the old and new. While touristy, all the remnants from the past still make exploring the labyrinth of streets a back in time experience.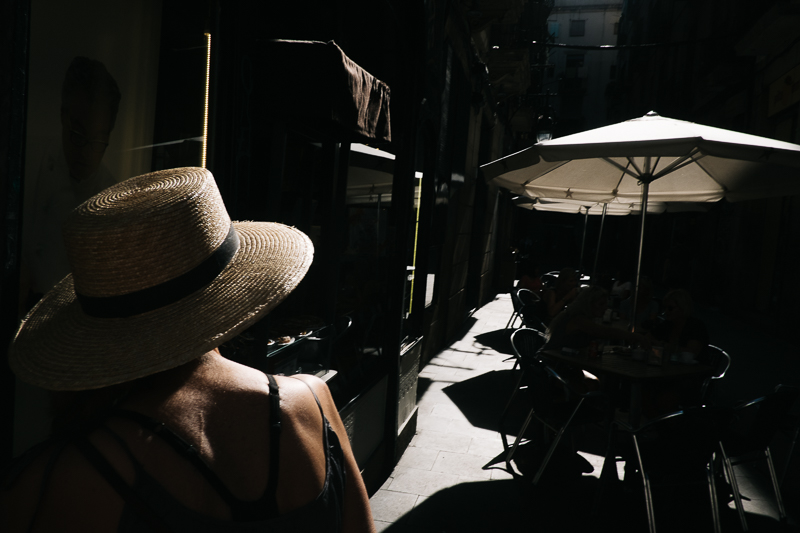 The cathedral and Plaça Reial attract the most tourism and activity, but if you explore enough, you can find some quieter streets and squares too. The best part of the Gothic Quarter are the endless little streets and alleys you can get lost in. You can come back many times without going the same route and you'll probably find something new each time. With the older architecture and narrow alleys, there can be good opportunities for catching some interesting light and shadows too.
4. Plaça de Catalunya (Catalonia Square)
Catalonia Square is the busiest square in the city. Located right in the city center, it's also where the start of La Rambla and Barri Gòtic meet. Many other busy streets all meet here too, so you get all kinds of foot traffic coming together at this large square/junction. It's a crowded mix of tourists, locals, and pigeons. There's really never a time where this place isn't busy, and that includes the night. It's in the middle of it all.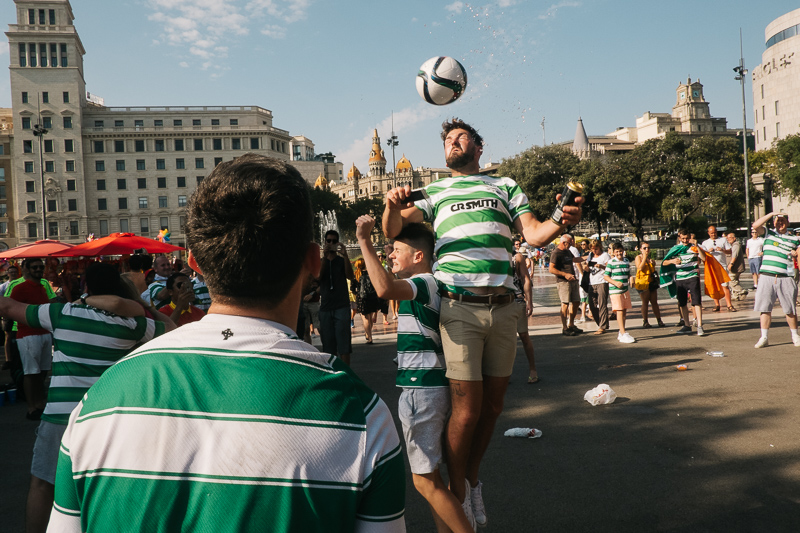 The 50,000 square meters also has a mix of fountains, statues and benches. Many of the city's events are held here and you never know what you'll see. If you want a square with guaranteed crowds, this is the place to come. With all the surrounding streets, you have plenty of other activity to explore nearby too.
5. Arc de Triomf
The area around the Arc de Triomf is one of my favorite parts of the city. The large arch makes for an entrance into a long, wide promenade filled with life that I prefer to Catalonia Square. Tourists do also come here, but you get more locals hanging out, including a younger crowd. It has a nice, relaxed vibe, but with plenty going on. You'll usually find some street performers and bubble blowers, and sometimes dancers come to practice to music, without even wanting money. It's a place to hang out in the city and meet friends that goes all day, and some of the night.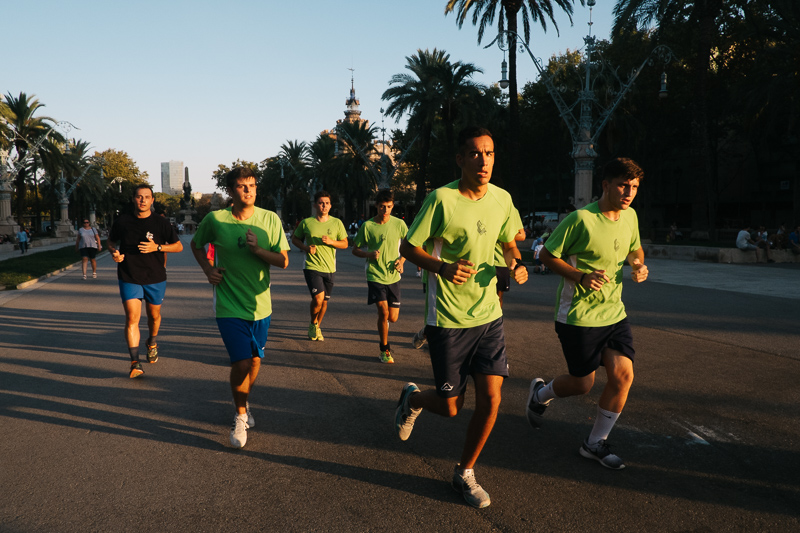 Just down from this promenade, you'll also find Parc de la Ciutadella. Years ago, this was the city's only green space. Today, it's 70 acres that includes a lake, city zoo, Parliament of Catalonia, fountains, benches, and plenty of shrubbery and grass to attract relaxation in the city. For street photography, the Arc de Triomf and park should give you enough to capture for hours.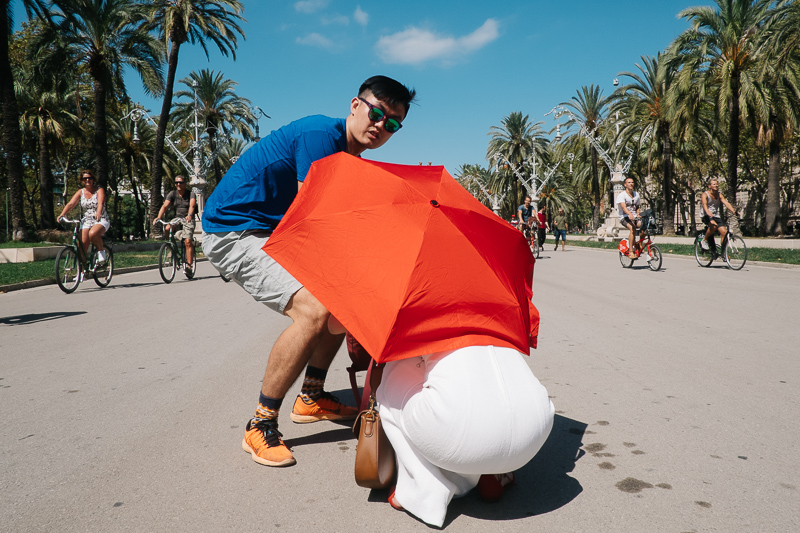 6. La Sagrada Familia / Plaça de les Glòries Catalanes
These two spots can cover a decent area for street photography. La Sagrada Familia is Antoni Gaudi's famously unfinished masterpiece, a Roman Catholic Church like you've never seen. Its extremely unique and impressive design brings in more tourists than any attraction in the city. Across the street, there's a park square where people hang out and admire the structure. There's a lot of activity here and interesting streets that should be worth a stop with your camera for street photography.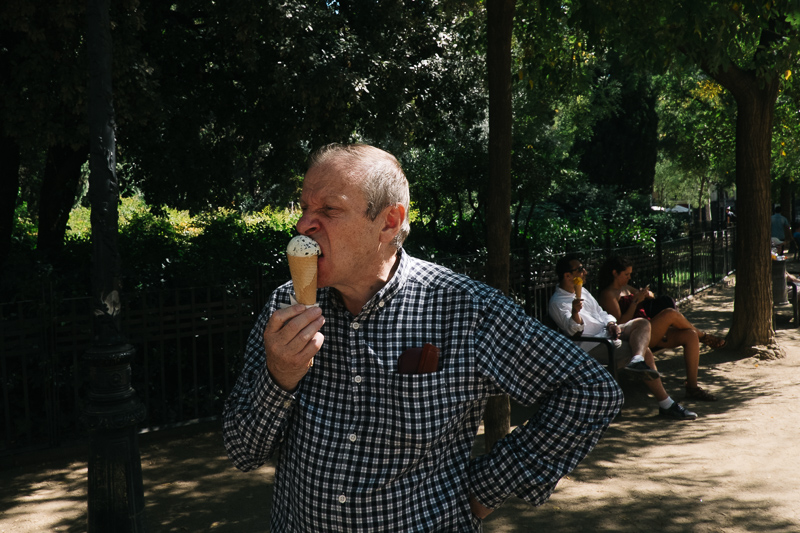 From there, you can move a little outside of the tourism and walk over to Plaça de les Glòries Catalanes. Here, you'll find a green park area, a large blue race track, playground, and outside games, like basketball and even ping-pong. Depending on the day, it can go from quiet to busy. It's not completely finished, but has a more local feeling and a definite change of atmosphere from the center. There's a large roundabout nearby, connecting the city's busiest thoroughfares, and just across the way you'll see the unusually shaped Torre Agbar skyscraper.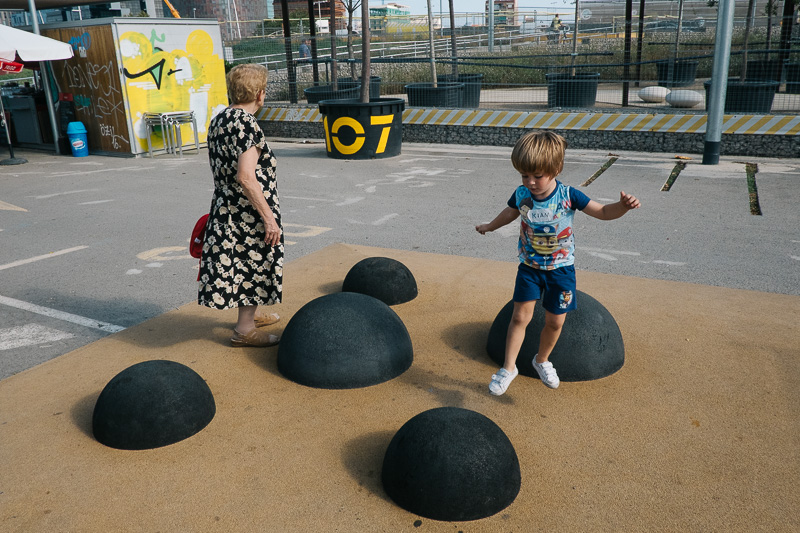 Alone, I wouldn't put either of these at the top of the list, but together, these spots can provide a different area to explore for street photography in Barcelona that is worth checking out.
Sample Street Walk:
For a full day of Street Photography, covering some of the best spots, you can follow this sample street walk for Barcelona:
Start your morning walking Barceloneta Beach (1)
After you've explored all parts of the beach, boardwalk and some of the nearby neighborhood, walk northwest to Bari Gotic (3)
Walk the maze of streets in this famous gothic quarter until you come out to La Rambla (2)
While navigating through the crowds on La Rambla (2), make sure to check out Plaça Reial and La Boqueria
Walk to the top of La Rambla (2) and cross over to Plaça de Catalunya (4) for more street photography
Then head northeast along Ronda de Sant Pere until you get to Arc de Triomf (5)
Finish your day capturing the activity along the rectangular square in front of the Arc (5), while also checking out the Parc de la Ciutadella 
3 Things I'll Remember about Barcelona:
1. Beach life
As I mentioned earlier, big city beach life is some of my favorite for candid photography, and Barcelona provides some of the best in Europe. You still have the city to explore for street photography, but coming out to Barceloneta provides a great change of atmosphere for more candid photography nearby. You have the busy beach gym that goes day to night, the variety of beaches containing a range of characters, the beach bars and shops, adjoining neighborhood, and plenty more. It's busy from morning to night too, so there's always a reason to come here.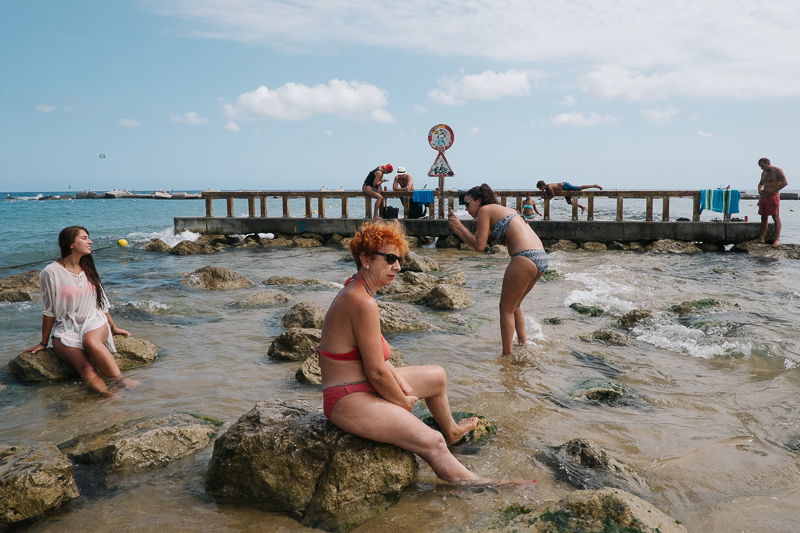 You can spend a lot of time exploring the beach life here, including its surrounding area, without getting bored. Not only is it full of life at Barceloneta, even compared to other city beaches, but it also includes a variety of life hard to beat, from young to old, trendy to strange.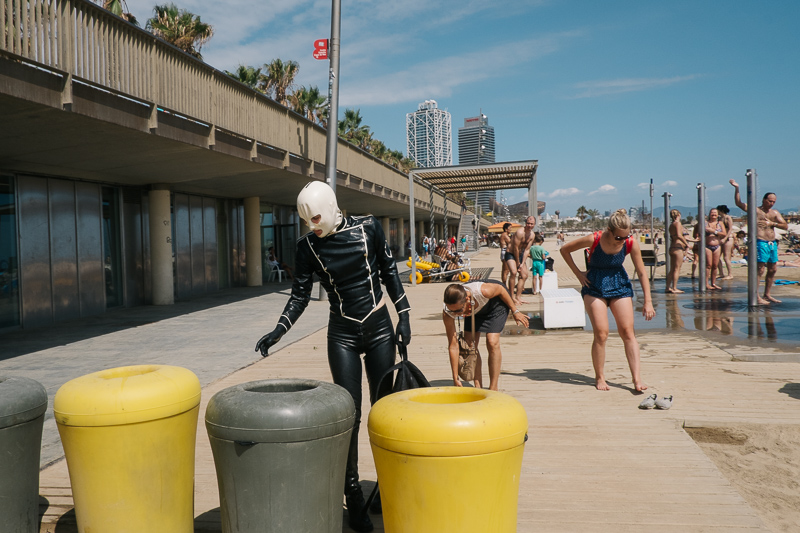 2. Gaudi architecture
You won't find a city as tied to the work of an architect like Barcelona is with Antoni Gaudí. His distinctive style of Catalan Modernism is as big a part of the city as anything and supplies many of its attractions. The forever unfinished, yet undeniably impressive Sagrada Familia and the expansive and unique Park Güell are the most famous, but his style can be seen around the city.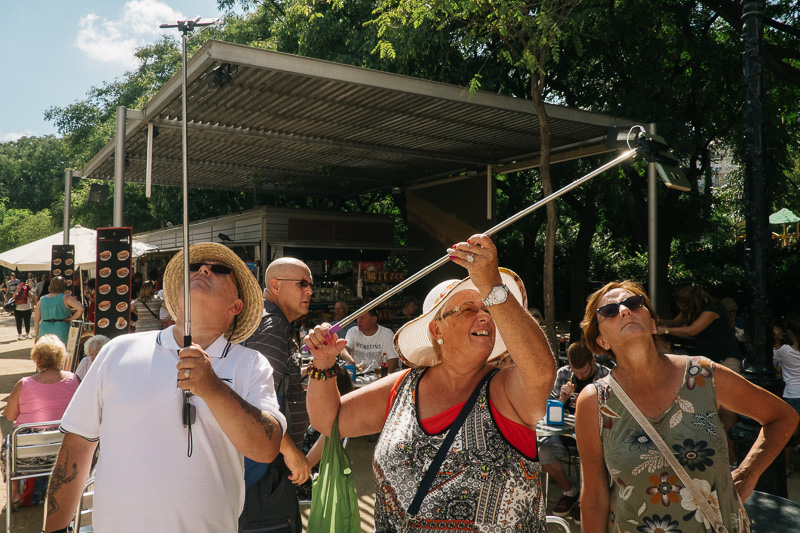 His uniquely artistic works stands out so much, especially when juxtaposed next to the city's more modern buildings. For street photography, Park Güell would probably provide the most opportunities. The park is filled with his work and can provide many hours of exploration with its size. The most famous area does charge for entrance, while the rest is free for roaming.
3. City Doesn't Sleep
Barcelona is a city that doesn't sleep. Typically, people don't go out until after midnight or come back home until the sun is out. This is true around Spain in general, but Barcelona is known for its nightlife. This party atmosphere can be seen and felt all around the city, at all times. This also means you can find activity for street photography most any time in Barcelona, which could also make it a good city for flash photographers.
But just because the city doesn't sleep, doesn't mean the people don't. It just might be in the middle of the day…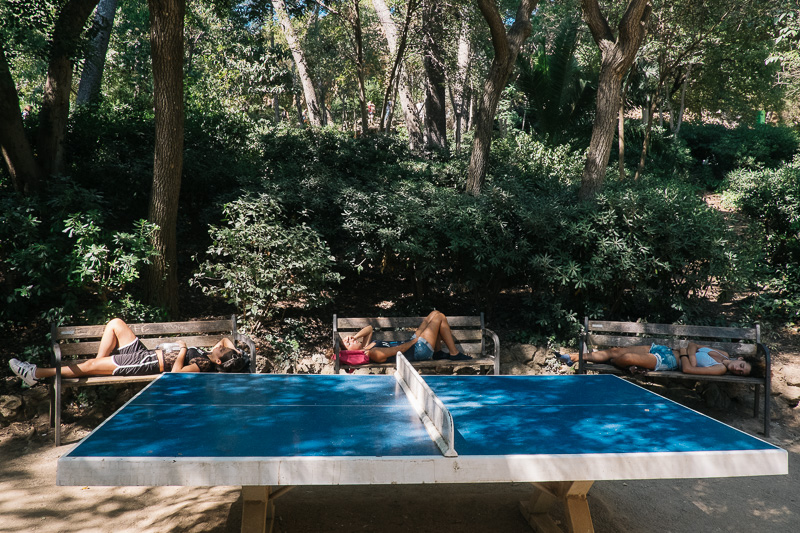 What To Do For a Street Photography Break?:
Art, Food & Drink (on the beach)
Barcelona is known for its art and food scene. When it comes to art and architecture, people like Gaudi, Joan Miro and Picasso have made it one of the more celebrated cities among artists. Walking around the city, you'll not only see its rich history of architecture, but also galleries, museums and art throughout. More recently, it's become one of the top cities in the world for graffiti and street art too. For many street photographers, this could provide a great mix of backgrounds for captures, while also giving an enjoyable artistic atmosphere to explore.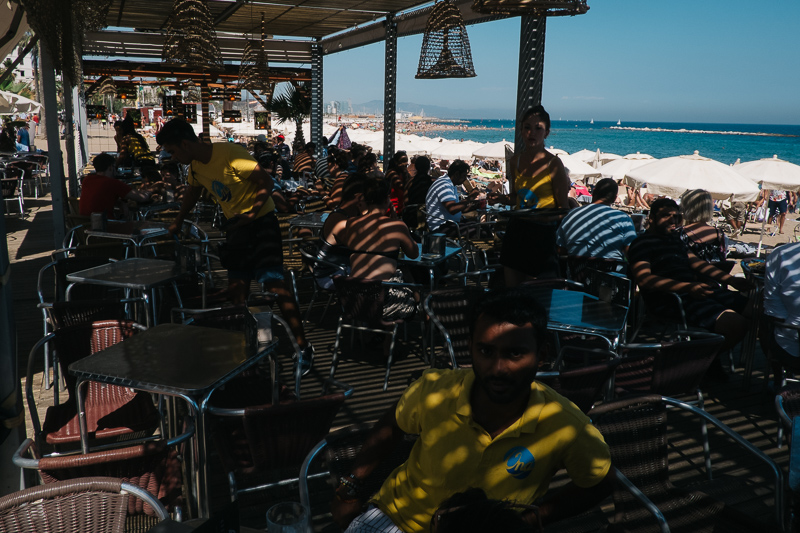 Then there's Barcelona's food scene, which has become even bigger in Europe recently. Tapa bars, Catalan restaurants, cafes, bistros and beachside dining fills the city with a vibrant food culture. Eating has always been an important social activity in Catalonia, while eating out at all the trendy spots has become a big part of the life out around the city. It's something you'll not only see and feel when walking around with your camera, but something you'll have to try for a street photography break. 
Street Safety Score: 7
*As always, no place is completely safe! So when I talk about safety, I'm speaking in general comparison to other places. Always take precaution, be smart, observe your surroundings and trust your instincts anywhere you go!
I cover this more in the "Street Tips" section, but Barcelona is known for pickpocketing. While petty theft is common, though, dangerous crime is not. Barcelona feels mostly safe during the day, especially around the center. Like most big cities, there are areas to avoid, but common sense should be enough. Just make sure to keep your valuables protected, especially around La Rambla, and you shouldn't have to worry.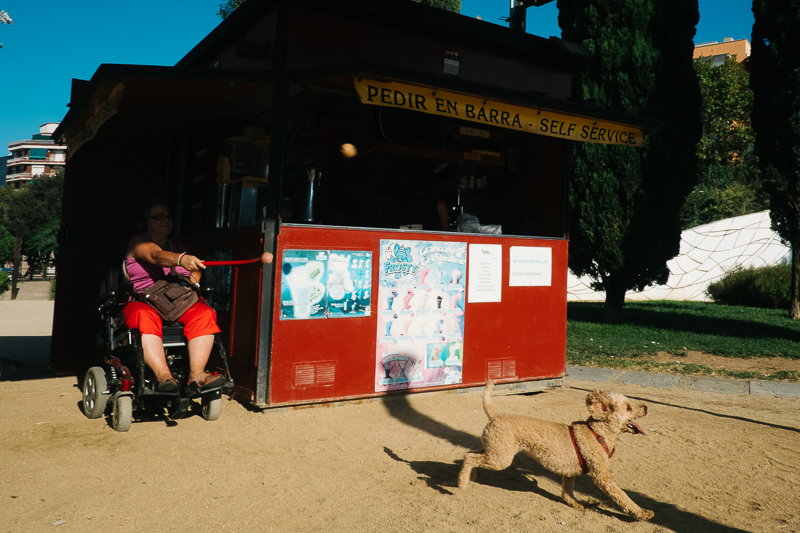 People's Reaction Score: 7
Barcelona goes along with much of Western Europe when it comes to photo reactions, but I'd say I find it a little better than average. I've never had a problem here, but of course, not everyone wants their photo taken so there's always a chance. Around the beach you're always dealing with a little more risk, but I find Barceloneta much easier to shoot around than most beaches. Just be aware of the nudists that might not want to be included in your photo :)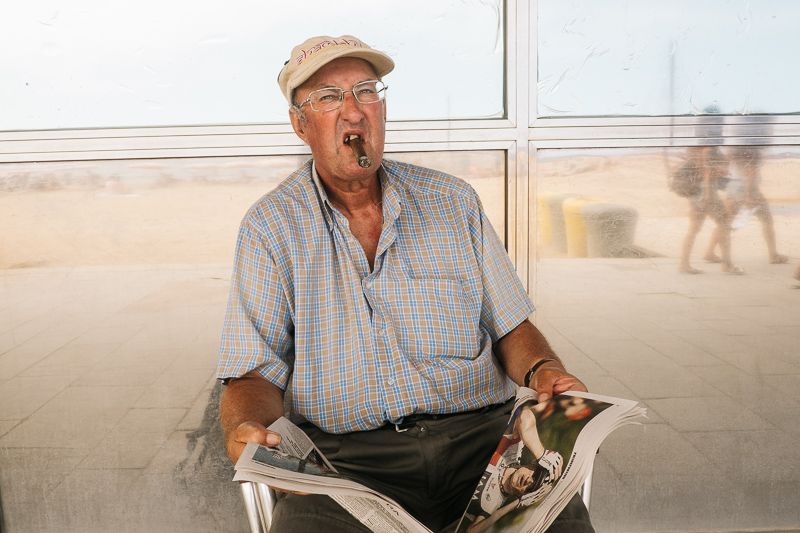 Street Tips: 
Pickpocket capital of the world?
No city has more of a reputation for pickpockets than Barcelona, as it has repeatedly been named the worst in the world. I've never encountered any problems, though, but maybe I'm lucky. Statistically, petty crime in Barcelona is high. Crowded, touristy places like La Rambla are the places to watch out for the bump and grab, while other pickpockets often work in groups so one can distract you as the other finds what he can get off of you. Some distraction scams include offering you flowers or a clipboard to fill out a survey. Thieves look for easy targets so basic street smarts go a long way.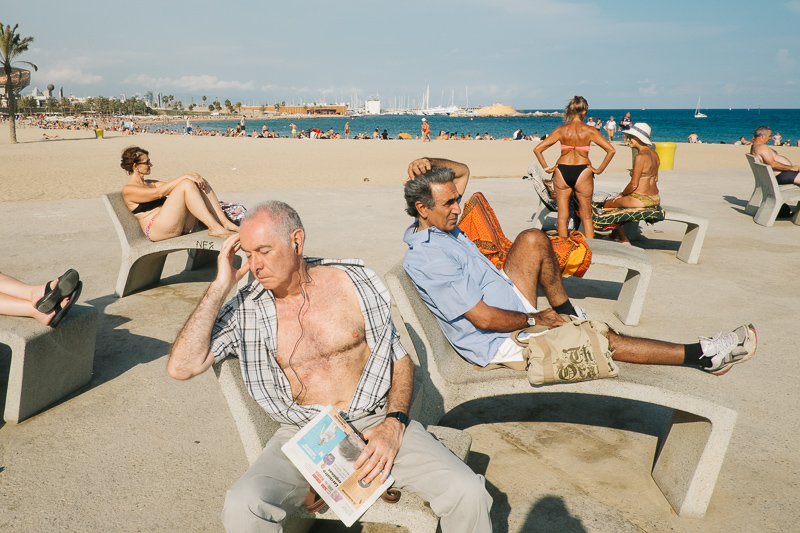 Fortunately, Barcelona is a safe city overall, though, with little violent crime. Just make sure you watch your pockets and keep your camera strapped and you should be fine.
Make Use of the Metro
Barcelona has a pretty solid metro system that can come in handy when exploring the city for street photography. It's not as expensive as many other large cities in Europe, either, but I'd still recommend purchasing the 10-trip pass to save you even more money. The Barcelona metro is easy to navigate and gets you close to most places you'll want to go so make use of it while you're here.
Brush Up on Some Spanish
Compared to other European countries, there are fewer English and bi-lingual speakers in Spain. So, for most people you come in contact with, Spanish will be their only language. If you don't speak any Spanish, it can help a lot if you learn some of the basics. This doesn't just go for ordering food, but even any interactions that come up through street photography. Most of Europe is very easy only speaking English, but a little Spanish here goes a long way.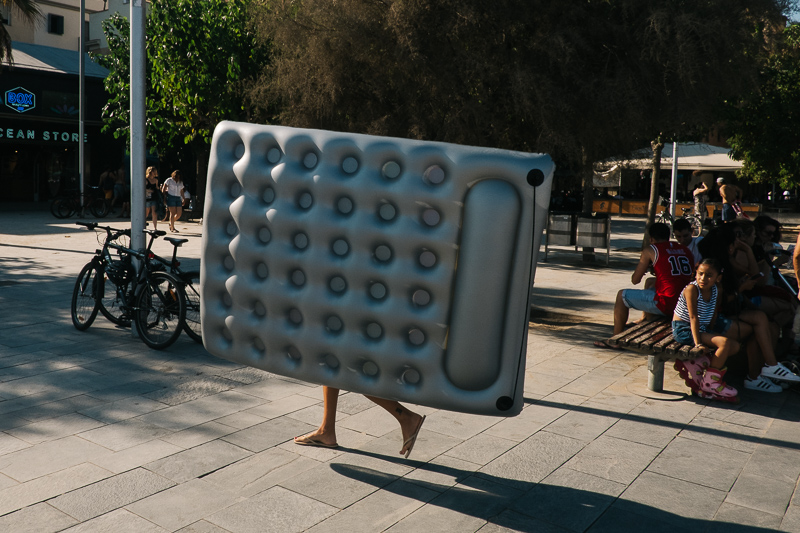 Inspiration:
For some more inspiration, you can look through the Street Photography of local photographer Oscar Palomares and check out 33 of my photos taken in Barcelona.
Conclusion:
Barcelona has a lot going for it. Beautiful weather, vibrant beaches, history, architecture, art and more. For street photography, you have the famous beach life only a walk away from the cobblestone street filled gothic quarter. And these two very different experiences are only a part of this large, buzzing city. While this has brought crowds of tourists over the years, there's a reason for it.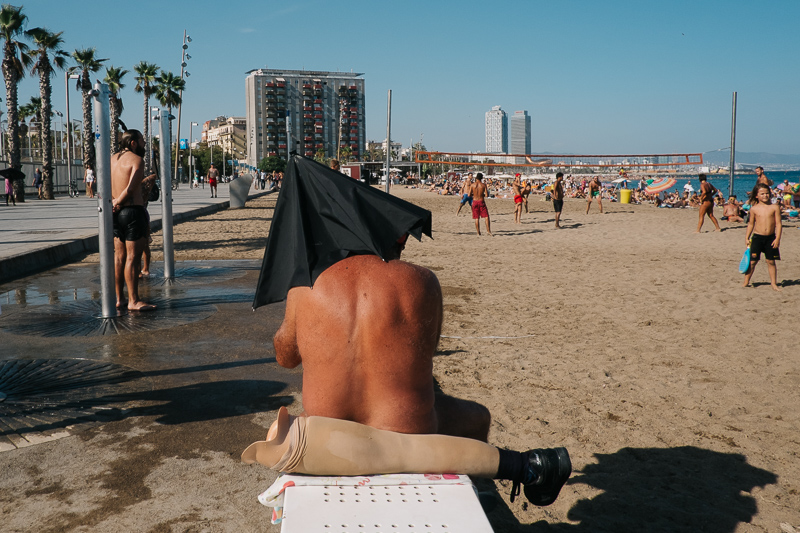 I hope this guide can help you experience the vibrant life of Barcelona. So grab your camera and capture all that Barcelona has to offer for Street Photography!
If you still have any questions about shooting in Barcelona, feel free to comment below or email me!
(I want to make these guides as valuable as possible for all of you so add any ideas on improvements, including addition requests, in the comment section!)
(A New Guide Posted Every Other Wednesday)