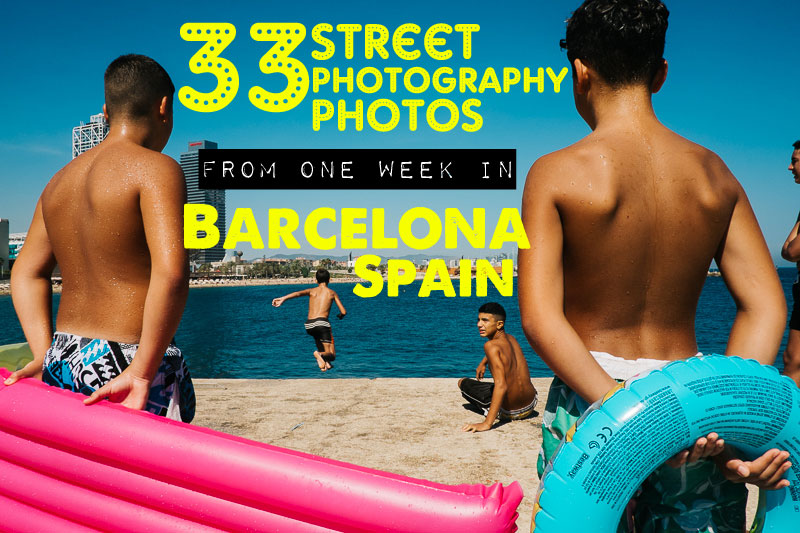 After Lisbon, came City #38 Barcelona, Spain during my 100 Cities Project. Not being my first time in Barcelona, I was already familiar with the Mediterranean's largest city. Barcelona had actually been my first city visited outside of North America almost 10 years ago. So I got to see how much it had changed, while also putting all of my focus on photography for this visit. Barcelona is a top tourist destination in Europe, which is definitely felt while exploring the city, especially around streets like La Rambla. There's a lot of reason for its attraction, though, and Barceloneta beach is one of my favorite big city beaches around for photography. 
So here's 33 photos that I was able to capture during my time in Barcelona…
33 Street Photography Photos from Barcelona
The Beach…
1.
2.
3.
4.
5.
6.
7.
8.
9.
10.
11.
12.
13.
14.
15.
16.
17.
18.
19.

The City…
20.
21.
22.
23.
24.

25.
26.
27.
28.
29.
30.
31.
32.
33. 
For more info on Barcelona, be sure to check out my first impressions from a street photographer's perspective. And stay tuned for one of my City Street Photography Guides to Barcelona.
Have you photographed Barcelona before or do you plan on it someday? Let me know about it in the comments below!
And let me know which photos you like best too!
Click Here for More "33 Street Photos" from Cities Around the World