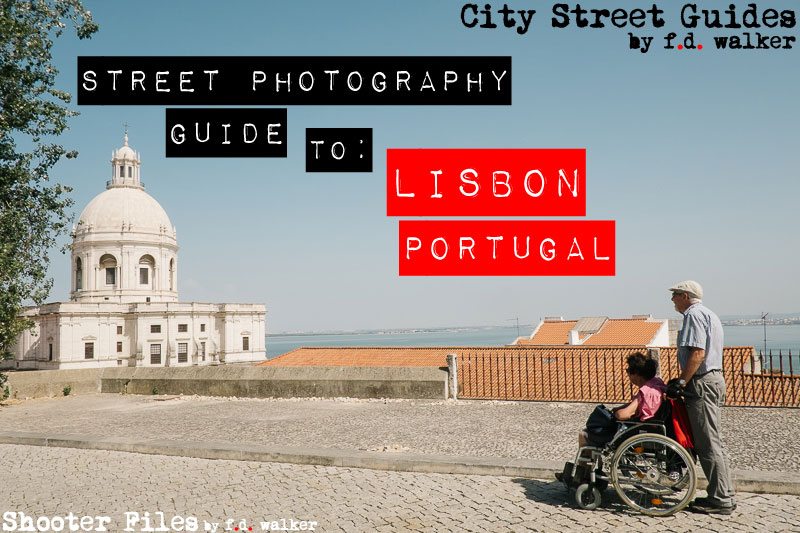 *A series of guides on shooting Street Photography in cities around the world. Find the best spots to shoot, things to capture, street walks, street tips, safety concerns, and more for cities around the world. I have personally researched, explored and shot Street Photography in every city that I create a guide for. So you can be ready to capture the streets as soon as you step outside with your camera!
Lisbon
Overview:
Lisbon, Portugal can feel a little hidden away in Western Europe, and that's a good thing. If it wasn't, it would be packed with tourists. Lisbon is full of charm. The hills with their steep, winding cobblestone streets. The views of the city around every bend. The tiled, slightly deteriorating homes. Even in how it's run down brings a charm. Compared to most major cities in Europe, Lisbon is still able to keep a "lost in time" feeling. It's scenic, authentic and contains soul. When most of Europe's summer season ends, Lisbon stays sunny and warm. Walking around the city with your camera is an enjoyable experience that makes you never want to leave. Even with all those hills.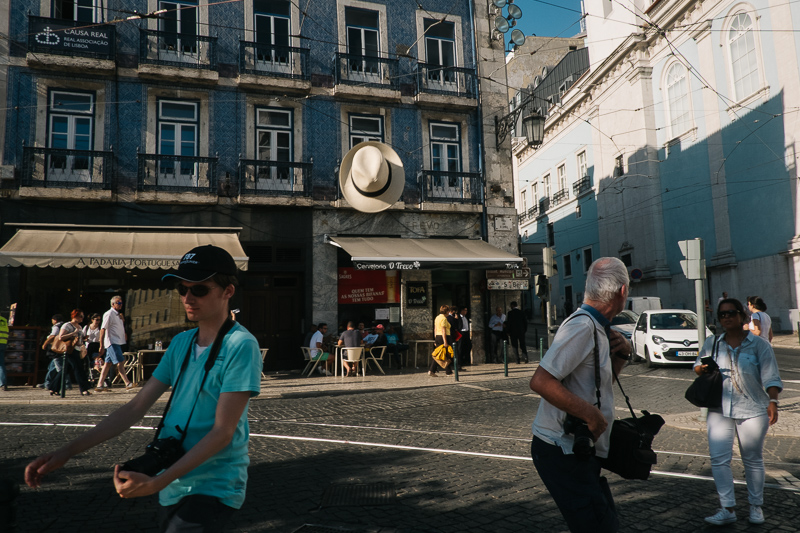 So here's a Street Photography guide so you can be ready to capture all that Lisbon has to offer before you even arrive!
Map:
Mouraria
Bairro Alto / Chiado
Waterfront
Miradouro de São Pedro de Alcântara
Belem
Top 5 Street Spots:
1. Mouraria
Known as the birthplace of Fado music, Mouraria is where the Moors were allowed to live after the Christian reconquest of Lisbon in 1147. Since then, it was considered a slum and a multicultural area where many immigrants lived, but today it's become a place to explore the history and heart of the old city. After Lisbon's infamous earthquake in 1755, only this area survived. So if you want to really feel the lost in time atmosphere of Lisbon, this is the place to explore with your camera.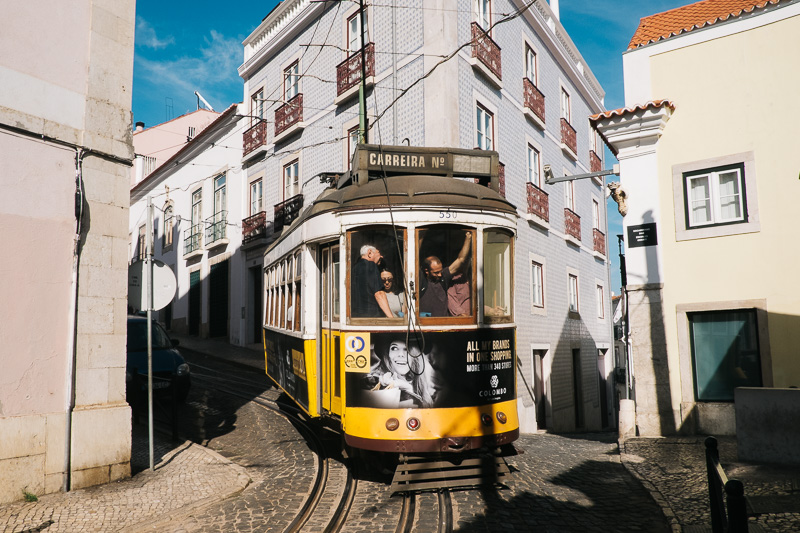 With Castelo São Jorge nearby and the beautifully old character of Mouraria, it attracts a fair amount of tourists, but nothing extreme by European standards. Many times, you can find yourself the only one walking a street while you pass the locals going about their day. For that special Lisbon feel, cobblestone hills and crumbling tiles, this area has the most character in the city and hasn't lost its authenticity yet. Especially, the more you climb up and explore.
2. Bairro Alto / Chiado
Bairro Alto is the bohemian heart of Lisbon. This grid of cobblestone streets sitting above provide a picturesque walk mixed with graffiti, edge, old character and a young, artistic vibe. Later in the day, the light really comes down nicely between the narrow streets, reflecting the gritty, bohemian scenery. Many of the streets are quiet through the day, but once night comes, Bairro Alto comes alive with nightlife. The many bars spill out onto the cobblestone with crowds of people of all ages. It's unlike many nightlife atmospheres you'll find anywhere. There's a fun vibe that welcomes people of all backgrounds to enjoy the night together. It's vibrant and chaotic, yet relaxed and unpretentious.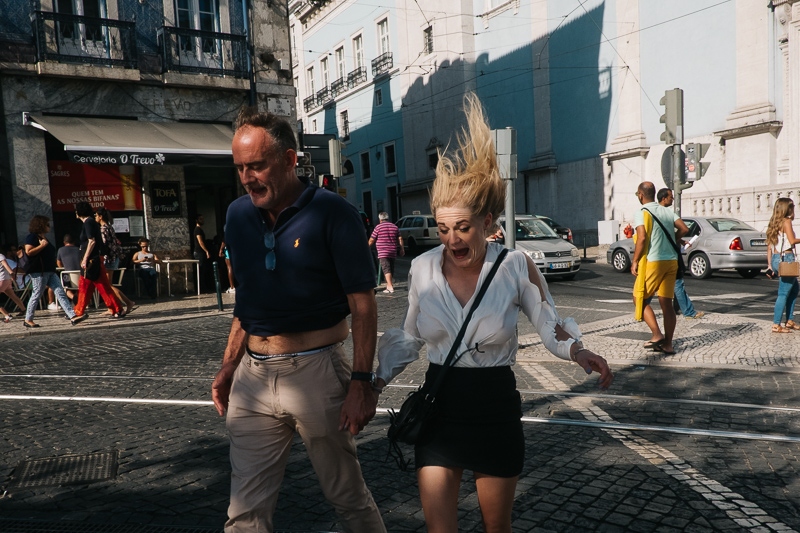 Chiado neighbors Barrio Alto and gives a little ritzier atmosphere with fancier cafes, luxury shops and more. It's more stylish and much of the area was rebuilt after a fire in 1988. Book shops are also popular here, with statues of literary figures decorating the streets. It can get really busy with activity here around the popular Baixa-Chiado metro station, nearby shopping centers and Praça Luís de Camões, one of my favorite squares in the city. Finishing the day with your camera around Bairro Alto/Chiado is a must when in Lisbon. Great light, great scenery and great life.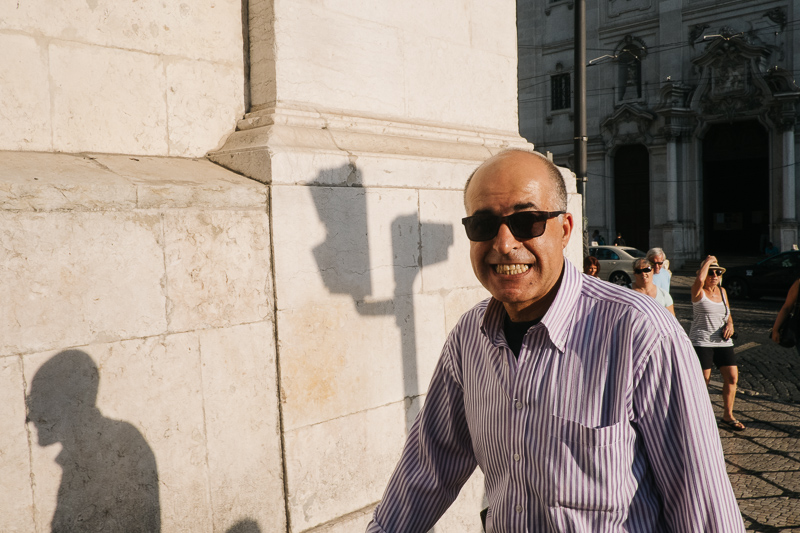 3. Praça do Comércio / Waterfront
Praça do Comércio is a large open square by the Tagus river waterfront. It's the largest plaza in Lisbon and in the past was the commercial location for traders selling their goods from foreign lands. The location by the water made it a prime spots for channeling in goods. Today, it serves as a tourist attraction, transport hub, entrance to Rua Augusta and square overlooking the waterfront where people enjoy the view, lay in the sun, and listen to street musicians while sipping on a drink. The waterfront is a really nice place to walk with your camera just before sunset when people are relaxing on the steps on the water's edge.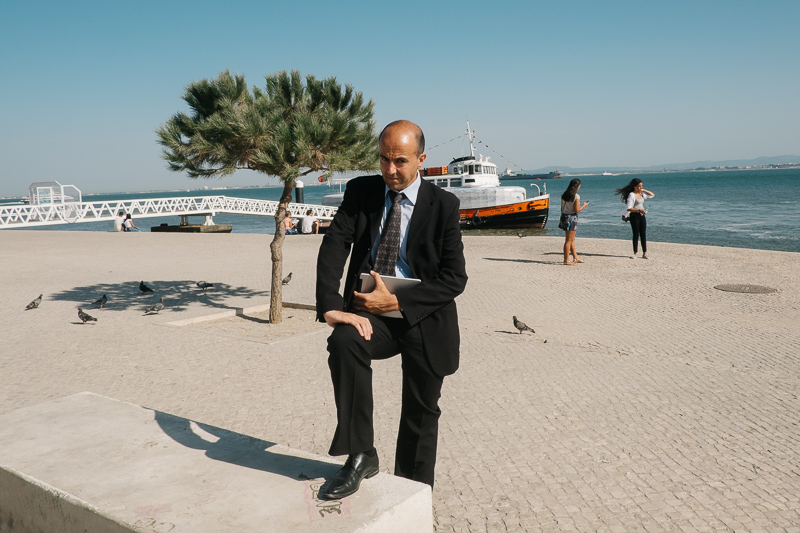 The square itself is surrounded with large, impressive painted buildings and in the center you have the statue of King José I. If you choose to head away from the waterfront, you'll enter Rua Augusta, Lisbon's main pedestrian street. A busy tourist street, Augusta is lined with outdoor cafes, shops, and street performers. During the day, this whole area is always busy and due to its center location, can be visited multiple times in a day while out shooting.
4. Miradouro de São Pedro de Alcântara
Miradouros, or viewpoints in English, are one of my favorite parts of a Lisbon, and something I go into more detail below. But when it comes to my favorite Miradouro in the city, São Pedro de Alcântara gets my pick. It's also one of my favorite places to go in the city period. There's two levels of squares and panoramic views over Lisbon here that aren't only beautiful, but filled with life and activity. There are gardens, fountains, statues, benches, beverage carts, and even a tiled map of the city overlooking Lisbon with markings on some of the buildings. 
Up top, you'll find more of the action with the carts and people walking around, while below it gets a little more peaceful with young couples laying on the grass or sitting together on the benches. To the right, you'll also since the famous Gloria funicular going up and down the hill. It's a great area to spend some time with your camera and enjoy the atmosphere, from day to night.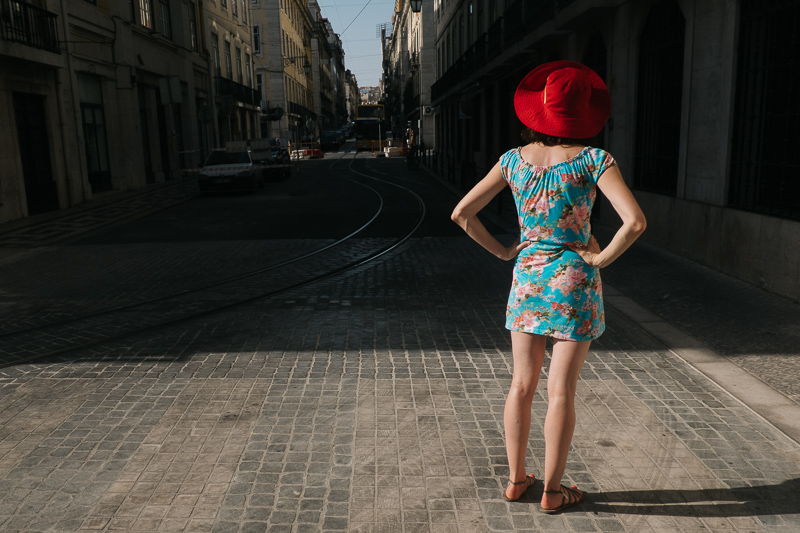 5. Belem
If you're visiting Lisbon, you'll probably make the short 5km trip to Belem for the famous Belem Tower and Monumento a los Descubrimientos. Images of these are what cover postcards and travel guides for Lisbon. While they are worth the quick train ride, you should also do some walking around Belem with your camera since you're in the area. After checking out the tourist attractions, head directly away from the water and into the city.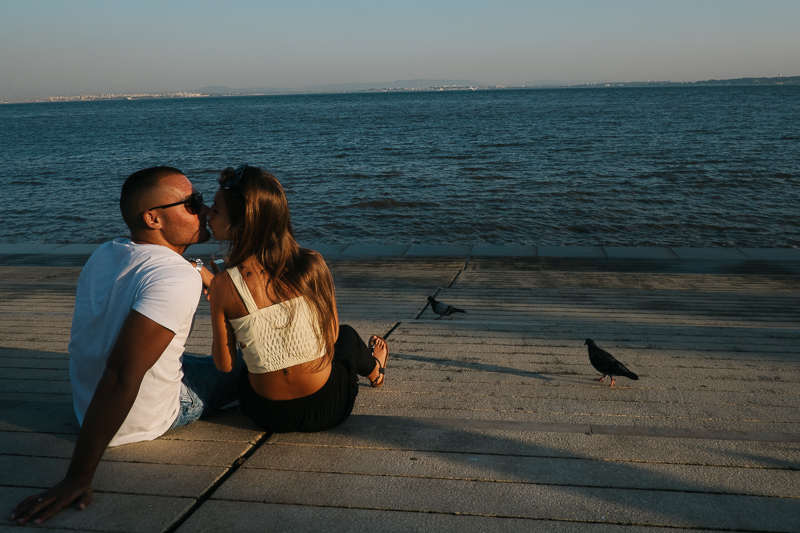 Back in the day, Belem is where Lisbon's élite lived. There's a lot of history with a slightly different atmosphere than Lisbon. For one, there's not all those hills, but there's still a lot of nice little streets with colorful buildings to explore. It can be quiet once you get away from the touristy center, but it can make for a nice little street photography walk while visiting Belem.
Sample Street Walk:
For a full day of Street Photography, covering some of the best spots, you can follow this sample street walk for Lisbon:
Start your morning walking around Bairro Alto and Chiado (2), while making sure to check out Miradouro de São Pedro de Alcântara (4)
Then walk down the hill to Praça do Comércio (3) and the waterfront for more street photography
From here, you can slowly walk up Rua Augusta until the end and then head northeast to Mouraria (1) to spend plenty of time exploring with your camera
Head back down the hills to check out the waterfront (2) again to see the change in atmosphere
Then finish your day/evening back up top at Bairro Alto (2) and Chiado for the great light, and enjoying the Miradouro de São Pedro de Alcântara (4) when activity will have filled up since the morning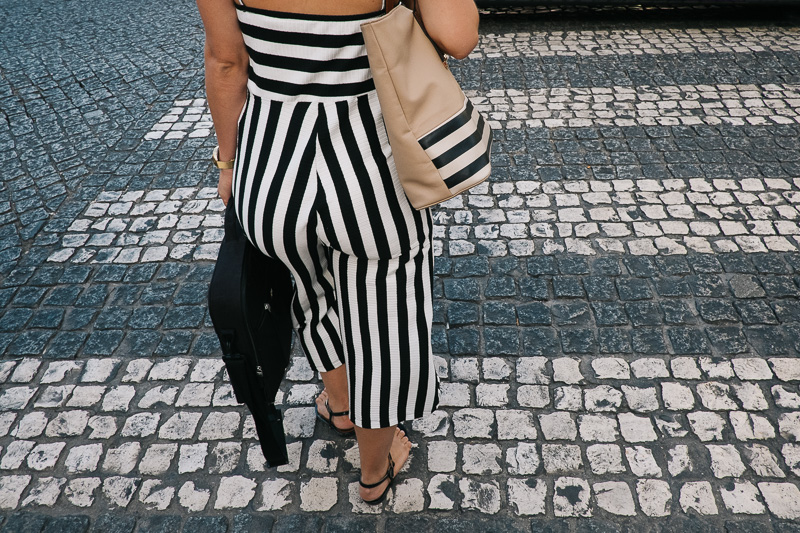 Ask a Local Street Photographer Where to Go: Rui Palha
"Old town, indeed and Gare do Oriente and Parque das Nações, in the "new" town."
3 Things I'll Remember about Lisbon (for street photography):
1. Walkable Hills
Lisbon is one of the most walkable cities around. The hills might make it a workout, but the cobblestone filled atmosphere makes up for it. While they do have the famous trolleys to take you up the steeper hills, the only time I used transportation was to visit Belem. I walk everywhere and never get bored or tired of it.
Most spots are in close distances and the city isn't very big to begin with, while the winding streets full of character make it an experience the entire time. In one day you can hit up the same spots multiple times to see how they change, but wake up the next day wanting to do it again. It's extremely walkable and compact, without getting old quickly.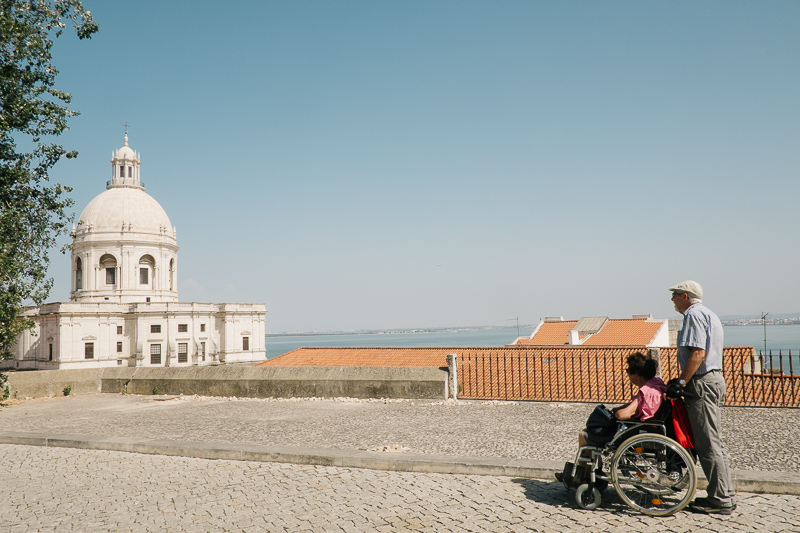 Lisbon is known as the city of seven hills, which you quickly understand once you walk out your door. So, while it is extremely walkable, that doesn't mean it won't be a workout. It's not the only city famous for being built on hills, but the steepness and amount in a compact area does make it stand out even more.
I lived in Istanbul, which is a hill filled workout itself, but in Lisbon hardly any streets are flat. Up or down is the most common direction you go here. Some of the hills can look intimidating, but it's worth the workout. The relaxed vibe helps you slow down and enjoy it, anyway. You also get to watch the little one-carriage eléctricos (trams) wind their way up and down the narrow streets. All those hills also means more amazing viewpoints around every corner than maybe any city I've been too.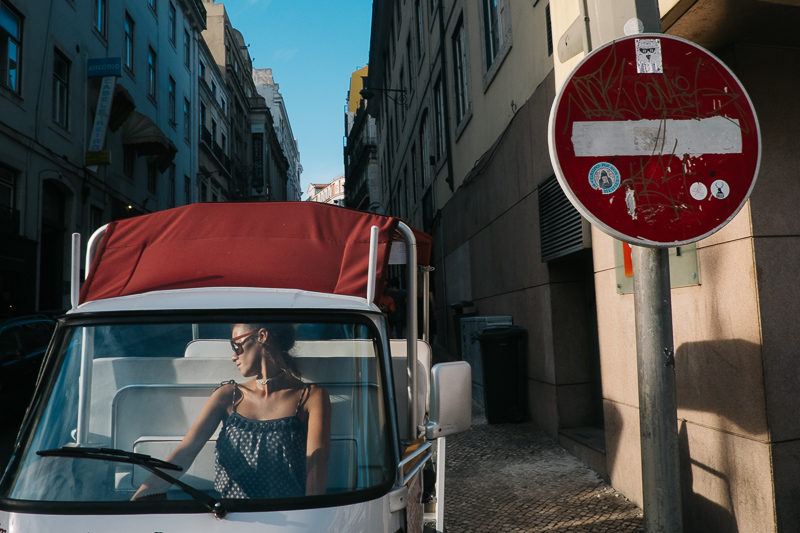 2. Great Squares & Miradouros with life & views
One of my favorite parts of exploring Lisbon are all the squares and viewpoints you discover around the city. When emerging from the compact labyrinth of streets and alleys, there's a good chance you'll be greeted by one of these viewpoints amidst the seven hills. Called Miradouros, these viewpoints around the city are more like large terrace squares themselves. Many with drink and espresso stands even. All of the space and beautiful views attract plenty of activity and life too. They're much more than viewpoints, but also some of the best spots for people watching and of course, street photography.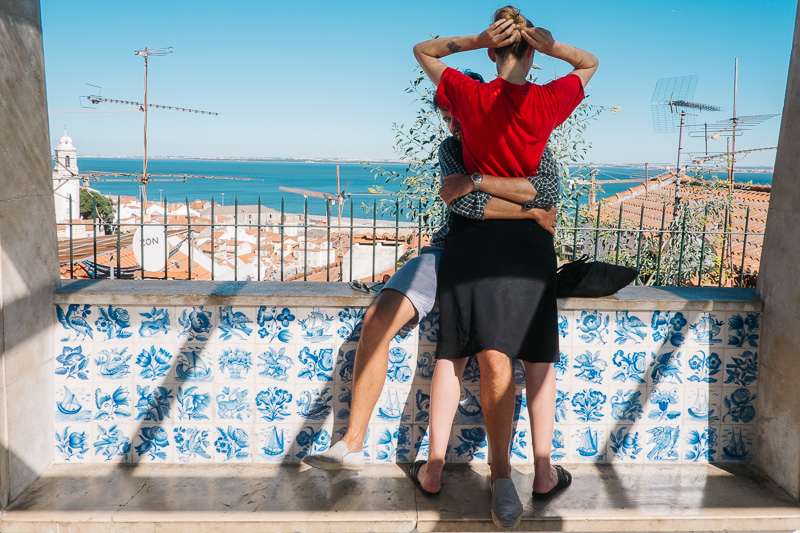 The Miradouros around Lisbon are something that will stand out in my memory as much as anything in the city, and discovering as many as you can is something I'd highly recommend. Below are some of my favorite.
Favorite Miradouros (viewpoints):
Miradouro de São Pedro de Alcântara
Miradouro de Santa Luzia
Miradouro das Portas do Sol
Miradouro da Graça
Miradouro da Nossa Senhora do Monte
Castelo de São Jorge
3. Amazing Atmosphere with a Relaxing Vibe
Compared to Western Europe's other capital cities, Lisbon is small. That can be a very good thing, though, especially for people who enjoy the type of atmosphere it helps bring. It's a very relaxing and intimate city. It welcomes you without overwhelming you. The people are friendly, the pace is slower, and there's a feeling of being away from big city troubles. All this in a city that is still big enough to give you everything you could need in an atmosphere filled with history and plenty to see.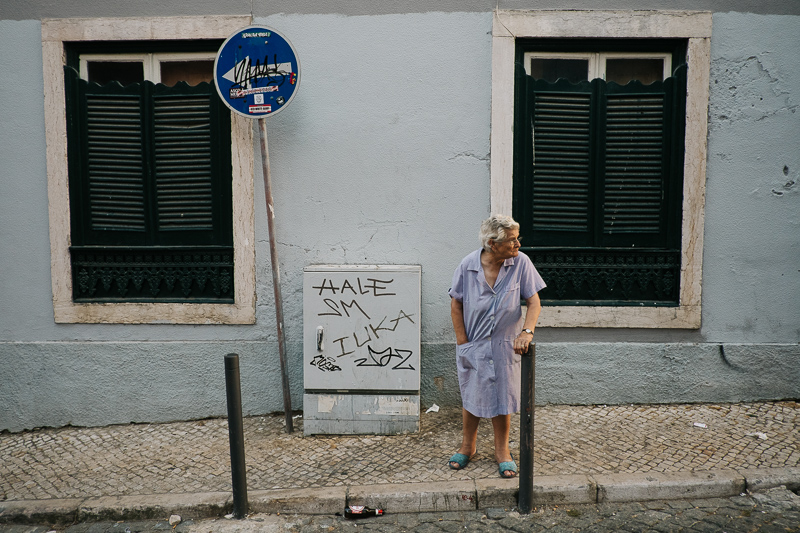 Lisbon feels like a city for the living, a place you'll probably not want to leave. The atmosphere, the beauty, the ocean, the easy feeling and the fact it's not overcome with tourists yet. You see the locals at work and at play. And once night hits, play is something they know how to do well, as the cobblestone streets fill with music, drinks and laughter. Even then, there's the same relaxing vibe making you feel free. It all makes for a very enjoyable city experience for street photography, and a beautiful feeling to capture.
What To Do For a Street Photography Break?:
Enjoy the Relaxed Vibrance
Maybe it's all the sun and how it hasn't gotten completely overrun with tourism yet, but Lisbon has a much more relaxing and down to earth vibe compared to other major cities in Western Europe. This is felt when out shooting street photography, but can be enjoyed even more when you want to take a break. There's a charming vibrance to the city and friendliness to the people. Grab a seat at a cafe, a drink at a Miradouro, or join in the fun that spills out onto the charming cobblestone streets at night.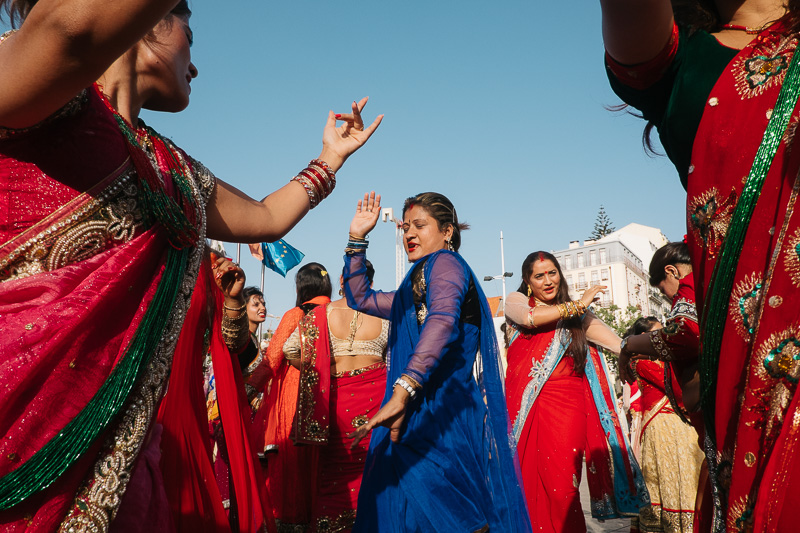 Street Safety Score: 9
*As always, no place is completely safe! So when I talk about safety, I'm speaking in general comparison to other places. Always take precaution, be smart, observe your surroundings and trust your instincts anywhere you go!
For a capital city, you're not going to find many cities that feel more safe. You feel like you can explore every street and hill without a worry. Portugal is one of the safest countries in the world and its capital city isn't an exception. Outside of petty theft and pickpockets, crime is low. While no city is completely safe, you should feel safe in Lisbon.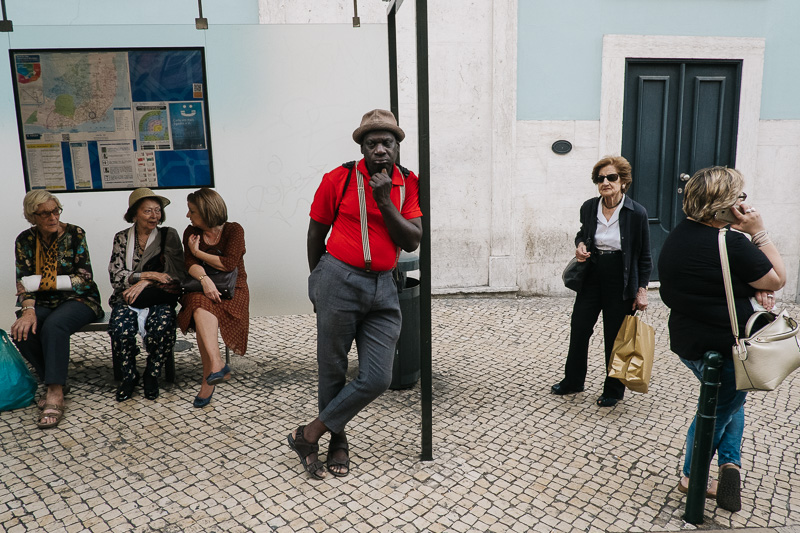 People's Reaction Score: 8
There's a very warm and friendly feeling when walking around Lisbon with your camera. While there can always be exceptions, most people don't mind photos. You shouldn't have any problem here.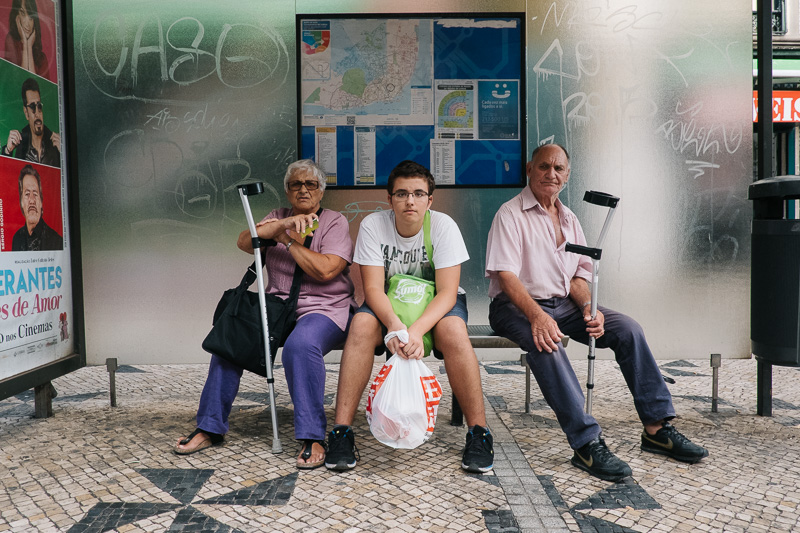 Street Tips:
Cobblestone streets and old, tiled buildings great for catching light
Lisbon can have a lost in time feeling while climbing its steep, narrow hills. Not much is new here. The streets are cobblestone and many of the houses are slightly deteriorating, but in charming way. Old tiles cover buildings, coming in a range of colors, designs and patterns. It gives the city a distinct and photogenic style. It's also a very white and bright city where sun reflects in all directions.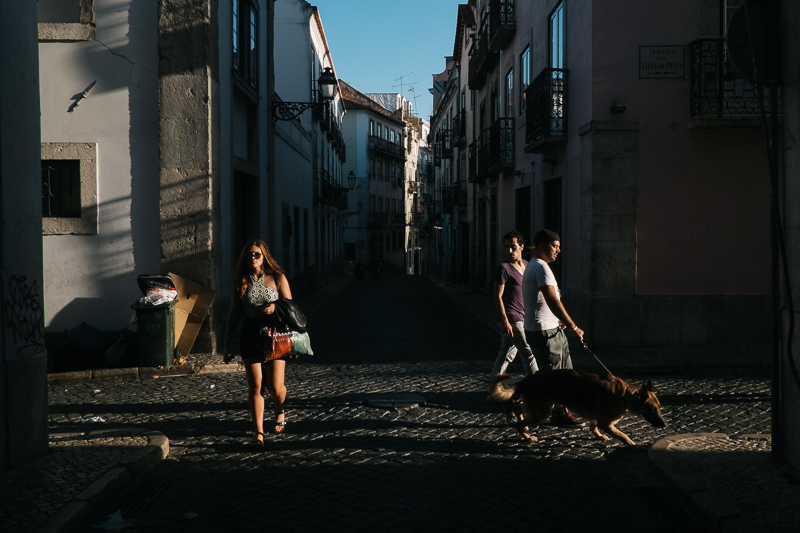 This look combined with hills and narrow, winding streets creates an environment that plays very well with sunlight. Rays of light come down along the streets in beautiful ways against the textures, while also giving contrast and shadows. For street photographers who like playing with sunlight, shadows and texture, Lisbon would be a very a welcome place.
Get Lost
Lisbon is a city built to get lost in with your camera. All of Lisbon's positives mentioned in this guide are made for it.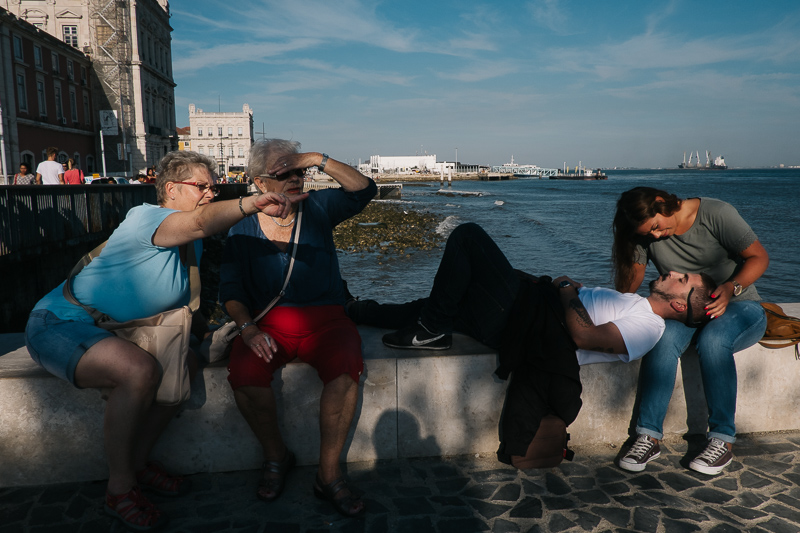 You can work your way by specific areas if you want, starting in maybe Bairro Alto, exploring your way down to Praça da Figueira, then over to the oceanfront, up through and around Mouraria, and then back down and up whatever area you want to go next. Just make sure to get lost in each one. You'll soon find your way out while having a great, worry free street photography experience the whole time. I get lost daily in Lisbon, many times in the same areas twice in the same day, only wanting to do it again the next day.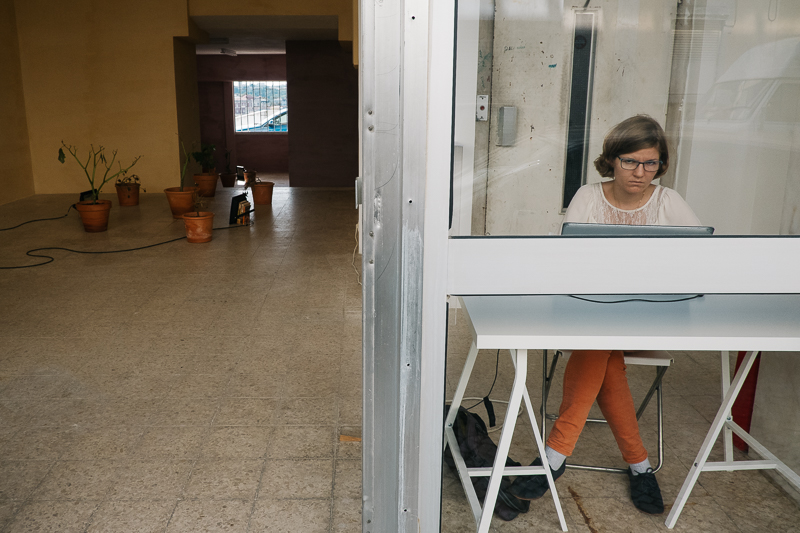 Beautiful weather on a budget in Europe
If you want to be in Western Europe once the summer season is turning, it doesn't get much better than Lisbon. While everywhere else is starting to get cold and gloomy, Lisbon stays warm and sunny. Not only is it still a beautiful city to walk with all that sun, but having all that light to play with every day is great for street photography. Lisbon also feels like a city used to the sunshine, which makes it all that more enjoyable.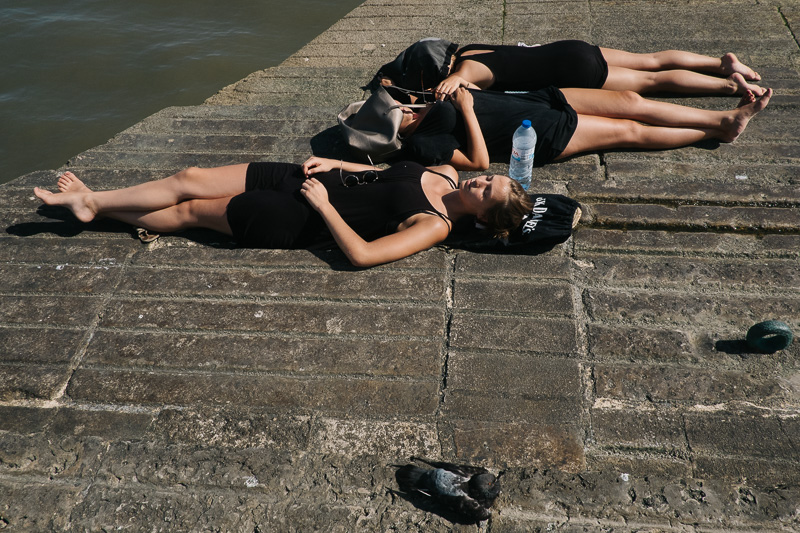 Not only do you get some of Europe's best weather, but you also get one of its most budget friendly cities, specifically in Western Europe. From the food and drinks to the lodging, your money goes further here than most of Europe. And to top it off, the nights are just as warm as the days when it comes to fun. Areas like Bairro Alto come even more alive at night. It's a social atmosphere that goes along with all that sun on a budget in Europe.
Inspiration:
For some more inspiration, you can look through some Lisbon street photography from Gabi Ben Avraham, enjoy the work of local photographer Rui Palha and check out 33 of my photos taken in Lisbon.
Conclusion:
With how visited Western Europe is, Lisbon keeps the authentic and exotic with just enough familiarity to make it a relaxing experience for any visitor and street photographer. With its seven hills of postcard charm, be ready for some steep climbing, but its warm vibe and scenery will make every step enjoyable. Filled with soul, it's cobblestone hills, rundown districts and endless viewpoint terraces will seduce you. It's filled with character for street photography and the sunny weather will keep you out there exploring every winding street and hill of the city with your camera.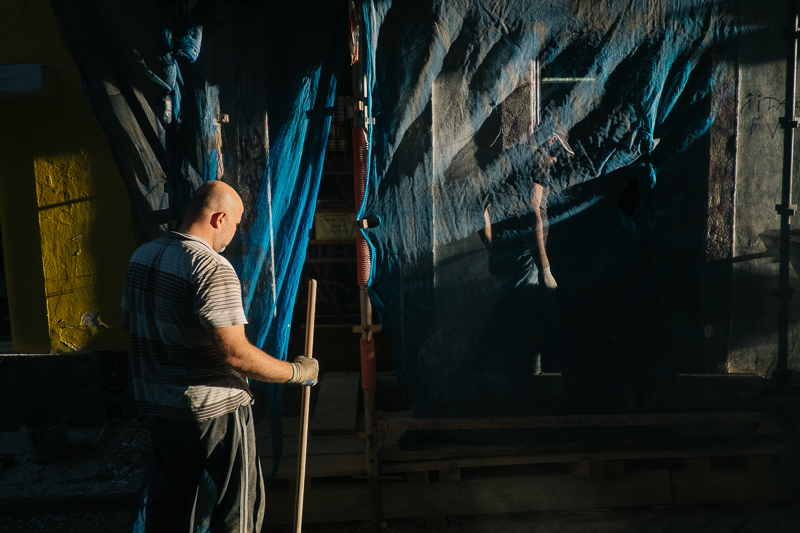 I hope this guide can help you go navigate and experience all of Lisbon's hills. So grab your camera and capture all that Lisbon has to offer for Street Photography!
If you still have any questions about shooting in Lisbon, feel free to comment below or email me!
(I want to make these guides as valuable as possible for all of you so add any ideas on improvements, including addition requests, in the comment section!)
(A New Guide Posted Every Other Wednesday)