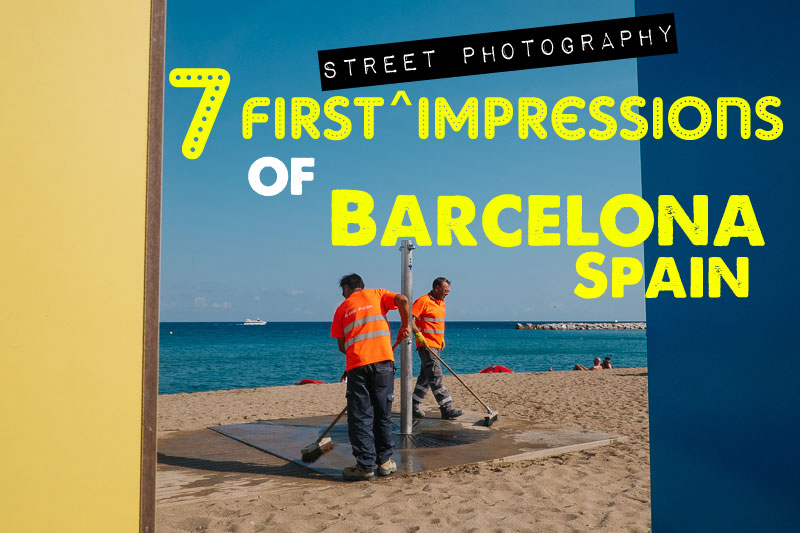 After spending a week in Lisbon, Portugal, I flew across Spain to capture Barcelona for City #38 during my 100 Cities project.
I'd been to Barcelona many years ago, as it was actually the first city I ever visited outside of North America. While I had distant, but good memories of the city, most of it was from the night. One, because I was extremely unlucky with rain pouring the whole trip and two, I was young and focused more on having fun. In Barcelona, that means coming home at 7am and sleeping through the day. But now, many years later, I was ready to focus on photography and make sure to experience all I could of Barcelona with my camera during the day.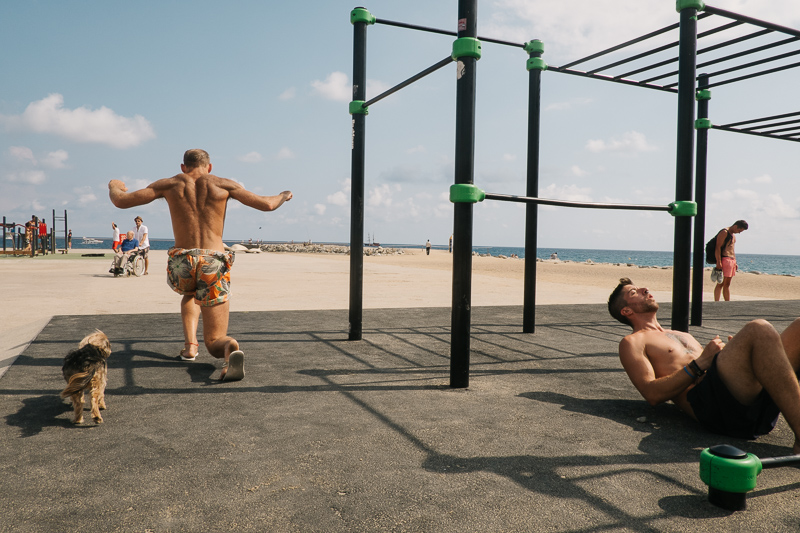 Barcelona is one of the most popular destinations in Europe. People come for the beach, gothic and Gaudi architecture, rich culture, and vibrant life of the largest metropolis on the Mediterranean Sea. With so much to attract visitors, Barcelona has changed over the years with all the tourism. For some, it's not the city it used to be, but for most, it still has plenty deserving of being a top visited city in Europe. And that includes for street photography.
So here are my first impressions of Barcelona, from my personal Street Photographer perspective…
7 First Impressions of Barcelona 
(From a Street Photography Perspective)
1. Beach life is great for photography
I enjoy big city beach life for candid photography and Barcelona has some of the best around. It provides a different setting within the city, it's open and full of light, and you usually get a mix of characters and locals in an atmosphere where they relax and let go compared to the city streets.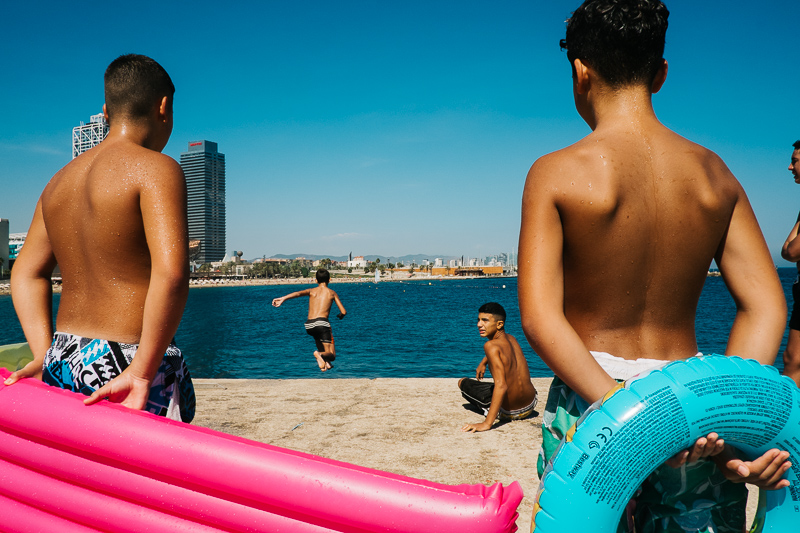 Barcelona already has a free vibe, but it's even more so at Barceloneta beach. Here you have even a wider mix of characters than most city beaches. You have your tourists, shops and food stands, but you also have plenty of locals. From old to young, nudists next to families, everyone comes here. One spot I especially like is around the beach gym. In addition to all the people working out here from day to night, the surrounding area provides a mix of activity. The beach goes on for a while too, with a long walkway next to the sand. Exploring some of the nearby streets past the beach shops can provide some more good street photography opportunities too.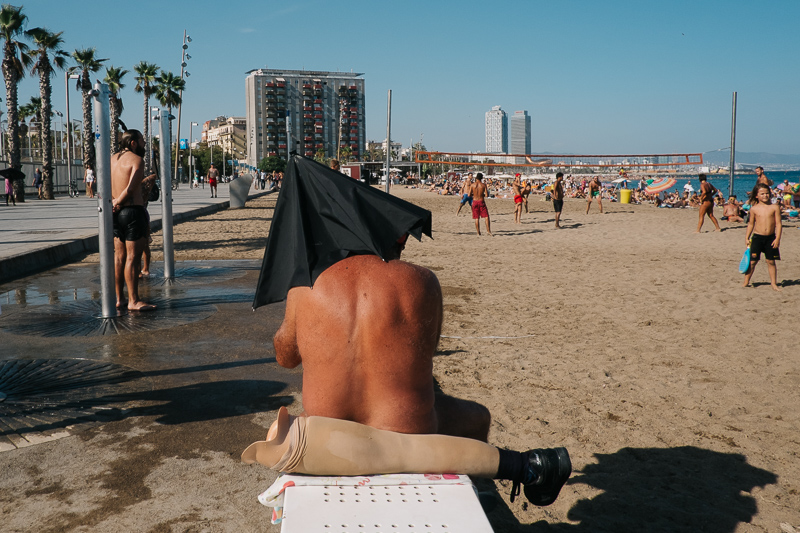 2. La Rambla too crowded for my taste
La Rambla might be the most famous street in the city, but it's not my favorite. The wide pedestrian boulevard lined with trees and gothic buildings definitely has the setting for it so I imagine there was a time it would have been great. But today much of the character is lost in a crowded, commercial touristy mess. And I do mean crowded. It can get so packed here that there's barely any space between all of the people walking in every direction. Combine that with all the tourist souvenir stalls, over-photographed street performers, and how everyone's constantly moving, it's not easy to get a clean, authentic feeling image here.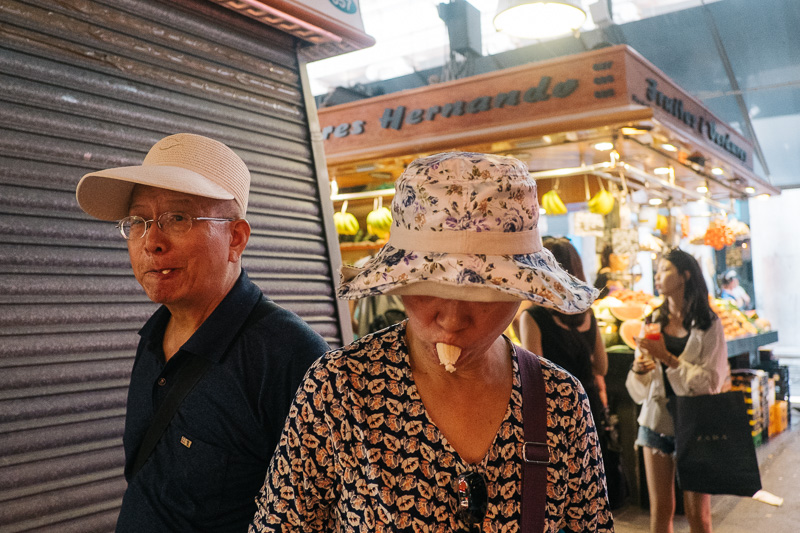 Saying that, it's a spot worth walking for the experience, people watching, and shopping if you have the money to spare. And maybe you'll enjoy its photographic opportunities more than me. You'll also find the La Boqueria market here, which is another very famous crowded tourist spot, but worth checking out. 
3. Gotta Love Gaudi
You won't find a city as tied to the work of an architect like Barcelona is with Antoni Gaudí. His distinctive style of Catalan Modernism is as big a part of the city as anything and supplies many of its attractions. The forever unfinished, yet undeniably impressive Sagrada Familia and the expansive and unique Park Güell are the most famous, but his style can be seen around the city.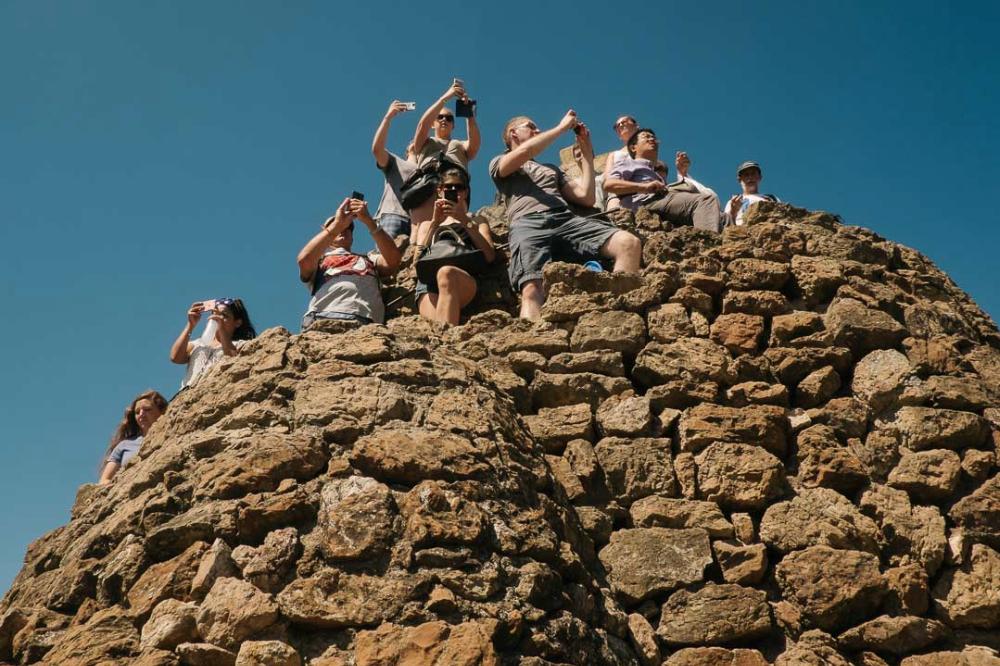 His uniquely artistic work stands out so much, especially when juxtaposed next to the city's more modern buildings. For street photography, Park Güell would probably provide the most opportunities. The park is filled with his work and can provide many hours of exploration due to its size. The most famous section does charge for entrance, while the rest is free for roaming. 
4. Pickpocket capital of the world?
No city has more of a reputation for pickpockets than Barcelona, as it's been named the worst in the world. I've never encountered any problems here, though, but maybe I'm lucky. Statistically, petty crime in Barcelona is high. Crowded, touristy places like La Rambla are the places to watch out for the bump and grab, while other pickpockets often work in groups so one can distract you as the other finds what he can get off of you. Some distraction scams include offering you flowers or a clipboard to fill out a survey. Thieves look for easy targets so basic street smarts go a long way.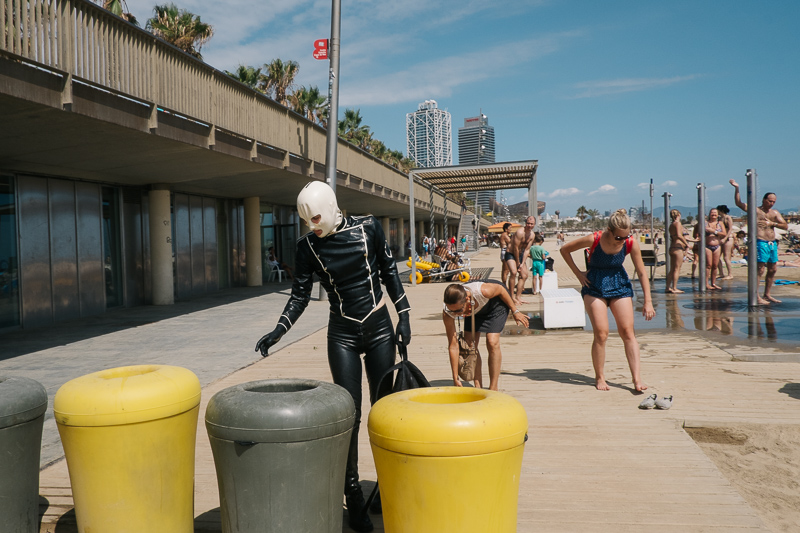 On the other hand, Barcelona is a safe city overall, with little violent crime. Watch your pockets and keep your camera strapped and you should be fine.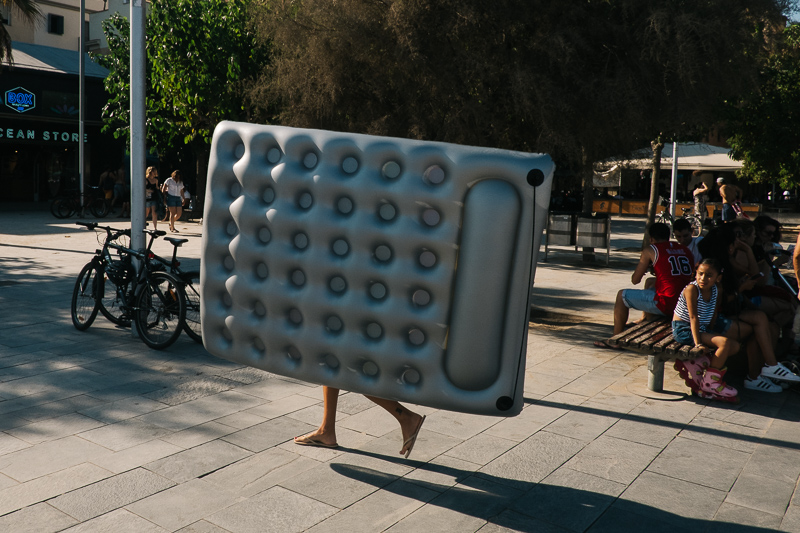 5. Looking for light in dark gothic streets
While La Rambla doesn't get a strong recommendation from me for street photography, the surrounding Gothic Quarter can be good. Once a Roman village and later becoming the Gothic quarter during the middle ages, today there's a mix of the old and new. While touristy, all the remnants from the past still make exploring the labyrinth of streets a back in time experience.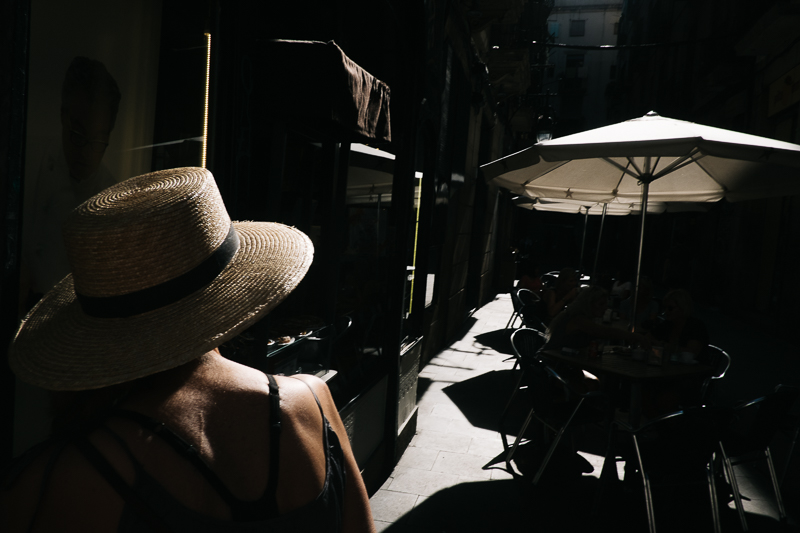 The cathedral and Plaça Reial attract the most tourism and activity, but if you explore enough, you can also find some quieter streets and squares. The best part of the Gothic Quarter are the endless little streets and alleys you can get lost in. You can come back many times without going the same route and you'll probably find something new each time. With the older architecture and narrow alleys, there can be good opportunities for catching some interesting light and shadows too.
6. Endless Nights
Barcelona is a city that doesn't sleep. Typically, people don't go out until after midnight or come back home until the sun is out. This is true around Spain in general, but Barcelona is known for its nightlife. This party atmosphere can be seen and felt all around the city, at all times. This means you can find activity for street photography most any time in Barcelona, which could also make it a good city for flash photographers.
But just because the city doesn't sleep, doesn't mean the people don't. It just might be in the middle of the day…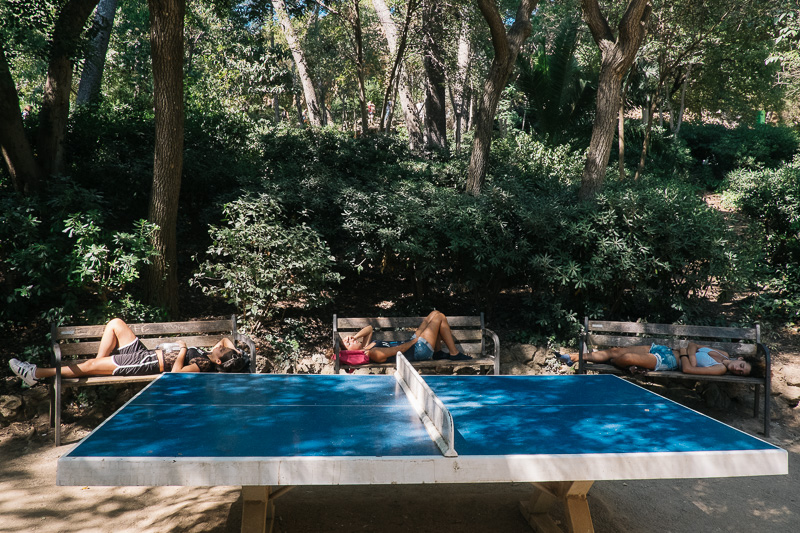 7. Art and Food 
Barcelona is known for its art and food scene. When it comes to art and architecture, people like Gaudi, Joan Miro and Picasso have made it one of the more celebrated cities among artists. Walking around the city, you'll not only see its rich history of architecture, but also galleries, museums and art throughout. More recently, it's become one of the top cities in the world for graffiti and street art as well. For many street photographers, this could provide a great mix of backgrounds for captures, while also giving an enjoyable artistic atmosphere to explore.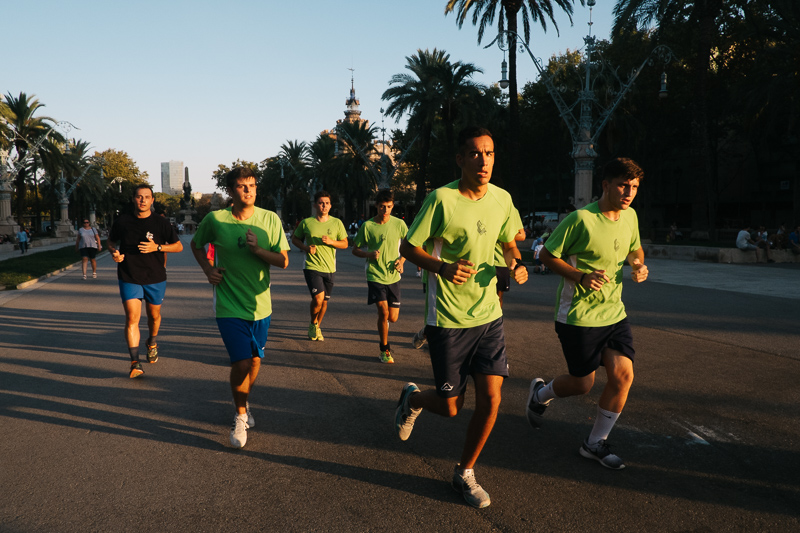 Then there's Barcelona's food scene, which has become even bigger in Europe recently. Tapa bars, Catalan restaurants, cafes, bistros and beachside dining fills the city with a vibrant food culture. Eating has always been an important social activity in Catalonia, while eating out at all the trendy spots has become a big part of the life out around the city. It's something you'll not only see and feel when walking around with your camera, but something you'll have to try for a street photography break.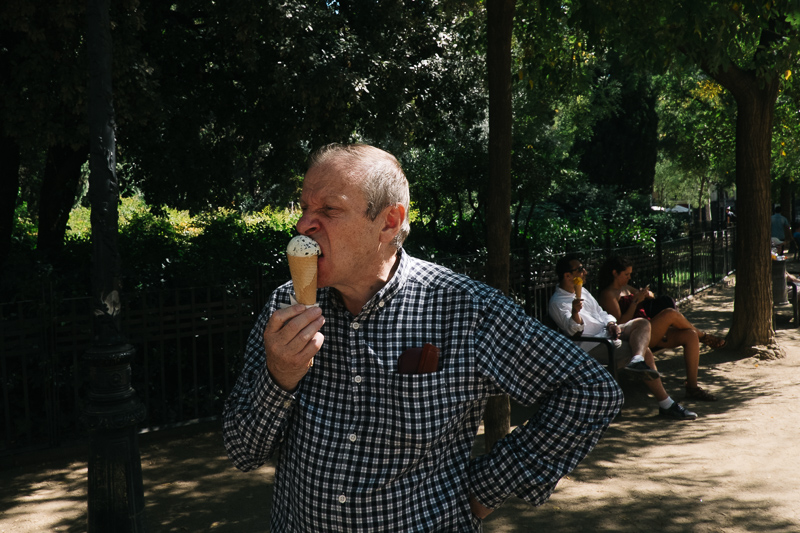 Sea, Sun, Art and Architecture 
Barcelona has a lot going for it. Beautiful weather, vibrant beaches, history, architecture, art and more. For street photography, you have the famous beach life only a walk away from the cobblestone street filled gothic quarter. And these two very different experiences are only one part of this large, buzzing city. While this has brought crowds of tourists over the years, there's a reason for it.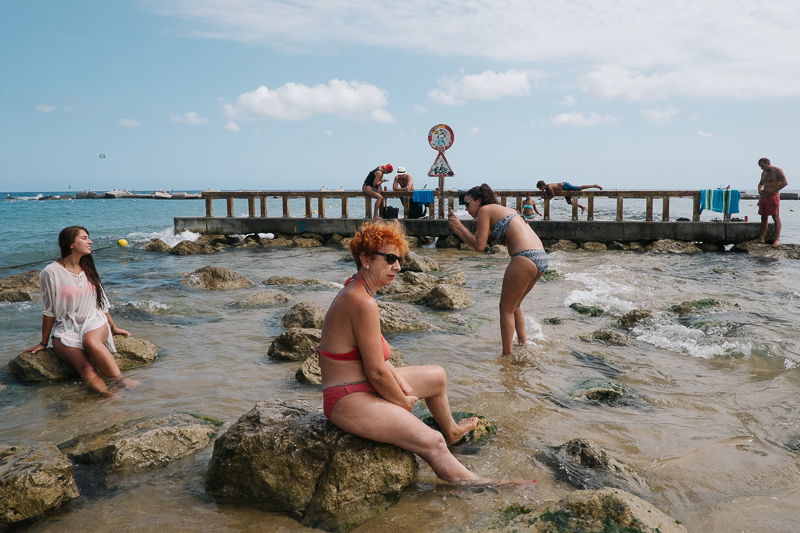 If any of you have been to Barcelona before, tell me about your experience and impressions of the city and country in the comments below! And stay tuned for more on Barcelona, including some of the best Street Photography shots I captured while there.
Click Here for More First Impressions on Cities Around the World 
(from a street photographer's perspective)