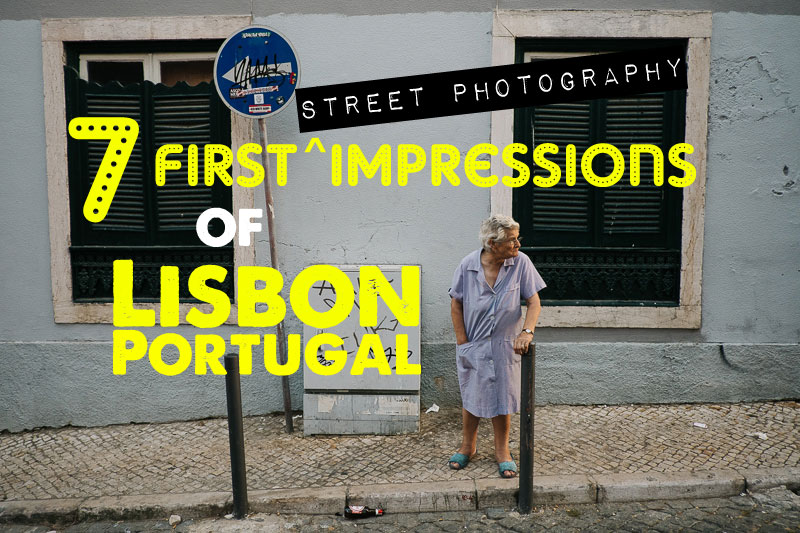 I've never met anyone that didn't enjoy Lisbon, but being secluded where it is as mainland Europe's westernmost capital keeps it from being visited as often as it should. While that's probably a good thing, it was time for me to add it to the 100 Cities project. So I took a flight from London to Lisbon to experience all I'd heard about. 
Lisbon is full of charm. The hills with their steep, winding cobblestone streets. The views of the city around every bend. The tiled, slightly deteriorating homes. Even in how it's slightly run down brings a charm. Compared to much of Europe, Lisbon is still able to keep a "lost in time" feeling. It's scenic, authentic and has soul. When most of Europe's summer season takes a sharp turn for the worse, Lisbon stays sunny and warm. But the temperature isn't the only thing that feels warm here. Walking around the city with your camera is an enjoyable experience that makes you never want to leave. Even with all those hills.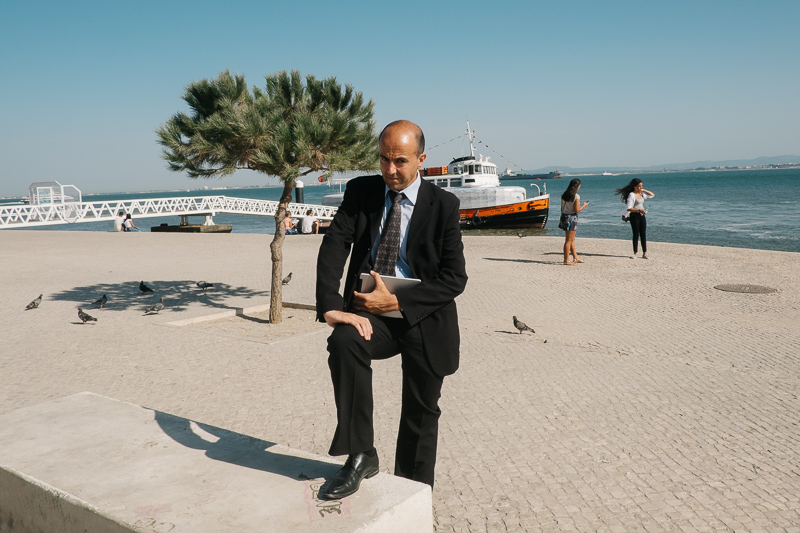 So here are my first impressions of Lisbon, from my personal Street Photographer perspective…
7 First Impressions of Lisbon
(From a Street Photography Perspective)
1. Very walkable
Lisbon is one of the most walkable cities around. And while the hills can make it a workout, the cobblestone filled atmosphere makes up for it. While they do have the famous trolleys to take you up the steeper hills, the only time I used transportation was to visit Belem. I walked everywhere and was never bored or tired of it.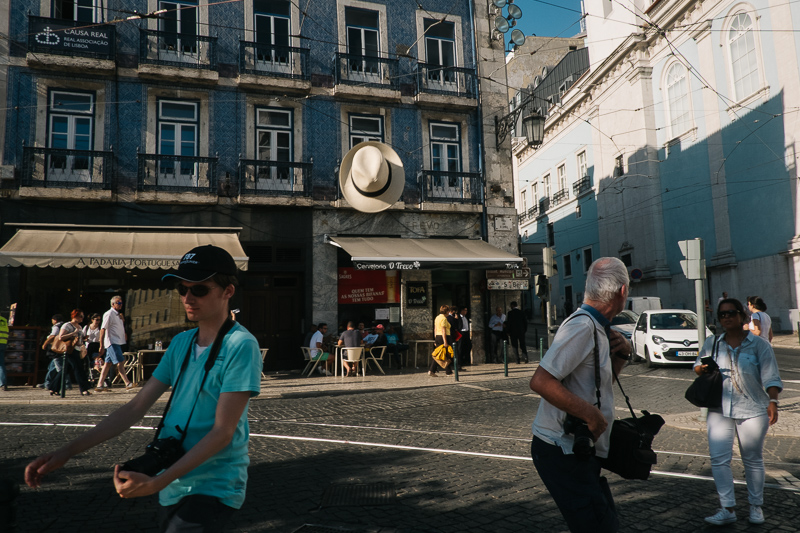 Most spots are in close distances and the city isn't very big to begin with, while the winding streets full of character make it an experience the entire time. In one day you can hit up the same spots multiple times to see how they change, but wake up the next day wanting to do it again. It's extremely walkable and compact, without getting old quickly.
2. Filled with hills
Lisbon is known as the city of seven hills, which you quickly understand once you walk out your door. So, while it is extremely walkable, that doesn't mean it won't be a workout. It's not the only city famous for being built on hills, but the steepness and amount in a compact area does make it stand out even more.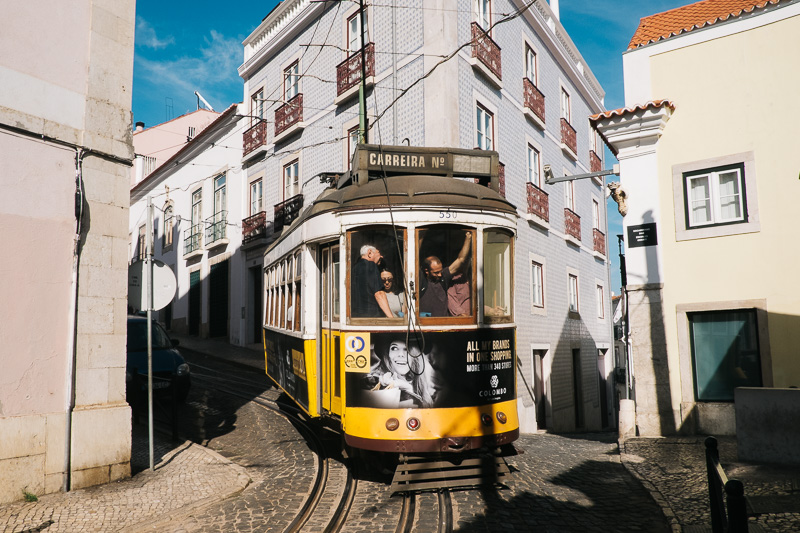 I lived in Istanbul, which is a hill filled workout itself, but in Lisbon hardly any streets are flat. Up or down is the most common direction you go here. Some of the hills can look intimidating, but it's worth the workout. The relaxed vibe helps you slow down and enjoy it, anyway. You also get to watch the little one-carriage eléctricos (trams) wind their way up and down the narrow streets. All those hills also means more amazing viewpoints around every corner than maybe any city I've been too.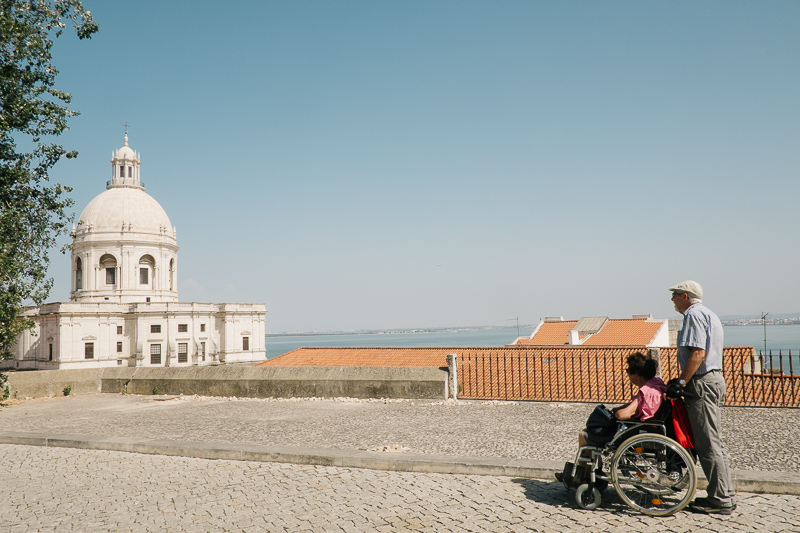 3. Getting lost is the best idea here, just explore
Lisbon has some great squares and spots I'll be sure to recommend in my upcoming city guide, but more than anything, it's a city built to get lost in with your camera. All of Lisbon's positives mentioned in this post are made for it.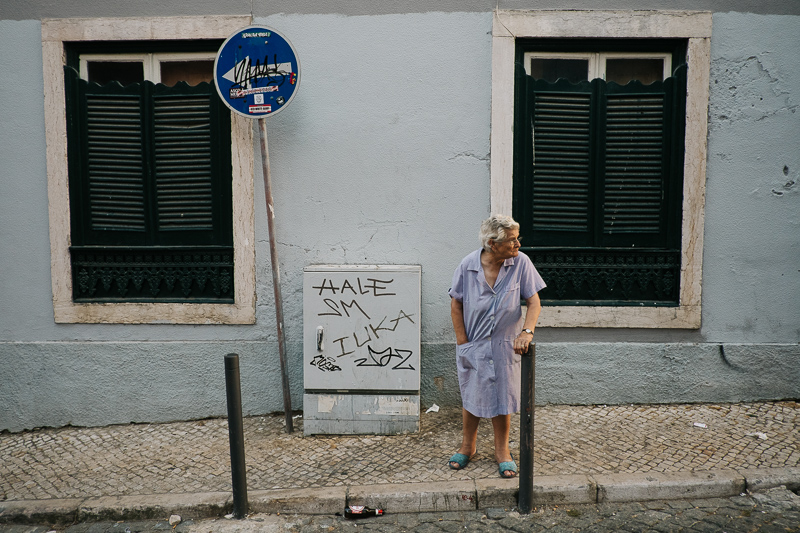 You can work your way by specific areas if you want, starting in maybe Bairro Alto, exploring your way down to Praça da Figueira, then over to the oceanfront, up through and around Mouraria, and then back down and up whichever area you want to go next. Just make sure to get lost in each one. You'll soon find your way out while having a great, worry free street photography experience the whole time. I got lost daily, many times in the same areas more than once, and only wanted to do it again the next day.
4. Great atmosphere, relaxing vibe 
Compared to western Europe's other capital cities, Lisbon is small. That can be a very good thing, though, especially for people who enjoy the type of atmosphere it helps bring. It's a very relaxing and intimate city. It welcomes you without overwhelming you. The people are friendly, the pace is slower, and there's a feeling of being away from big city troubles. All this in a city that is still big enough to give you everything you could need in an atmosphere filled with history and plenty to see.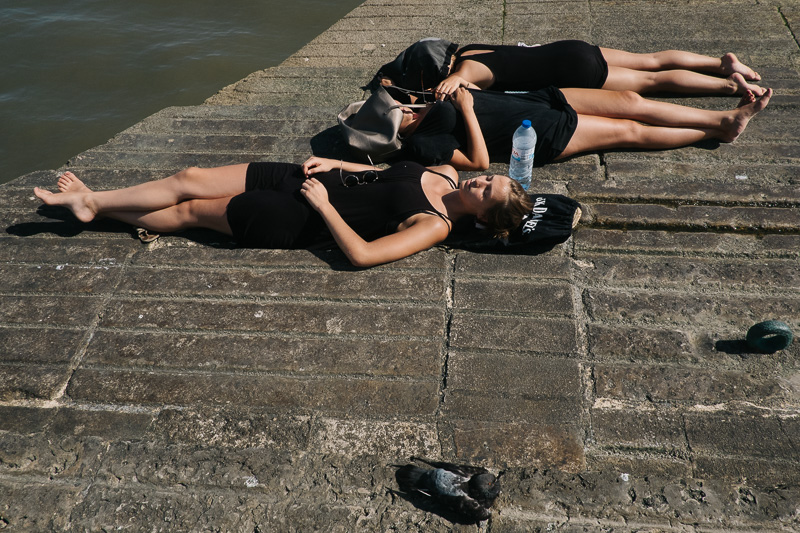 Lisbon feels like a city for the living, a place you'll probably not want to leave. The atmosphere, the beauty, the ocean, the easy feeling and the fact it's not overcome with tourists yet. You see the locals at work and at play. And once night hits, play is something they know how to do well, as the cobblestone streets fill with music, drinks and laughter. Even then, there's the same easy going vibe making you feel free. It all makes for a very enjoyable city experience for street photography, and a beautiful feeling to capture.
5. Some really nice squares/areas with life and great views
One of my favorite parts of exploring Lisbon are all the squares and viewpoints you discover around the city. When emerging from the compact labyrinth of streets and alleys, there's a good chance you'll be greeted by one of these viewpoints amidst the seven hills. Called Miradouros, these viewpoints around the city are more like large terrace squares themselves. Many with their own drink and espresso stands. All of the space and beautiful views attract plenty of activity and life too. They're much more than viewpoints, but also some of the best spots for people watching and of course, street photography.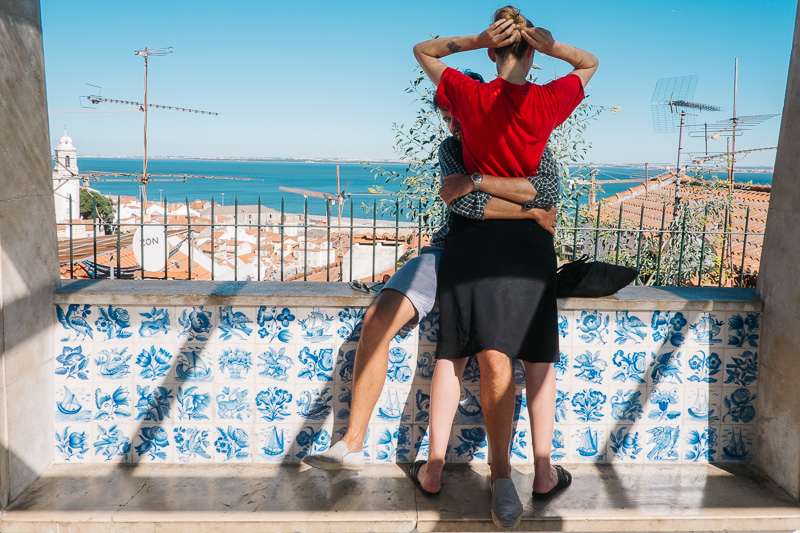 The Miradouros around Lisbon are something that will stand out in my memory as much as anything in the city, and discovering as many as you can is something I'd highly recommend. Below are some of my favorites.
Favorite Miradouros (viewpoints):
Miradouro de São Pedro de Alcântara
Miradouro de Santa Luzia
Miradouro das Portas do Sol
Miradouro da Graça
Miradouro da Nossa Senhora do Monte
Castelo de São Jorge
6. Narrow streets and old, tiled buildings great for catching light
Lisbon can have a lost in time feeling while climbing its steep, narrow hills. Not much is new here. The streets are cobblestone and many of the houses are slightly deteriorating, but in charming way. Old tiles cover buildings, coming in a range of colors, designs and patterns. It gives the city a distinct and photogenic style. It's also a very white and bright city where sun reflects in all directions.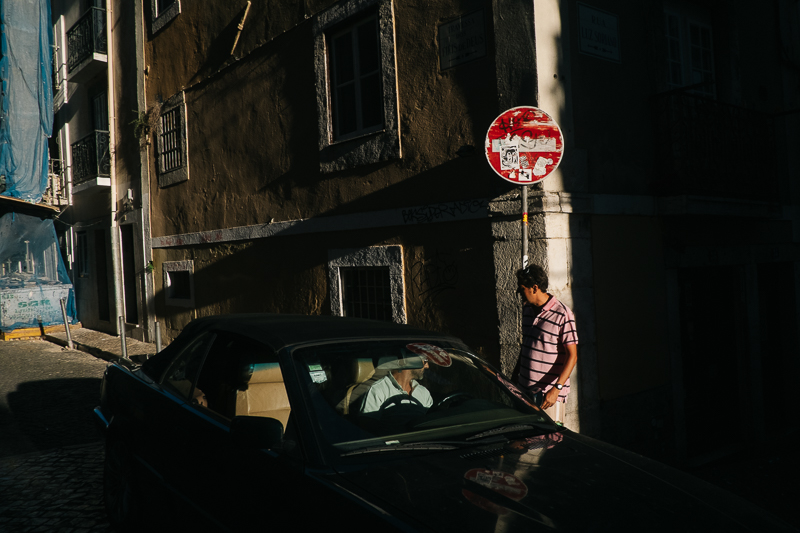 This look combined with hills and narrow, winding streets creates an environment that plays well with sunlight. Rays of light come down along the streets in beautiful ways against the textures, while also giving contrast and shadows. For street photographers who like playing with sunlight, shadows and texture, Lisbon would be a very a good place.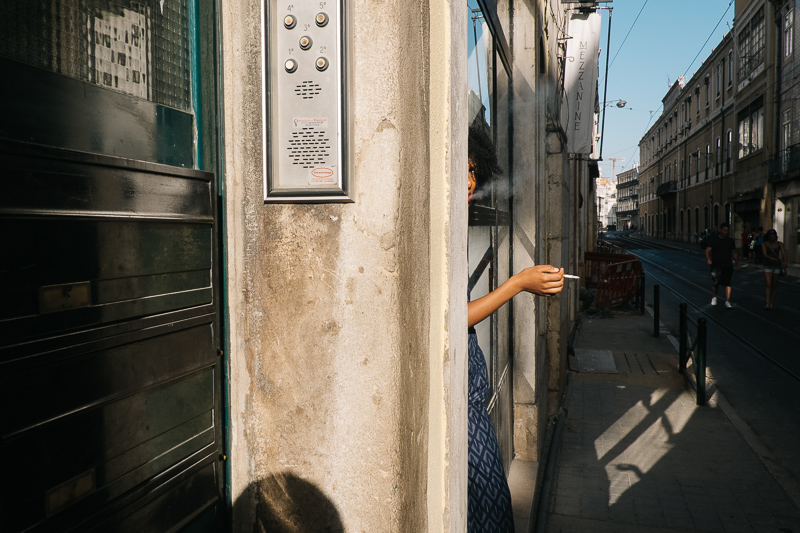 7. Beautiful weather on a budget in Europe
If you want to be in Western Europe once the summer season is turning, it doesn't get much better than Lisbon. While everywhere else is starting to get cold and gloomy, Lisbon stays warm and sunny. Not only is it still a beautiful city to walk with all that sun, but having all that light to play with every day is great for street photography. Lisbon also feels like a city used to the sunshine, which makes it all that more enjoyable.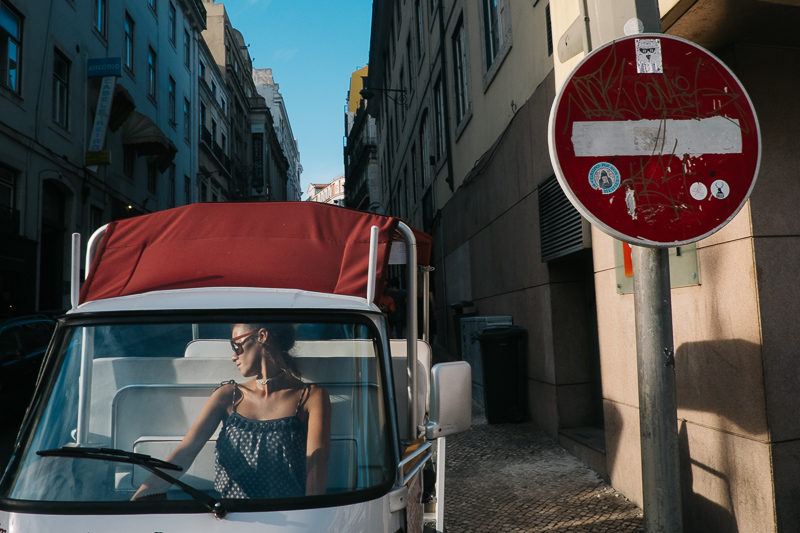 Not only do you get some of Europe's best weather, but you also get one of its most budget friendly cities, specifically in western Europe. From the food and drinks to the lodging, your money goes further here than most of Europe. And to top it off, the nights are just as warm as the days when it comes to fun. Areas like Bairro Alto become even more alive at night, with people filling the cobblestone streets enjoying some drink. It's a social atmosphere that goes along well with all that sun on a budget in Europe.
Authentic charm by the sea
With how visited Western Europe is, Lisbon keeps the authentic and exotic with just enough familiarity to make it a relaxing experience for any visitor and street photographer. With its seven hills of postcard charm, be ready for some steep climbing, but its warm vibe and scenery will make every step enjoyable. Filled with soul, its cobblestone hills, rundown districts and endless viewpoint terraces will seduce you. It's filled with character for street photography and the sunny weather will keep you out there exploring every winding street with your camera.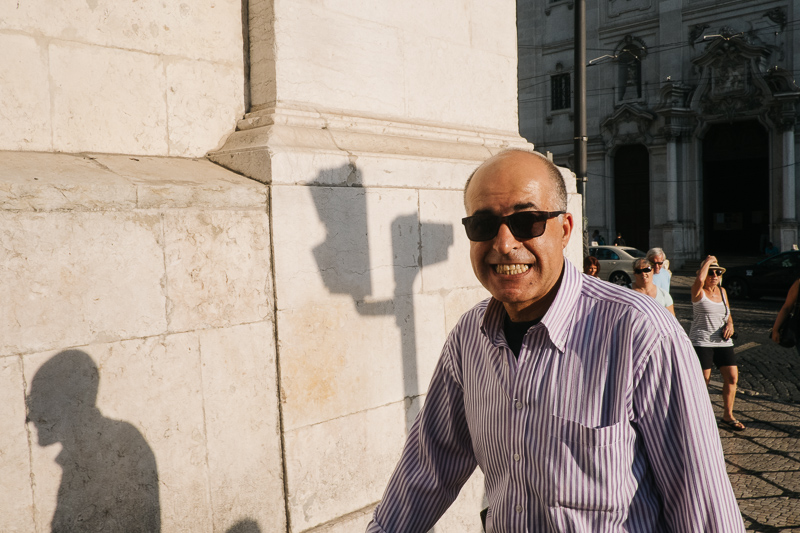 If any of you have been to Lisbon before, tell me about your experience and impressions of the city and country in the comments below! And stay tuned for more on Lisbon, including some of the best Street Photography shots I captured while there.
Click Here for More First Impressions on Cities Around the World 
(from a street photographer's perspective)