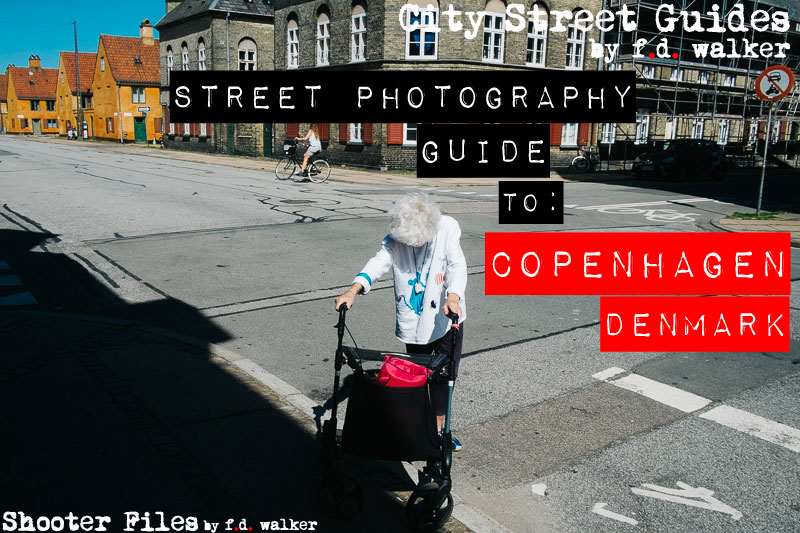 *A series of guides on shooting Street Photography in cities around the world. Find the best spots to shoot, things to capture, street walks, street tips, safety concerns, and more for cities around the world. I have personally researched, explored and shot Street Photography in every city that I create a guide for. So you can be ready to capture the streets as soon as you step outside with your camera!
Copenhagen
Overview:
Of the Nordic countries, Copenhagen brings a slightly edgier, more hip reputation. It's known as a happy, vibrant city with color and a cool, laid bike vibe. It does share similarities with its scenery and architecture up north, but brings a different feeling when exploring its streets. While still very scenic, it's not quite as pretty as many parts of Scandinavia, but more than makes up for it in character, which I found even more photogenic for street photography. It's also a compact city made for walking (or biking). Just bring plenty of money to get you through your time here :)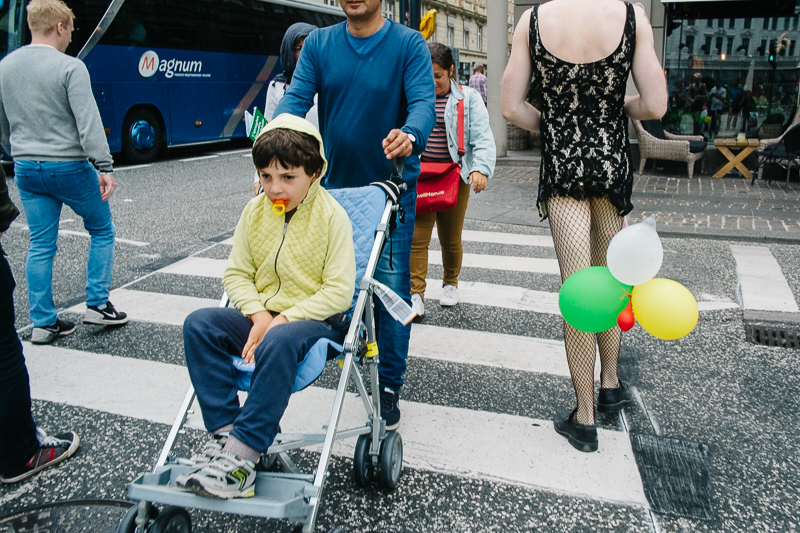 So here's a Street Photography guide so you can be ready to capture all that Copenhagen has to offer before you even arrive!
Map:
Strøget
Nyhavn Street (up to mermaid statue)
Norrebro
Freetown Christiana
Old Quarter
Top 5 Street Spots:
1. Strøget
At over a kilometer, Strøget is one of Europe's longest pedestrian streets. Most known for shopping, it's lined with a wide variety of shops, restaurants and stores. There's a few squares along the way where people gather and street performers do their thing too. Amagertorv Square can get really crowded with activity gathered around the Storkespringvandet fountain, while Nytorv and Gammeltorv Square make for some other popular spots for stopping. Strøget also finishes at Rådhuspladsen, which opens up wide to the large City Hall Square where popular events and celebrations can take place, in addition to normal square activity.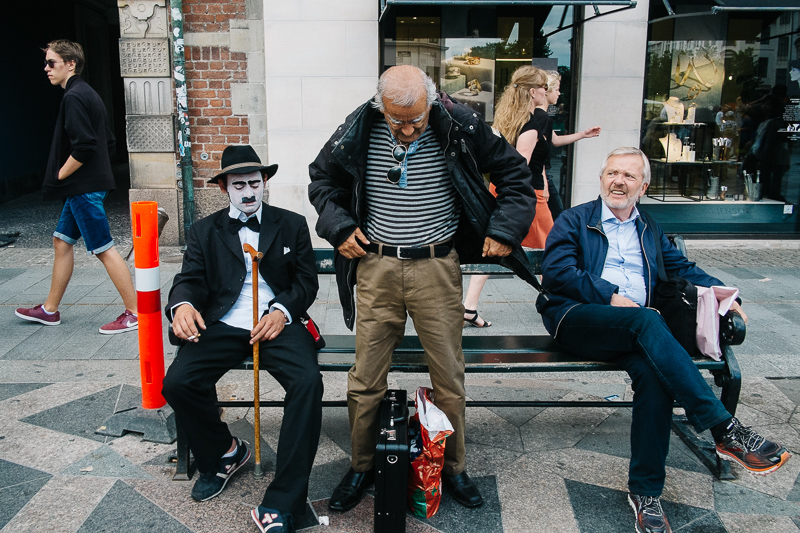 Strøget is a great street for walking through the city center since there's always guaranteed activity. You can fit it in multiple times throughout the day, while checking other spots for street photography too.
2. Nyhavn Street (up to mermaid statue)
Nyhavn is the most famous street in Copenhagen, and what you see on postcards and travel guides. The colorfully painted buildings and wooden boats along the canal attract people for photo ops, while the line of overpriced restaurants, cafes and bars keep them there. This 17th century entertainment district was a sinful spot for sailors, fishermen and even Danish author Hans Christian Andersen back in the day. Today, it's all for the tourists. Still, it's worth walking around with your camera for the backgrounds and atmosphere. You might just get lucky.
While packed, it is a visually pleasing street. You have those colorful 17th and 18th century buildings on one side and rows of old boats down the canal. And since you're in the area, you might as well keep walking and mark off the city's other tourist attraction, The Little Mermaid, and maybe capture some humorous photos of all the people balancing on rocks at the water's edge to catch a photo with this little statue. It's not a bad street photography walk along the way, either, as you do pass some interesting spots of activity.
3. Norrebro
Nørrebro is an older working district in Copenhagen that has gone through many changes in recent years. It's become a place for many of the younger locals, with its trendy bars, clothing shops, edgy spots filled with character, cheaper eats and a vibrant and casual atmosphere. It's also become the district with a multicultural mix. There's a big immigrant population here, with many coming from the Middle East, filling the district with kebab shops and other middle-eastern influences.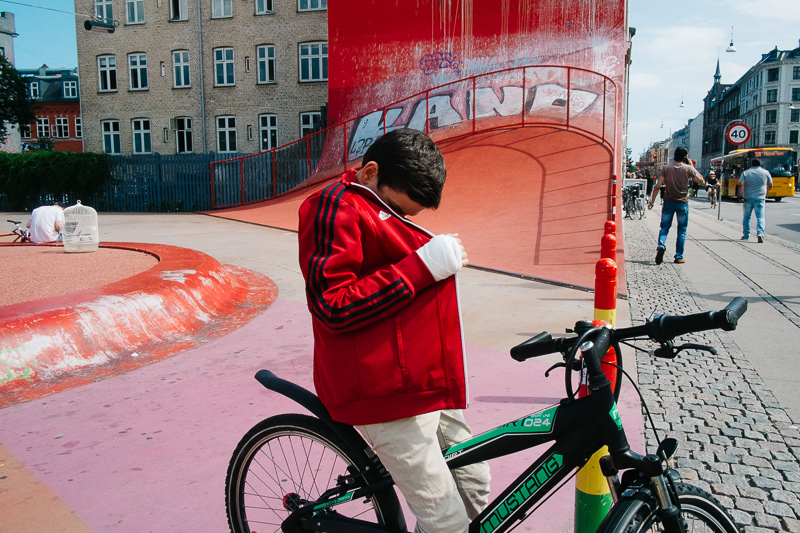 The district is a very interesting mix of European hipster and multicultural influence. It's a little more rugged than much of Copenhagen, giving it more character. The graffiti and art influence adds to this atmosphere too. There's also the large Assistens Cemetary, which has become a popular hangout for locals. Overall, it might be the most interesting district for street photography, in my opinion. Away from most of the tourism and filled with atmosphere, character, life and kilometers of pedestrian only streets.
4. Freetown Christiana
Established in 1971 by a group of hippy squatters using abandoned military barracks on the site, Freetown Christiania has since turned into a car-free neighbourhood and marijuana friendly community with its own set of society rules. They claim to be completely independent of the Danish government, forming an autonomous society, although clashes between the state sometimes occur. Most often, this is brought on by their sale of marijuana in small stalls along Pusher Street. (While it always feels extremely safe, due to some gang related stalls recently causing problems, Christiania has now agreed to install cameras and remove all non-resident and organized group run stalls on this street.)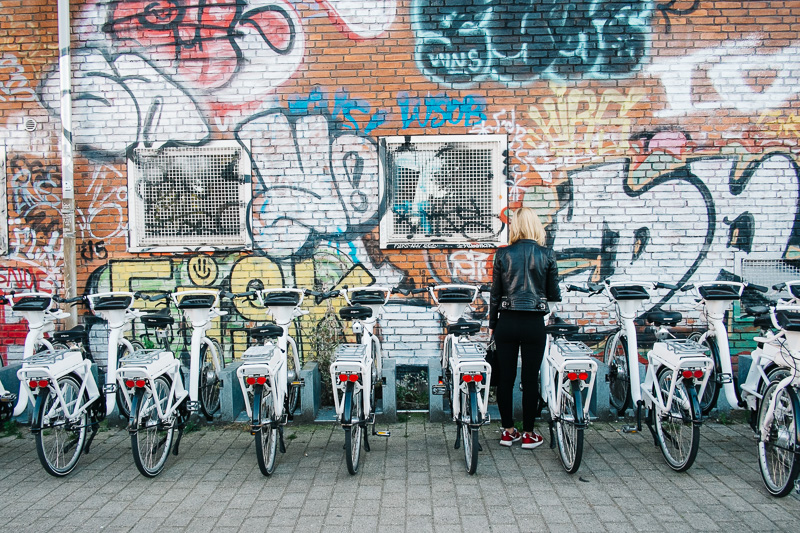 The truth is Freetown Christiania has always been a safe place for non-violence and casual freedom with a focus on artistry. It's completely open to the public and attracts families and people from all walks of life. There's a mix of beautiful nature, art galleries, music venues, organic eateries, quirky houses and even a small skate park. Not only does it have its very unique history, but it's just as unique and interesting to walk around.
*I'd recommend it just for the experience and scenery alone, but while photos aren't allowed around Pusher Street, you can still get some interesting captures in the surrounding areas.
5. Old Quarter
Copenhagen's Old Town is located in the City Centre district. Saint Paul's Street and the area surrounding the church by the same name is my favorite part to walk here. Nyboder is the name of this historic district, where rows of former Naval barracks sit. It can feel like a ghost town with how quiet it is at times, but the colorful yellow hue and character of the buildings here provide some interesting atmosphere and backgrounds.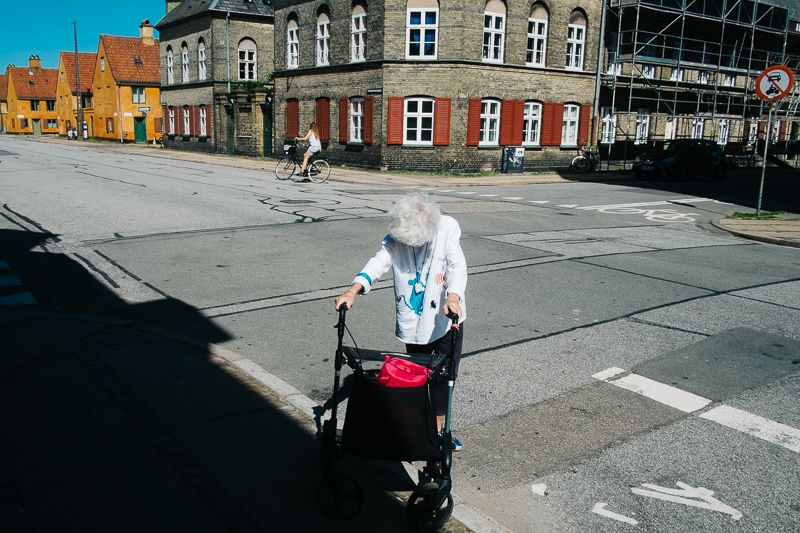 Although quiet, if you walk around enough, you can find some interesting characters to go along with the unique atmosphere here. It's a nice, nearby spot to get away from the tourists, while exploring an old atmosphere of character and charm.
Sample Street Walk:
For a full day of Street Photography, covering some of the best spots, you can follow this sample street walk for Copenhagen:
Start your morning around Nyhavn Street (2) before the crowds of tourists really take over 
Then slowly walk along Strøget (1) until you end at Rådhuspladsen where you can turn around and walk back for more street photography on this always busy pedestrian street
Then walk north exploring some of the Old Quarter (5) with your camera
From here, you can walk northwest over the bridge to Norrebro (3) for multiple hours of exploring this interesting district with your camera
Then walk back down to Nyhavn Street (2) and Strøget (1) to see how the atmosphere has changed for street photography, as you finish your day
If you have time, you can also substitute some time exploring Freetown Christiana (4) instead of doing Nyhavn Street (2) and Strøget (1) again
3 Things I'll Remember About Shooting in Copenhagen:
1. Colorful buildings
The colorful buildings of Nyhavn Street is what Copenhagen is famous for, but there's plenty more color to be found in the city. Scandinavian countries have a tradition of painting their houses bright colors. They can add vibrancy and life to the city, and photos too. Some of my favorite colorful streets include Sankt Pauls Gade, Olufsvej, and Suensonsgade. And none of these attract the crowds that Nyhavn Street does, so scenes can be easier to manage and less messy.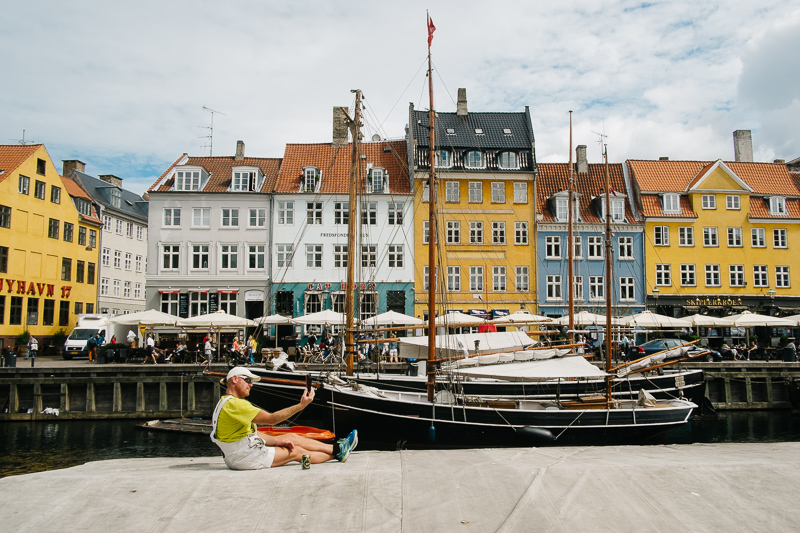 2. Very Walk Friendly
Copenhagen feels very compact and was actually named the most walkable city by the non-profit organization, Walk 21. If you like to walk as much as me, you could explore the majority of the city's best spots on foot without ever needing transportation. Back in the 1960's, Copenhagen started making a push for sustainable mobility too, creating many areas exclusive to pedestrians. So by foot, or bike, the city is made for easily getting around without the need for transport.
You could start exploring around Vesterbro, then walk through the center along the always busy Strøget, check out Nyhavn, walk up and around Nørrebro, and finish the day back in the center. All on foot in one day, seeing much of the city's interest. Combine more days and you can really get a feel for the city by just walking around. Walkability is always high on my list for street photography in a city, as I'd rather just get lost in the streets than spending time in transportation. So this was definitely one of my favorite aspects of Copenhagen.
3. Super Touristy in Compact Center
Copenhagen has a very compact center that packs the crowds of tourists together, especially along two specific streets, Nyhavn and Strøget. While there can be street photo opportunities here due to all the activity and some nice backgrounds, it can get very touristy and messy. For street photography, Strøget is the better bet, though, as far as crowded tourist spots go. With the variety of squares and activity, it handles the tourism pretty well.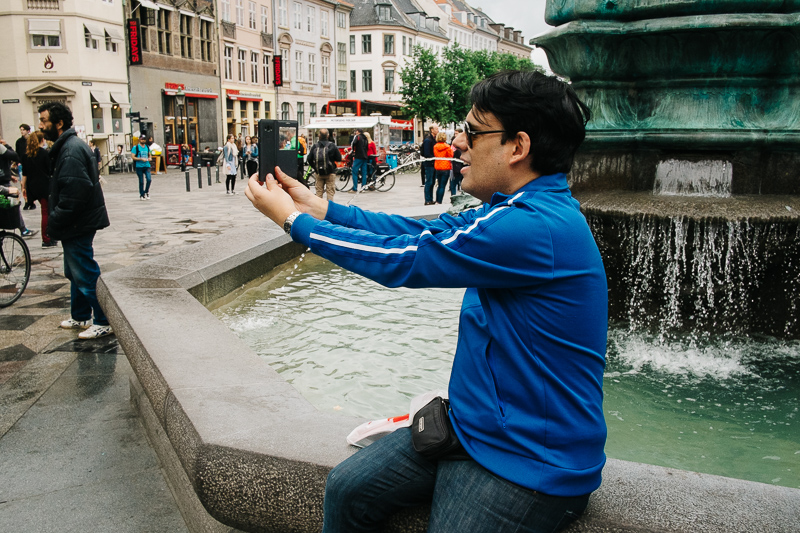 What To Do For a Street Photography Break?:
Enjoy the Vibe
One of the best aspects of shooting street photography in Copenhagen is its cool, relaxed, but fun vibe the city has going. So you might as well enjoy it when you're not shooting too. If the sun is out, there are plenty of trendy bars and cafes with seats outside, parks, and canals to sit out on. It's a fun city with a lot to do if you like to drink, but with a laid back atmosphere, especially in the center and the part of Norrebro by the bridge. Enjoy the hip character and vibe Copenhagen exudes.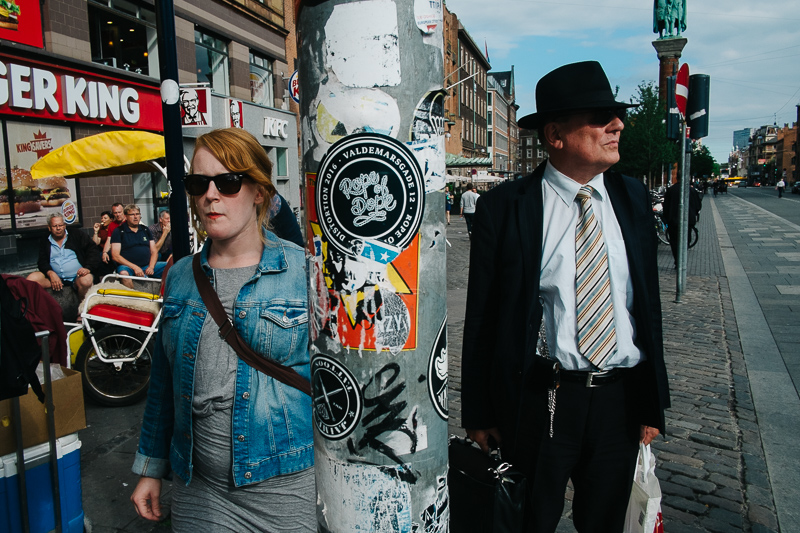 Street Safety Score: 9
*As always, no place is completely safe! So when I talk about safety, I'm speaking in general comparison to other places. Always take precaution, be smart, observe your surroundings and trust your instincts anywhere you go!
As far as capital cities go, Copenhagen is one of the safest in the world. Outside of basic pickpockets attracted to tourist crowds, you shouldn't even feel a worry around the center. Venturing out can become a little more edgy and quiet, but still for a city this size, it's extremely safe.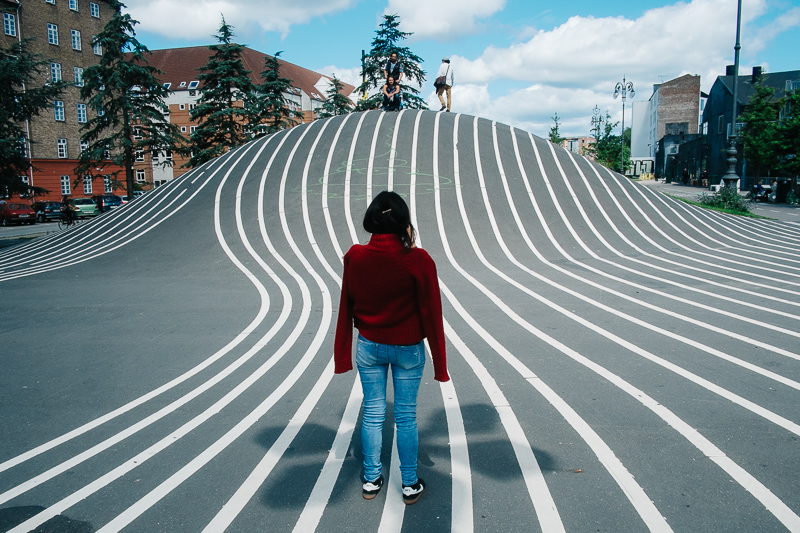 People's Reaction Score: 8
Copenhagen is a relatively easy city to shoot candid photography in. There's a very easy-going vibe walking around the city. Around the center, people are used to seeing cameras too. Outside of the center, there are a couple of areas where you might have some pushback, but for the most part you should be able to shoot street photography without fear of bad reactions in Copenhagen.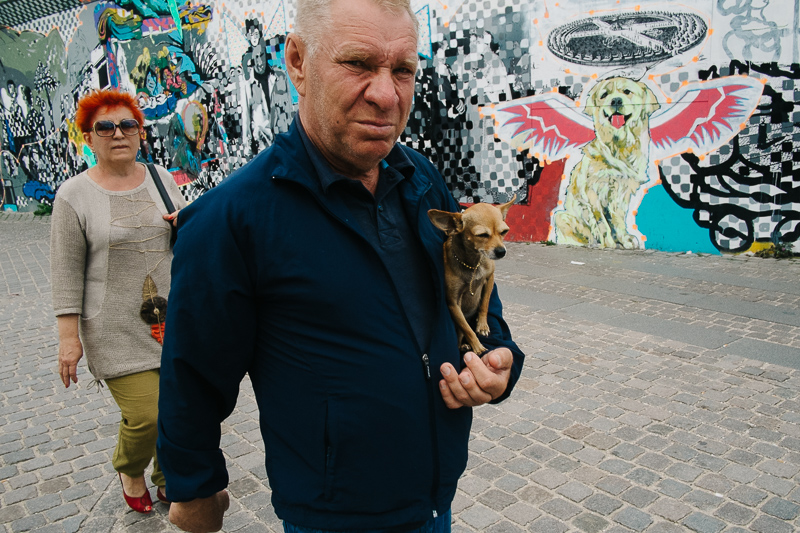 Street Tips:
Very Expensive
It's not a secret that Copenhagen isn't a budget destination. While it's not quite up there with Oslo, it's noticeably more expensive than Stockholm, and much more expensive than the rest of Europe, outside of Switzerland. That's saying a lot and doesn't really hit you until you've arrived. Everything is expensive.
I wouldn't recommend taking transportation if you can help it. Even the metro is a minimum of $4 for its shortest zone. Luckily, since it's a very walkable city, you don't really need to use it. Street photography is free on foot so your biggest budget killers will be lodging, food and drink. You can save some money by getting food at large supermarkets like Lidl, though. And if you drink, it is legal to drink alcohol outside, so buy it from the store and enjoy the people watching outside while saving 5 times the price.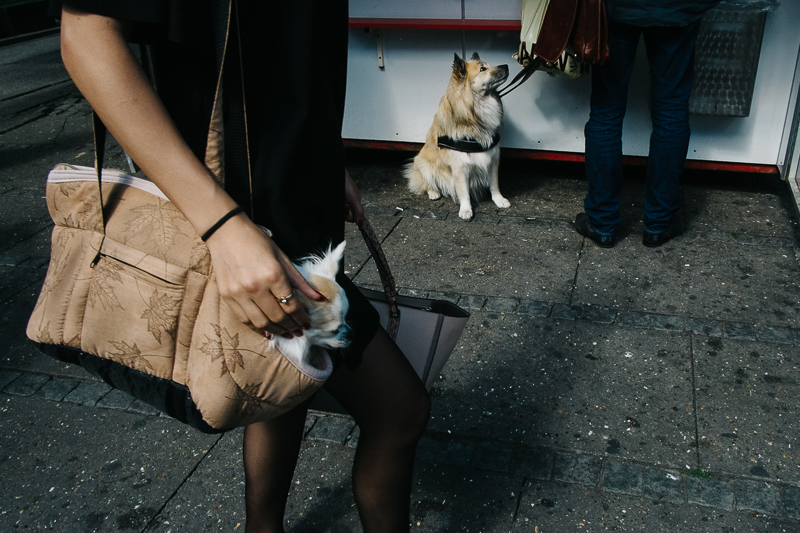 You can't avoid some things, though, so you just need to come to Copenhagen expecting it won't be a budget friendly photo experience. It's a unique, beautiful, and walk friendly city with a vibrant atmosphere to make up for it.
Start and end the day with Stroget
Since Copenhagen is so walkable and compact in the center, it makes Stroget a great street to start and end the day with. There's always activity here from morning to night, so you can take the walk through the center back and forth multiples times to see the change in life and atmosphere. Its location is great for it too, as it takes you right through the center of the city close to other areas you might want to go next. Most days here for street photography, it's where I start and finish.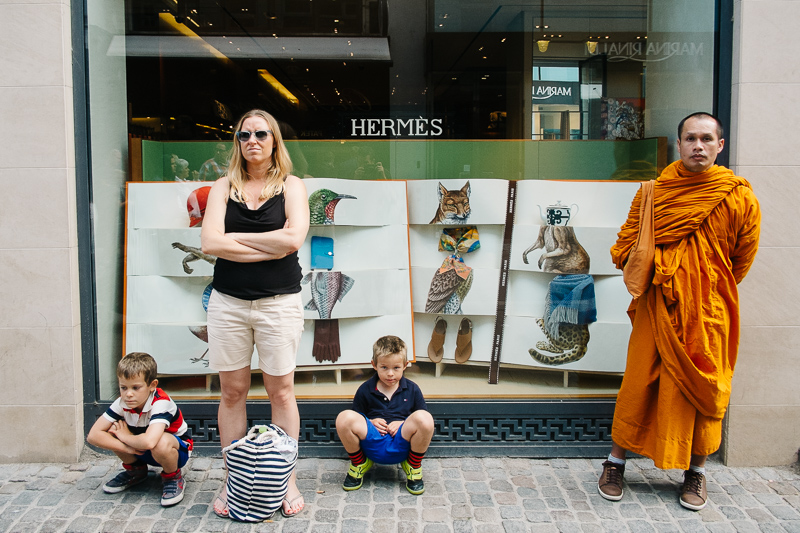 Rent a bike
No where outside of Amsterdam have I seen more bicycles than in Copenhagen. Around some canals, it can give a similar atmosphere to Amsterdam because of this. Everyone uses bikes here and the compactness of the city makes it extremely bike friendly. Some even call Copenhagen the most bicycle friendly city in the world, referring to it as "Bike City." If you want to use a bike to get around yourself, to explore the city with your camera, it's extremely easy with the public bikeshare, Bycyklen. I'd recommend giving it a day to really explore the city, especially around Norrebro. See what you like, can discover and capture.
Inspiration:
For some more inspiration, you can check out 33 of my photos taken in Copenhagen and Stockholm.
Conclusion:
Copenhagen has a slightly cooler, edgier vibe than the rest of the Nordic countries. It has the history and colorful tourist attractions, cobblestone streets and trendy neighborhoods, but there's a character throughout the city that isn't as polished, but full of life. There's a slightly wild side to its beauty. A vibrance that makes the compact, walk friendly city a great one for experiencing on foot, or bicycle, with your camera.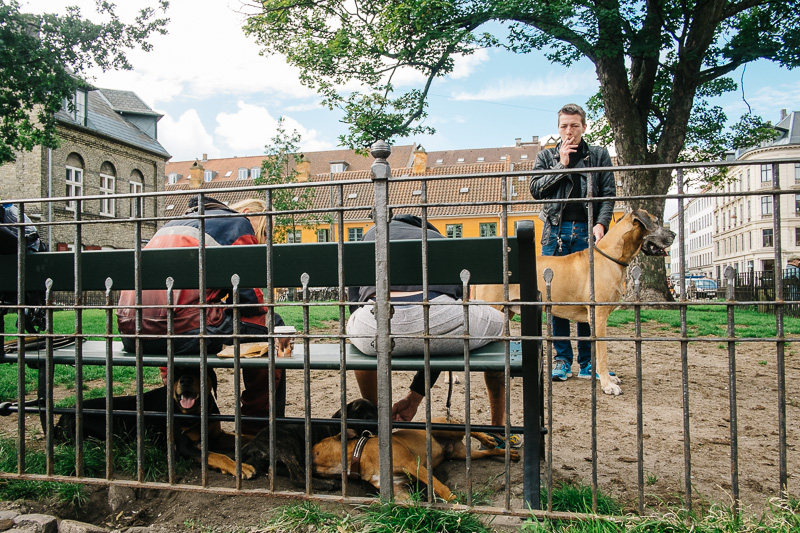 I hope this guide can help you go experience some of the vibrance up north that Copenhagen contains. So grab your camera and capture all that Copenhagen has to offer for Street Photography!
If you still have any questions about shooting in Moscow, feel free to comment below or email me!
(I want to make these guides as valuable as possible for all of you so add any ideas on improvements, including addition requests, in the comment section!)
(A New Guide Posted Every Other Week)