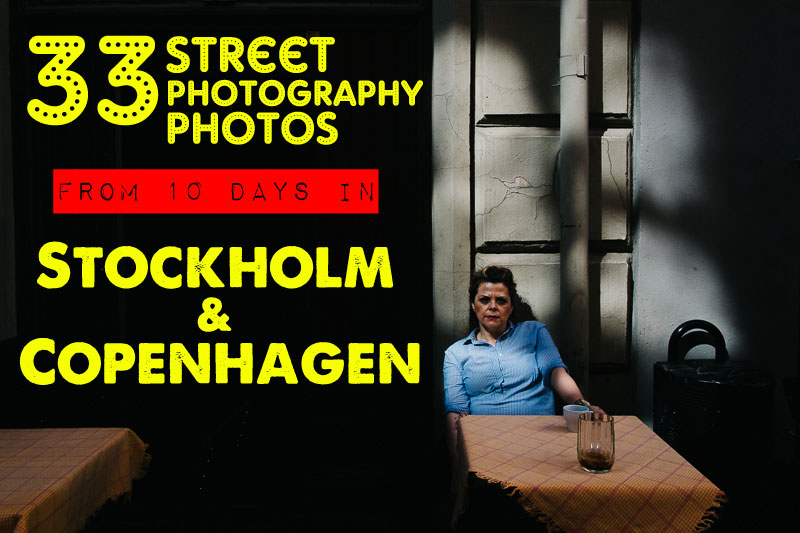 Due to budget and time constraints, I couldn't spend as long as I wanted up in Scandinavia, but I was able to fit 5 days each in Stockholm and Copenhagen. While they share some similarities, they're very different cities with their own vibes and atmosphere. Stockholm has more beauty and nature, all with a very organized urban feeling around the city, while Copenhagen has a little more edge and vibrance, along with more tourism. The highlight for me, though, was meeting local Stockholm photographers Jimmy Dovholt and Ola Billamont, along with Matt Obrey, who was also visiting. But both cities gave a relaxing atmosphere and great walkability for exploring the city with my camera.
For this edition of 33 street photos, I decided to combine these two cities in one post. So here's 33 photos that I was able to capture during my time in Stockholm and Copenhagen…
33 Street Photography Photos from Stockholm & Copenhagen
Starting in Stockholm…
1. 
2.
3.
4.
5.
6.
7.
8.
9.
10.
11.
12.
13.
14.
15.
16.
Off to Copenhagen…
17.
18.
19.
20.
21.
22.
23.
24.

25.
26.
27.
28.
29.
30.
31.
32.
33.
For more info on Stockholm and Copenhagen, be sure to check out my first impressions from a street photographer's perspective. And stay tuned for one of my City Street Photography Guides to both Stockholm and Copenhagen.
Have you photographed Stockholm or Copenhagen before or do you plan on it someday? Let me know about it in the comments below!

And let me know which photos you like best too!
Click Here for More "33 Street Photos" from Cities Around the World