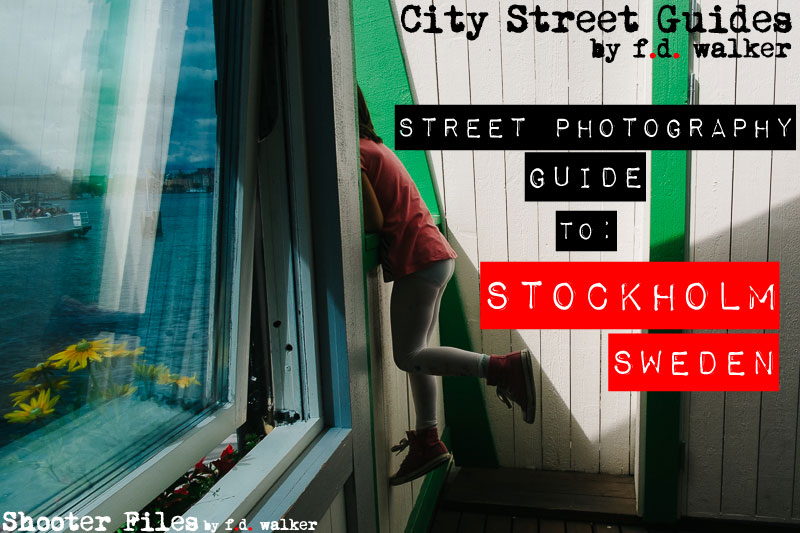 *A series of guides on shooting Street Photography in cities around the world. Find the best spots to shoot, things to capture, street walks, street tips, safety concerns, and more for cities around the world. I have personally researched, explored and shot Street Photography in every city that I create a guide for. So you can be ready to capture the streets as soon as you step outside with your camera!
Stockholm
Overview:
The largest city in Scandinavia, Stockholm is an organized urban beauty. Spread across 14 islands, you have neighborhoods of individual character mixed with nature and water creating a tranquil atmosphere. There's a trendiness mixed with antiquity and exploring Stockholm on foot gives a relaxing feeling for a photo walk. There's a mixture of older architecture, modern lifestyle, and beautiful nature all in a city that gives a very organized vibe. Beneath this picturesque yet modern exterior, there's more character to find in Stockholm, though, if you look for it.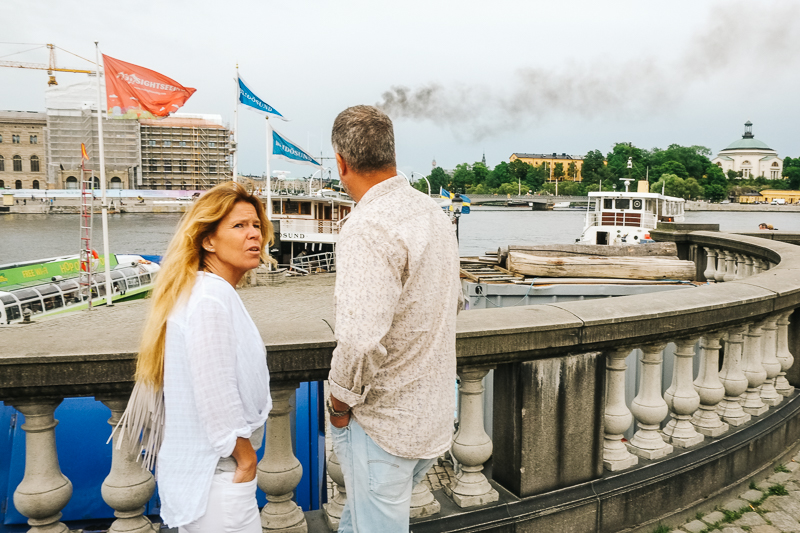 So here's a Street Photography guide so you can be ready to capture all that Stockholm has to offer before you even arrive!
Map:
Gamla Stan
Central
Gröna Lund / Scansen
Kungsträdgården
Södermalm : Sofo
Top 5 Street Spots:
1. Gamla Stan
Gamla Stan (Old Town) is one of the largest and most preserved medieval centers in Europe. It's also the main attraction for visitors to Stockholm. For being the place the city was founded almost 800 years ago, it really does feel extremely preserved. While the architecture is impressive and gives an old medieval feeling, along with the cobblestone streets, it also gives a much newer feeling compared to other old towns. Most of the area is pedestrian only, making it great for walking around with your camera. The yellow shades of the buildings provide a pleasing atmosphere and the sunlight can really come down nicely against them along the narrow cobblestone streets.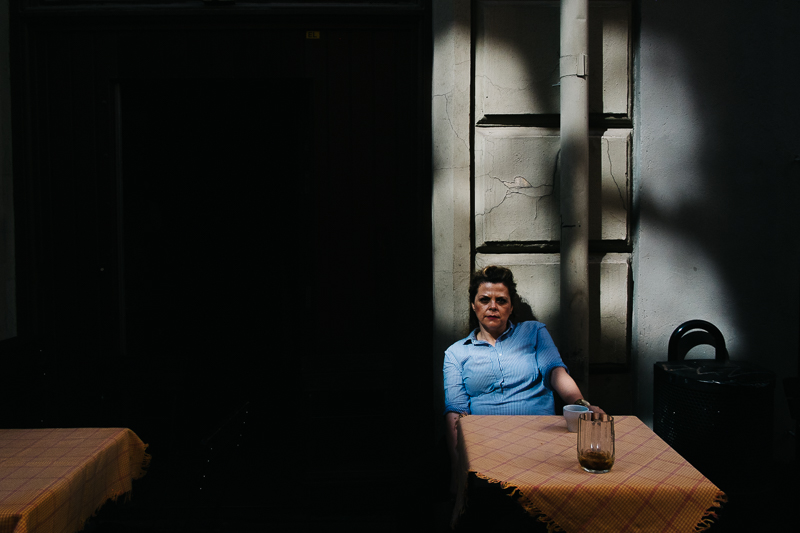 This area does get very touristy, though, and while the area is beautiful and photogenic, it is filled with souvenir shops, cafes, restaurants and other tourist attractions. There's a storybook feeling to the area with the preserved churches, palace and streets from the Middle Ages. It's not crumbling, so it's almost like you are back in time. The tourists help remind you're not, though :) This is a place that many will love for photography, while others might stay away most of the time while looking for a little more authentic feeling. Either way, it's a must to come to with your camera and a beautiful place to walk with its historic charm.
2. Central
Central Stockholm is where you get the most urban feeling in the city, and where you're likely to spot the most characters. Here, you have Central Station, the largest railway station in Sweden and a center spot of action in the city. It makes for a good location to start at for photo opportunities, before you make your want to the rest of Central.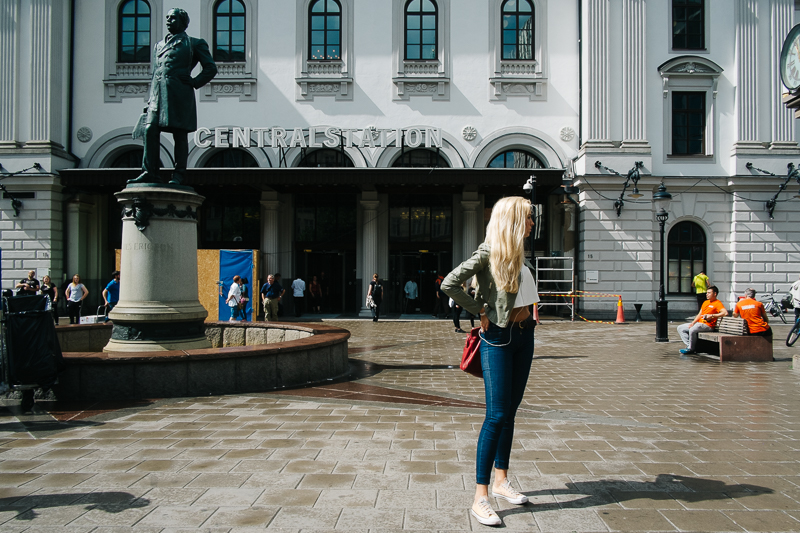 Drottninggatan ("Queen Street") is the busiest pedestrian and shopping street in Stockholm. It runs right through the Downtown in Central and is lined with stores of all brands. At almost 2 kilometers, it always provides plenty of activity and opportunities for street photography. Its location makes it a good walk connecting to other parts of the city for street photography too. I know for many street photographers, Central is a favorite spot if you want more urban edge and characters compared to the more scenic and touristic side of Stockholm.
3. Gröna Lund / Scansen
Some advice I received from local photographers  Jimmy Dovholt and Ola Billamont was when the city is feeling dead, head to Gröna Lund. This amusement park sits on the seaward side of Djurgården Island. And while it's not the biggest park, its location and history make it one of the locals' more popular destinations. It's Sweden's oldest amusement park and serves as a prime venue for concerts, in addition to its rides. The colorful atmosphere mixed with crowds of people on a setting by the sea, make it not only an active spot for street photography, but also a visually interesting one.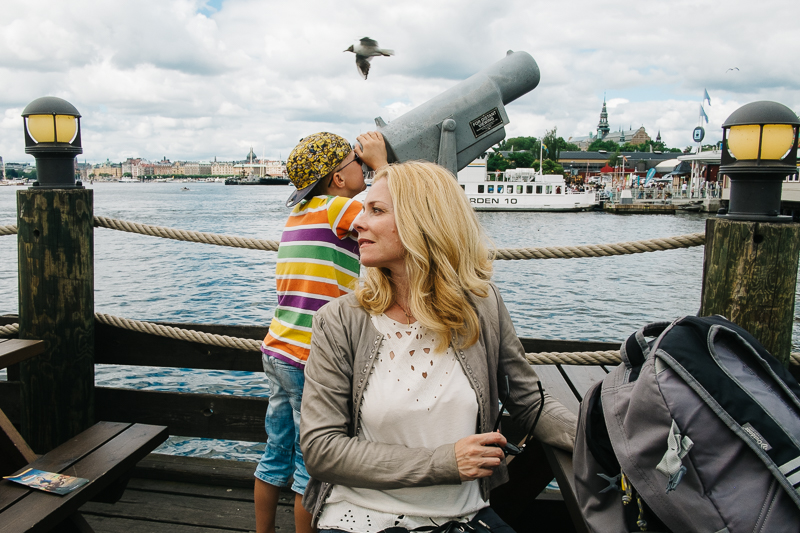 When the city streets feel too quiet, it's great being able to come here for guaranteed activity and life to capture.
4. Kungsträdgården
Kungsträdgården ("King's Garden") is one of the busier parks in Stockholm. Its central location near other attractions and its picturesque scenery makes it a good spot to stop for some street photography. It's a popular hangout and during the summer holds different events. And in the winter, it even has an ice rink. The surrounding is filled with cafes, restaurants and galleries too so there's always activity here.
The park is made up of separate spaces that include multiple fountains and squares. While exploring the city, you can easily come back here more than once during the day and see how the life and activity has changed.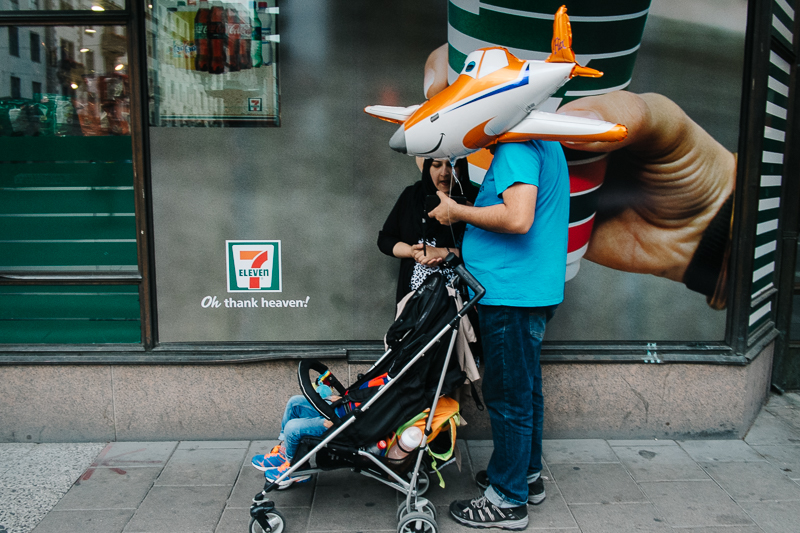 5. Södermalm : Sofo
The Sofo area of Södermalm island is the trendiest area of the city. A place for creatives, you'll find a young and hipster vibe here. Vintage shops, fashion, art galleries, coffee shops, and hip restaurants and bars line the streets. You'll find more of the millennial scene here and for social fun, it's become a popular place from day to night. It's not a big area, but the compactness makes it a nice, easy walk. Give this neighborhood a stop if the young, vibrant and trendy lifestyle appeals to you for street photography. 
Sample Street Walk:
For a full day of Street Photography, covering some of the best spots, you can follow this sample street walk for Stockholm:
Start your morning walking around Stockholm Central Station and Drottninggatan in Central (2)
Then head southeast across the bridge to Gamla Stan (1) and explore the whole island with your camera
From here, you can continue south over the next bridge to Södermalm and explore Sofo (5)
Then turn around back north through Gamla Stan (1) again until you cross over to Kungsträdgården for more street photography
From here, you can finish off your day over in Gröna Lund (3) by taking the short ferry ride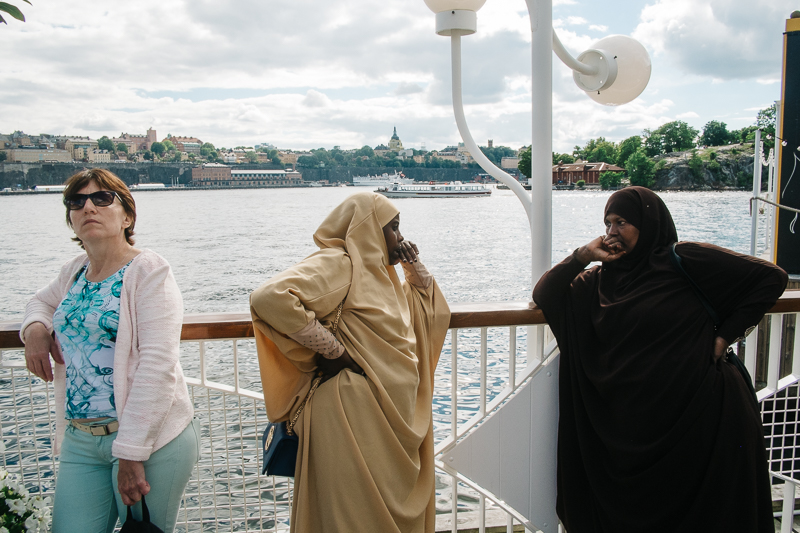 3 Things to Capture in Stockholm:
1. Islands
Stockholm is spread across 14 islands. They're closely connected, though, making the city compact and walkable. My favorite part is how many of them have their own character and vibe. Some of the islands are filled with the more historic vibe, while others feel more modern. Some are filled with parks and nature, while others are good for shopping, restaurants and cafes. You get a mix of different atmospheres and scenery to explore when walking Stockholm.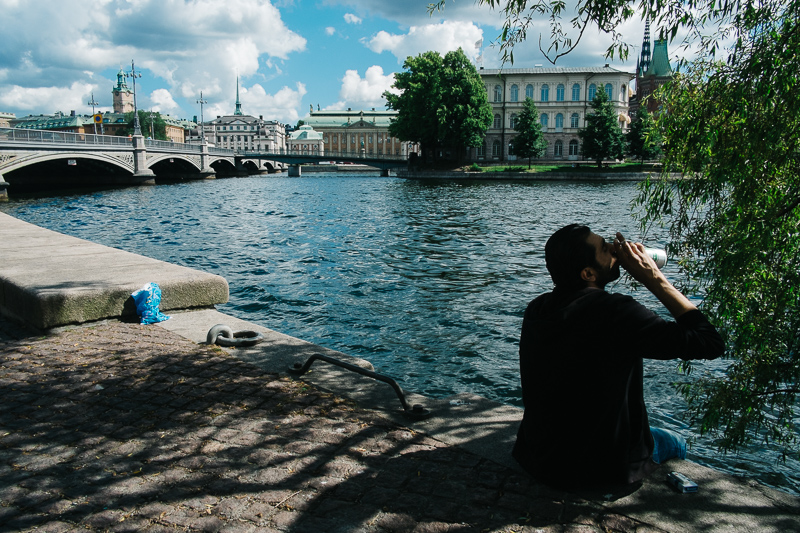 Since most districts are on self-contained islands, it's easy to break them down into well-defined areas. Below are 6 areas that I'd recommend exploring for street photography:
Norrmalm & Vasastaden
Östermalm & Gärdet
Gamla Stan & Riddarholmen
Södermalm & Långholmen
Djurgården & Skeppsholmen
Kungsholmen
2. Nature
In addition to the pleasing architecture, Stockholm is filled with nature and beauty. With compact islands filled with parks, it means waterfronts, gardens, and even forests and beaches are part of street photography walks in Stockholm. It can make for some relaxing and picturesque photo walks. Below are 8 parks I'd recommend to check out if you want to shoot in this type of scene. If you like more of the urban atmosphere, though, central would probably be more your speed.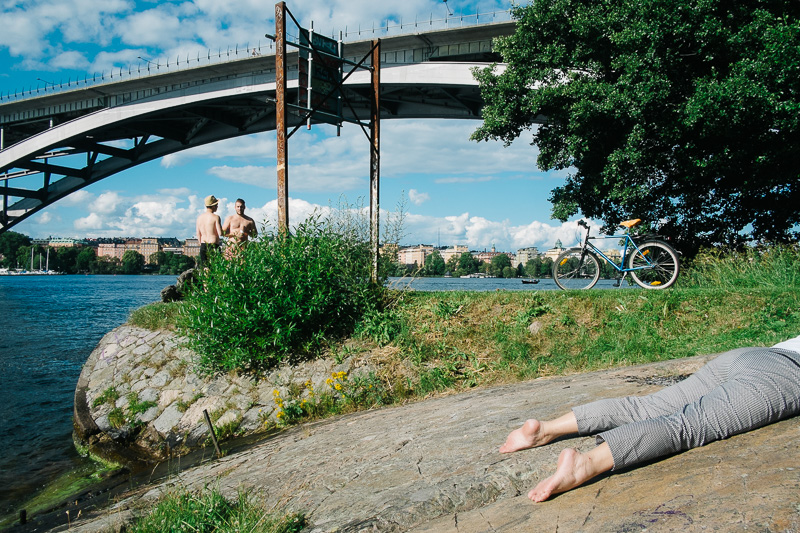 8 parks to check out:
Djurgården
Humlegården
Långholmen
Rålambshovsparken
Kronobergsparken
Observatorielunden
Kungsträdgården
Tantolunden
3. Organization
Stockholm gives off a very organized, clean and efficient vibe. Stockholm's historic buildings escaped destruction by war so they feel very preserved and almost newer than they are. Their style shows their age, but they don't look it. Outside of some of the older architecture, Stockholm feels very modern. Much of the city has new construction and development. Everything is clean, organized and running smoothly.
For an older city, it feels well-managed and chaos free with a simplicity and oddly enchanting organized atmosphere.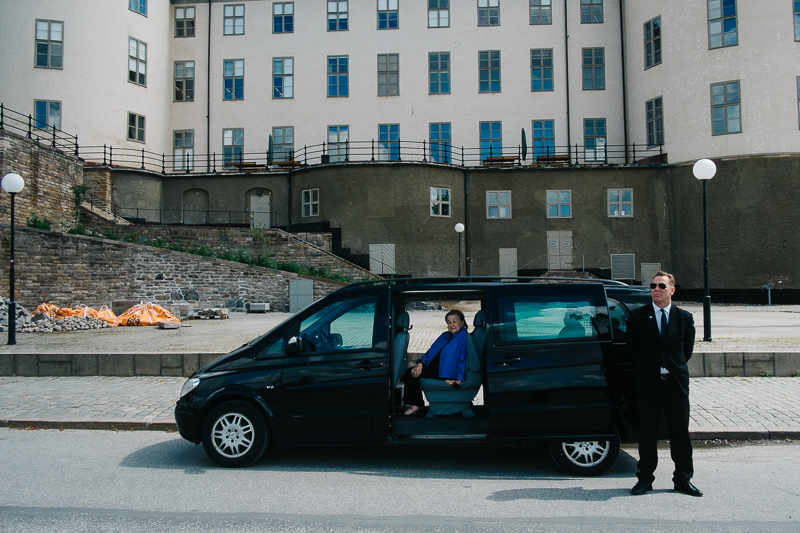 What To Do For a Street Photography Break?:
Enjoy the Urban Tranquility & Beauty
Outside of Gamla Stan, central and some of the more touristy spots, many of Stockholm's streets can feel quiet. Especially in districts like Östermalm, you can walk a while without seeing many people or much activity. There's a peacefulness to much of the city. Some of that is the mix of nature and water, but a lot of it is the city streets and city life itself in much of Stockholm. The city also has quite a few pedestrian streets, which get you away from any sights and sounds of traffic. For street photographers, it can bring a lack of activity and photo opportunities, but it's also part of the character of the city, especially for its size.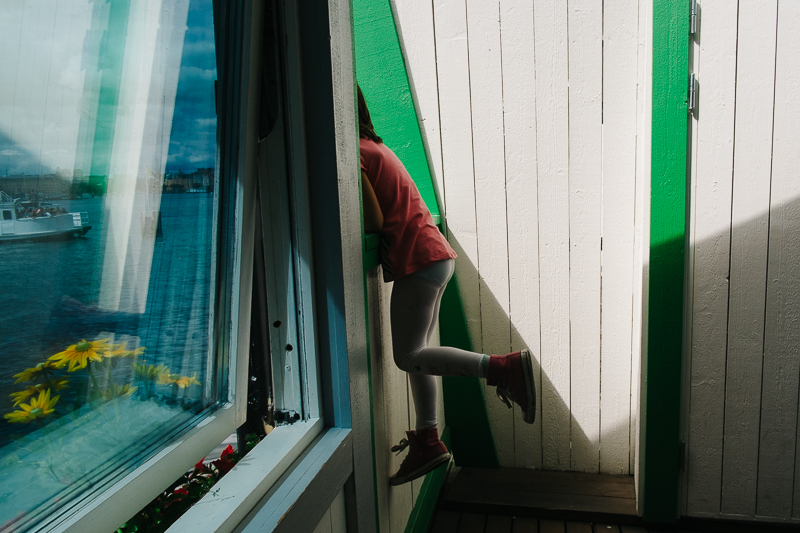 Street Safety Score: 8
*As always, no place is completely safe! So when I talk about safety, I'm speaking in general comparison to other places. Always take precaution, be smart, observe your surroundings and trust your instincts anywhere you go!
Stockholm has a calm and safe feeling walking the streets. The organization, nature, beauty and friendliness of the people make it a city where you feel carefree walking the streets. It's still the largest city in Scandinavia, though, but as far as capital cities go, Stockholm is a safe one walking the streets with your camera.
People's Reaction Score: 8
The swedes are friendly and polite people so you'll rarely have a problem here. It's still candid photography, so some might not understand, but compared to other major cities in Europe, Stockholm is on the easy side of shooting when it comes to reactions.
Street Tips:
Unpredictable weather, but Gamla Stan and old architecture catches light well (when you have light)
Stockholm can have very unpredictable with quickly changing weather. So if you see the sun out, make sure you take advantage of it. You never know how long it will last. Being so high in the north, the time of year affects the length of the days quite a bit, of course. Many local street photographers shoot flash, partly to combat this, but if you're there in the summer and are lucky enough for some nice weather, this is when the city really shines (pun intended).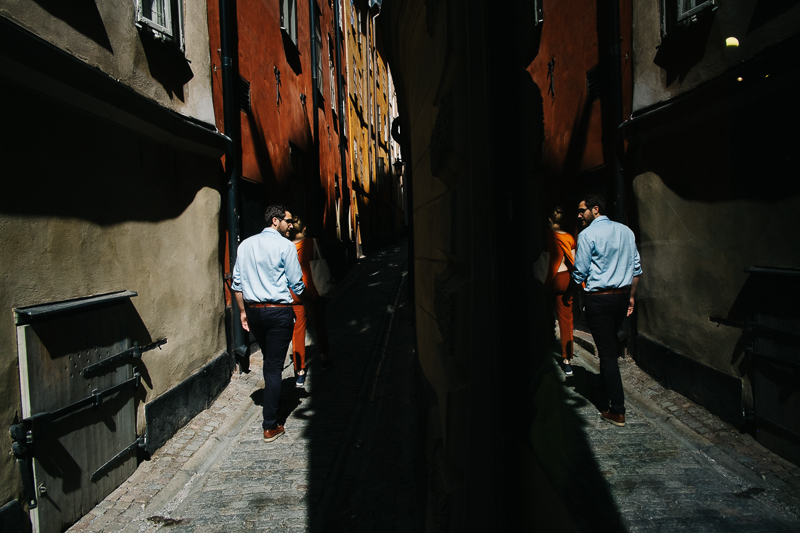 The older architecture, especially in districts like Gamla Stan, can catch the sunlight very well too. The narrow cobblestone streets bring in the light at different angles and shadows mixed with the colors and textures of these older buildings. Depending on what you like to shoot, this could be a big attraction for many street photographers.
Take a ferry & hit up Djurgården when the city is dead
As mentioned earlier, Gröna Lund is one of the more guaranteed spots for activity and interest in the city. Stockholm can get pretty quiet at times, so if you're not finding any photographic interest then taking a quick ferry ride to Djurgården island to check out the theme park is always a good option. Maybe you'll even capture a shot on the ferry ride over.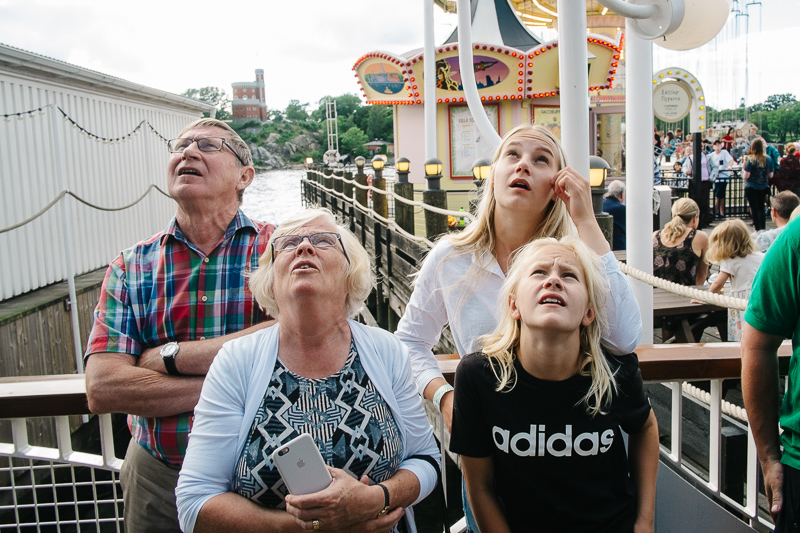 Bring Credit
In Stockholm, everybody takes credit card for everything. From a pack of gum to a bus ticket. In Europe, there can be a very noticeable difference among countries when it comes to cash or credit. In countries like Germany and the Netherlands, many places won't even accept credit card. There are plenty of undeveloped countries more credit friendly than these countries, but Sweden is the exact opposite. Credit is preferred here and you can easily go a whole trip without spending a coin if you want. In many cases, credit card can even be your only option so it's worth noting for visitors.
*It's not a cheap city, though, so keep track of that credit limit.
Inspiration:
For some more inspiration, you can look through the Street Photography of Stockholm photographers Ola Billamont and Jimmy Dovholt, and check out 33 of my photos taken in Stockholm.
Conclusion:
Stockholm can give different impressions for street photography depending on the season. Being so high north, you won't see much sun in the off-season and the city could be gloomy and quiet, but still filled with plenty of character and beauty. Maybe even bring a flash. If you come in the summer, though, you'll get a beautiful, clean, modern yet old, mix of nature and urban organization of a city ready for walking.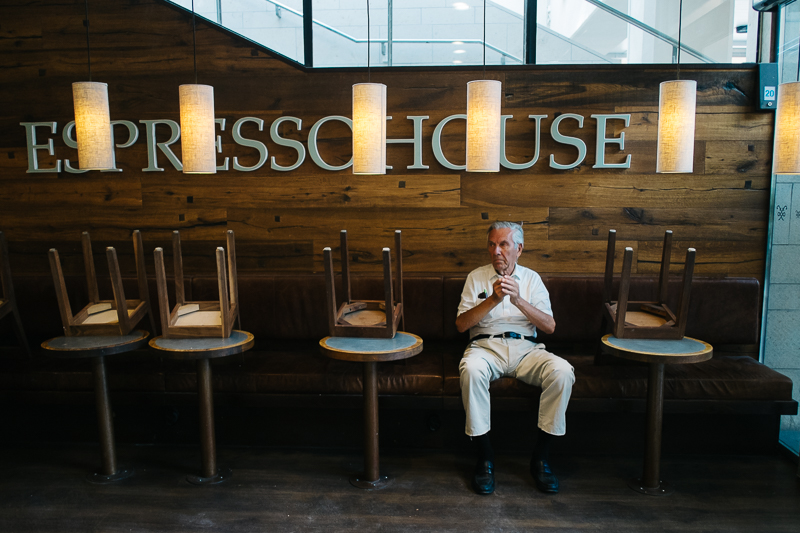 I hope this guide can help you go explore the islands of urban beauty in Stockholm. So grab your camera and capture all that Stockholm has to offer for Street Photography!
If you still have any questions about shooting in Stockholm, feel free to comment below or email me!
(I want to make these guides as valuable as possible for all of you so add any ideas on improvements, including addition requests, in the comment section!)
(A New Guide Posted Every Other Wednesday)