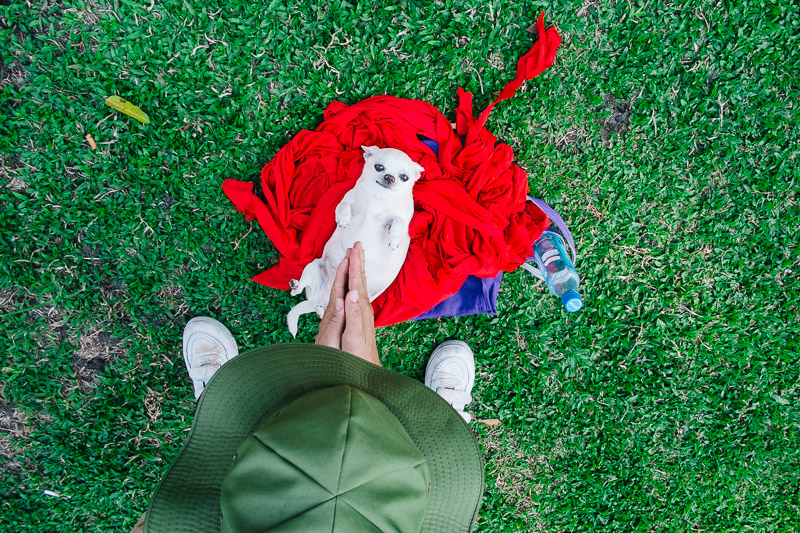 Street Shot Sundays Story & Stats
Story:
This Sunday's Street Shot of the Week was taken at September 23 Park in Ho Chi Minh City, Vietnam. Taken in the same area as a previous Sunday Street Shot, this long, skinny park runs along Saigon's backpacker district up to the popular Bến Thành Market. In the heart of the city here, there's always something going.
After shooting in the park some, I noticed this little white dog at the edge of the grass. I really liked the colors, with the bright white dog inside the red cloth set on green grass. As I walked over to take a photo, his owner came over too. The short, older man leaned over and started playfully talking to his dog while clapping. Due to how short the man was, I was able to tower over them by stepping on the grass side curb. I tried to compose the shot directly above the dog to accentuate the combination of colors, while also creating a sort of illusion with the man's hands and feet only showing from under his hat. While it was a little difficult balancing above for the shot, the old man got a good laugh once he noticed what I was doing. 
Stats:
Camera: Fujifilm Xpro1
Lens: Fujinon XF 18mm 
Focal Length: 18mm (27mm full frame equivalent)

Aperture: f/8

Shutter Speed: 1/500
ISO: 1600