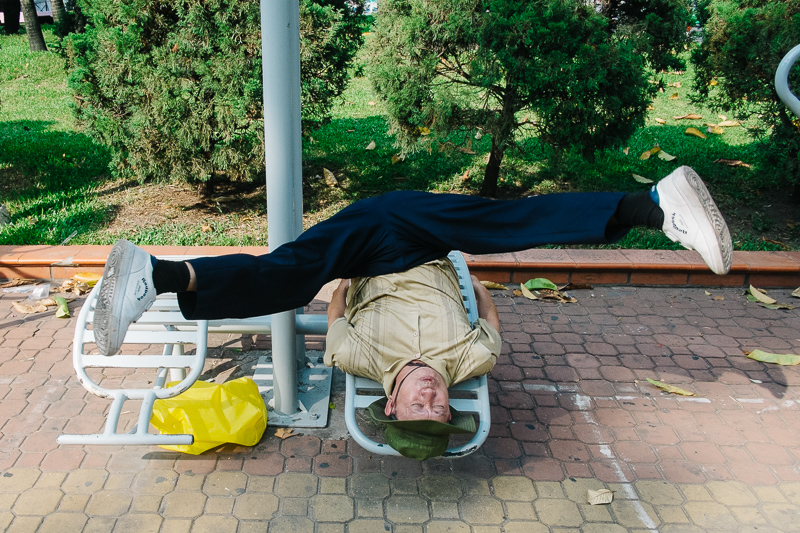 Street Shot Sundays Story & Stats
Story:
This Sunday's Street Shot of the Week was taken in Ho Chi Minh City, Vietnam at September 23 Park (Công viên 23 tháng 9). This park stretches multiple blocks along Phạm Ngũ Lão street up to Ben Thanh Market. So it's in the heart of the city right by the touristic backpacker district and ends at the city's most famous market, making it one of the busier spots in the city. You get a mix of locals and tourists, different events, students looking to practice english, people playing shuttlecock, and people exercising like the man in this pic.
Saigon has these exercise stations in parks all over the city. They're for very simple exercises that don't take much strength and seem to be used by the city's elderly more than anybody. This can create some humorous scenes. They rarely dress in exercise clothes, but they're rarely breaking much of a sweat, either. This man was a different story, though. He was giving full effort in his button-up shirt. 
He was doing this ab workout where he'd bring his legs up and down, while also stretching them in and out at the same time. So I decided to capture a shot of this funny scene right when his legs were fully out and his facial expression showed all that effort he was putting into his routine.
Stats:
Camera: Fujifilm Xpro1
Lens: Fujinon XF 18mm 
Focal Length: 18mm (27mm full frame equivalent)

Aperture: f/11

Shutter Speed: 1/500
ISO: 1600