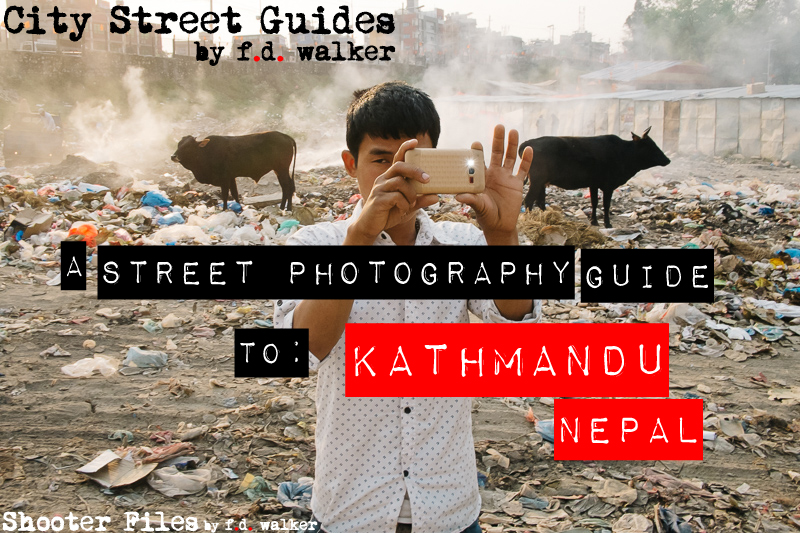 *A series of guides on shooting Street Photography in cities around the world. Find the best spots to shoot, things to capture, street walks, street tips, safety concerns, and more for cities around the world. I have personally researched, explored and shot Street Photography in every city that I create a guide for. So you can be ready to capture the streets as soon as you step outside with your camera!
Kathmandu
Overview:
Outside of temples and a starting spot for mountain trekking, it can be hard to find much info on Kathmandu, especially for street photography. With some exploration, though, Kathmandu is unlike any city I've been to, filled with culture, scenery and an atmosphere like nowhere else.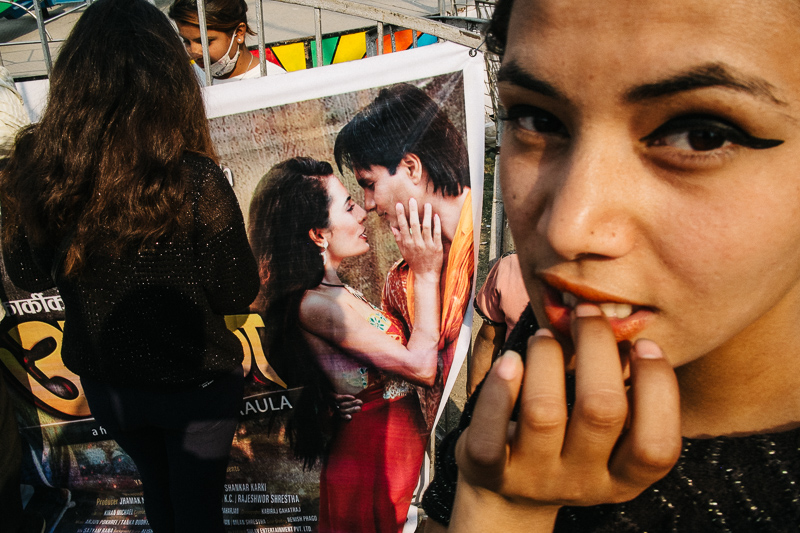 So here's a Street Photography guide so you can be ready to capture all that Kathmandu has to offer before you even arrive!
Map:
Thamel
Durbar Square Area
Bisnumati River / Bagmati River
Boudhanath Temple Area
Pashupatinath Temple down to Ring Road
Top 5 Street Spots:
1. Thamel
Thamel is the center of tourism in Kathmandu, as backpackers, travelers and artists have come here for decades. It's not the nicest area in Kathmandu, but provides character. Some of this character is lost with all the low-budget lodging, shops, and tour operators lining the streets, but the atmosphere of narrow alleys is still interesting. With no sidewalks and no cars, rickshaws, or taxis squeezing through pedestrians on these dirt roads, you can work some different scenery.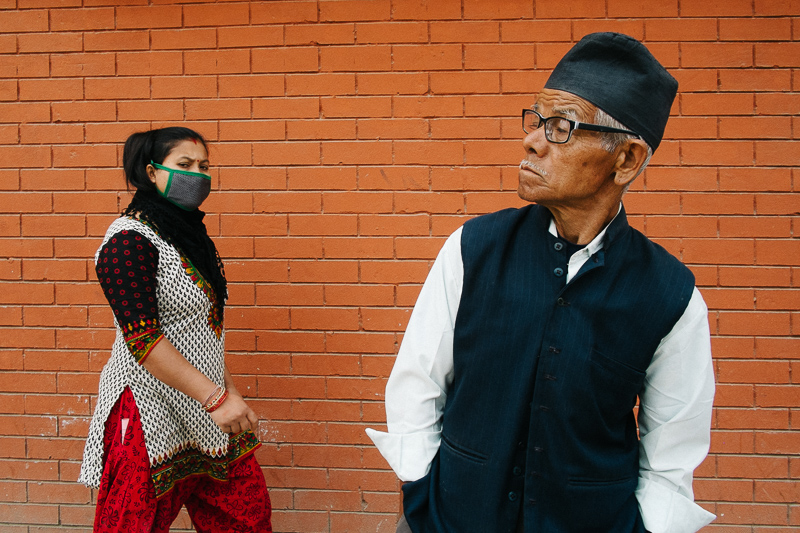 You'll find plenty of crowded activity here and it can be worth some time exploring the winding streets. It can get dark here, as most of the sunlight gets blocked by how narrow the streets are. Still, this means you can play with rays of light shining through, or just turn your ISO up to compensate for the low light. How interesting you find this area depends on what you like to shoot, but if you aren't bothered by crowds of tourists walking in all direction, then you will find photo opportunities here.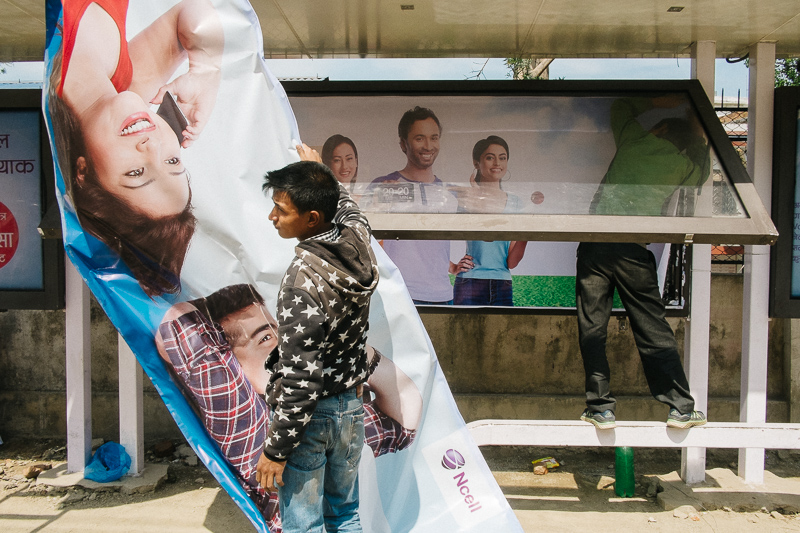 2. Durbar Square Area
I say area because I find the surrounding area more interesting than inside the Square. While Durbar Square is one of the biggest draws in the city, it also costs $10 to walk around its streets, and is mostly filled with tourists. Saying that, it still is the heart of the old town and you'll find some of the city's nicest architecture here, along with some attractive squares.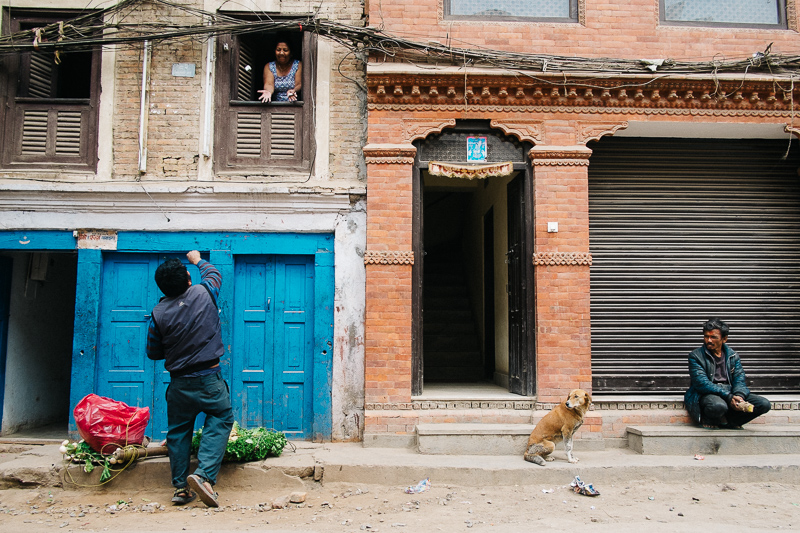 The old royal palace is located here and you can see some of the damage from the 2015 earthquake. Street sellers and guides hang out here too, but if you want to get a similar atmosphere with a more local feeling, then you can also explore the surrounding streets.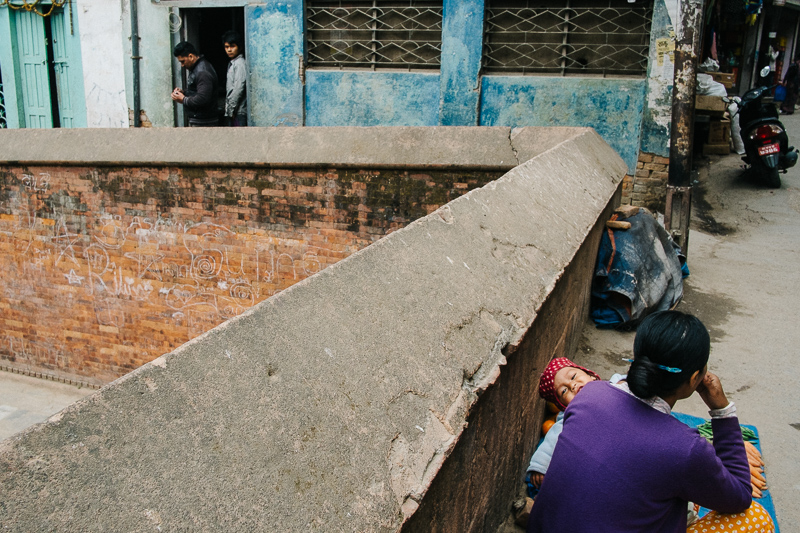 3. Bisnumati River / Bagmati River
The Bishnumati river runs right down the city just east of the center and the larger Bagmati River runs across the lower part of Kathmandu, and up along the airport. Both rivers are far from picturesque, as they're filled with debris, trash, and pollution, but they can make good routes to walk along for some street photography. They also contain their own character, if not pretty. The Bishnumati river's location is much more ideal, as it runs right by many of the places you'll want to go in the center, and where you'll probably be staying.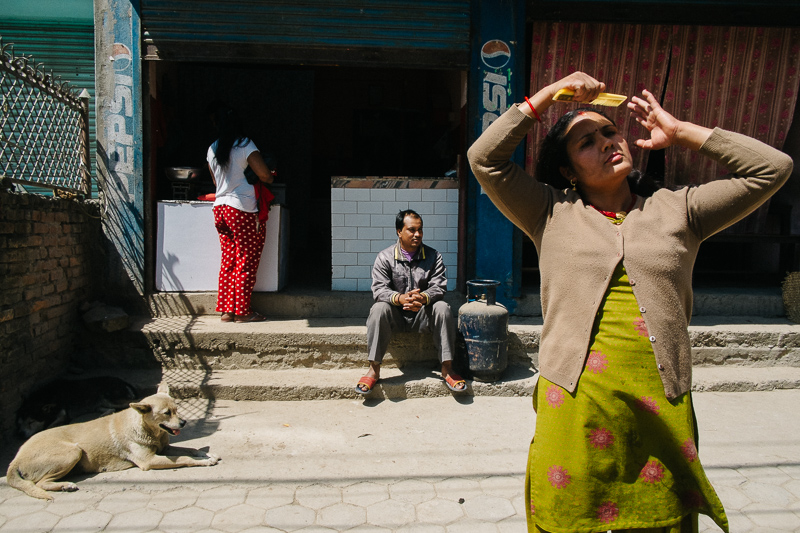 People live along the riverbanks and you'll find plenty of activity exploring around. Women washing clothes, men working, kids playing, small temples, dogs and plenty more can be found here. The light can also be good here with the wide open space in front of the homes, as opposed to the more urban streets having their light blocked by buildings, telephone wires and prayer flags.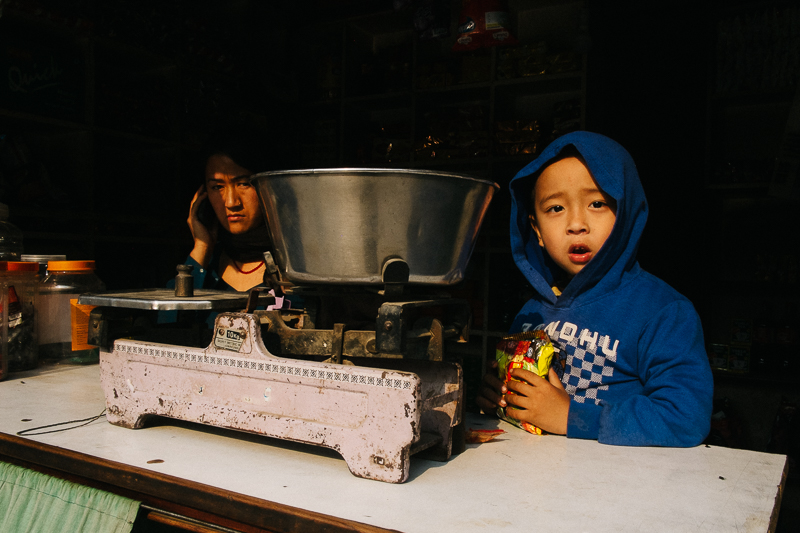 The Bishnumati and Bagmati are holy rivers for Hindus and Buddhists. While they've also provided water for drinking and agriculture, they've been used as a dumping site for decades now. The Bagmati River has been even more important in Nepalese Hindu tradition, from its use in reincarnation to being considered the source of Nepalese civilization and urbanization.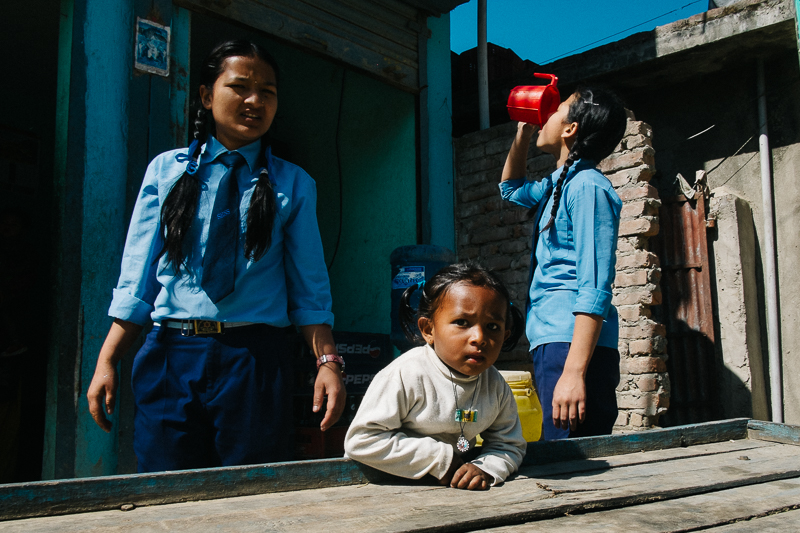 4. Boudhanath Temple Area
The Boudhanath Temple is another big attraction in Kathmandu. It's not only one of the largest Buddhist stupas in the world, but has been surrounded by monasteries, including Tibetan, due to its importance. It's become a place of pilgrimage and meditation for Buddhists from all over, which adds to the atmosphere, making it more than just a tourist stop.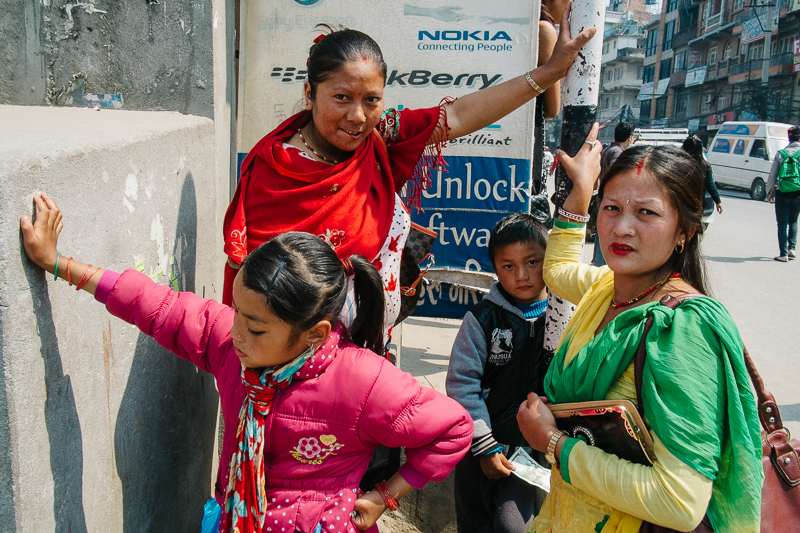 After checking out all the activity around the stupa, make sure you explore the surrounding area to see if you can capture some of this atmosphere. You'll find buddhist monks, young and old, walking around here more than anywhere else. Along with the mixture of buddhist influence, you'll find busy urban streets to explore too, which can be come together in a scene, or photo.
5. Pashupatinath Temple down to Ring Road
The Pashupatinath Temple is a famous Hindu temple on the banks of the Bagmati River. It's also surrounded by a collection of smaller temples and ashrams, which provides a large area for exploring. This is of course another spot with a fee to walk around, but the main reason I include it in this guide is because of what's located nearby.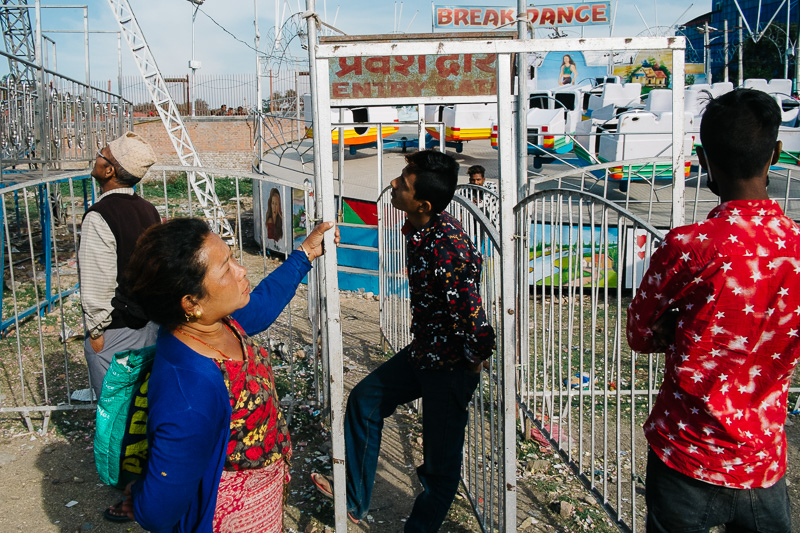 If you head just south from here to Ring Road, you'll pass a large outside market, and during much of the year, a mobile fair. If the fair is going, this might be my pick for most interesting spot in the city for street photography.  This large mobile fair sits in the middle of a landfill full of garbage, cows and a small market. While that doesn't sound pretty, it's definitely interesting and provides a scene I've never experienced before. In the corner, you'll find some very old school fair rides and food stands scattered around the dirt. This place attracts the crowds too, as locals from all over the city come here for some fun.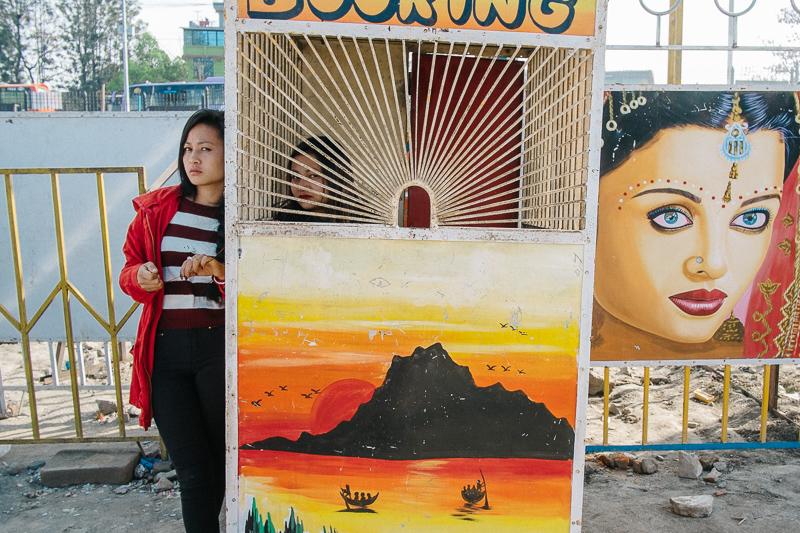 I'm not sure how often this is going, but if you're in Kathmandu, it's more than worth checking out. Just south of Ring Road here, you have some more dirt streets of interest to explore too.
Sample Street Walk:
For a full day of Street Photography, covering some of the best spots, you can follow this sample street walk for Kathmandu:
Start your morning walking down and around Thamel (1)
Walk west to Bisnumati River (3) and spend some time exploring along the river banks (2)
Walk towards Durbar Square (2) and spend time exploring the whole area, inside and out
You can continue east and explore more of the city's central 
Take transportation east over to Ring Road, directly below Pashupatinath Temple (5)
If the fairgrounds are going, explore that area, and then you can walk up around the temple (5)
Finish your day by taking transportation back around Thamel (1) and see the how much the atmosphere changes in the evening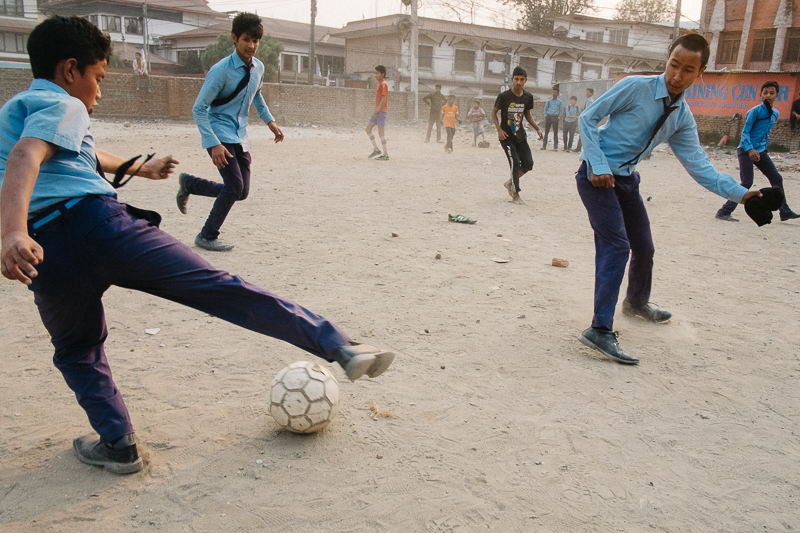 3 Things to Capture in Kathmandu:
1. Nepalese Culture
The culture of Nepal is a unique one. Heavily influenced by Tibetan, Mongolian and Tibetan culture, it's evolved over many centuries. The traditions, art, clothing, architecture and atmosphere are unlike anywhere else. It's a very rich and multi-dimensional culture that makes for an interesting place to experience and capture. If you're looking for something new in a city for street photography, Kathmandu would make a good choice. It's a big enough city, while still possessing plenty of culture preserved through time.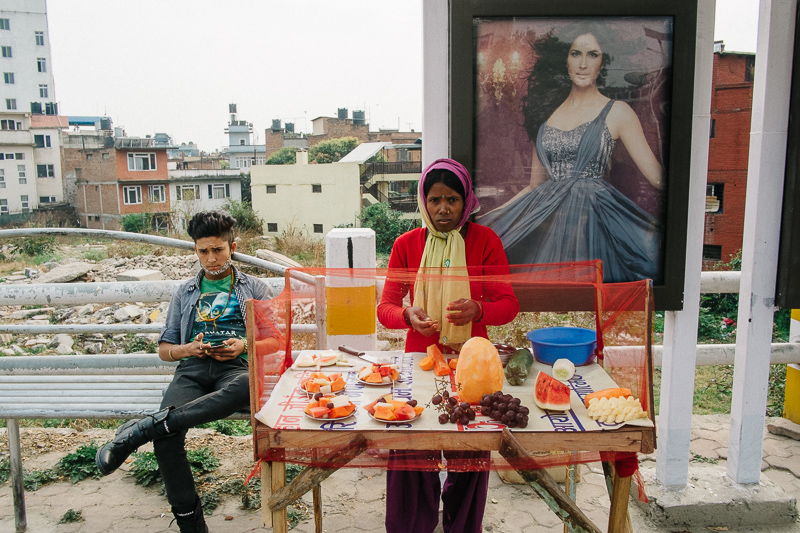 2. Stupa Areas
Stupas are probably the biggest attraction for tourists here. Kathmandu has some of the biggest and most famous stupas for both Buddhists and Hindus. The sight of their colorful prayer flags stretched across the sky becomes as big a part of the city as anything. But while they've become a tourist attraction, and many come with an entrance fee, they're obviously really for the people and their religion. So they attract plenty of the city's life too, along with monks on their pilgrimage. After you spend some time capturing prayer and other activity around the stupa, you should explore the surrounding areas too, as I've found they can make good spots for street photography.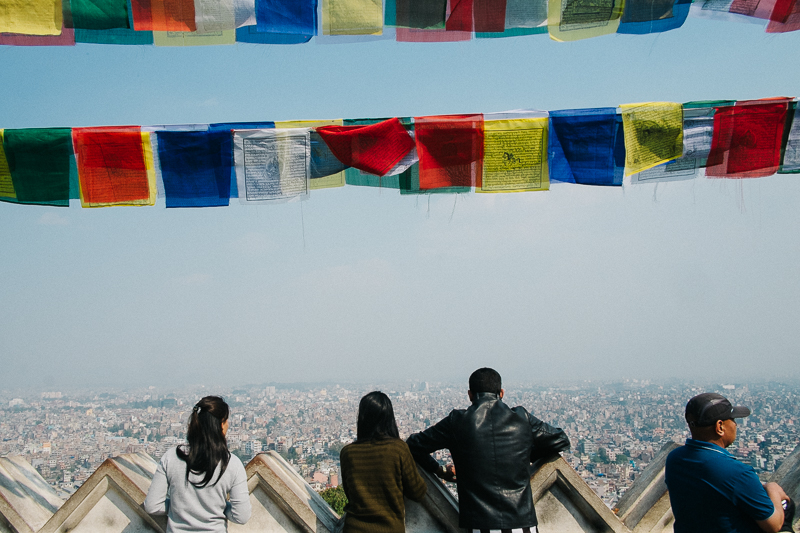 3. Dusty roads and life
I've never been in a city as dusty as Kathmandu. The air is constantly filled with a haze of dust. You can capture this unique atmosphere and look in your photos here, though. It can darken the scene or add highlights, depending on the light, but both create their own mood.
The effects of the dust aren't only noticeable in the scenery, but also the people. Everyone in Kathmandu wears face masks, especially if they ride bikes. You'll see everything from disposable hospital masks to cheap patterned cloth masks sold on the street to the more fancy motorcycle masks.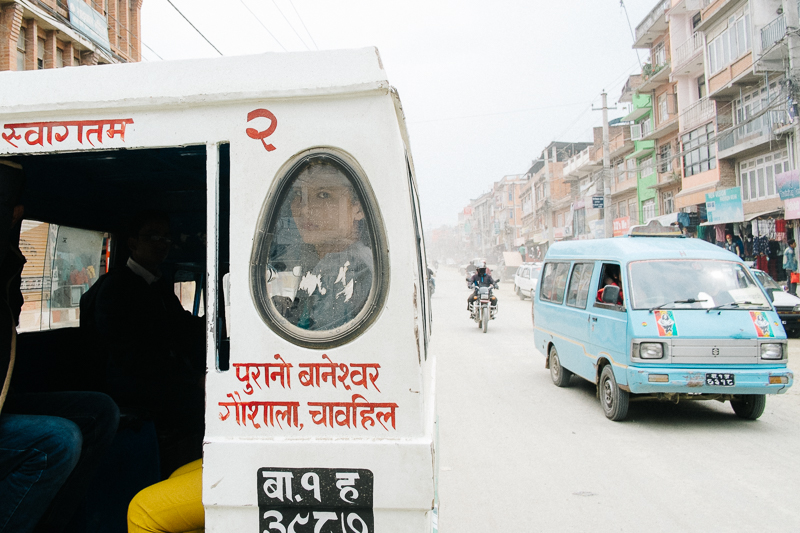 What To Do For a Street Photography Break?:
Mo Mo & Tongba
Mo Mo is the popular traditional dish here for a quick bite to eat. Basically, its their version of the dumpling, but it is tastier than most, and comes with a nice sauce. Tongba is a traditional drink that's one of the more interesting things I've tried. Tongba is a millet-based alcoholic beverage indigenous of the Limbu people of eastern Nepal.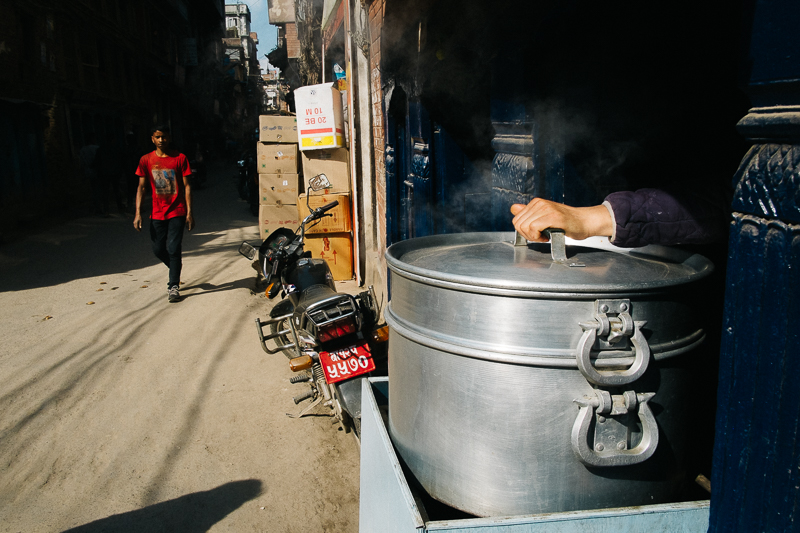 With it, you get a special straw with holes to filter out the millet. From there, you can keep re-filling it with hot water until it runs out of flavor, and alcohol. It actually lasts a while too. It has a very interesting taste that I like, but it's more of an acquired style of taste that's probably not for everyone. It has a bitter, slightly sour, wine taste to it.
Street Safety Score: 8
*As always, no place is completely safe! So when I talk about safety, I'm speaking in general comparison to other places. Always take precaution, be smart, observe your surroundings and trust your instincts anywhere you go!
Kathmandu feels as safe as any place. The scenery might look worse in some spots and much of the city goes without electricity at certain times of the day/night. So you might want to be careful at night in the dark alleys where it gets completely dark. But this is more looks than real danger. Normal precautions and trusting your instincts should be enough in Kathmandu.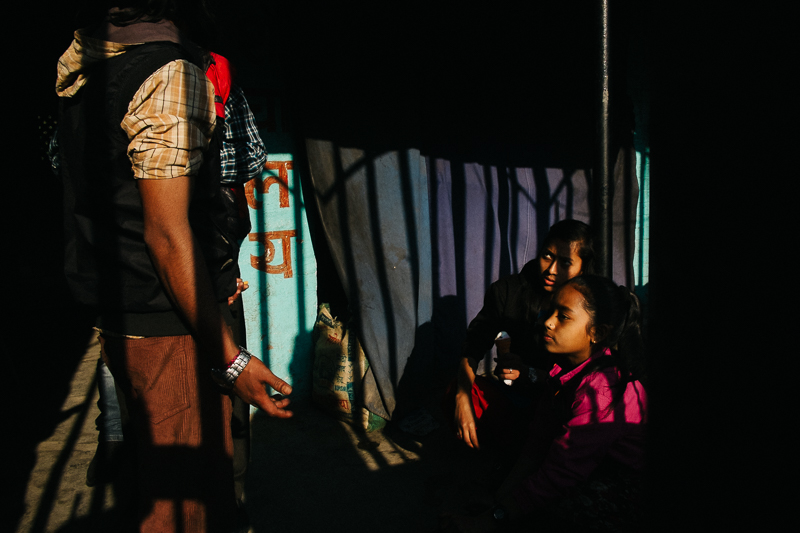 People's Reaction Score: 8
People are very photo friendly in Kathmandu, similar to Nepal's neighbor below, India. The curiosity and care isn't to the degree of India, though. People don't ask for photos or pay you as much attention here. It might have to do with all the tourism so their used to the cameras. In the most touristic areas like Thamel and the temples, you might be asked for money after a photo. In the rest of Kathmandu, it should be mostly carefree shooting without reactions.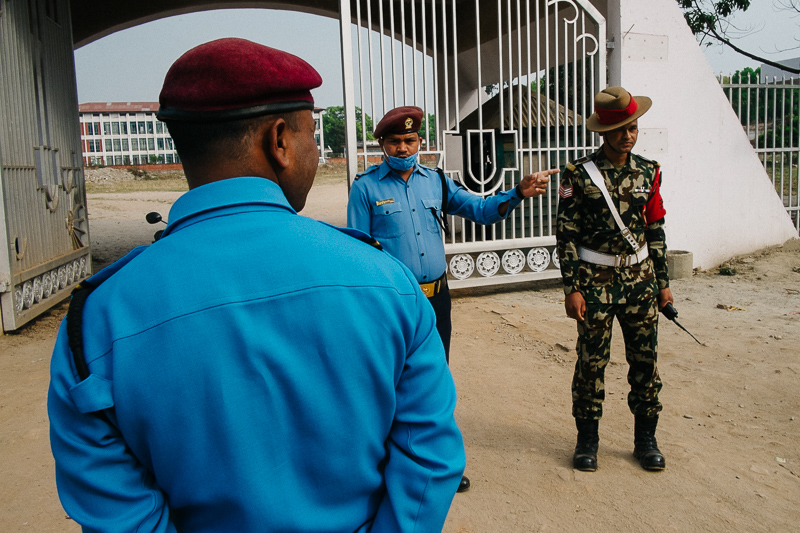 Street Tips:
Streets Aren't Free
Kathmandu is unique in that many areas and streets have an entrance fee. This isn't a fee to go inside anywhere, but just to walk down the street. Unfortunately, many of these streets and sections are areas that you'll want to walk. And even more unfortunate, the fee for foreigners can be surprisingly expensive, relatively. I'm talking as much as a hotel room for a night in the city.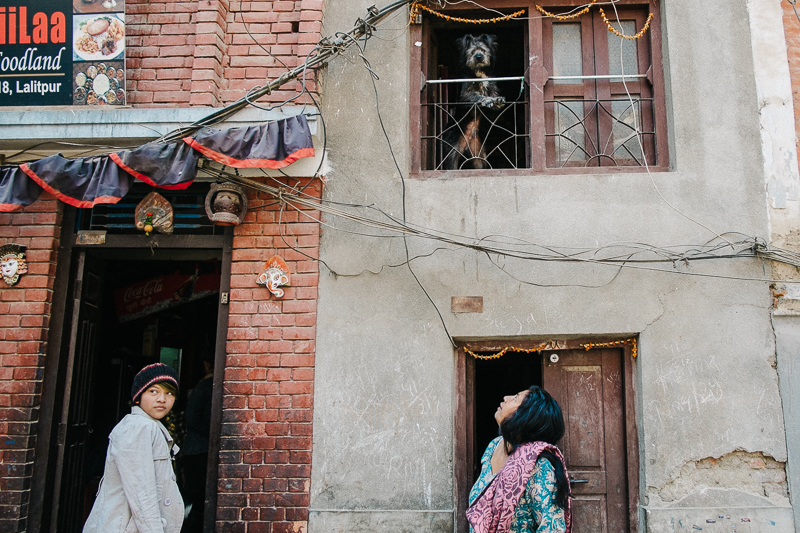 These pricy streets, squares and blocks are all over the city and usually contain some older architecture, temples or monuments. Durbar Square is the most known, but just in my exploring the city, I walked into at least 6 different streets with a price tag. Some being larger and pricier than others (Usually $5-$10, but as much as $15). Of course some of the larger feed areas can't be protected at every street or alley entrance so you might find yourself entering for free without knowing it. Passes are available that allow entrance to all of them so it's up to you if you feel these areas are worth the cost.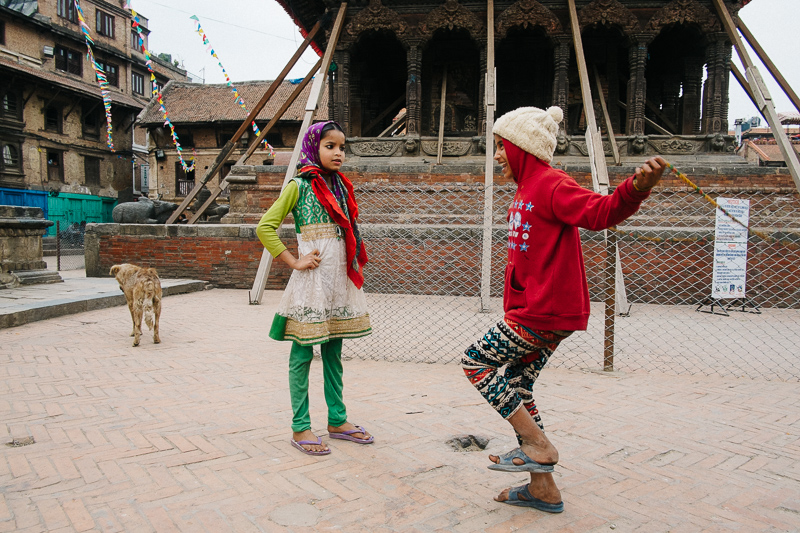 Be aware of dusty air in photos and exposure
As I described before, I've never been in a city as dusty as Kathmandu. The air is constantly filled with a haze of dust, which gives a different look than fog. There's a brownish tint and it can reflect the sunlight a little. At the same time, it can stop the light some too. So when the weather isn't sunny, it can get pretty dark, especially in the more narrow streets. So make sure you have your exposure set correctly.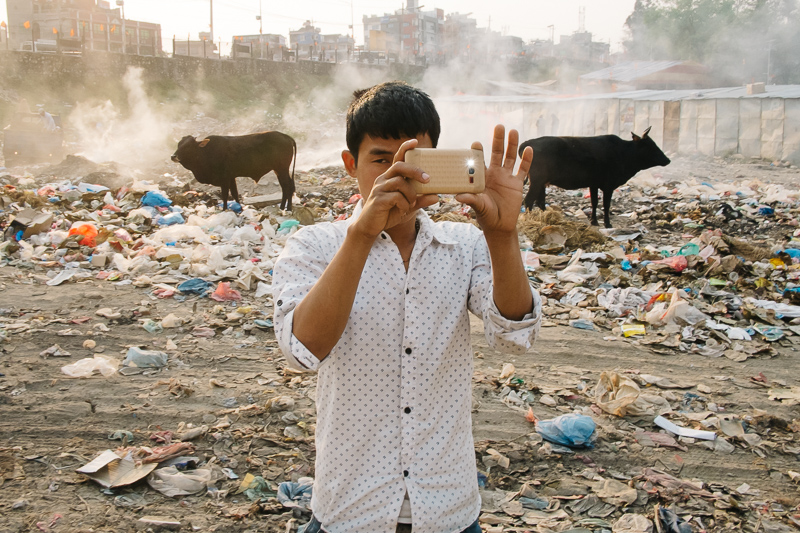 Nepal's air quality ranks 177th out of 178 countries so much of the dusty haze is a mix of pollution too. You could try out a mask like everyone else, but wearing a mask isn't the best look for a street photographer :) So be prepared for the dusty, polluted air for yourself, your camera and exposure.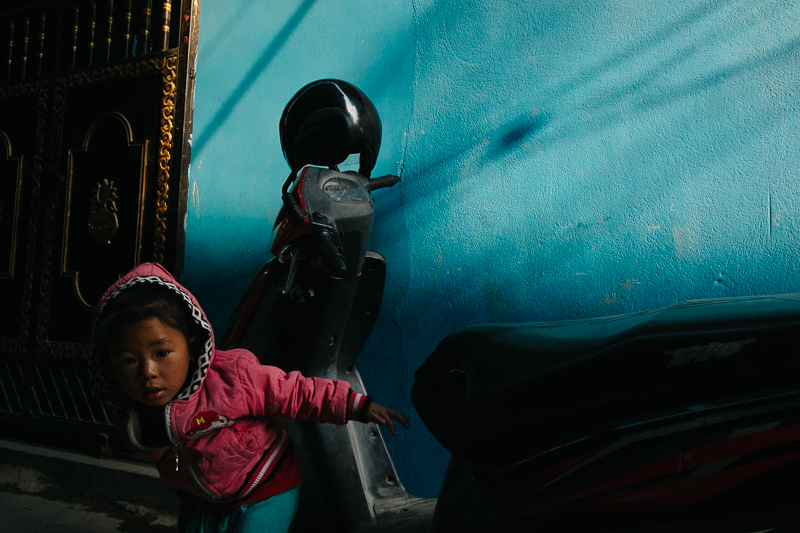 Explore & Try walking the river sides back and forth
When you're tired of shooting in the center, the Bishnumati and Bagmati rivers provide a relaxing photo walk with a different atmosphere, plenty to explore and more open light.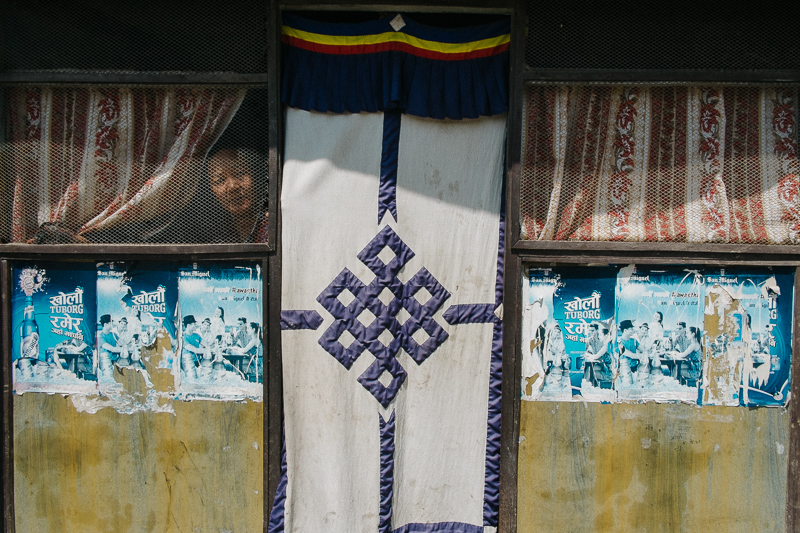 Inspiration:
For some more inspiration, you can look through some work done in Nepal by photographer Graciela Magnoni and check out 33 of my photos taken in Kathmandu.
Conclusion:
While the 2015 earthquake was devastating, it didn't change the heart of the city. Much of the city escaped the damage too, while the ancient parts that were hit still live on with all the character of Kathmandu. It's not a place you can really compare to any other. While it does possess a chaos somewhat similar to its big neighbor below, everything else about Kathmandu is too different from India to really compare. The dust filled air, aging temples, chaotic dirt roads and Nepalese culture are what I'll remember most. Whether you're going there for trekking the nearby mountains or you're visiting Kathmandu specifically, it's worth some days to really explore and get a feel for the city.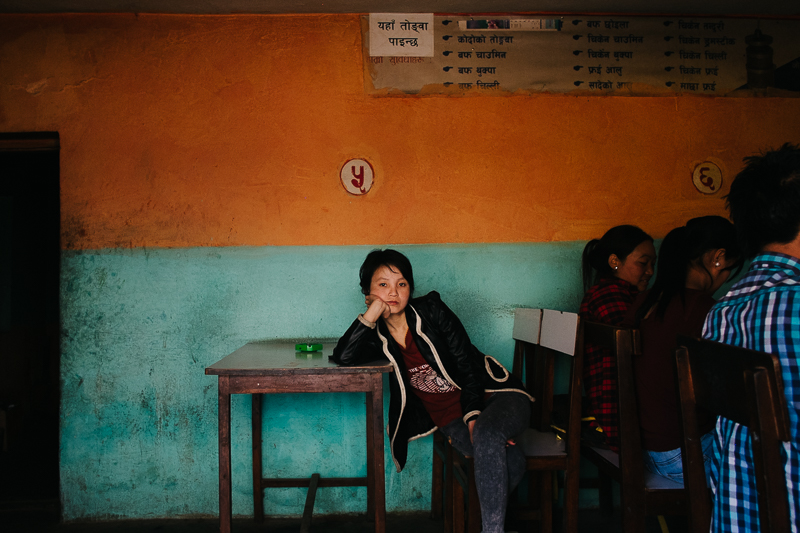 I hope this guide can help you go experience Kathmandu before everyone else does discover it, though. So grab your camera and capture all that Kathmandu has to offer for Street Photography!
If you still have any questions about shooting in Kathmandu, feel free to comment below or email me!
(I want to make these guides as valuable as possible for all of you so add any ideas on improvements, including addition requests, in the comment section!)
(A New Guide Posted Every Other Wednesday)