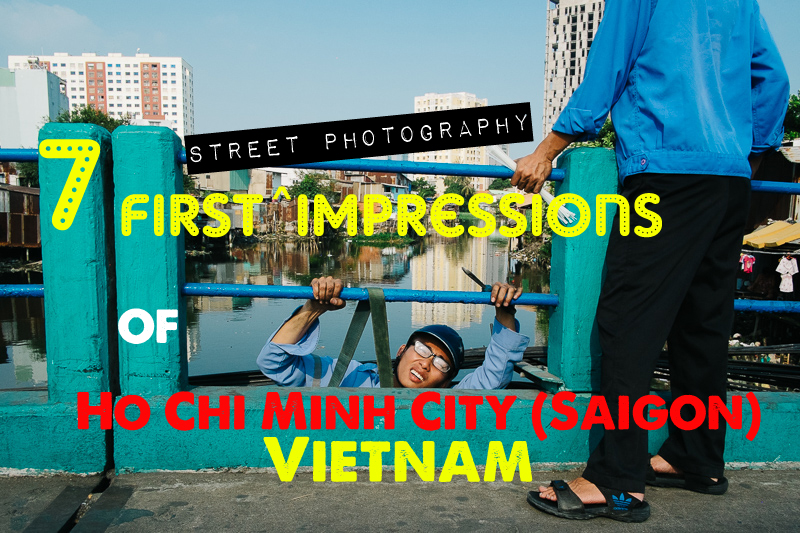 After traveling around Sri Lanka, India and Nepal, it was finally time stay in one place for a little while. That place was Ho Chi Minh City, Vietnam, or better known as Saigon. Honestly, everyone and everything in the city still refers to Ho Chi Minh City as Saigon so for this post we'll go with the much shorter (and quicker to type) name too.
For my time in Saigon, I had my own apartment right in the heart of the city in District 1. Currently at 19 districts, Saigon uses this numbered system to section off different neighborhoods, many of which have their own character and what they're known for. While District 1 is the heart of the city, and where most of the attractions are located, there's a lot more to see if you have the time. Luckily, I had plenty of time to explore the many districts.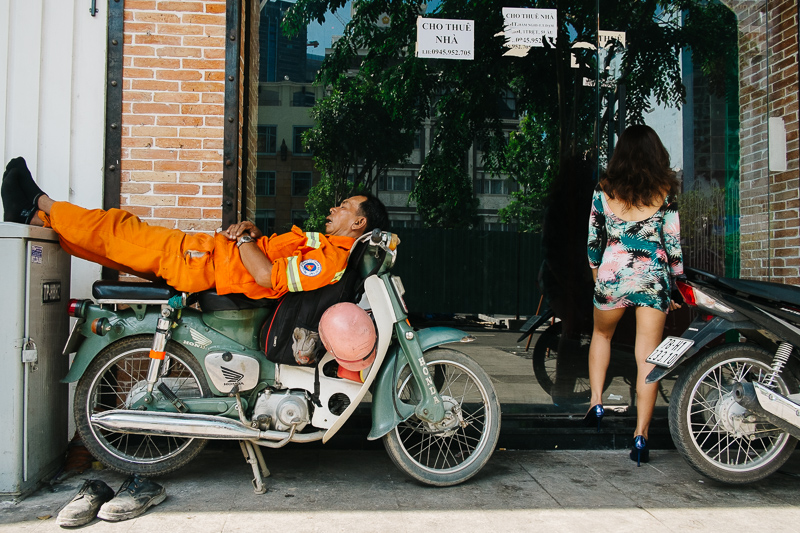 So here are my first impressions of Saigon (HCMC), from my personal Street Photographer perspective…
7 First Impressions of Ho Chi Minh City, Vietnam
(From a Street Photography Perspective)
1. Streets Full of Motorbikes
Over two million motorcycles, scooters, and mopeds fill the streets of Saigon. Watching and hearing them buzz around becomes as big a part of the city's atmosphere as anything. Men with boxes and produce stacked ten feet high, making you wonder how the bike keeps upright. Women in skirts, high heels and pink helmets. Families of four or more packed together on one seat, with the children having to stand just to make it work. And of course the sidewalks lined with men laying across their bike seats for a nap. It's a sight to see.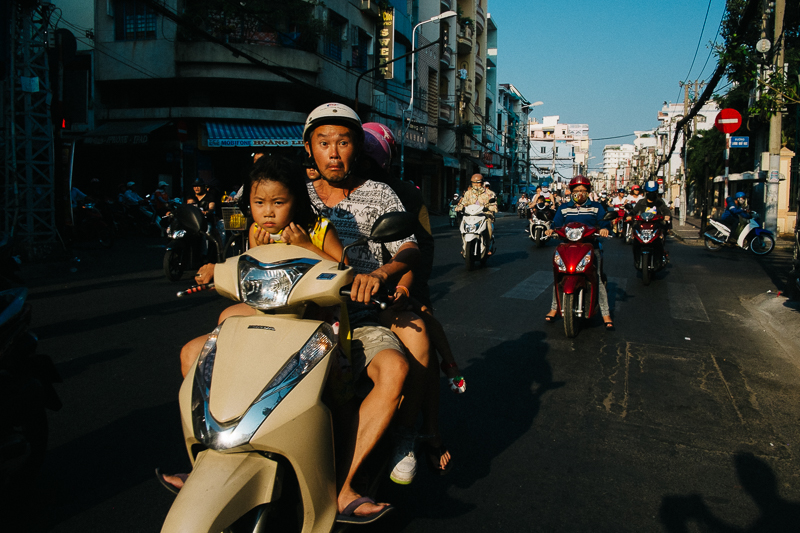 You don't see many cars in Saigon, but as chaotic as it might look, they actually make the crowded traffic of bikes work rather smoothly. Compared to places like India and Morocco, it's poetry in motion. At first, crossing the street can feel intimidating, but once you learn the flow, you can easily walk across, unlike India where it feels like you risk your life each attempt. The bikes here go by pace, so as long as you confidently keep your pace, they'll drive around you. Hesitate or try to move out of their way, and then you might have a problem.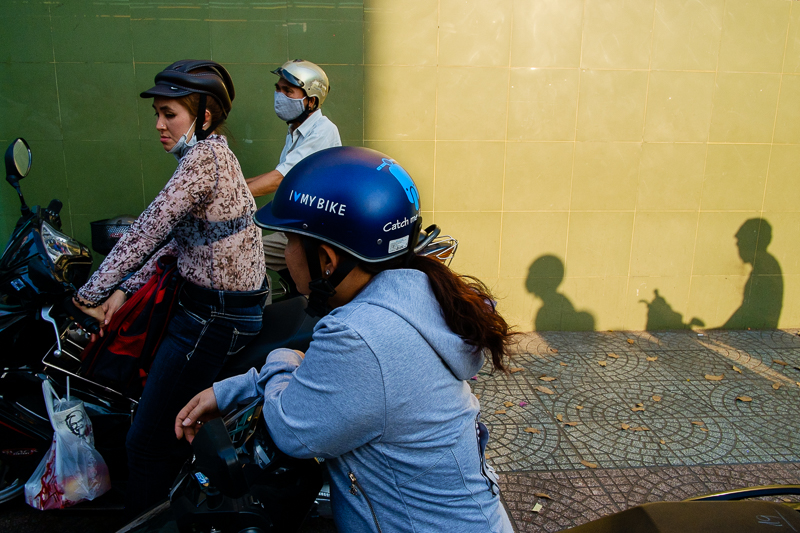 2. Streets Full of Energy
The motorcycles aren't the only thing that packs the Saigon streets with energy. The mix of culture, commerce, development, street food, and more fill Saigon's streets with life and activity. It's a city where people live their lives outside. Even if they're inside, they leave their doors open. The streets, side walks and winding alleys buzz with energy. In the center you also have streets like Bui Vien that attract backpackers and tourists due to the many nightlife attractions that can bring a chaotic and interesting scene all their own.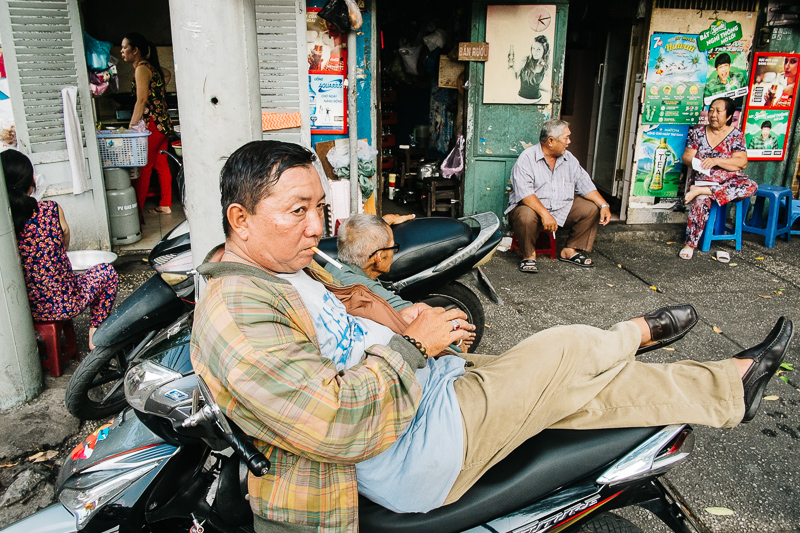 Street food is so popular here that they give space for much of the life outside too. Small plastic stools line the sidewalks everywhere for everything from food to coffee to beer. Outside markets fill the city too and anywhere a market is near, you'll have workers pushing and pulling carts around the streets. And then of course you have all the people going about their day in every direction, or just hanging out on sidewalks and alleys. All this charming old world life combined with Saigon's rapid development makes for a city with so much energy, it's a beautiful thing to capture with your camera.
3. Very Photo Friendly
In Saigon, smiles and laughs are the reactions to street photography. Living here, photographing almost every day, I never had one negative reaction. And I don't shy away from getting up close or hide from letting people know that I just took a photo of them. In Saigon, you feel completely free when it comes to shooting candid in public. Honestly, it's about as good as I've experienced when it comes to photo reactions.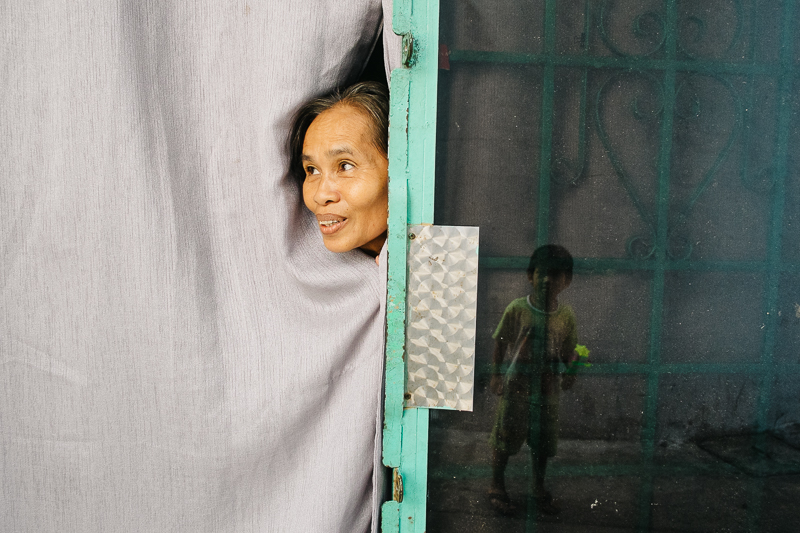 Many of the people seem to find it endearing and will probably smile, laugh or even say thank you if they notice you took a photo. They can be curious at times with street photography too, but nowhere near to the degree of places like India. For anyone who has trouble finding the courage to get up closer when they shoot candid, Saigon would be a great city to spend some time in.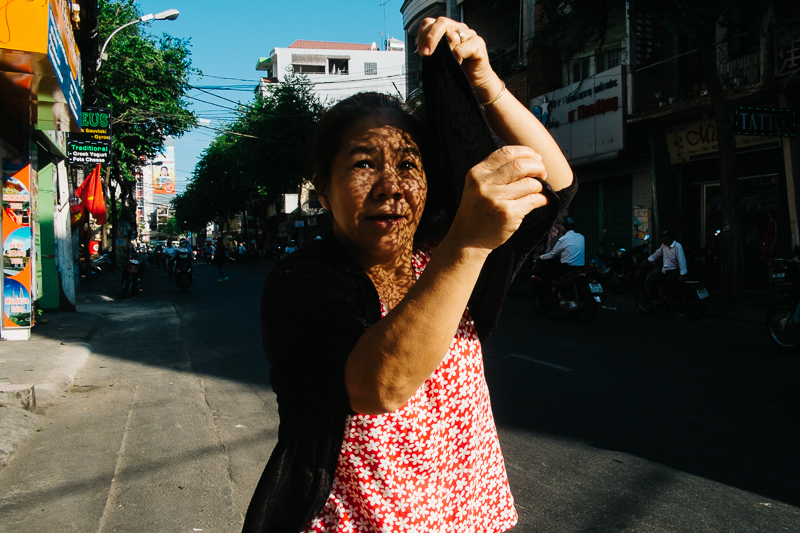 4. China Town is Great for Exploring
Saigon isn't the most walkable city for street photography. Many of the good spots are spread out without much in between. Maps can be deceiving too, as some of the blocks here can be much longer than your normal block. All of the local street photographers I met here took their motorbikes with them. Personally, I prefer to walk as much as possible so if you're looking for one area where it's dense with street photography opportunities for exploring on foot, then District 5 would be my pick.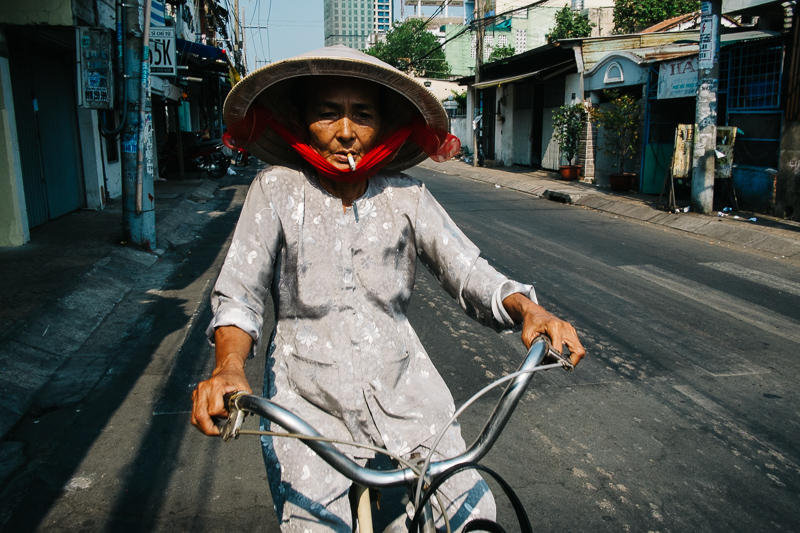 District 5, also called China Town, gives an atmosphere that feels more like the Saigon of old, before much of the development.  You have narrow alleys, markets, roosters, and people everywhere, more traditionally dressed, living their lives outside. District 5 is home to the popular Binh Tay Market, which is a great spot to explore around, but Chợ Phường 2 is another favorite market area to check out. This district is where I spent as much time as any for street photography.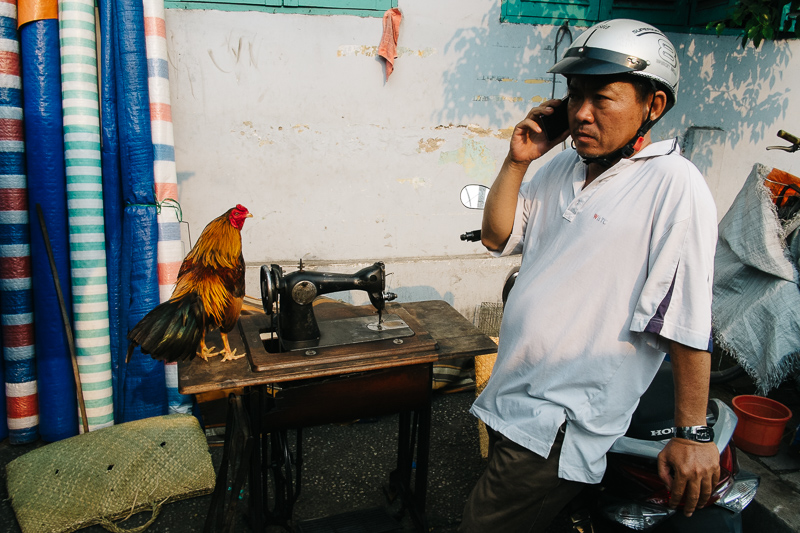 5.  Developing Fast
Cranes and construction fill the city with new developments popping up everywhere. In Saigon's city center, it might surprise many just how developed and modern the city has become. It feels cosmopolitan and chic with all of its shiny skycrapers, fancy restaurants, trendy cafes, and every western convenience you could ask for. And roof top bars are as big here as any city I've ever been to. Compared to the more old world Hanoi, it has a very different feel. While you can find the grimy, timeless alleys, you can also find the clean streets lined with ritzy hotels and modern buildings. 
You'll notice construction workers all over the city in their blue uniforms, fenced off construction areas lining the sidewalks, buildings half-finished and even a metro system that is visibly in process. There's a lot going on in Saigon and it looks like the big changes have just begun.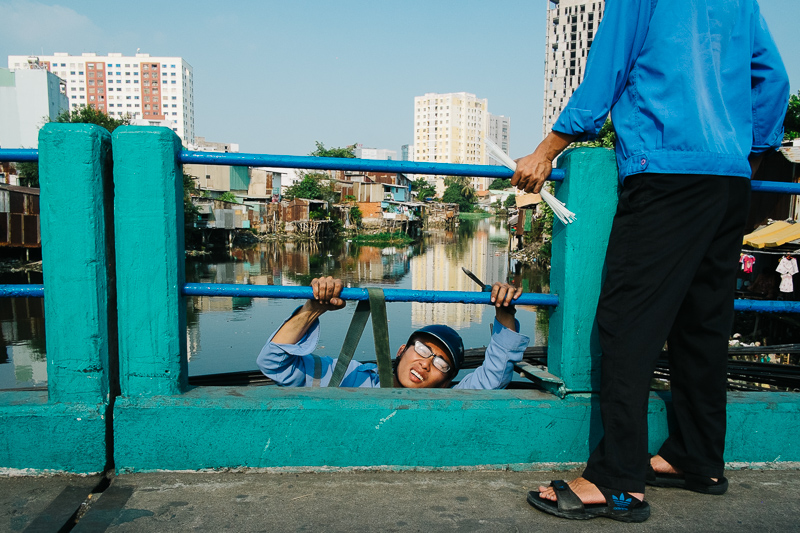 6. Lots of Life in the Side Streets
In Saigon, the side streets can be full of street photography opportunities. Not only do most of them take you back in time, but they can wind around forever and give you plenty to explore. They're different from your normal side streets as they can be more like mini neighborhoods. In these side streets and alleys, people live their lives outside more than anywhere. You'll pass food stands, cafes, and mini-markets within these narrow streets too.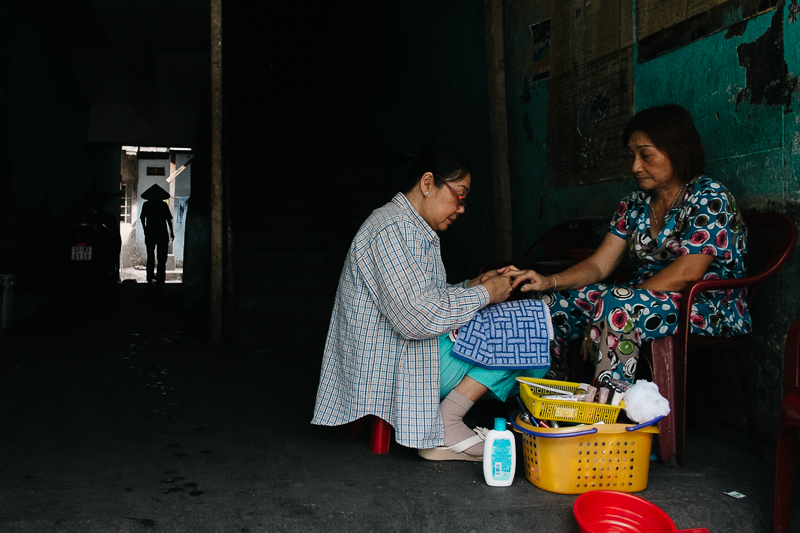 Most of these streets will have a blue sign overhead with the street's name. So whenever you pass one along the sidewalk, take a turn in and see what you can discover.
7. Vietnam's Cosmopolitan City
If you want the gritty, old world Vietnam atmosphere, you can still find that in Saigon in areas like the forementioned District 5, but there's no question that Saigon is Vietnam's Cosmopolitan city. There's more glitz, modern skyscrapers, shopping malls, and a much trendier vibe. Sky bars, the latest fashion, big business and a multicultural vibe compared to the rest of the country all make Saigon stand out in Vietnam.  This all attracts plenty of expats too. Foreigners are all over Vietnam, but in Saigon, many of them live there, instead of just visiting.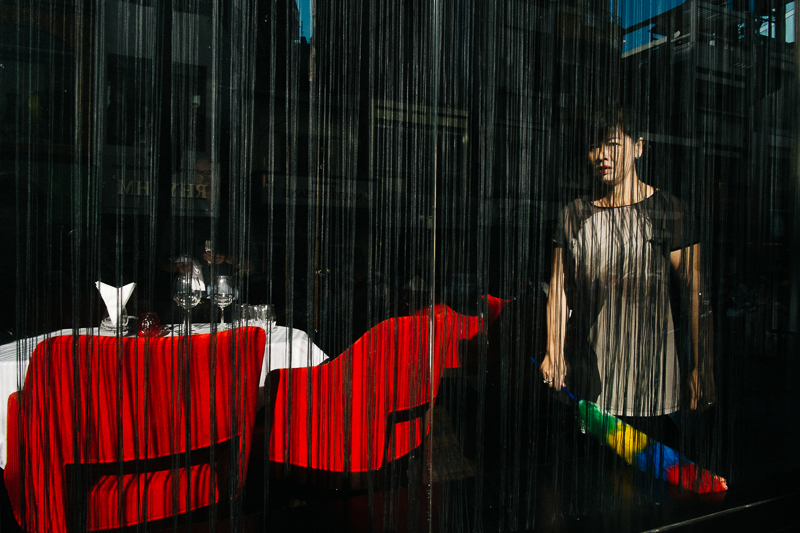 While Vietnam's capital, Hanoi, has more of that old character and charm, Saigon has polished some of it away for a more urban vibe in the center. That's not necessarily a bad thing, it just depends on what you prefer for street photography. 
Great City for Living
Since I was lucky enough to live in the center of Saigon in my own apartment, I was able to really get a feel for the city compared to just visiting it. One of the things I really enjoyed about Saigon was just that too, living in the city. It really has a lot going for it, from food and friendliness to cost and comfort. You have everything you need, but with an edge and character all its own. For someone newly visiting Asia, it's one of the easiest cities to travel to. And for street photography, it's one of the easiest cities to shoot in when it comes to friendliness. So for any street photographers looking to take a trip out to Asia, I'd highly recommend Ho Chi Minh City, and Vietnam in general, is an all around great choice.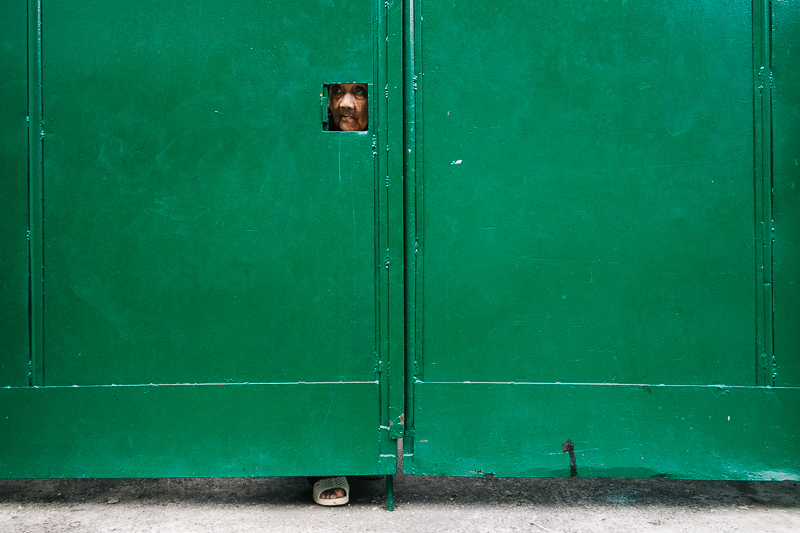 If any of you have been to Saigon before, tell me about your experience and impressions of the city and country in the comments below! And stay tuned for more on Saigon, including some of the best Street Photography shots I captured while there.
Click Here for More First Impressions on Cities Around the World 
(from a street photographer's perspective)