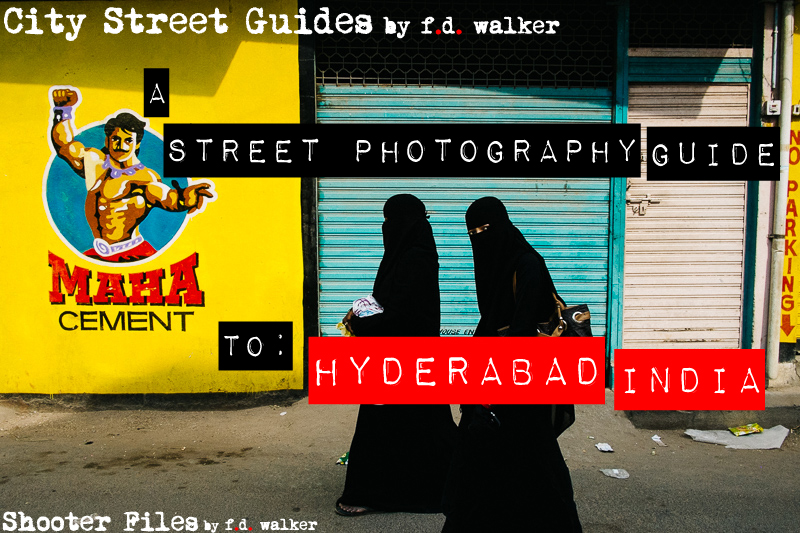 *A series of guides on shooting Street Photography in cities around the world. Find the best spots to shoot, things to capture, safety concerns, street tips, and more for cities around the world. I have personally researched, explored and shot Street Photography in every city that I create a guide for. So you can be ready to capture the streets as soon as you step outside with your camera!
Hyderabad
Overview:
This royal city is famous for its rich history, culture, cuisine, architecture, sites, and more. While it's another one of India's bigger cities, it has its own atmosphere and look that distinguishes it. The old architecture really sets it apart, but apart from all the history, there's a booming tech industry and rapid growth that can give it an interesting mix. Still, Hyderabad has been able to preserve its Old City as well as any, giving an atmosphere that takes you back in time.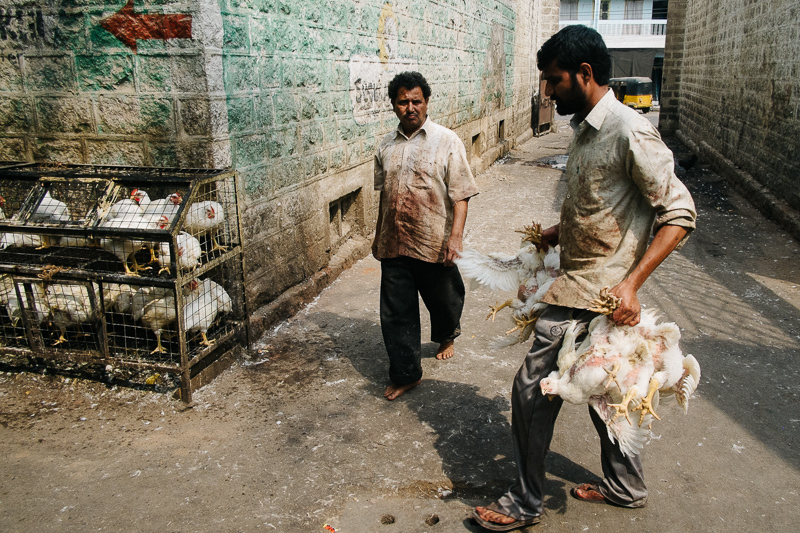 So here's a Street Photography guide so you can be ready to capture all that Hyderabad has to offer before you even arrive!
Map:
Charminar
Begum Bazaar
Koti
Necklace Road
Punjagi
Top 5 Street Spots:
1. Charminar
Built over 400 years ago, the Charminar is one of the most recognizable structures in India. The four towered monument and mosque is surrounded by traffic, bazaars and busy streets going in every direction. The foot traffic is more crowded here than anywhere else in the city. It also keeps this activity going well into the night.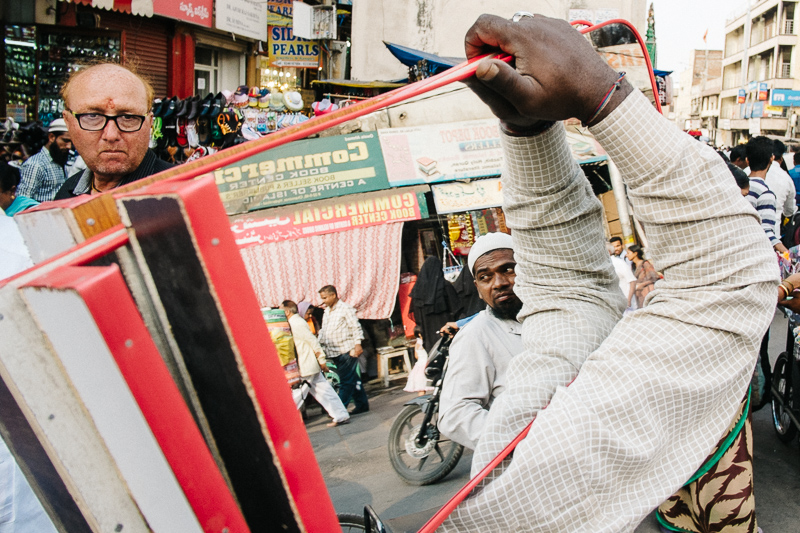 This is by far the biggest draw in the city, even compared to other Indian cities. So its one of the more touristy areas you'll find in the country. Depending on what you look for in street photography, that can be a good or bad thing. Either way, this is a must stop with your camera and will always give you plenty of activity in an interesting setting.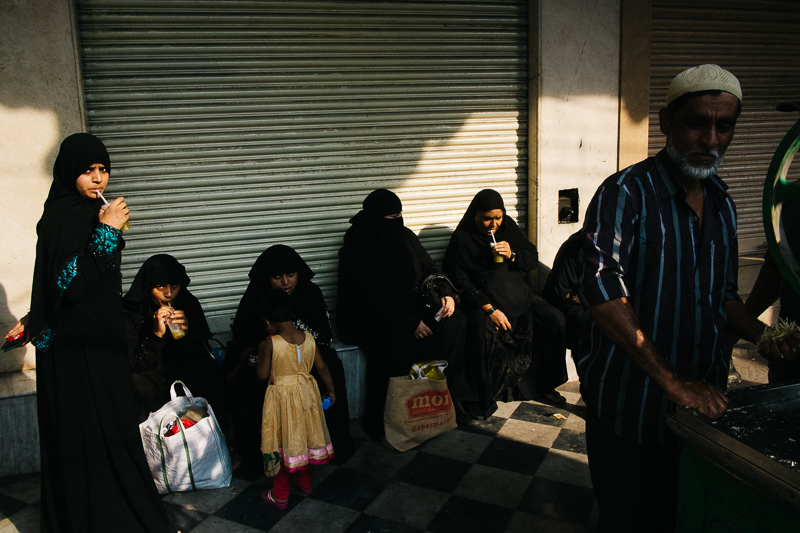 My favorite part of Charminar is all the surrounding parts of the Old City, though. You can literally walk in any direction from Charminar and find streets of activity mixed with backdrops of Hyderabad's old royal atmosphere. This whole area provides the life and scenes India is famous for. 
2. Begum Bazaar
Begum Bazaar is the largest market in Hyderabad. Some of its specialties are household items, spices, and the second biggest fish market in the city. The bazaar here can be very congested and chaotic, but also provides some beautiful buildings, culture and plenty of character. And characters.
In-between the Begum Bazaar and Koti, you'll also find Moazzam Jahi Market, the largest fruit and vegetable market in the city. So if you want a full day of photographing a variety of market life, combining Begum and Koti will provide one large, but walkable area.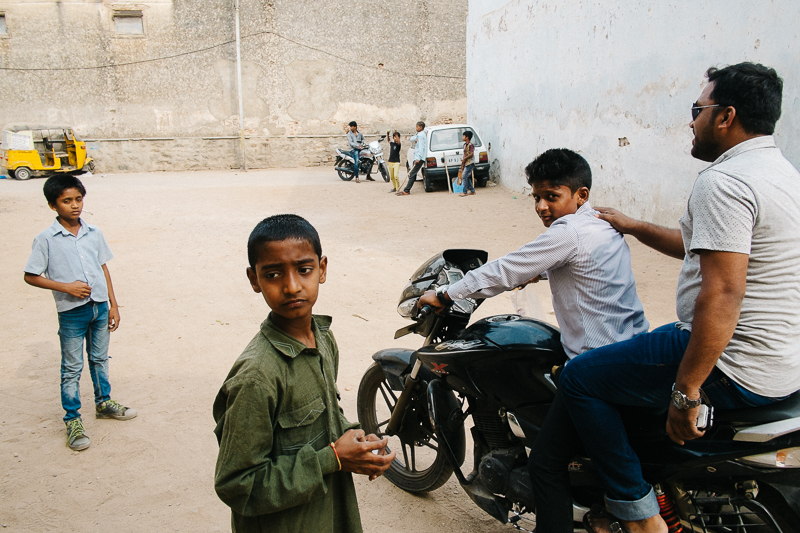 3. Koti
Koti is one of the most popular, and oldest, commercial districts in Hyderabad. It has one of the oldest street markets in the Sultan Bazaar, popular for its women's clothing and accessories. You'll find rows of street stalls, small shops, handicrafts, and more here too. This is a top spot for finding bargains.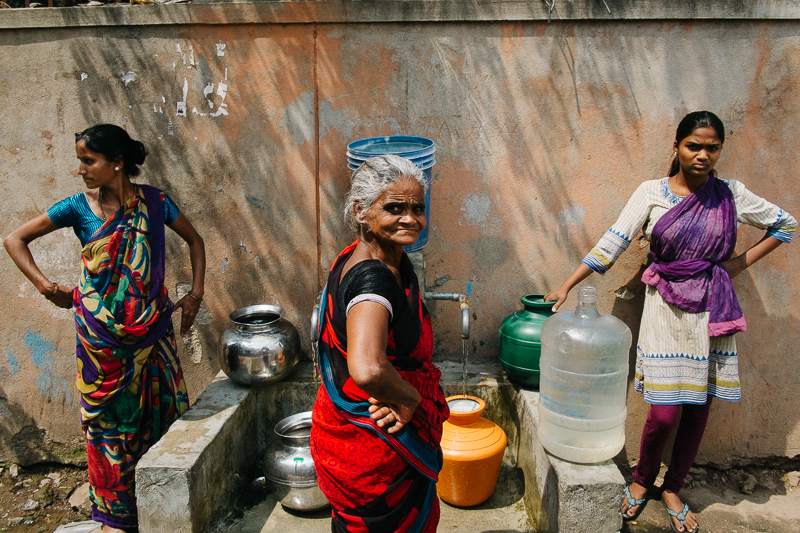 Koti is also well-known for its bookshops and sellers, where you can find any type of book, from cookbooks and comics to college course books and novels. There's plenty of other goods being sold in the area, though, as Koti's streets are lined with shops selling a range of products. You'll also find lots of street food and restaurants, along with children getting out of all the nearby schools. It's one of the more popular places for a variety of activity so you can spend quite a bit of time exploring its streets with your camera.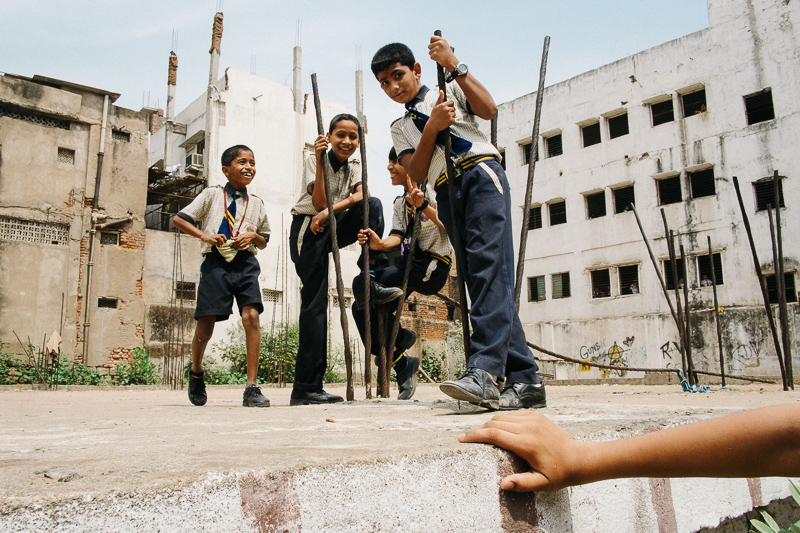 4. Necklace Road
Necklace Road is a boulevard that stretches along Hussain Sagar lake. Other than the lake, you'll also walk along park lawns, benches, recreational facilities, and restaurants. Many locals come here to relax, have a morning jog, have a picnic, or for a romantic spot to enjoy the views. You also have the People's Plaza, a recreational area for music, shows, sports and exhibitions. 
For a street photography walk, it provides a relaxing escape from the city and different scenes to capture. To the west, you'll also walk by some neighborhoods worth a little exploring for photos too.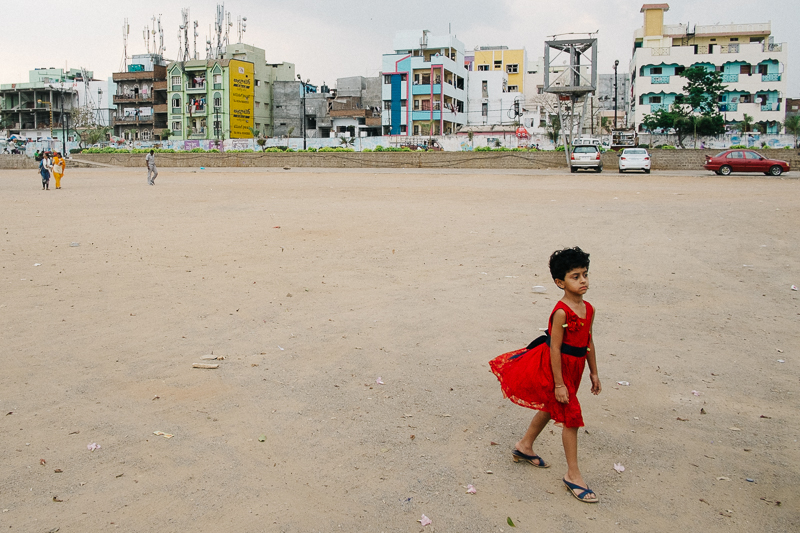 5. Punjagutta
Not too far from Necklace Road, you can walk west, or take transportation, towards Punjagutta for some downtown atmosphere with large shopping malls, jewelry stores, and nicer restaurants. Panjagutta is a main commercial and residential area in western Hyderabad. In addition to all the higher end shopping, you have IT hubs and some nice residential areas. Hyderabad Central is one of the most popular malls, but exploring the nearby neighborhoods also provides a different, more modern local atmosphere compared to the Old City.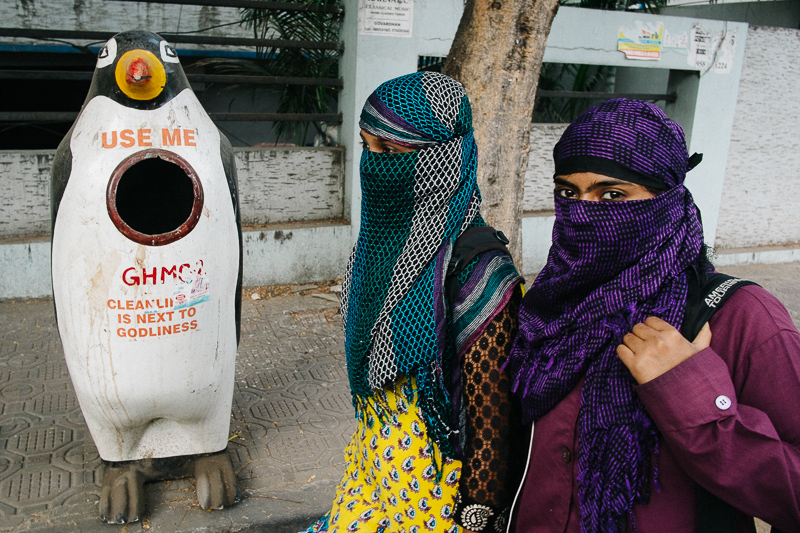 Sample Street Walk:
For a full day of Street Photography, covering some of the best spots, you can follow this sample street walk for Hyderabad:
Start your morning walking around the Charminar (1) before the crowds take over
Then explore some of the surrounding Old City (1), especially to the east
Walk north through the Old City (1) and across the bridge towards Begum Bazaar (2) 
After exploring the Begum Bazaar area (2), walk northeast by the Moazzam Jahi Market and to Koti (3)
In Koti, check out the Sultan Bazaar (3) and Koti's other commercial streets
You should be at a full day by now, so either take transportation back down to Charminar (1) to capture the evening/night chaos, or take it up to Necklace Road (4) to capture the more relaxing evening activity and atmosphere.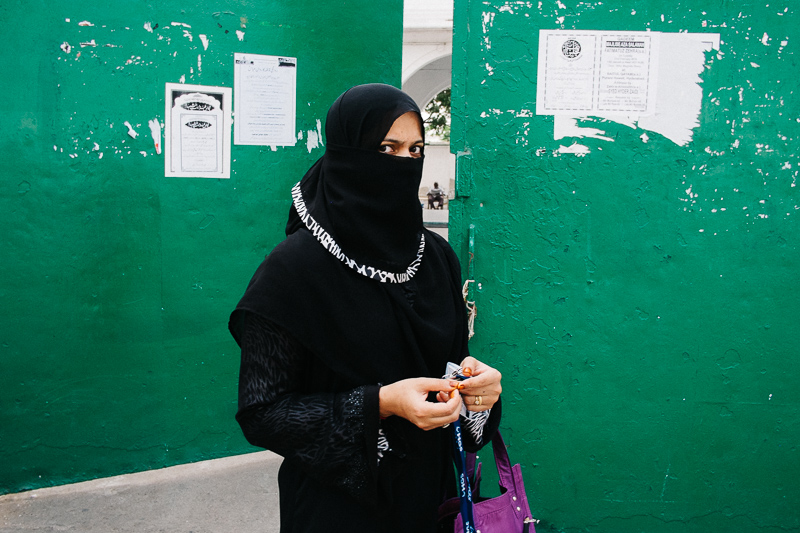 Ask a Local Street Photographer: Swarat Ghosh
"Begumbazar & Talabkatta for a mix of amazing characters and fantastic backdrops."
3 Things to Capture in Hyderabad:
1. Royal History's Influence
Historically, Hyderabad is one of the most interesting cities in India, which is a big reason for its attraction to visitors. From the culture, food and people to the architecture, monuments and scenery, history has left a deep impact here. Where you'll really feel this is in the Old City. Charminar is located here, but you really should explore the whole area.The old city of Hyderabad is something you'd picture a royal city to be like in India many centuries ago. You can find narrow lanes, dusty streets, markets, ancient architecture that really shows its age, and much more by just walking around without a destination. Discovering some interesting scenes and activity won't be problem anywhere here.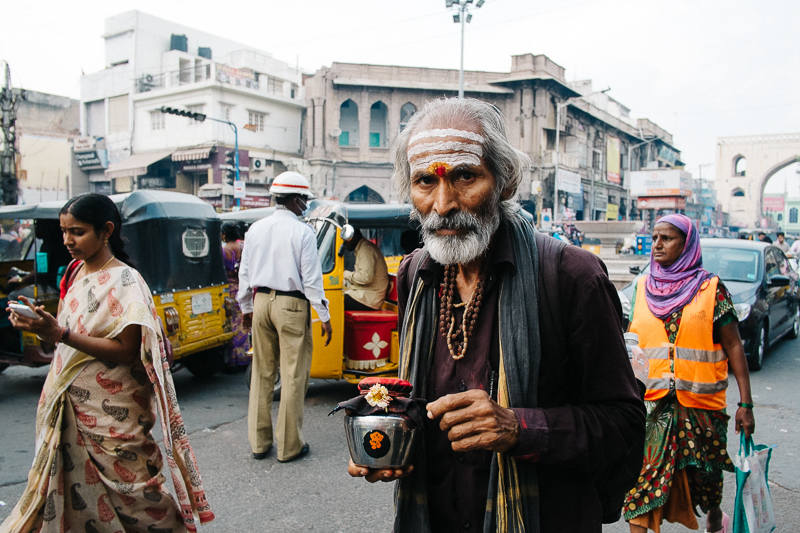 Hyderabad has preserved its history and tradition about as well as you can in a city of its size and growth. At the same time, it's become a hotspot for the worldwide tech industry. These opposites make for a unique experience if you really explore the city. On the other side of the city, you have brand new office buildings popping up everywhere with young men in suits and briefcases going to their new tech job. It's a city in rapid growth, but one that separates the old from the new much more than other fast-growing cities. 
2. Architecture and Dry Sand Atmosphere
India is famous for all of its colors, but I will say Hyderabad is less colorful than most of the other bigger Indian cities. At the same time, with all the beautiful architecture, it still provides very pleasing backgrounds and scenery within the city. The older architecture is full of character and comes mostly in shades of tan, yellow, white and gray. For black & white photographers, the gritty tones can work well too. Still, the people dress as colorful as always in India.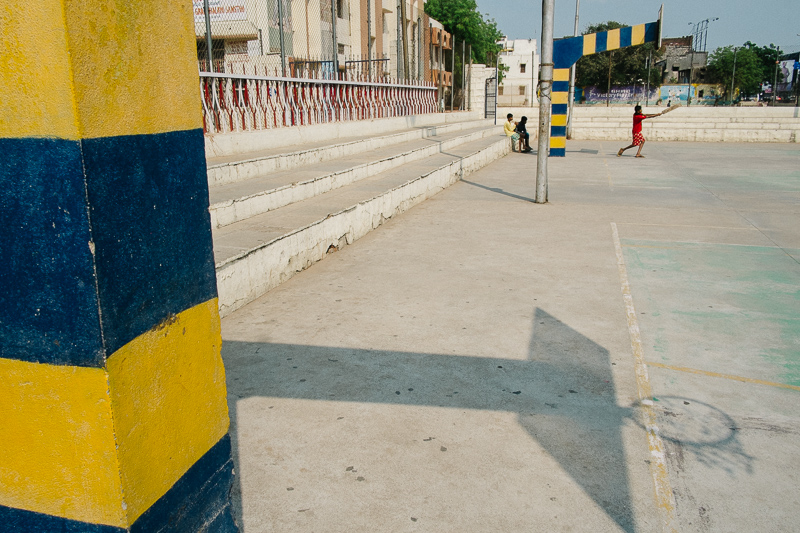 3. Charminar Chaos
Charminar, including the surrounding streets, can get as busy and chaotic as you'd imagine in India. Many of the streets are wide here, but still fill up, and the area circling the monument can become crowds of selfies. The streets are packed with shops, restaurants, stands, and street sellers. Workers and motorcycles weave through a sea of people, most of which are tourists. While this might deter some street photographers, all this activity comes with photo opportunities.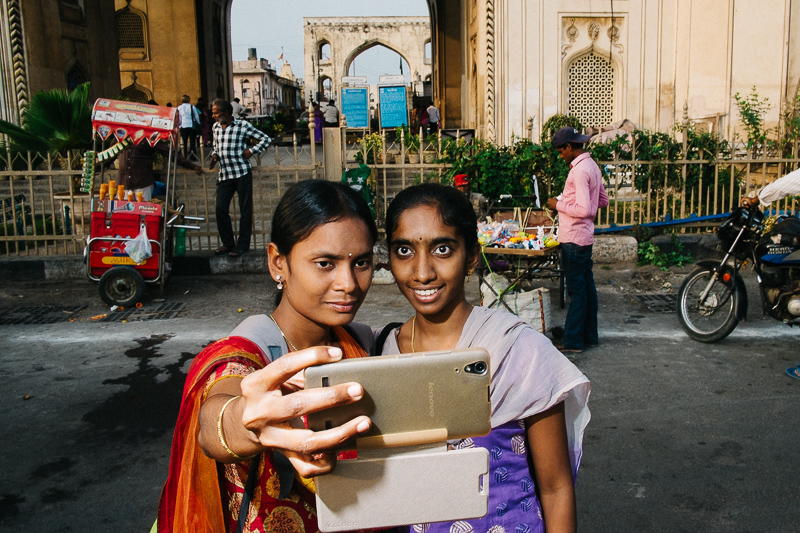 You won't find a spot with a higher concentration of characters. So for people watching and photographers who like working with chaos, this is the spot. If you want to catch it at its busiest and most interesting, I'd recommend the evening to night.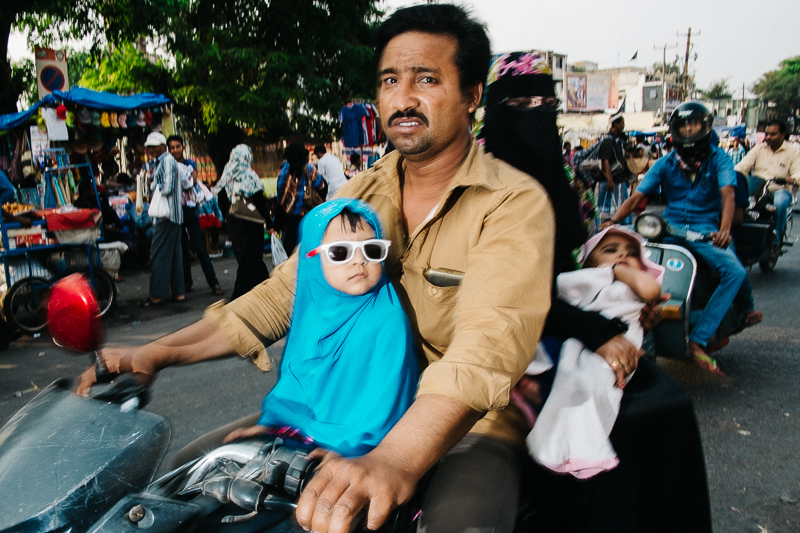 What To Do For a Street Photography Break?:
Hyderabad Biryani
Hyderabad is very well-known for their cuisine. All over India you'll find Hyderabad Biryani restaurants, but in Hyderabad they fill the streets. Food is a big part of the city here for good reason too. Not only is it part of their history and Mughal influence, it's also really good. Personally, the best food I've had in India has been here and if I was to recommend a restaurant, it would have to be Cafe Bahar.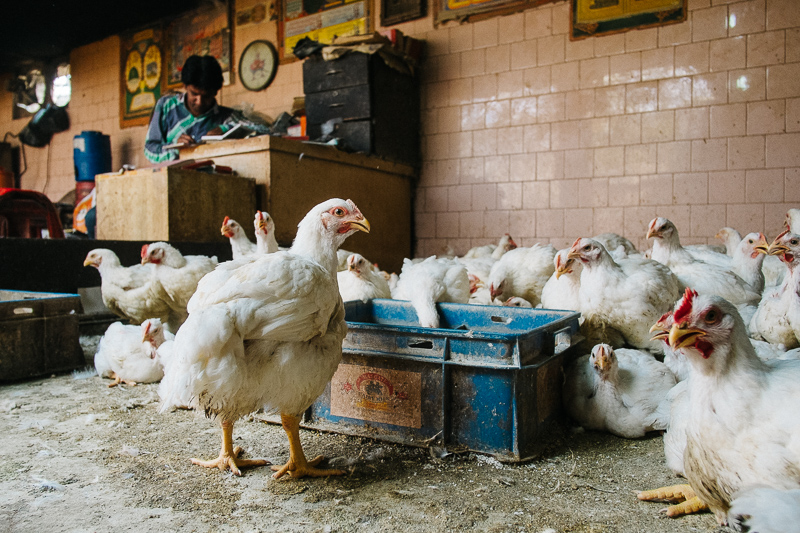 I don't know how much this will affect your street photography, although you can find some nice scenes using the restaurants, but there's nothing like finishing off a day of shooting with some local food in Hyderabad.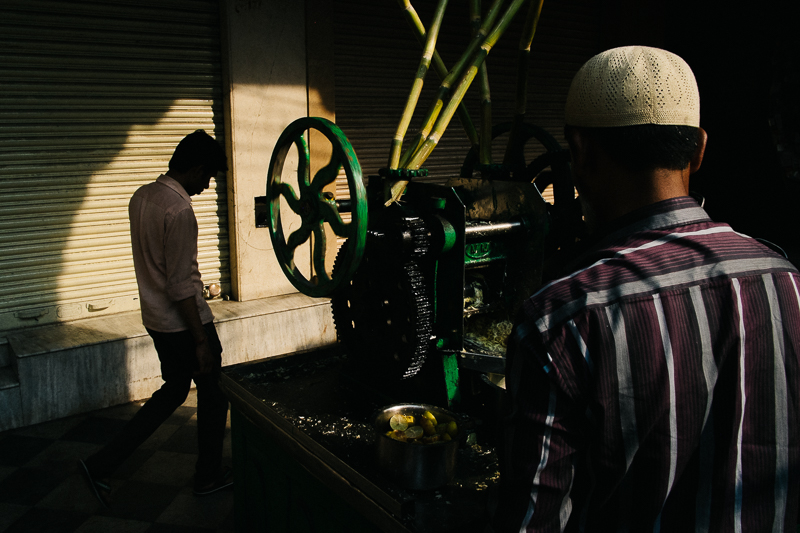 Street Safety Score: 8
*As always, no place is completely safe! So when I talk about safety, I'm speaking in general comparison to other places. Always take precaution, be smart, observe your surroundings and trust your instincts anywhere you go!
Partly because of how it's spread out and divided, it feels very safe for a city its size. Hyderabad is known to be one of the safest cities in India, and I'd say it feels safer than India's other big cities. Generally speaking in India, safety concerns apply to women more than men, but Hyderabad is on the safer side. With general precautions, I wouldn't have any worries visiting Hyderabad.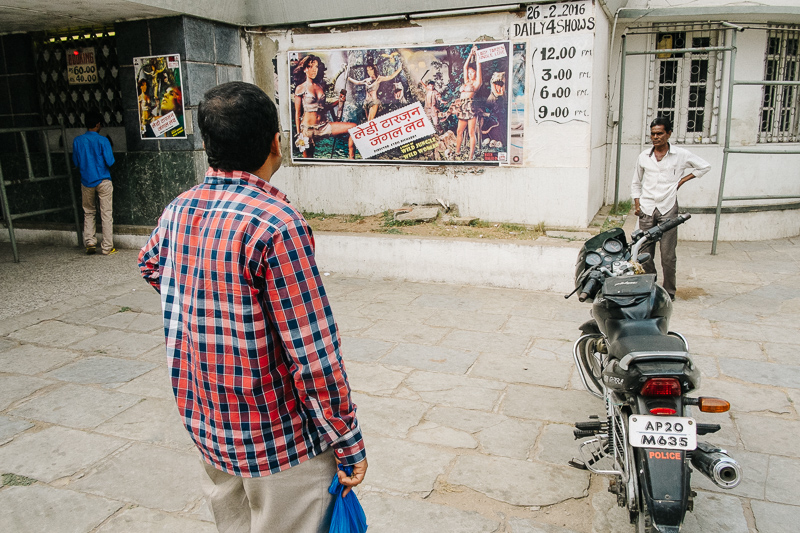 People's Reaction Score: 8
Unless it's an exception, I normally just include the following when it comes to street photography reactions in Indian cities:
It's India. Your biggest problems with reactions are posing, others wanting to get in the photo, endless photo requests, and sometimes even getting chased for a photo. If you're a foreigner especially, people love photos here.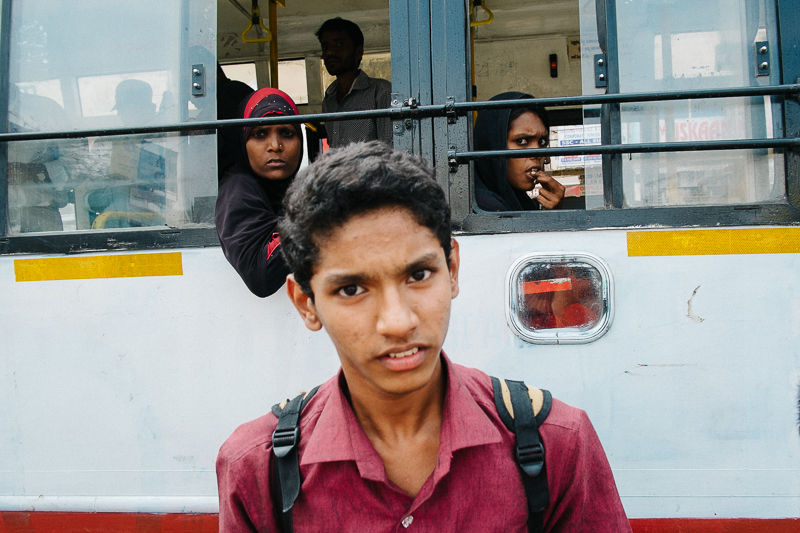 *I will note that out of all the cities I've been to in India, Hyderabad is the only place I've been told no to photos. There seems to be a slightly little less friendly openness towards photos here. While, it's still much better than most places, for India it's a less enthusiastic experience from the people.
Street Tips:
Hyderabad doesn't really feel like it has one specific downtown
In Hyderabad, it doesn't feel like there's one specific downtown or city center like other cities. Here, it feels more like multiple mini-downtowns. The area around the old town is considered the "downtown," but you also have other large neighborhoods like Secunderabad and Hi-Tech City. Secunderabad was once considered Hyderabad's twin city, but has since become part of the same city. Hi-Tech City is a neighborhood in Hyderabad known for all of its tech jobs that have caused rapid growth in the area.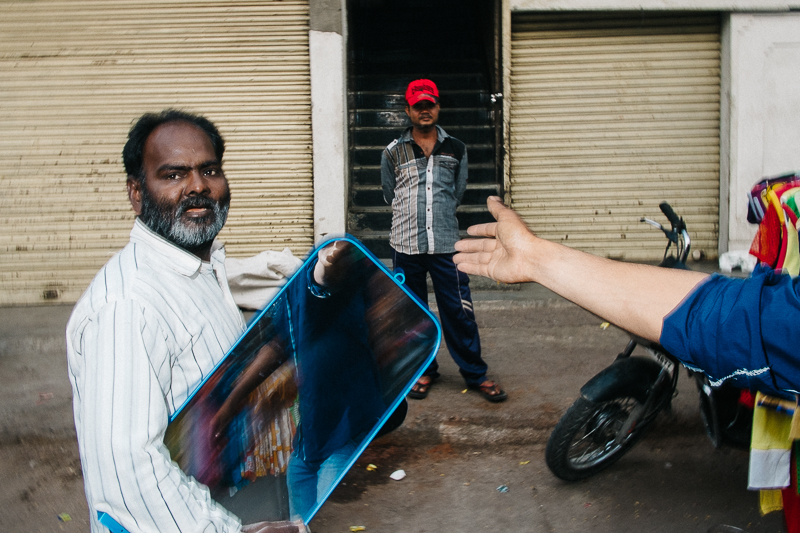 With large neighborhoods like these in Hyderabad, they help spread out the feeling of multiple city centers, instead of just one area that feels like the downtown. 
Lots of walking
Since there's a feeling of multiple city centers spread out, it can mean a lot of walk, or transportation, to see multiple spots. Outside the Old City, there's not many specific places with high concentrations of activity for walkability. So I spent a lot of time researching, walking around, asking local street photographers, and more. So be prepared to walk a lot searching for the shot, but be patient, things come at random finds.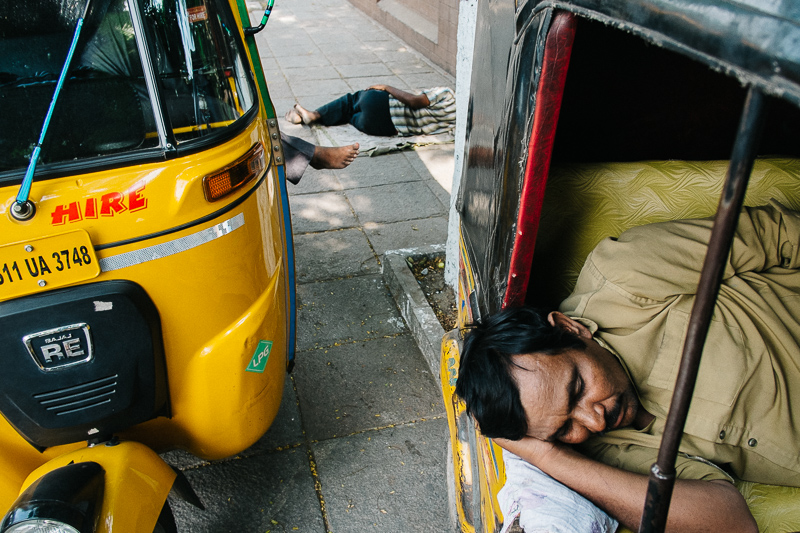 Get to Charminar early, before the crowds when places are starting to open up
If you want to see Charminar's interesting environment without all the tourism, and when the businessmen are more concerned with setting up shop than bothering you, you need to get up early. And I'd definitely recommend doing that so you can get here in the morning to capture a completely different side of Charminar.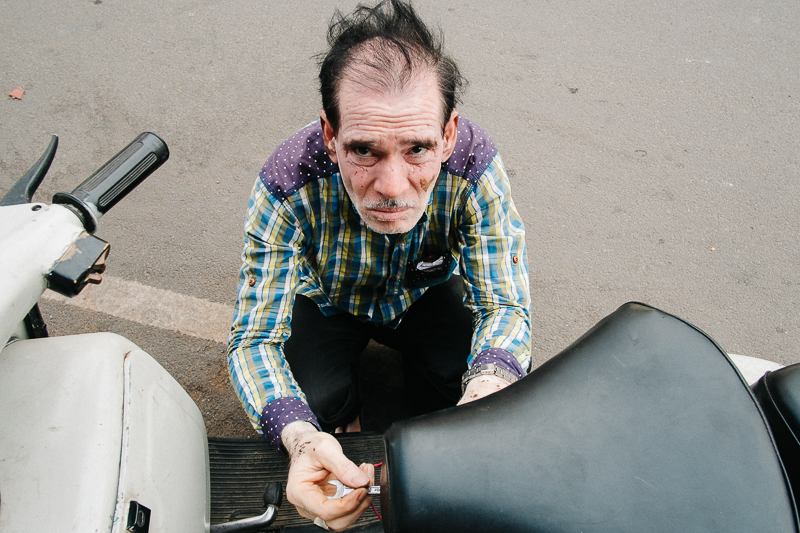 Inspiration:
For some more inspiration, you can look through the work of That's Life members like Swarat Ghosh. And also check out 33 of my photos taken in Hyderabad.
Conclusion:
It's one of the more visually pleasing cities I've been to in India. Around the Old City, the history and architecture take you back in time and provide a feeling of the days of royalty. Then there's the fast growth of modern buildings and tech industry to add the opposite atmosphere elsewhere. Of course, there's also the food. I still miss it. Best food in India, in my opinion. So bring your camera for the scenery and your appetite for the food.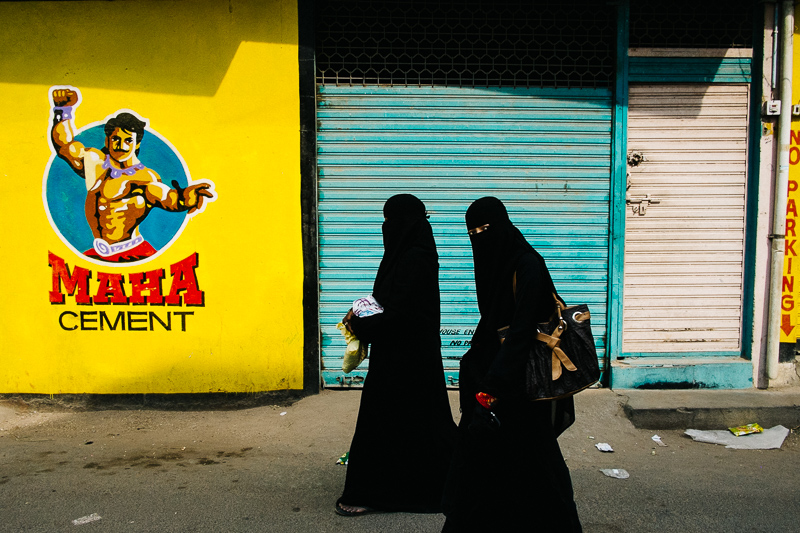 I hope this guide can help you go experience and photograph the royal city of Hyderabad. So grab your camera and capture all that Hyderabad has to offer for Street Photography!
If you still have any questions about shooting in Hyderabad, feel free to comment below or email me!
(I want to make these guides as valuable as possible for all of you so add any ideas on improvements, including addition requests, in the comment section!)
(A New Guide Posted Every Other Wednesday)