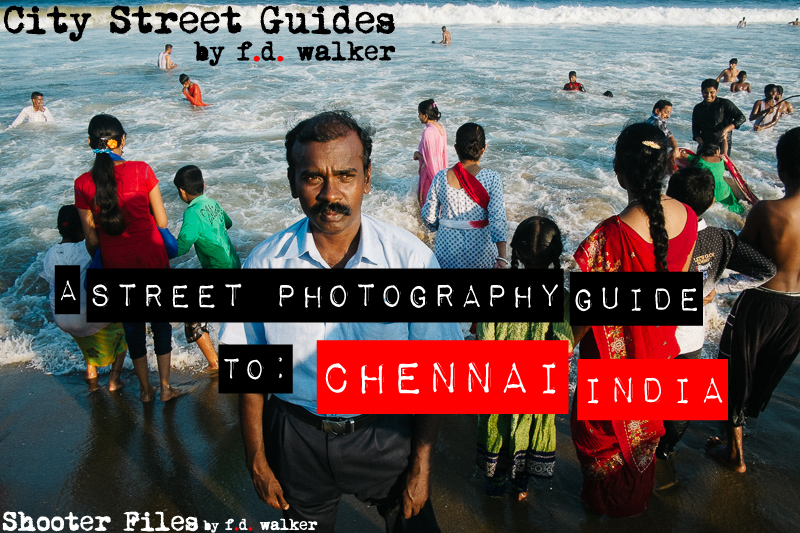 *A series of guides on shooting Street Photography in cities around the world. Find the best spots to shoot, things to capture, safety concerns, street tips, and more for cities around the world. I have personally researched, explored and shot Street Photography in every city that I create a guide for. So you can be ready to capture the streets as soon as you step outside with your camera!
Chennai
Overview:
Previously known as Madras, Chennai is one of the biggest cities in India at over 8 million people. Known by many as the capital and soul of southern India, it distinguishes itself from India's other big cities with its own unique character and feeling, along with the beach and ocean providing such an important part of the city's life. While changes and growth are hitting India at a rapid pace, Chennai keeps much of its culture, tradition and charm. Chennai brings the chaos that India is known for, but adds to it with its old world atmosphere, the most impressive urban beach you'll find anywhere, and much more.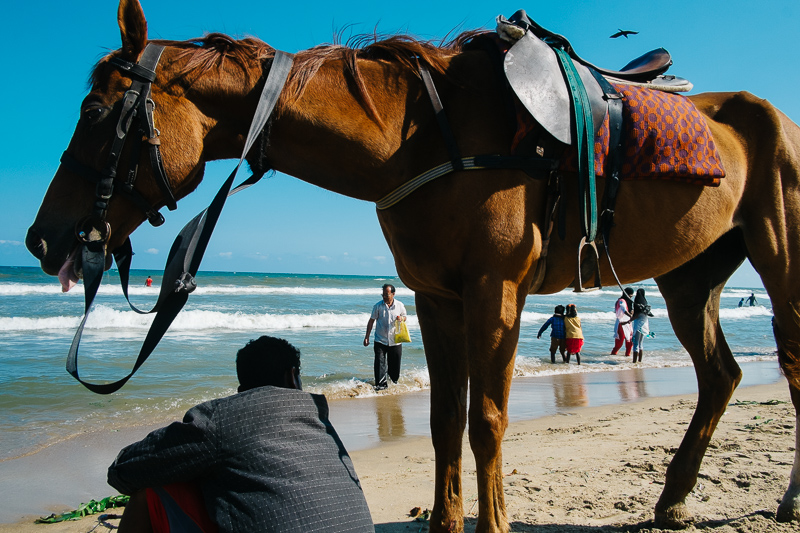 So here's a Street Photography guide so you can be ready to capture all that Chennai has to offer before you even arrive!
Map:
Marina Beach
Elliot Beach (Besant Nagar)
T. Nagar
Parry's Corner
Koyambedu Market
Top 5 Street Spots:
1. Marina Beach
Marina Beach is the longest urban beach in the world. The over 13 km beach is unlike any I've ever experienced. For one, it's not only long, but so wide that if you sit down, you'll think you're in the desert instead of a beach.  And two, it's as urban of a beach as you'll find. So even if you're not a street photographer who is interested in beaches, this would be the exception. People don't come here for sun tanning.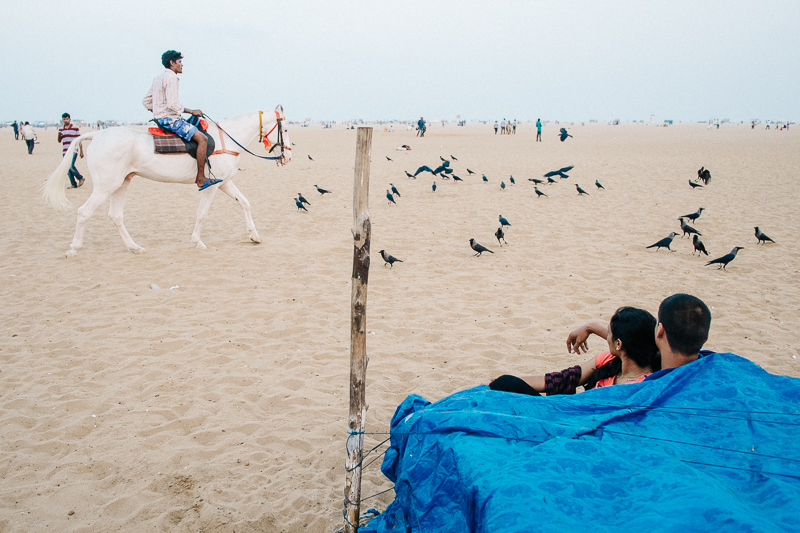 During mid-day, it can feel like a deserted island, but after 3pm, people start coming. Once 5-6pm rolls around, that's when the crowds come and the beach really comes alive. The beach is the main place for locals to escape the city so many come here right after work, fully dressed in slacks and tie.
The beach is also popular for its shops and food stalls with over 500 shops run by over 1,000 vendors. There's carnival style rides scattered around the beach too and horse rides being offered everywhere. It's a chaotic, colorful and interesting scene unlike anything else.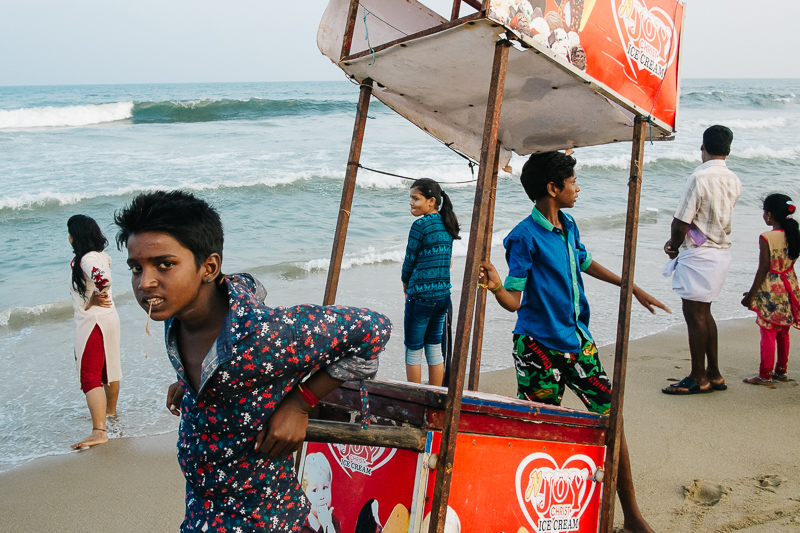 Since it's so long, you can really spend a lot of time at Marina Beach. The most activity is towards the top, while the more south you go, the quieter it gets until you cross into the fishing villages, which are also worth exploring with your camera.
2. Elliot's Beach (Besant Nagar)
Elliot's Beach is located in the Besant Nagar neighborhood. South of Marina Beach, it's another one of Chennai's urban beaches. It's not nearly as big as Marina Beach, but it's still definitely worth checking out. While they share similarities, Elliot's Beach is known as the cleanest beach in Chennai and the main street is lined with a variety of restaurants and shops. The beach is also centered by the Schmidt Memorial.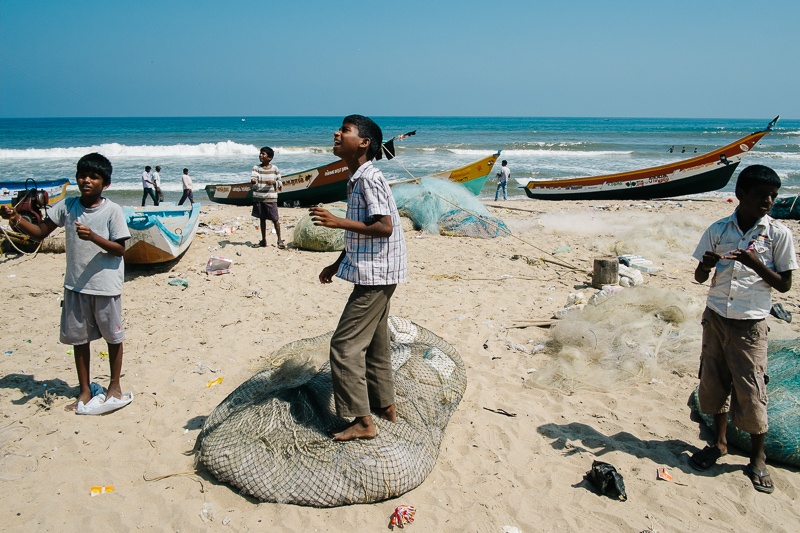 If you walk south here too, you'll find another fishing village that turns into a more elaborate village full of temples, churches and monuments. The beach and surrounding neighborhood are all worth a good amount of time for street photography. Just like Marina Beach, the beach is quiet until evening, but the rest of the Besant Nagar area should always have some activity.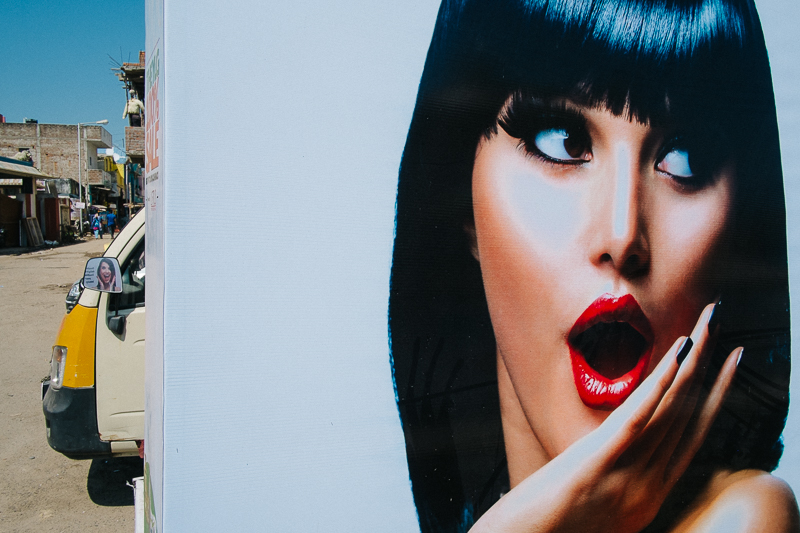 3. T. Nagar
The full name of this neighborhood is Thyagaraya Nagar, but usually goes by its abbreviated name. T. Nagar is considered the biggest shopping district in all of India by revenue. You'll find everything from saree sellers to gold retailers. There's plenty of side streets to explore and it's always busy. The main road is lined with nicer stores, while the side streets and under the bridge give more of a street market or bazaar scene.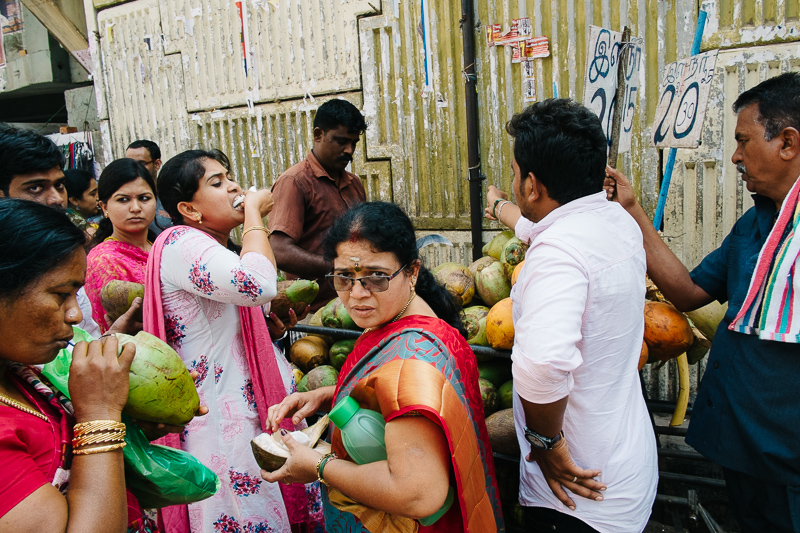 This is another area that deserves a good amount of time to really explore its busier streets. I find that the area on both sides of Usman Road, from Burkit Road up to Panagal Park, gives the highest concentration of street photography opportunities. You should still look around Panagal Park and east along Sir Thyagaraya Road too, though.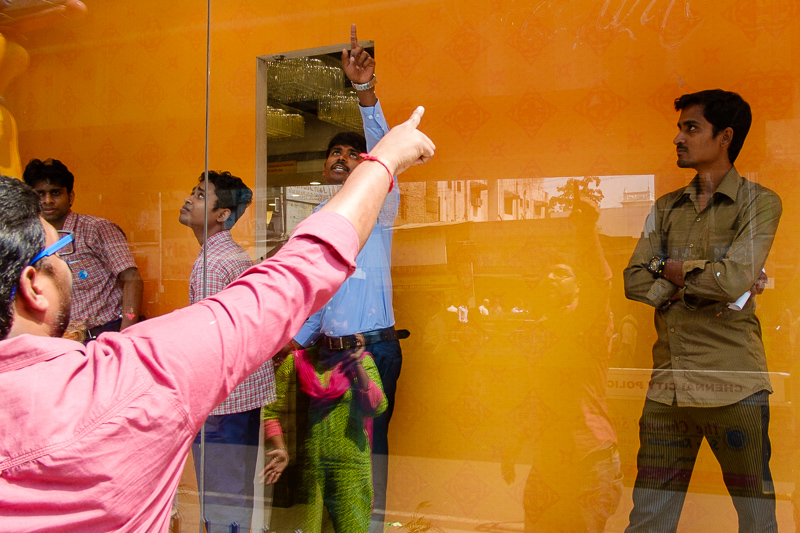 4. Parry's Corner
Parry's Corner is another shopping district, but with a different atmosphere. There's much more of a traditional vibe here that takes you back in time. Many say it's the part of the city that has changed the least over the years. Another thing that makes it special is how the many streets are each devoted to selling specific types of goods, from tools to pens and stationary.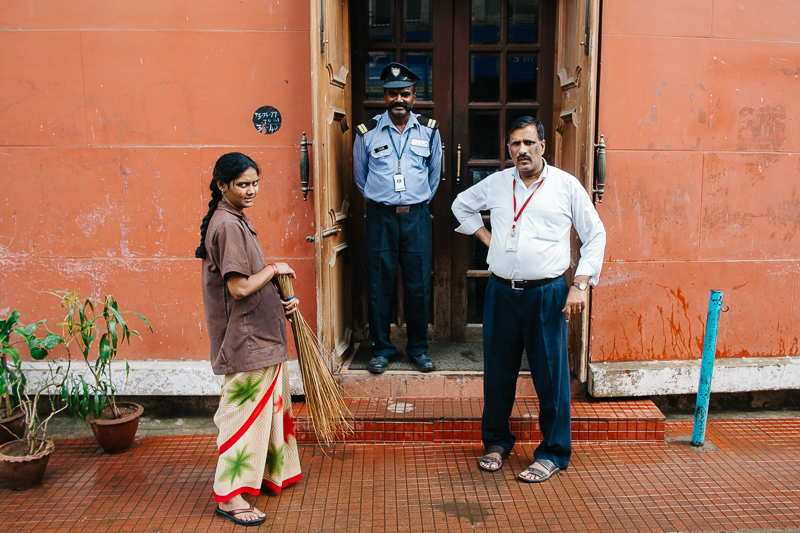 Parry's Corner is a favorite of many local photographers, who enjoy its authenticity. With camera in hand, you can explore the maze of retail shops that take you back in time to the Madras of old.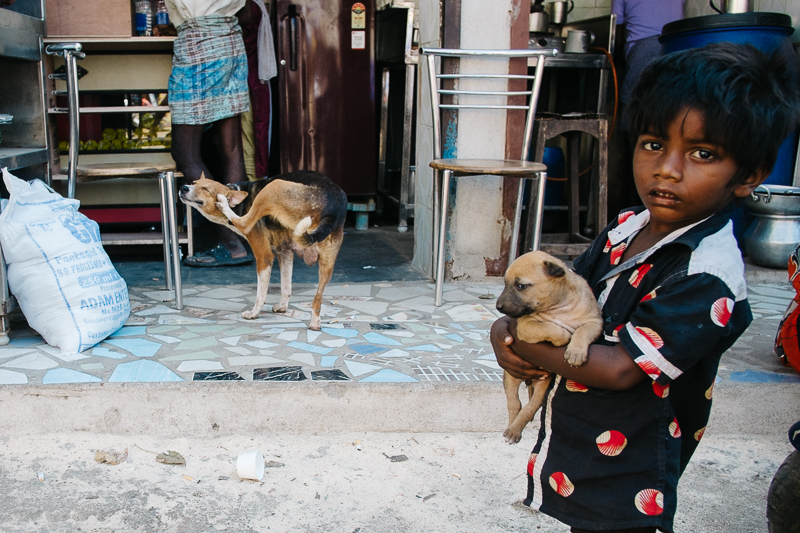 5. Koyambedu Market
Koyambedu Market is one of the biggest perishable goods markets in Asia. Many know it as the flower market due to its size, but the complex consists of more than 3,000 shops, with two blocks devoted to vegetables and one block each for fruits and flowers. The gigantic complex itself has a very unique design from the outside and provides some colorful backdrops up close.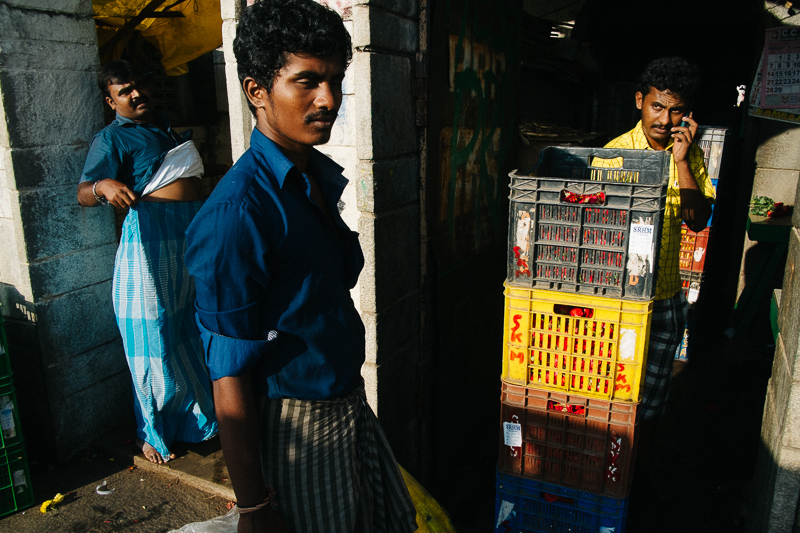 You'll find activity and plenty of workers both inside and outside the Koyambedu Market so you can spend a full morning here. And morning is definitely when you should come as they start selling as early as 3 am and activity can slow down some after 9-10 am. So early is best, but there's still enough going on after 10 am if you want to stay later.
Sample Street Walk:
For a full day of Street Photography, covering some of the best spots, you can follow this sample street walk for Chennai:
Start your morning walking around the shopping streets of T. Nagar (3)
After a good amount of time here, take a rickshaw/taxi to Parry's Corner (4)
After enough time here exploring Parry's Corner (5), take transportation down to Marina Beach (1) (unless you like a long walk)
Spend the rest of your evening/night walking around Marina Beach (1) capturing all its unique chaos
For an extra long day, included Koyambedu Market (5) in the very early morning, before T. Nagar (3)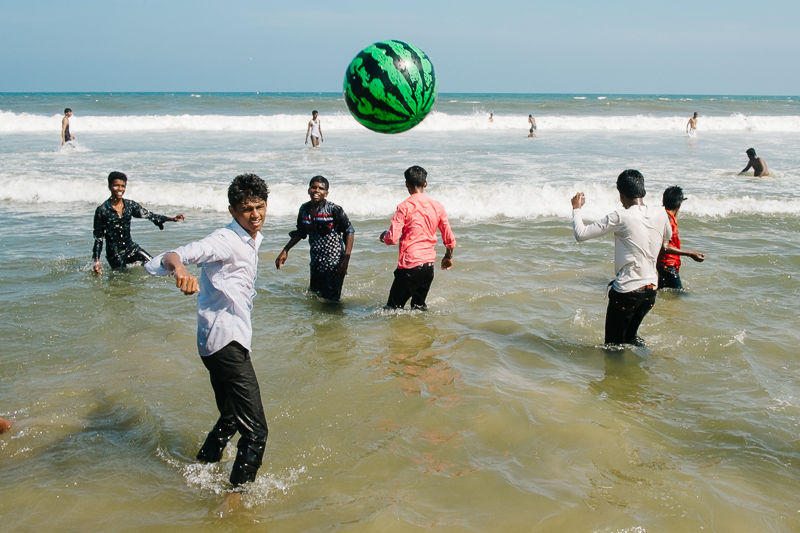 "To me, Downtown Parry's Corner is my go-to place whenever I want to roam. But Marina Beach is also an equally important place. Both places have lots of activities to capture the interests of any photographer."
3 Things to Capture in Chennai:
1. Urban Indian Beach
Not everyone thinks of the beach when they think of street photography. For some it's not urban enough. I'd disagree, but when it comes to the beach in Chennai, it's the most urban beach you'll find. The city life extends to the ocean here.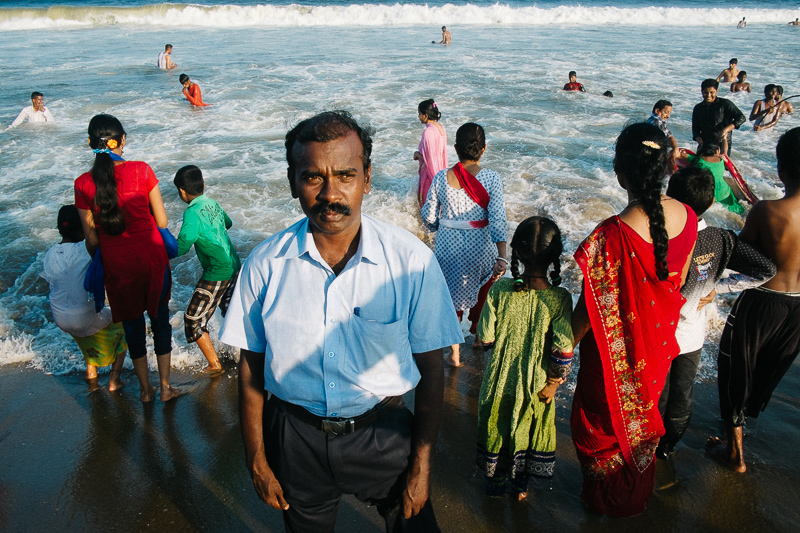 Men with their tie loosened and slacks rolled up walk into the ocean, briefcase in hand. Women in their full sarees soaked while splashing each other. Young couples sitting in any shaded privacy they can find. Children running around and playing everywhere. Shops, food stands, and carnival rides line the sand, while birds and horses share it. For how long and wide the beach is, it's amazing how much of it fills up. It's a city on the sand.
2. Chaos & Colors
When you think of India, chaos probably comes to mind. And Chennai is one of the best representations of chaos in India. After traveling around much of India, Chennai rivals other big cities of Mumbai, like Delhi and Kolkata, in chaos. I find Chennai gives a little more old world city chaos, though, more similar to Kolkata than Mumbai.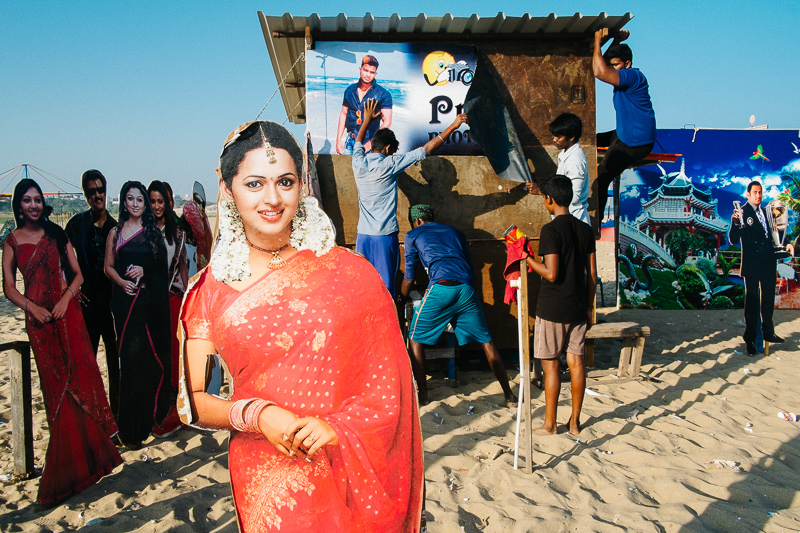 Traffic is crazy, the streets and sidewalks are packed with people, different smells fight for attention, and the mix of bright colors and grit are everywhere. The chaos attacks all of your senses, while supplying endless photo opportunities. Chennai also has colorful posters, paintings and signs covering much of the city, which can add even more to those photos.
3. Old World
As I mentioned earlier, Chennai has a more old world city chaos, more similar to Kolkata than Mumbai. It doesn't feel as modernized as many of India's fast growing cities. Tradition is preserved throughout the city, there's a feeling unique to Chennai that isn't lost with the changes yet.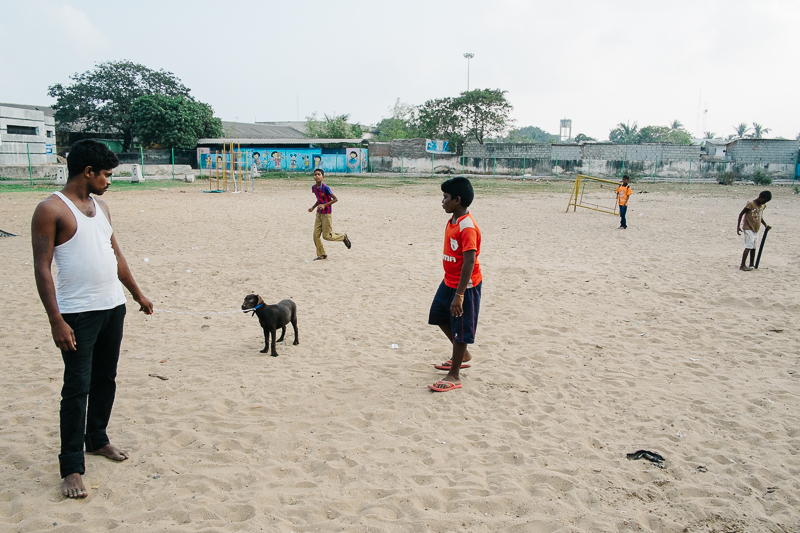 While Chennai is growing fast, you get the feeling they aren't trying to be like any of the other fast changing Indian cities. There's an old world charm mixed with its ties to the sea that is kept intact. There's certain quirks that distinguish Chennai and while it's up their in size with other large Indian metropolises, there's a slightly more relaxing vibe that lets you be.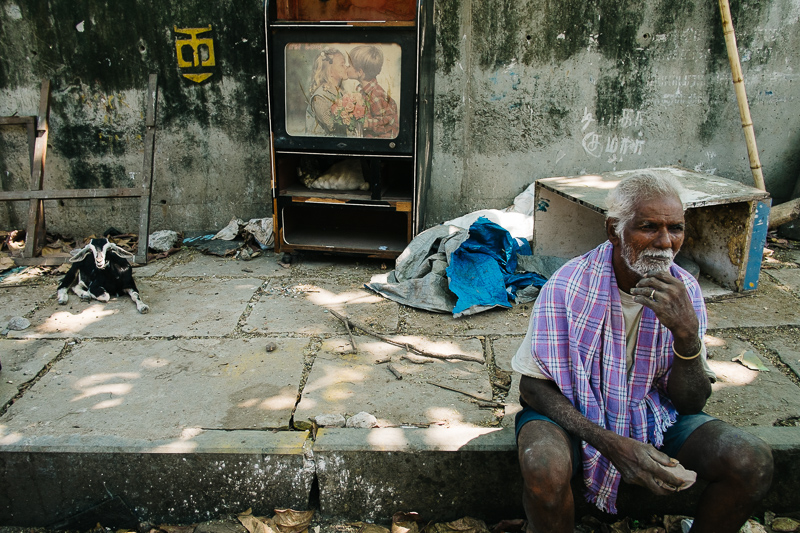 While exploring Chennai on foot, you walk through many little village-like areas within the urban city too. Most of them are along the river or beach, but they're found all over the city. Some might call them slums, but many are just a narrow street or two wide with little huts lining the dirt streets so it feels different than walking into a large city slum. 
What To Do For a Street Photography Break?:
In Chennai, the Beach is Where it's at. Even for a Photography Break.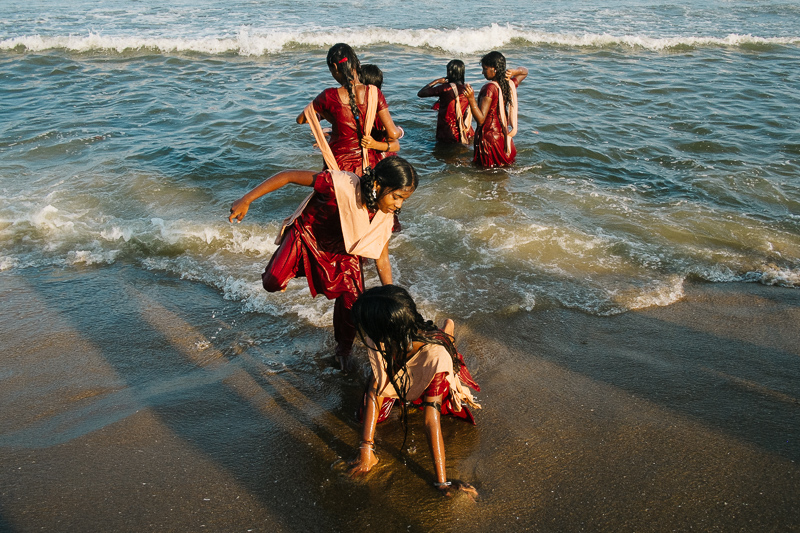 Chennai is as chaotic as any other large indian city, but you can always go to the beach. Just like the locals do. While the beach is crazy and urban too, it's still an escape from honking horns and a chance to cool off. This is where the locals come to unwind too. So take your camera with you, but if you want a break, take a few minutes to grab some fried fish and enjoy the ocean.
Street Safety Score: 8
*As always, no place is completely safe! So when I talk about safety, I'm speaking in general comparison to other places. Always take precaution, be smart, observe your surroundings and trust your instincts anywhere you go!
Chennai is one of India's biggest cities, which means it's a very big city. In India, things are usually much safer than they look to a foreigner, but still use more caution in some areas. Over the last decade, Chennai actually stands out in India for its drop in crime, though. This is especially true for crimes against women. So while you should always be cautious and trust your instincts, Chennai is generally a pretty safe city.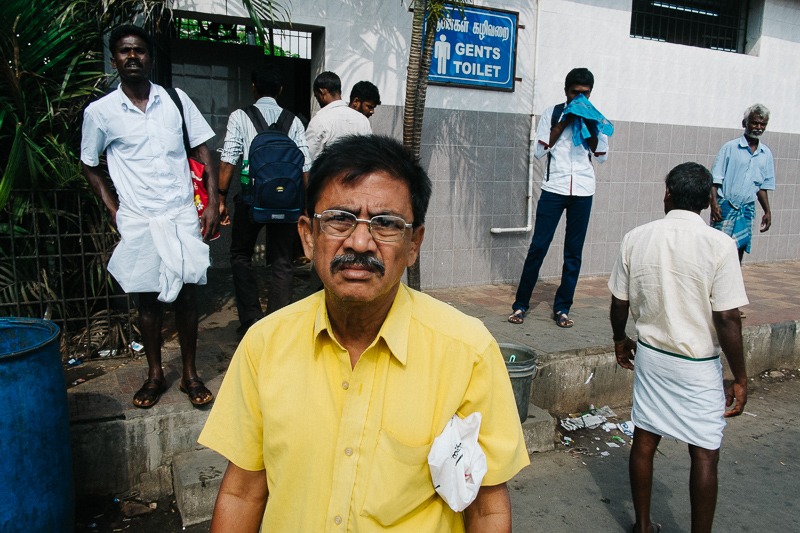 For street photography in India, though, your biggest safety concern will probably be not getting run over. You definitely have to be aware of your surroundings when it comes to motorbikes, rickshaws, cars, buses, and crossing the streets. Or even sidewalks.
People's Reaction Score: 9
Unless it's an exception, I will just include the following when it comes to street photography reactions in Indian cities:
It's India. Your biggest problems with reactions are posing, others wanting to get into the photo, endless photo requests, and sometimes even getting chased for a photo. If you're a foreigner especially, people love photos here.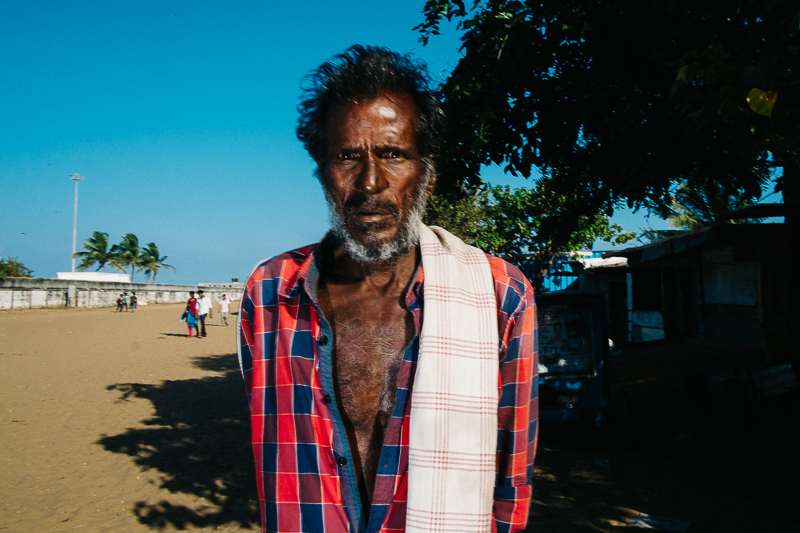 Street Tips:
Concentrate on one or two areas per day
Chennai is a big, spread out city with heavy traffic. So if you try to fit too much in, half your day will be spent in a rickshaw or bus. Something that might not look that far on a map can end up taking an hour in transportation.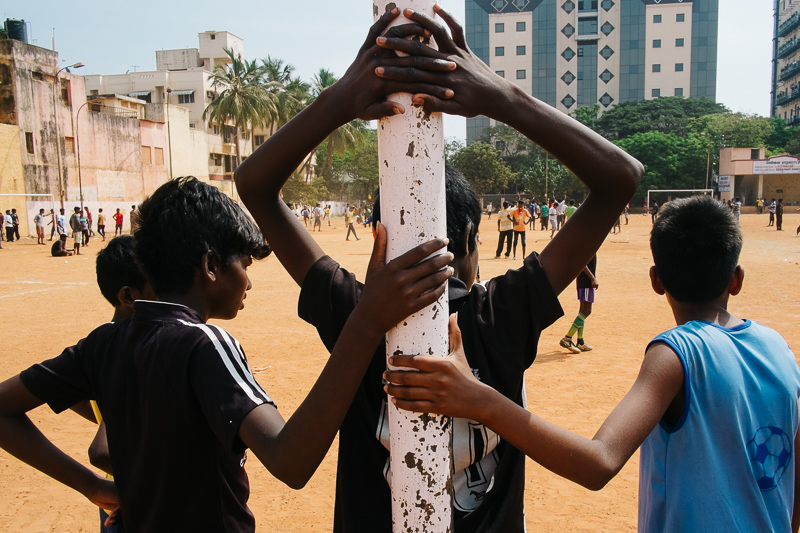 So I find it's smart to pick a couple of places not too far from each other to visit per day. It's too far to walk everywhere on foot so I'd take transportation to one good spot, walk and explore the area, and then take transportation to the second spot to explore for the afternoon/evening. For example, the T. Nagar area for a few hours and then a rickshaw to Parry's Corner or Marina Beach for the rest of the day (Parry's corner is close enough to Marina Beach to combine).
Beach is empty during the day
As I mentioned earlier, people don't come to the beach for sunbathing. The hot sun is too much for most during the day and many are working so people don't start coming until at least 3 pm.  You can come around this time to catch the beach when there's still plenty of sunlight and people are just starting to come. By sunset, it should be plenty busy, especially lining the water. The weekends can bring the chaos to even higher level.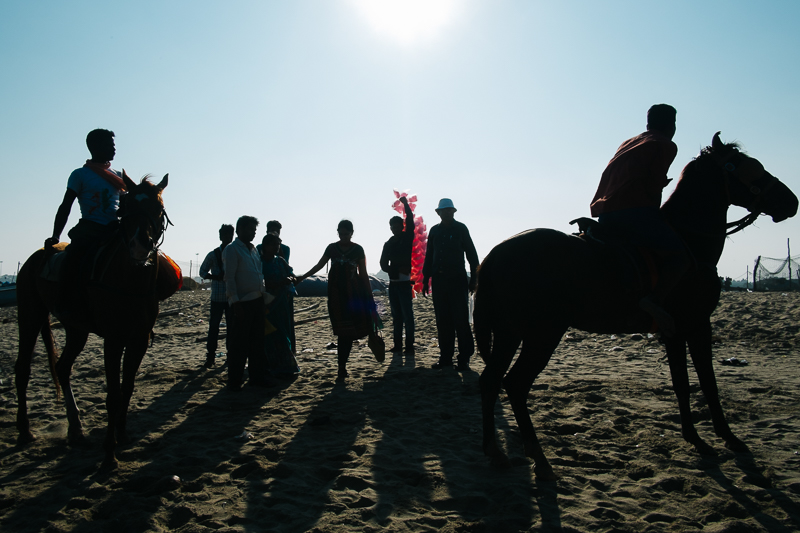 Bring good sandals if you don't want shoes full of sand
The beach is huge with soft sand so it gets tiring walking around it, but emptying out your shoes every few minutes makes it much worse. Many of the streets off the beach can get sandy too. Plus, it'll likely be hot so sandals are the smart choice in Chennai.
Inspiration:
For some more inspiration, you can check out some of the work from Gurunathan Ramakrishnan and look at 33 of my photos taken in Chennai.
Conclusion:
I have many favorite cities in India, but Chennai is up there. It's a colorful, friendly and chaotic city like you'd expect in India, but what makes you remember it is the beach. I've never been to city where the beach is a bigger part of its heart and soul. Speaking to the locals, you get the same feeling too. This isn't a little beach town, either. Chennai is a giant metropolis so this feeling is on a whole different scale. The beach is a core part of the city and as urban as the traffic filled streets.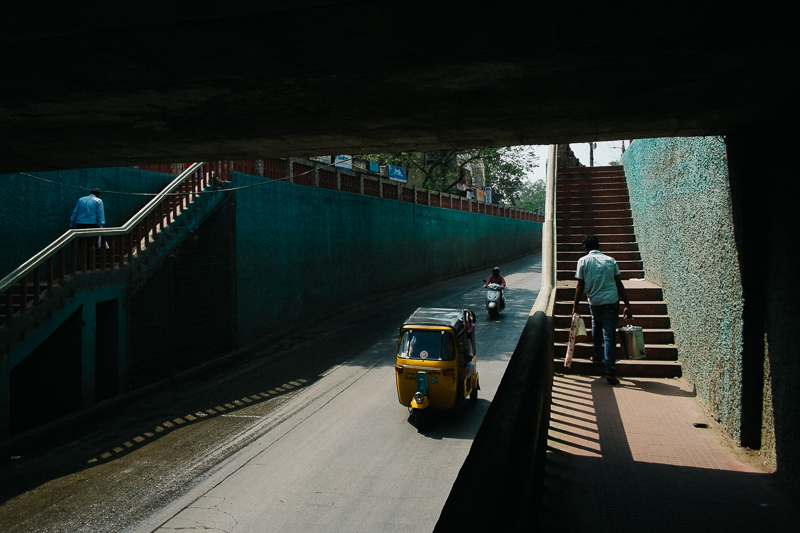 Chennai has plenty of other spots to explore with your camera too, especially around T. Nagar and Parry's corner, but you'll always want to come back to the beach. It's one of a kind. So grab your camera and capture all that Chennai has to offer for Street Photography!
If you still have any questions about shooting in Chennai, feel free to comment below or email me!
(I want to make these guides as valuable as possible for all of you so add any ideas on improvements, including addition requests, in the comment section!)
(A New Guide Posted Every Other Wednesday)