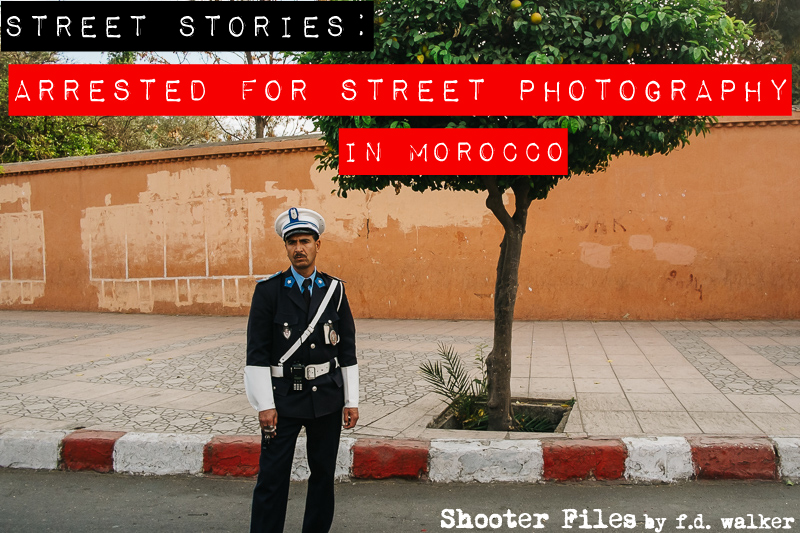 A little while back I decided to include a few posts/stories about some of the negative experiences that have come about from shooting street photography during my 100 cities project. I want this blog to be open, honest, and hopefully interesting, so that should include the times that don't go perfectly too. In the first post, I wrote about a physical confrontation over street photography that I had in Istanbul. While they're very rare, confrontations can occur in street photography, but for this post I wanted to cover something that happened to me that I never would have expected.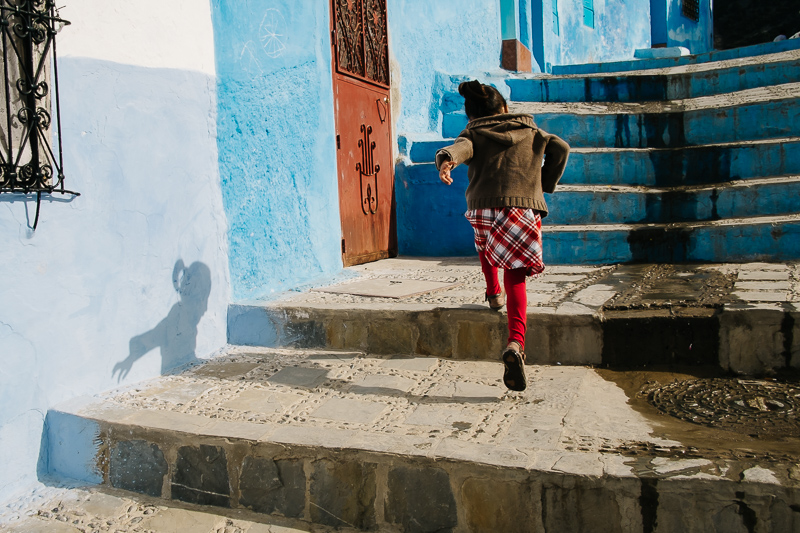 During my visit to Chefchaouen, Morocco, I was actually arrested for street photography. But it wasn't as simple as that. The story behind why and how is the most surprising part, and now that I'm free, it's also the most entertaining part, for me…
Arrested for Street Photography in Morocco
Yes, you read that right. I was arrested for shooting street photography in Morocco. In the small, blue city of Chefchaouen to be specific. Up high in the Rif Mountains of Morocco.
Nothing prompted this arrest, other than being seen photographing in public. No altercation or complaint happened, either. And no, it is not illegal to shoot street photography in Morocco.
Since street photography is perfectly legal here, then how did I get taken into a police station by five officers for simply using my camera in public?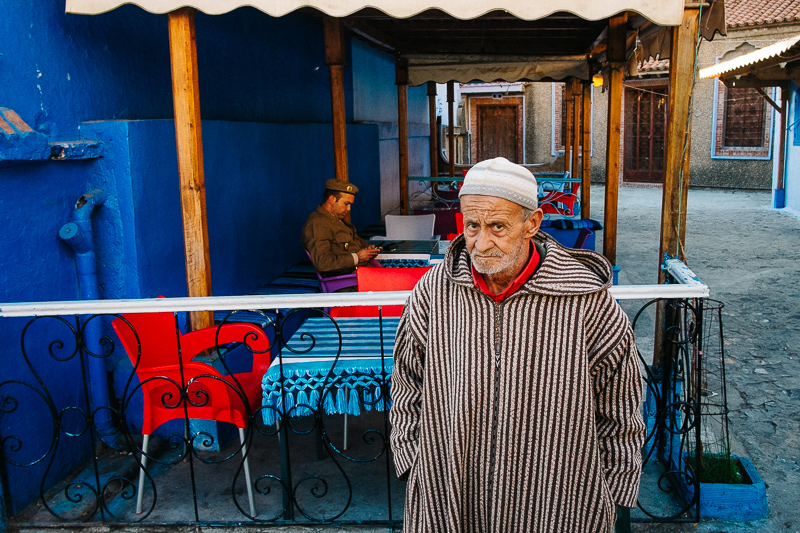 For some fun on this story, I'll break it down by time and event, like a tv crime drama :)
A Sunny Monday Afternoon Somewhere in the Streets of Chefchaouen, Morocco…
12:32     I'm walking around Chefchaouen's streets shooting some street photography.
12:33     A Moroccan man around 25-30 years old, dressed normal, walks up to me and asks what I'm doing.
I explain to him that I'm out photographing life in Morocco. I show him my business card and explain further what I do.
12:35     The man asks me my nationality and where I live.
(While this sounds a little strange to ask, in Morocco it's not as strange as people come up and ask questions like this.)
I tell him I'm from the U.S., but currently live in Istanbul.
We talk a little more, all friendly. He explains to me that I'm a nice guy, but I need to understand for every one good tourist, there are three bad tourists, so this is why he was curious about me photographing. (Also a little strange to say, but he shakes my hand and walks away.)
12:42     I continue walking the streets and photographing.
12:47     While in a completely different area than before, I notice the same man across the street on his phone. I continue walking around.
12: 52     Again, in a completely different area, I notice the same man close by on his phone. Now, I'm pretty sure he's following me so I walk a little faster while taking a more complicated route to try to lose him.
12:58     It seems I have lost him, but then out of nowhere three men run up from behind and grab me, while yelling that they are police and I'm coming with them.
All three men are dressed normal so I ask to see a badge or I'm not going anywhere. This causes one man to start aggressively yelling at me in Arabic, which prompts another man to get in front of him and show me his police ID.
Then two more men come up, including the original man. I ask what is the reason for stopping me. They won't really answer, but one guy mentions that I can't take photos in public and I better not erase anything on my camera. I'm still very suspicious of how they're acting and how they are dressed, but they tell me they are dressed normal because they are undercover police. 
They don't have handcuffs, but they tell me I'm being arrested and taken to the police station in their car. I ask if we can walk since I know the station is only two blocks away, instead of getting into their old car with nothing showing it's for police (still suspicious). The same aggressive man says no and grabs me, but another man says yes and motions for him to let me go. So we walk to the station.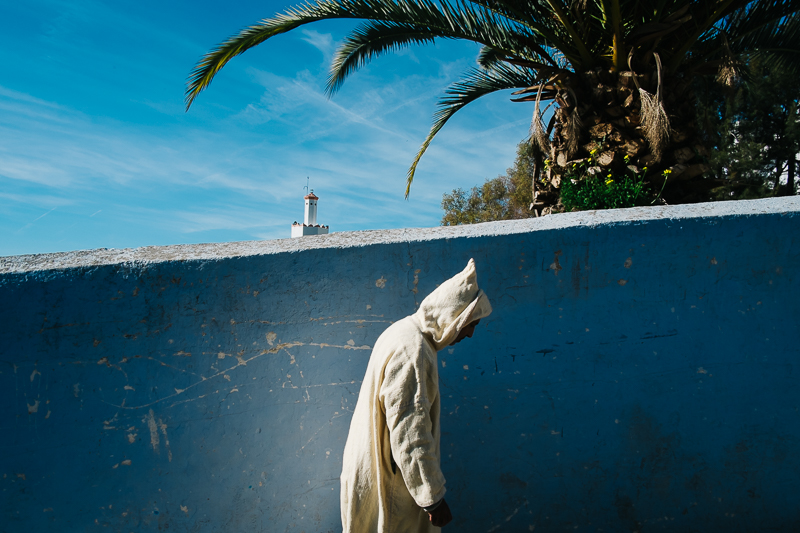 13:10     Walking into the police station with them, I feel a little better knowing they really are police. They take me into a very small room and have me sit down with five guys surrounding me.
The aggressive officer, we'll call him "bad cop," seems to be the one in charge and continues being verbally aggressive with me, while another officer acts completely the opposite towards me. The total "good cop, bad cop" routine.
They continue asking questions about my profession and what I'm doing there, while making comments about how I need to have authorization and papers to be able to take photos with people in public in Morocco (not true). At the same time, two other guys are going through all the photos on my camera, one by one, while stopping to asking me questions about specific photos from time to time.
This interrogation goes on for around 30 minutes. They speak Arabic and French, but not the best english so communication isn't great. At one point, one of them asks me if I speak any Arabic. When I say no, he replies "that's not good" with a strange smile and shake of his head, which didn't give me the best feeling.
(During this whole interrogation, I'm thinking about all the possibilities of what could happen here. I knew I didn't do anything wrong, but this was all so strange and I was up in the mountains of a foreign country so you never know.)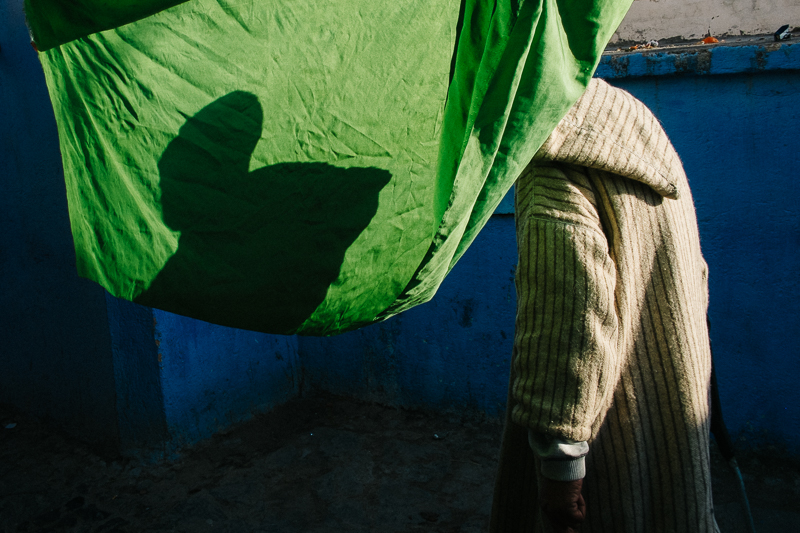 13:40     The "bad cop" calls my hotel on the phone and speaks with them for at least 5 minutes. Towards the end, I hear him say "American?!" and he starts laughing, then turns to the rest of the police in the room and repeats "American!" They all start laughing too. Normally, this would sound like a bad thing, but something about it made me sense it was good.
13:43     After the phone call, he hands another man a number written on a piece of paper. It looked to be my passport number that he must have gotten from my hotel. So the man leaves the room to go check it in their system, I'm assuming. The rest of the police in the room start speaking to each other in arabic without questioning me anymore. 
13:51     The man returns with the piece of paper and talks to the "bad cop."
13:53     The "bad cop" turns to me with a complete change in attitude and says, "So so sorry. You can go."
Everyone's now looking at me with apologetic faces. 
The "bad cop" continues, "We thought you were Turkish. But we find from hotel that you are American. Our brothers! (Everyone laughs)… So we know you are good. Turkish are bad, very suspicious, so we thought you were bad. So so sorry, our mistake. Making photos of people is very suspicious if you are from Turkey, but you are American!" (Again, laughter from the police fills the room)
The original guy that confronted me first comes in the room and tells me how sorry he is too and that it was all his mistake. Obviously, me telling him I currently live in Istanbul was the reason for all this, and that must be what they were focused on the whole time.
The bad turned good cop stands up to shake my hand and tells me "Please leave and enjoy here, you are our guest" and everyone follows to shake my hand and wish me well.
I walk out of the station and go back to some street photography, while processing all that just happened.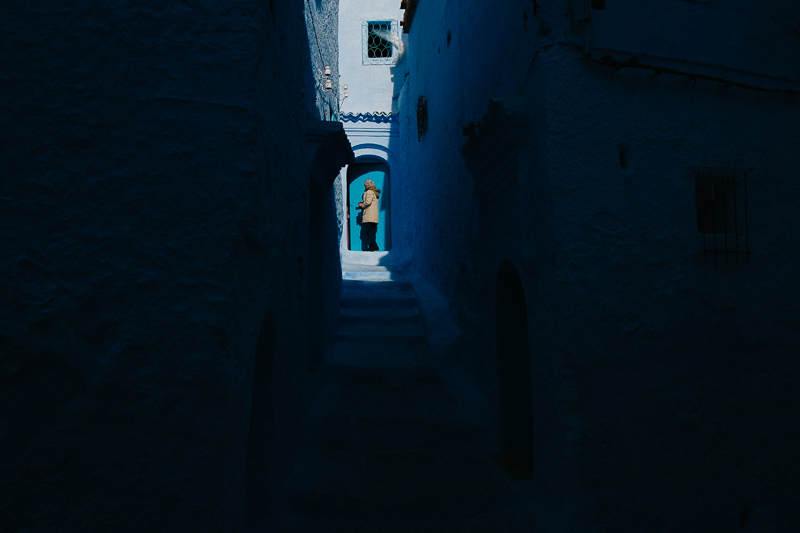 Strangest Street Photography Experience Yet
This is, without a doubt, the strangest experience I've had yet while shooting street photography. Even now, all that happened and the reasons why are funny to think about. The whole "good cop, bad cop" routine in the dirty, old interrogation room was straight out of a movie. Happening in a secluded little town in the middle of the mountains in Morocco definitely added to the experience too. And I'm not sure what would have happened to me if I actually was Turkish instead of American. 
Unlike the last post in this series, I don't think there's much to learn from it, but hopefully it's interesting enough to share. It was definitely interesting for me to experience. And sorry I don't have any photos from the actual event, but I didn't think it was the best idea at the time :)