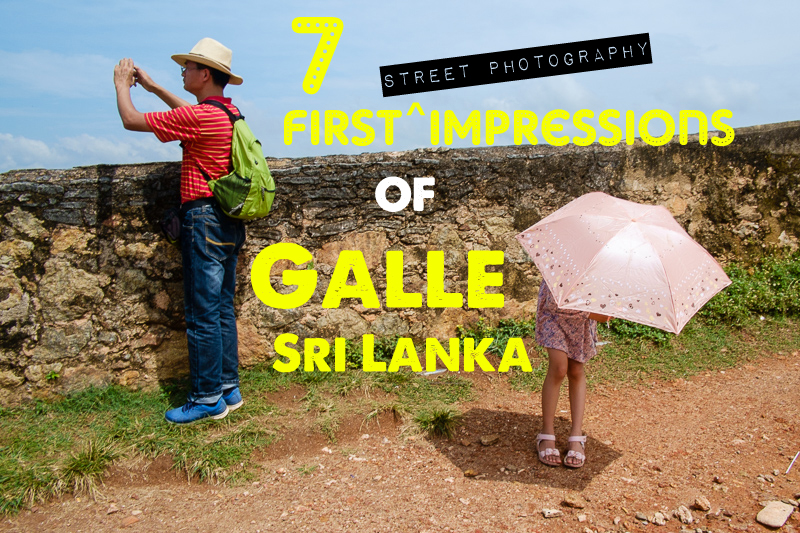 After Colombo, I took a train down to Galle in the southwest corner of Sri Lanka. Galle is a major city in Sri Lanka, but is best known for its Dutch influence and walled fort city where locals still live. It's also nearby some of the most popular beaches and become one of the top spots to visit in Sri Lanka.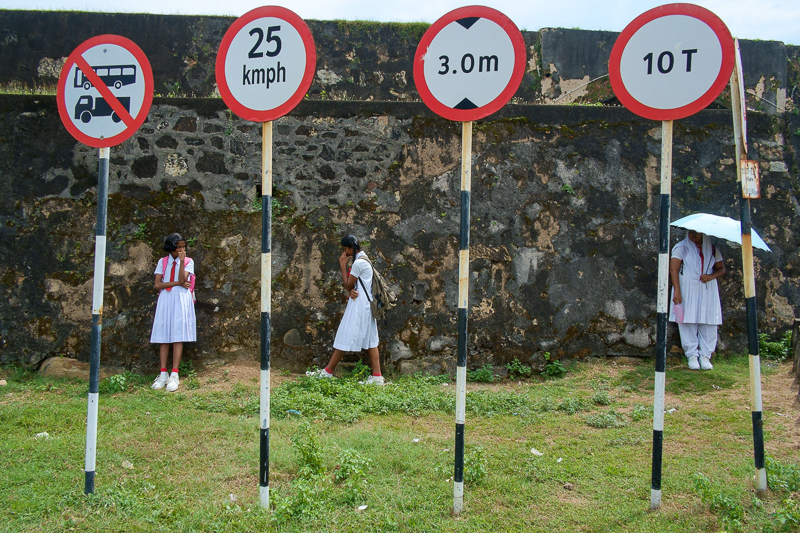 Galle was only a quick train ride from Colombo so I decided to give it a few days during my time in Sri Lanka. Here are my first impressions of Galle, from my personal Street Photographer perspective…
7 First Impressions of Galle, Sri Lanka 
(From a Street Photography Perspective)
1. The Fort Wall has plenty to explore
If you're visiting Galle, then Fort is where you'll be spending most of your time. It's actually one of the few Forts that still has locals living within its walls. It was originally built by the Portuguese, but then fortified by the Dutch, which is the most noticeable influence today.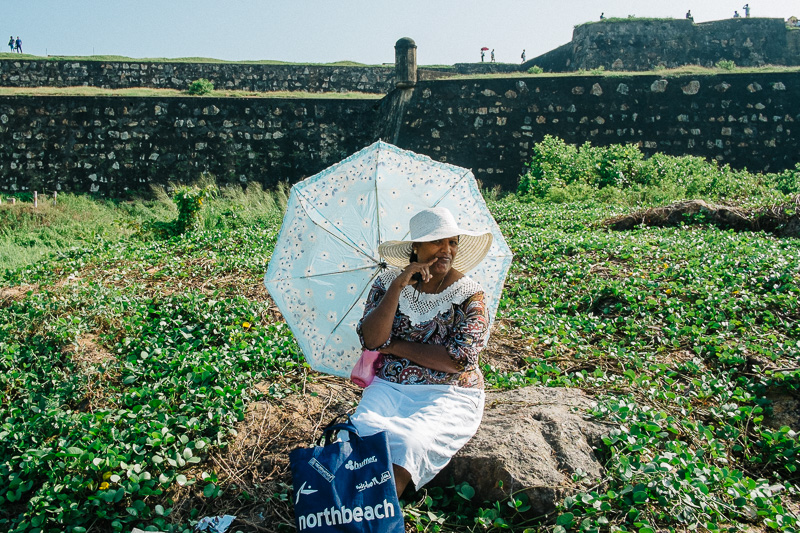 The whole area has become very touristy, but I found walking along the wall the most interesting. Much of the old wall lines the Indian Ocean and you can spend hours walking the full circle. There's not just the ocean view, but different spots along and inside the wall for exploring. Mixed with the activity and backgrounds, you can discover some nice images here too.
2. Tourist Scene
Galle, like much of Sri Lanka, is very touristy. Other than Kandy, it might be the most popular tourist stop. Inside the walls, it's very noticeable too. While the dutch influence and cobblestone streets provide an attractive atmosphere, it might not be as enjoyable for street photographers who look for less polished non-touristic environments. Still, if you explore outside the most touristy of the center cafes and boutiques, you should be able to find where that attractive atmosphere loses some of the polish.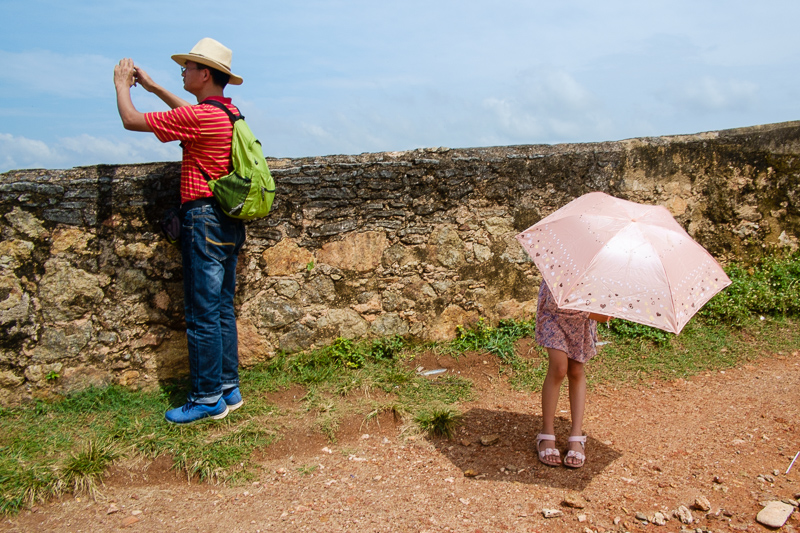 Galle attracts an interesting mixture in its tourist scene, though. You have all the backpackers on their Sri Lankan journeys, the surfers stopping for the well known waves nearby, the elite and wealthy tourists relaxing in Galle's chic colonial atmosphere, buses full of Chinese tour groups everywhere, and then plenty of other tourists from around the world mixed in.  The diverse mixture is unlike most you will see and adds to the unique atmosphere of Galle.
3. Go Outside the Wall
While most people will spend all of their time in Fort, there is more city to explore outside the walls. I spent much of my time walking around the rest of the city and enjoyed the different scene and absence of tourism. It really feels like a completely different city so you can get the unique backgrounds and scenery of the Fort, but then escape the tourism and get the more urban setting of normal city life. Fort isn't that big anyway, so it's easy to fit in some time exploring the rest of the city.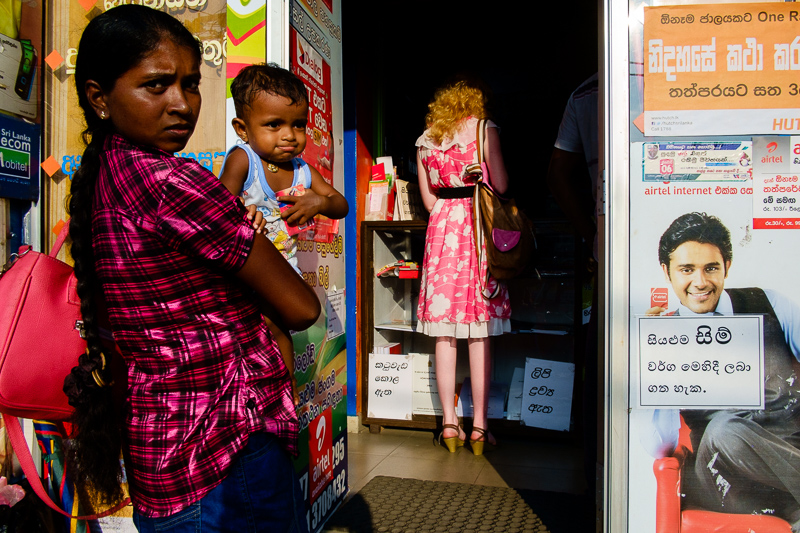 4. Mix of Old & Chic
The historic fort area feels old and plenty of locals live here, but it also feels very chic with all the boutique shops, cafes and hotels. There's a very noticeable art scene here too and many of the houses are owned by foreign artists.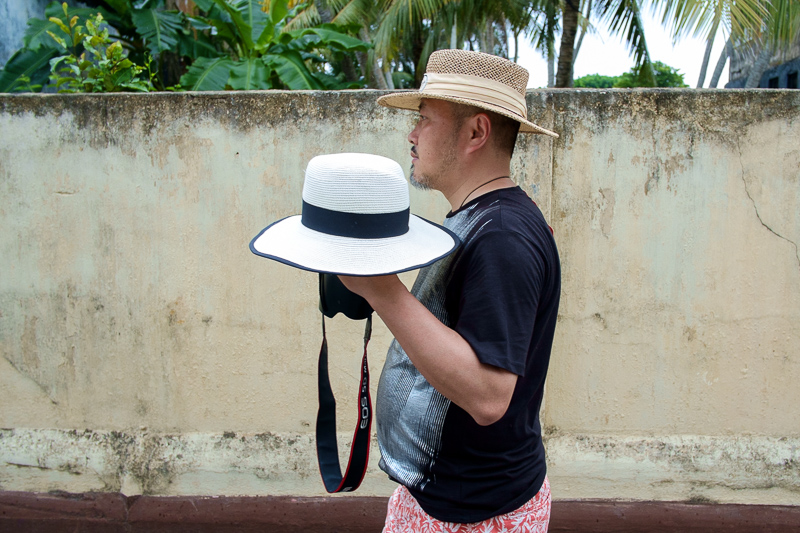 So you have the old cobblestone streets, dutch colonial architecture, local working families, and surrounding fort wall, but you also have a somewhat artsy/chic tourist polish to it all. 
5.  Decided to Pass on the Stilt Fishermen
One of my earliest influences in photography was Steve McCurry. I started off in travel photography, but ventured away when I felt much of it is too simplistic and cliche, which is also what happens to sell. McCurry opened up my eyes to how it could be more, though, and from there I explored genres like street photography, which is what really interests me today.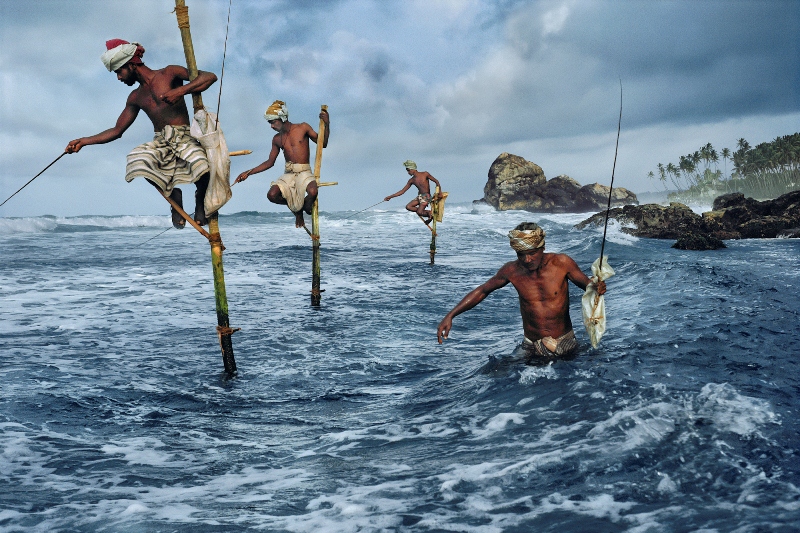 One of the first shots from McCurry that I remember is of the stilt fishermen, just outside of Galle. I'd always wanted to come photograph them myself. Unfortunately, I wasn't the only one influenced by McCurry's work here. Since then, millions of photographers have come to photograph these stilt fishermen. Because of this, it's no longer real stilt fishermen, but people posing for money. Not my thing at all. Many times, it also comes with others on the beach surrounding you while intimidating you for money. I'm sure if you explored Sri Lanka long enough, you could find some of the last authentic stilt fishermen still around today, but I decided to skip the effort. 
6. Completely Different than Colombo
Unlike Colombo, Galle is the type of city that attracts most of the country's visitors. Galle is an appealing mix of classic architecture, dutch colonial history, and an impressive fort wall, all in a beautiful tropical setting. While I really enjoyed Colombo for street photography, Galle provided a completely different scene for photography. Much more polished and clean, less urban, and while having a more unique atmosphere, not necessarily a better one for street photography.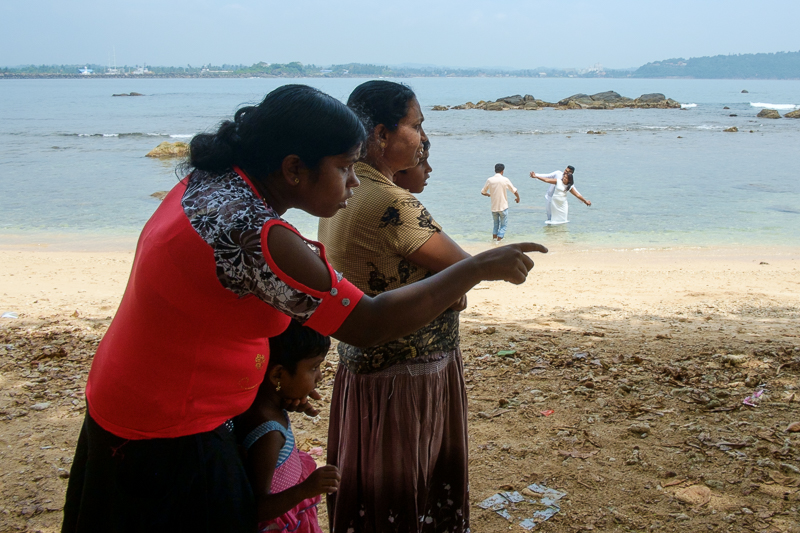 I enjoyed Galle for its change and interesting scenes around the wall, but missed the authenticity and gritty urban life of Colombo. For a tourist, Galle would be more enjoyable, but for street photography, Colombo would deserve more time, in my opinion. 
7. They Love Valentine's Day
If you're in Galle during the middle of February like I was, you might be in for a surprise. When walking to my place from the train station, I walked by a huge concert/outside party just outside of the wall. Thousands of people were dancing and partying outside by a large stage with a dj, lights, and live music. It was an interesting scene to walk by, to say the least. But the most interesting part was it was all a celebration for Valentine's Day.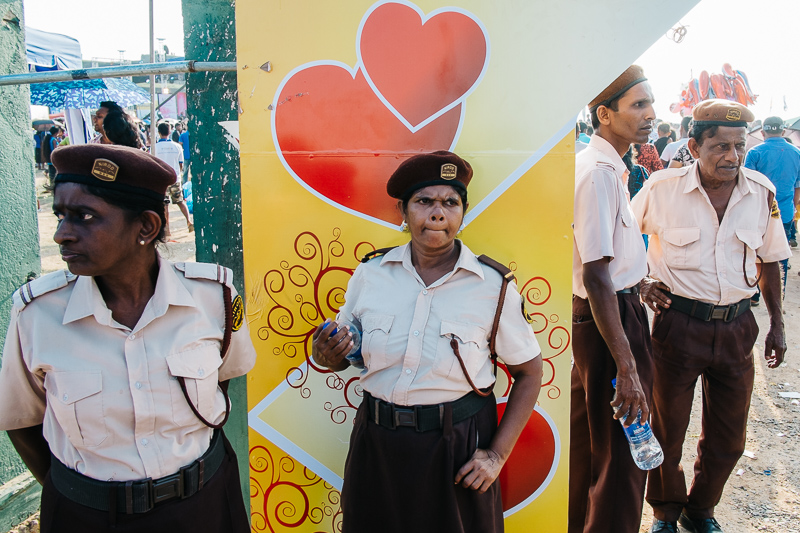 After dropping my bags off at my place, I grabbed my camera and hurried back to check it out. After talking to some locals celebrating there, they informed me how big of holiday it is there and one of the bigger events they look forward to each year. It was almost all locals celebrating too. I'm not sure if tourists were scared off from entering, but for whatever reason they didn't. It provided one of the more interesting celebration experiences I've encountered during my travels.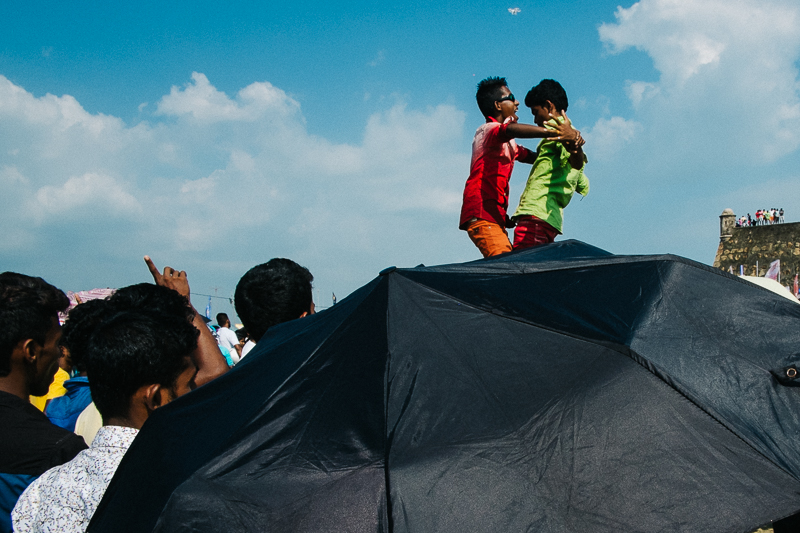 The Sri Lanka from the Postcards
Galle really is a beautiful city. The walled Dutch colonial city by the tropical beach provides something you won't find elsewhere. I enjoyed the different atmosphere, but was happy to find there was more to explore outside the walls too. For a street photographer, I'd imagine a few days would be enough here, but I'd definitely recommend it.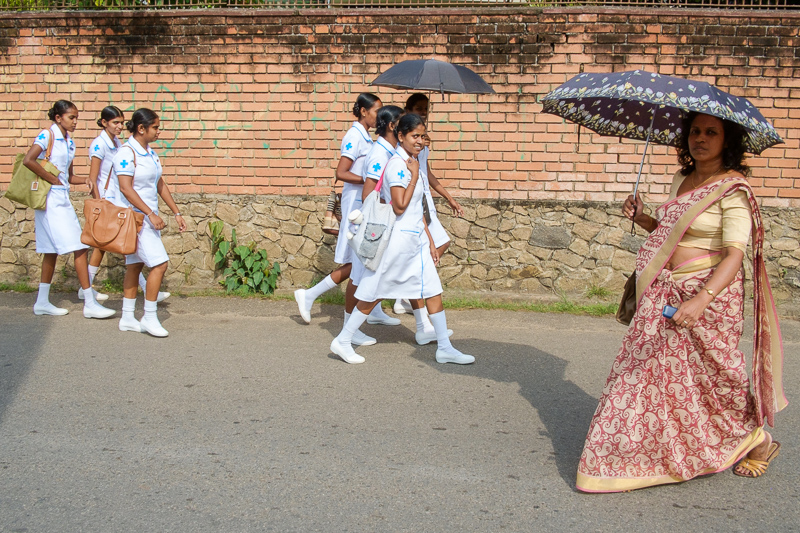 If any of you have been to Galle before, tell me about your experience and impressions of the city and country in the comments below! And stay tuned for more on Galle, including some of the best Street Photography shots I captured while there.
Click Here for More "First Impressions from a Street Photography Perspective" from Cities Around the World