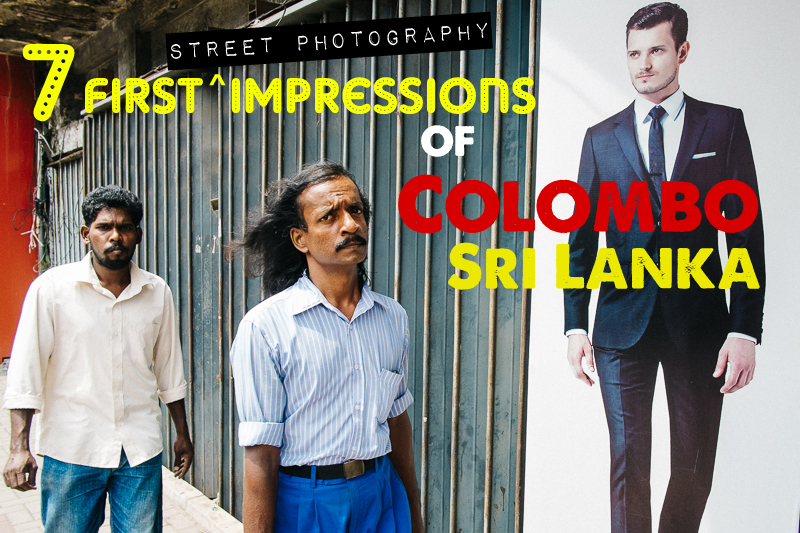 Colombo is the commercial capital and largest city in Sri Lanka, but most people don't come to the island for city life, they come for the beautiful beaches, nature, and "Cultural Triangle."
Before coming to Sri Lanka, I talked to some photographers who found Colombo had plenty to offer itself, though. Maybe it's more worth it for street photographers, but I ended up staying almost a week in Colombo because of how much I liked it. If you enjoy cities in India, then Colombo shouldn't be disappointing, but it also has its own character that makes it different too.

So here are my first impressions of Colombo, from my personal Street Photographer perspective…
7 First Impressions of Colombo, Sri Lanka 
(From a Street Photography Perspective)
1. Chaotic & Dirty, but with Character
Yes, Colombo is a chaotic and dirty city, but if you enjoy cities in India, this should be nothing. I enjoy the chaos and don't mind dirty cities, so for me, if it comes with character then it's a positive. And Colombo comes with character.

The streets are packed with life in Colombo. Everyone is outside and the streets are filled with workers, hand carts, motorbikes, merchants, and plenty of people moving in all directions. Some streets can be difficult to walk through because of everything going, but it provides plenty to capture. There's a mix of urban city and island too which gives a different atmosphere and lots of color. Most of the better areas are close together so it's also very walkable for street photography.

2. Pettah is where it's at for Street Photography
Pettah is a neighborhood in Colombo most famous for Pettah Market (also called Manning Market). You'll find plenty of produce and other goods for sale in this outside market. I've been to too many markets to name, but Manning Market is one of the best I've been to. While it is chaotic, there's plenty of space and good light. It has a unique set-up that gives a really authentic feeling, while putting you right in the middle of it all. People are actively working all around you everywhere you walk or look. 

Outside of Manning Market, you'll find streets full of shops, businesses and restaurants. It gets really chaotic here, but in a big, asian city type of way. So it makes for great street photography with a bit of its own island vibe mixed in with the urban chaos.
3. Galle Face is Good too
Galle Face is another good spot for Street Photography and brings a completely different change of scenery. Galle Face Green is a half-kilometer urban park stretched along the ocean. It's completely open with flat grass, as it was initially used for horse racing and other sports. Now it's where people picnic, fly kites and couples come to hide together under umbrellas. 

In between the grass and beach is a long walk way with food carts and benches. The weekend is when you'll find it especially busy here, but the weekday evenings can still be a good time to check things out. There's also a board walk that goes out over the water where people come for the ocean views. 

4. Super Friendly
The people in Colombo, and Sri Lanka in general, are very friendly. This goes for reactions to public photography too. Reactions feel similar to India, one of the most camera friendly countries in the world, but with slightly less curiosity when it comes to taking people's photos. Even the police are, without question, the most camera friendly I've ever met.

With this friendliness towards photography comes plenty of photo requests when people see your camera, but not quite to the degree of India. I really can't imagine someone having any problems shooting Street Photography in Colombo, other than dead batteries from taking too many photos.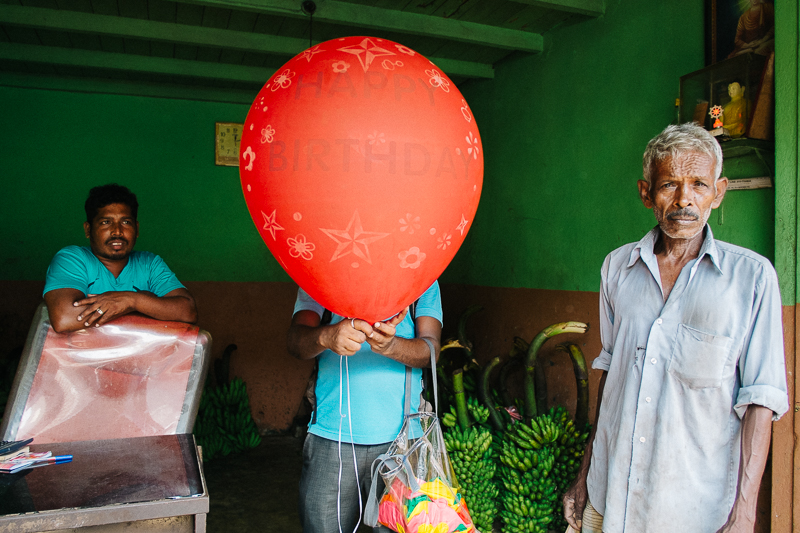 5.  Mix of Religions
Sri Lanka is one of the most religious countries in the world (3rd according to a Gallup poll). In Colombo, there's a noticeable mix of Buddhists, Hindus, Muslims and Christians. Not many places have such a mixture of religions, each with a strong presence of their own.

Exploring the city, you'll notice religions change along with the different neighborhoods, while the city center has a mixture of them all coming together. You can see this in the artwork, architecture, clothing, and more. It provides a variety to both experience and capture in your photography.
6. Feels Bigger Than It Is
While it is the biggest city in Sri Lanka, Colombo only has a population around 650,000. I've been to cities 5 times that size that feel less populated, though. Much of it has to do with everyone doing everything outside, but there must be more to it than that.

There's plenty to explore in Colombo and so much of it is full of urban activity and life. People are everywhere and the trains get so packed, you'd swear Colombo is a much larger city. Whatever it is, it makes for a lot of Street Photography opportunities.

7. Not why people go to Sri Lanka, but for Street Photography it should be
Most come to Sri Lanka for exploring the beauty of the island. They don't come for an urban city. So I can understand why Colombo doesn't get too much love. For street photographers or people who enjoy cities, though, Colombo is actually a pretty interesting city. 

In addition to all that Pettah, Galle Face and the rest of the city has to offer, you also have the trains that go along the coast line. Even if you're not going anywhere, I'd recommend just taking the local train back and forth a few times while you're in Colombo. You get an interesting and beautiful mix of crowded train chaos against a backdrop of calm, blue ocean. 
Colombo is Worth the Time
To be honest, I think Colombo is worth some time even if you're not into Street Photography. It has plenty to offer, see and experience, unless you just hate chaotic cities. It's also an easy city for visitors, as they're set-up for all the tourists that come to the island. If you're a street photographer, though, Colombo should be a must. Pettah alone is worth a few days. So if you want to experience the beautiful island of Sri Lanka, get some street photography in there too by giving Colombo some time.

If any of you have been to Colombo before, tell me about your experience and impressions of the city and country in the comments below! And stay tuned for more on Colombo, including some of the best Street Photography shots I captured while there.
Click Here for More "First Impressions from a Street Photography Perspective" from Cities Around the World