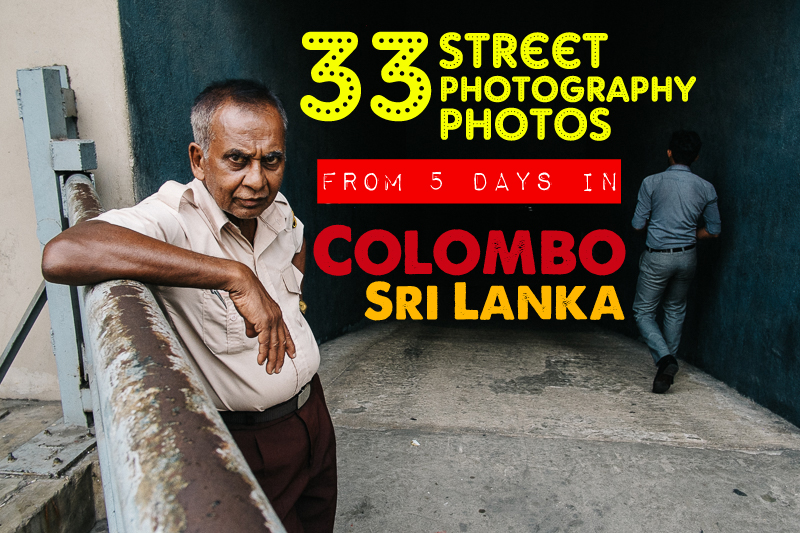 Marco Polo called Sri Lanka the finest island in the world and before the Sri Lankan Civil War, it was a top tourist destination in the world too. Since the civil war ended in 2009, it's regaining all those visitors too. While most come for the beaches, rain forests, ancient sites and more, Colombo is the biggest city and main way on and off the island. 

On some recommendations, I made sure to stay longer than most so I could really get a feel for this city, and I'm glad I did. It was one of the better street photography experiences I've had. I loved the mix of urban city, island life, chaos and friendly people. You can check out my 7 first impressions of Colombo from a street photography perspective and stay tuned for an in-depth street photography guide to the city, but in the meantime, here's some street photography I was able to capture during my time in Colombo…
33 Street Photos from 5 Days in Colombo
1.
2.
3.
4.
5.
6.

7.
8.
9.
10.
11.
12.
13.
14.
15.
16.
17.
18.
19.
20.
21.
22.
23.
24.
25.
26.
Finishing with Some Flash…
27.
28.
29.

30.
31.
32.
33.

For more info on Colombo, don't forget to check out my first impressions from a street photographer's perspective. And stay tuned for one of my in-depth City Street Photography Guides on Colombo too!

Have you photographed Colombo before or do you plan on it someday? Let me know about it in the comments below!
And let me know which photos you like best too!
Click Here for More "33 Street Photos" from Cities Around the World