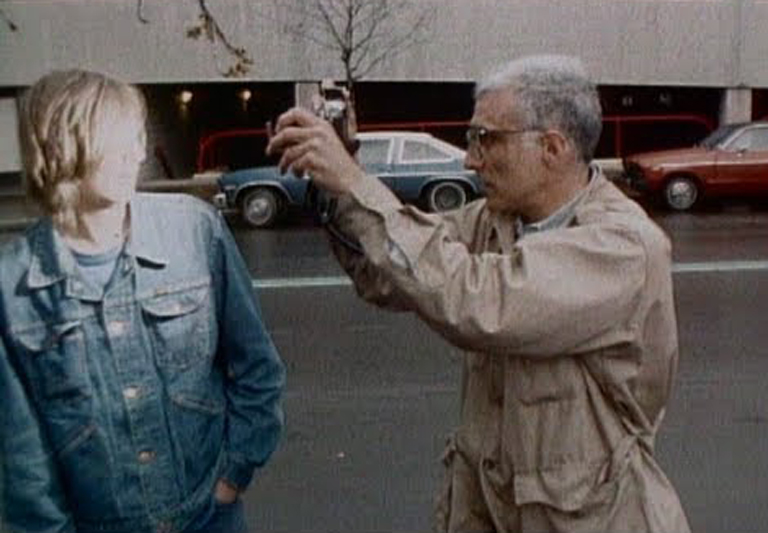 * "Master Profiles" is a series profiling all the great photographers of uncontrolled life. Unlike the rest of the blog, I'm doing these in a straight profile format to make it easy for quick access to facts, quotes and knowledge on all the masters. I'll also group them together here every time I add a new one.
Profile:
Mark Cohen (1943-Present)
American photographer known for his extremely close-up flash Street Photography.
Background:
Born: 1943 in Wilkes-Barre, Pennsylvania, USA
Mark Cohen was born in Wilkes-Barre, Pennsylvania, where he lived and photographed his whole life up until 2013. Most of his work was shot within this metropolitan area, as he became known for not photographing anywhere else.
He went to school at Penn State University and Wilkes College before opening up his own photo study in 1966. Cohen's work focused on up close photographs of people using a wide-angle lens. Small details showed importance in his work, as he cropped out heads and other parts of the scene out in order to focus on certain aspects of the person. He also became famous for his use of a flashgun in his Street Photography.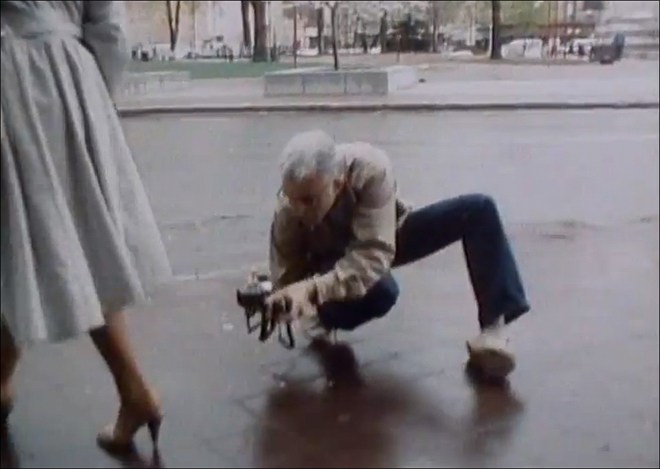 While many think of Bruce Gilden when they think of close-up flash street photography, it was actually Cohen who experimented with it first. Much of his work could even be labeled as more intrusive than Gilden's.
Another unique aspect of Cohen's photographic style is how he never holds the camera to his eye. He normally holds it waist level, almost secretly, as he quickly takes the shot up close and moves on. No stopping for conversation or explanation. Sometimes this intrusive style got him into trouble, as seen in the photo below, where the man is swinging at Cohen.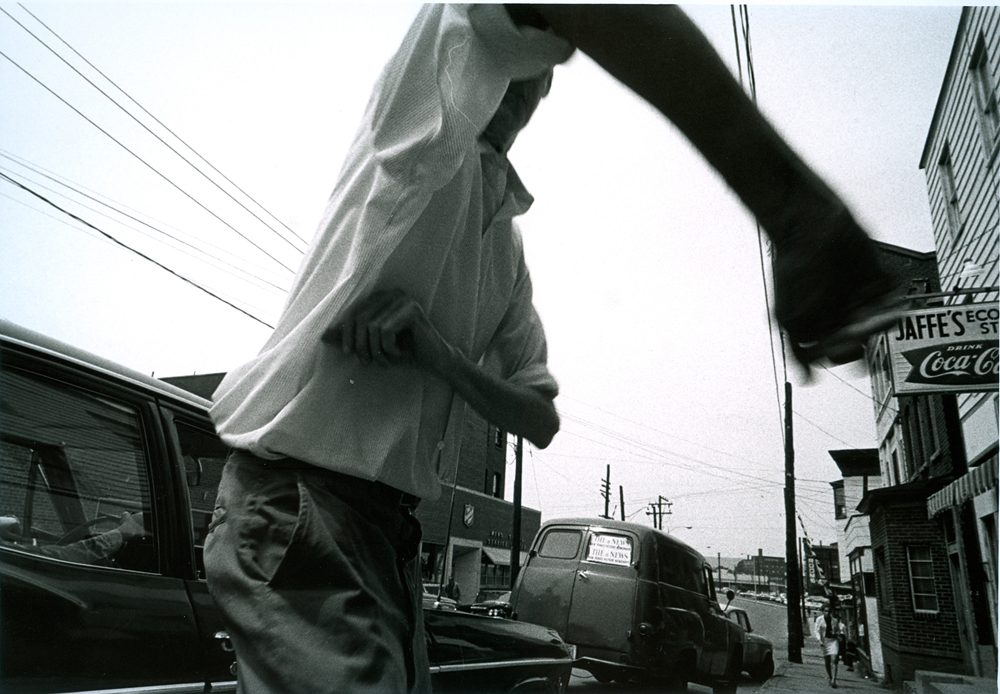 He liked photographing the poorer areas of his city, as it felt more exposed and raw. He also had no desire to photograph anywhere else, as he found his metropolitan area provided plenty to capture. 
While Cohen has been awarded two Guggenheim Fellowships and published three monographs, success didn't always come easy due to his style. Cohen once said "Gallerists couldn't sell my stuff. My work's not the most optimistic. It's not like Yosemite." While his unique and somewhat uncomfortable style has gained legions of fans over the years, he slowly felt the need to shoot further and further away. "That type of interaction took a psychological toll over the years," Cohen says. "I made a lot of nifty pictures by being that close to people. But after a while, I went to a wider lens. 28mm. Then 35mm. Now I'm at 50mm, so I feel very safe."
Cohen finally left Wilkes-Barre in 2013 and moved to Philadelphia, where he continues to shoot photography with the same focus he did in his hometown.
Style:
Extremely close-up
Flash
Sometimes voyeuristic, intrusive and uneasy
Photos that only capture parts of the person
Shot waist level, not through viewfinder
Gear:
Camera: Leica M      Lens: 21/28/35/50mm
Cohen has always shot with Leica's M line of rangefinders, but has gradually moved up from the 21mm focal length he started with.  As Cohen explains it, "[Over time] I got farther and father away. I started with a 21mm lens, then I moved to a 28m and then a 35mm, and now I'm using a fifty; mainly because I would get into situations where I could be arrested, or the police would come."
Quotes:
"When you feel like you're making pictures– the most important is to make new pictures. The pictures you already took– you already took those pictures. My main drive is to do something new– to make some new kind of picture."

"The whole country is my studio. I used to go work under a certain bridge if it was pouring, because people used to hide there from the rain. If it was a cloudy day, I would go to a different place. So I used these neighborhoods like a set. And I still use them like that. There are certain places I know that, if I go there in the evening– I like to take pictures at dusk– they will have a certain flavor even today."

"I just made my photos in Wilkes-Barre and a few other places because I wasn't the kind of photographer who liked to, or needed to, travel around the world… I work on an extremely narrow range, in terms of my method and technical issues, too. It's what is in my head that has developed over time. So I've just kept taking pictures in the same two counties."

"My pictures are not like Cartier-Bresson, although he was a tremendous influence. It took me a while to think, 'It's okay to take flash-pictures.' Then I figured out a technique where I work inside this very short zone with a small flash."

"A lot of times I had trouble with the cops, because if you walk into somebody's yard and start taking pictures of a rope that's sitting there, they'll call the police. And if you photograph a young child and his mother sees you through the window, they get really excited."

"If you keep photographing in the same place, you start to find out something about yourself."

"A lot of this is mood driven, but I don't exactly know where the motive and inspiration to take pictures comes from. So it's very spontaneous work; there's not a lot really to plan."
Fun Fact:
Cohen estimates he has 600,000-800,000 images that he's never seen or developed. For decades, he liked to shoot three rolls of film in a day, but then only develop 8 to 9 prints from the negatives. He did keep the other negatives, though, and has recently started looking at some of them. A future project may come from these unseen images.
Influences:
Garry Winogrand, Lee Friedlander, and Diane Arbus.
Recommended Video:
Recommended Reading:
Mark Cohen: Dark Knees
Inside Zhan Zhuang: First Edition
Frame: A Retrospective
Grim Street
Highlighted Work:

Mark Cohen's work might not be for everyone, but for many he is a big inspiration in street photography. His style can be uncomfortable and it's not made to be pretty, but he is an original. Tell me what you all think about his work in the comments below! Do you have any favorite shots? Does his work impact you as much as others?