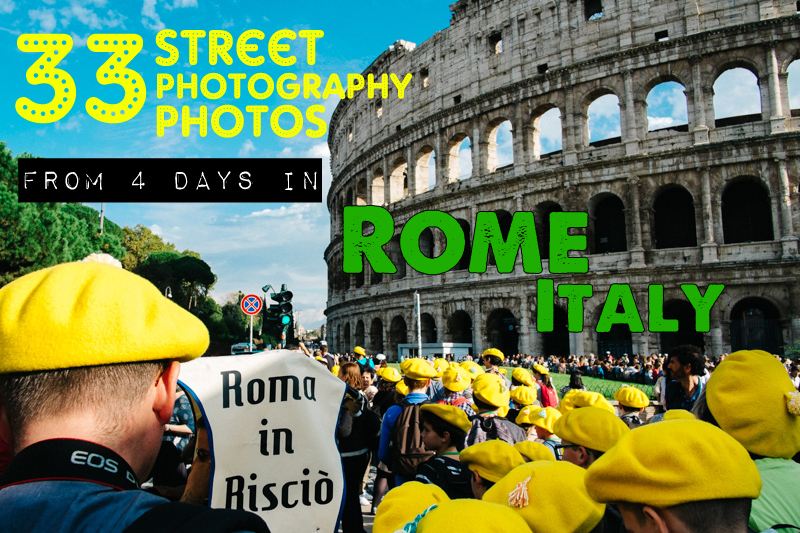 I made a stop in Rome for the filming of Street Hunter's new Street Hunt: Rome episode. While there, I enjoyed so much of what Rome has to offer, from amazing food to overwhelming history. It was a very packed 4 days, but thanks to everything that went into the Street Hunt: Rome episode, I was able to get in a good amount of Street Photography too.
So here are some Street Photos I took in Rome that will hopefully give you a look at what it's like to shoot there…
33 Street Photography Photos from Rome, Italy
Starting in the Streets…
1.
2.
3.
4.
5.
6.
7.
8.
9.
10.
11.
12.
13.
14.
15.
16.
17.
18.
19.
20.
 Walking through History…
21.
22.
23.
24.
25.
26.
27.
28.
29.
30.
31.
A little double exposure…
32.
Finishing off outside of Rome in Ariccia…
33.
Rome is like walking around one big open air museum. It's just something that needs to be experienced to really know how amazing of a place it is. There's only a handful of cities in the world that I'd recommend as much as Rome. And for Street Photography, it's up there with some of the best too. Check out my first impressions of Rome from a Street Photographer's perspective to find out more. And stay tuned for a Street Photography Guide to the city! 
Have you visited or photographed Rome before? Do you plan on it someday? Let me know about it in the comments below!
And let me know which photos you like best too!