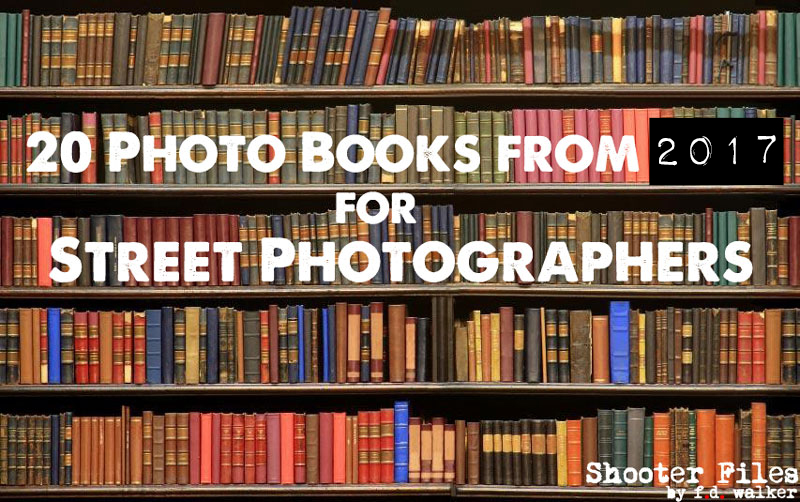 I love photo books, but traveling away from home all year during my 100 City project makes it difficult to pick up many new ones. Still, I make sure I have a few purchased online waiting for me when I visit home over the holidays. So, in honor of it being that time of year again, I compiled a list of photo books published in 2017 that should appeal to any street photographer. (Click here to check out 2016's list)
Since it is the holidays, photo books do make a great gift for any photographer too. And if that photographer is you, even better. Gift yourself. 
So here's 20 photo books published in 2017 that are definitely worth checking out.
20 Photo Books from 2017 for Street Photographers
"A two- volume publication, one volume featuring Harry Gruyaert's photographs of Los Angeles and Las Vegas in 1981, the other his photographs taken in Moscow in 1989.

At a time when the world was politically divided into East and West, Magnum photographer Harry Gruyaert's quest for light and sensuality led him to capture the colors of two very different worlds: the vibrant glitziness of Las Vegas and Los Angeles in 1981, and the austere restraint of Moscow in 1989 just before the fall of the Soviet Union. The resulting photographs form a striking record of a remarkable era.

Including an essay by writer, curator, and artist David Campany, this two-volume publication reproduces almost 100 photographs from the series, nearly seventy of which are being published for the very first time. With each volume presented in a half slipcase, Harry Gruyaert: East/West offers an in-depth look at one of the world's foremost photographers in two unique and contrasting locations, at a historically critical moment."
"In 1967, The Museum of Modern Art presented New Documents, a landmark exhibition organized by John Szarkowski that brought together a selection of works by three photographers whose individual achievements signaled the artistic potential for the medium in the 1960s and beyond: Diane Arbus, Lee Friedlander and Garry Winogrand.

Though largely unknown at the time, these three photographers are now universally acknowledged as artists of singular talent within the history of photography. The exhibition articulated a profound shift in the landscape of 20th-century photography, and interest in the exhibition has only continued to expand. Yet, until now, there has been no publication that captures its content.

Published in celebration of the 50th anniversary of the exhibition, Arbus Friedlander Winograndfeatures full-page reproductions of the 94 photographs included in the exhibition, along with Szarkowski's original wall text, press release, installation views and an abundance of archival material. Essays by curator Sarah Hermanson Meister and critic Max Kozloff, who originally reviewed the exhibition for The Nation in 1967, critically situate the exhibition and its reception, and examine its lasting influence on the field of photography."
"Fred Herzog is best known for his unusual use of color photography in the 1950s and 1960s, a time when art photography was almost exclusively associated with black-and-white imagery. In this respect, his photographs can be seen as prefiguring the New Color photographers of the 1970s. The Canadian photographer worked largely with Kodachrome slide film for over 50 years, and only in the past decade has technology allowed him to make archival pigment prints that match the exceptional color and intensity of the Kodachrome slide, making this an excellent time to reevaluate and reexamine his work.

This book brings together over 230 images, many never before reproduced, and features essays by acclaimed authors David Campany, Hans-Michael Koetzle and artist Jeff Wall. Fred Herzog is the most comprehensive publication on this important photographer to date."
"Buzzing at the Sill is Peter van Agtmael's exploration of the United States in the shadow of the post 9/11 wars. A sequel to his critically acclaimed Disco Night Sept. 11, it begins on a dusk flight over an anonymous landscape, moving unsentimentally- and sometimes surreally- into images of race, class, war, memory, torture, nationalism, family, and place. The images have a troubled beauty that avoids polemic and cliché. Short texts throughout explore the experiences that led to this distinct vision.

In the back, a text booklet folds seamlessly out to further describe the context behind the images- revealing hidden history, personal stories, and detailed background. 

At a troubling historical moment when many wonder how well they know and understand America, Buzzing at the Sill reveals the little seen margins of the country, from coast to coast, city to country, and everything in between."
"In 1977, photographers Larry Sultan (1946–2009) and Mike Mandel (born 1950) published a book that would radically transform both photography and the photobook canon―a book described by Martin Parr, in The Photobook: A History, as "one of the most beautiful, dense and puzzling photobooks in existence, an endless visual box of tricks." Sultan and Mandel sifted through thousands of photographs in the files of the Bechtel Corporation, the Los Angeles Police Department, the Jet Propulsion Laboratories, the US Department of the Interior, Stanford Research Institute and a hundred other corporations, American government agencies and educational, medical and technical institutions. They were looking for photographs that were made and used as transparent documents and purely objective instruments―as evidence, in short. 

Selecting 59 of the best, they published these images with the care you would expect to find in a high-quality art photography book, issuing them in 1977 in a simple, limited-edition volume titled Evidence. 

Long established as a photobook classic and a seminal example of conceptual photography, Evidence was reissued as a facsimile edition in 2004 by D.A.P. with a new spread of images and a group of black-and-white illustrations selected by the artists from an archive of photographs that were not included in the original book, plus a commissioned essay by Sandra Phillips. Today both this reissue and the original 1977 publication are exceptionally rare and command high prices. 

D.A.P. now reprints the 2004 edition of Evidence, making available to a general readership a truly pioneering and canonical photobook."
"Stephen Shore's Uncommon Places is indisputably a canonic body of work―a touchstone for those interested in photography and the American landscape. Remarkably, despite having been the focus of numerous shows and books, including the eponymous 1982 Aperture classic (expanded and reissued several times), this series of photographs has yet to be explored in its entirety. Over the past five years, Shore has scanned hundreds of negatives shot between 1973 and 1981. In this volume, Aperture has invited an international group of fifteen photographers, curators, authors, and cultural figures to select ten images apiece from this rarely seen cache of images. Each portfolio offers an idiosyncratic and revealing commentary on why this body of work continues to astound; how it has impacted the work of new generations of photography and the medium at large; and proposes new insight on Shore's unique vision of America as transmuted in this totemic series."
"This book presents three independent bodies of work by Henry Wessel (born 1942), each being a precise sequence arranged to give the viewer the experience of what it felt like to pass through the territory described.

The first series, Traffic, shows Wessel's photos of drivers stuck in traffic as he commuted in the early 1980s from Richmond, California, to San Francisco in the morning rush hour. Wessel records the determination, impatience and blank boredom of his fellow drivers as they navigate a daily drill that seems at times daunting and hopeless. Sunset Park is Wessel's series of night photos of the modest working-class neighborhood of Sunset Park in Santa Monica. Over four years in the mid-1990s, Wessel captured the nocturnal transformation of suburbia into a strange, sometimes eerie, landscape. In his words, "you can't help but notice how the world is reconfigured by the lights at night. The spot lighting of particular areas, the lack of ambient light, the unnatural way that shadows are cast, all take us to an unfamiliar place…." Wessel's final series, Continental Divide, takes the viewer on a ride from the dense, suburban flatlands of the Midwest, up across the Rocky Mountains, and down into the sparse desert landscape of the American West. Wessel depicts its houses, shacks, street corners and the highway, reminding us of the inherent aesthetics of the everyday."
"The photographs in STREET were taken by Carrie Boretz in New York City from the mid-1970s through the 1990s. It is common knowledge that the city was on rocky ground for many of those years but these are not pictures filled with drama or strife. Instead Boretz was always more interested in the subtle and familiar moments of everyday life in the various neighborhoods where she lived, before much of the graffiti was scrubbed away and the city sanitized and reborn to what it has since become.

For so many living in and visiting New York today, it is forgotten or altogether not known how different so many parts of the city were during that time. Many of these pictures show the reality of the streets then, where every day workers, the homeless, the affluent, and tourists all shared the common space, providing examples of how one of the greatest cities in the world was one often filled with contradictions. But there is also a timeless element to these images as children still play in the parks, streets, and schoolyards, commuters still face the elements daily as they wait, there are still regular demonstrations and parades, and the whole spectrum of the joys and pitfalls of humanity are still visible most anywhere a person looks.

For Boretz nothing was scripted, it all played out right before her. As Patti Smith said, "You need no rationale, no schooling. It's love at first sight. You see something and you have to capture it. Instinctive, bang, you feel one with it." Indeed, Boretz doesn't have a philosophy about shooting other than trusting her instinct: she saw, she shot, she moved on, always looking for moments that made her heart beat faster. It was the continual rush of knowing that at any time she could come upon something real and beautiful. That is why and how she shot and why and how her STREET is so special."
"Slant Rhymes is a photographic conversation between two renowned authors and artists, Magnum photographer Alex Webb and poet and photographer Rebecca Norris Webb. Selected from photographs taken during the Webbs' nearly 30-year relationship (a friendship evolving into a marriage and creative partnership), this group of 80 photographs is laid out in pairs—one by Alex, one by Rebecca—to create a series of visual rhymes that talk to one another, often at a slant and in intriguing and revealing ways.

"Sometimes we find our photographic slant rhymes share a similar palette or tone or geometry," writes Alex Webb in the introduction to the book. "Other times, our paired photographs strike a similar note—often a penchant for surreal or surprising or enigmatic moments—although often in two different keys." 

In this volume, the artists' photographs—many of which are published here for the first time—are interwoven with short text pieces by the Webbs. A deeply personal book, beautifully produced as an intimate clothbound edition with a tipped-on cover, Alex Webb and Rebecca Norris Webb: Slant Rhymes is an unfinished love poem, told at a slant."
"Imagined as a sequel to the Old and New Testaments of the Bible by Magnum photographer Jonas Bendiksen, The Last Testament features visual accounts and stories of seven men around the world who claim to be the Second Coming of Jesus Christ. Building on biblical form and structure, chapters dedicated to each Jesus include excerpts of their scriptural testaments, laying out their theology and demands on mankind in their own words.

Through Bendiksen's personal testimonies and intimate portraits, The Last Testament investigates the boundaries of religious faith, and a world in need of salvation, yearning for a new prophet. Whether escaping an angry mob in the streets with the Jesus of Kitwe, joining a Messianic birthday pilgrimage in Siberia, or witnessing the End of Days with Moses in South Africa, Bendiksen immerses himself among the disciples of each Jesus. He takes at face value that each is the one true Messiah returned to Earth, to forge an account that's both a work of apocalyptic journalism and of a compelling artistic imagination."
"Martin Parr has been taking photographs of Scotland for more than 25 years. From tourists on the rainy streets of Edinburgh to agricultural shows in Orkney and the Outer Hebrides, Parr approached Scotland with his inimitable eye, building up a huge archive of photographs in the process. Wry and affectionate, simultaneously attuned to local color and the universality of human eccentricity, Parr's photographic vision finds the magnificent absurdity in everyday life.

Though Parr is a prolific creator of photobooks, his archive of Scottish images has remained largely unpublished; in fact, his Scottish photographs represent his largest unpublished body of work to date. Martin Parr: Think of Scotland collects these images together for the first time on the occasion of his solo exhibition at the newly reopened Aberdeen Art Gallery. In Think of Scotland, readers can find the expected visual iconography of Scotland―the Highland Games, the stunning landscapes, the bagpipers―but all given that unique Parr twist that transforms the expected and the banal into something outlandish and unfamiliar."
"Tria Giovan first traveled to Cuba in 1990. She returned 12 times over the next 6 years, shooting over 25,000 images. Immersing herself in Cuba's history, literature and politics, Giovan photographed interiors of homes and businesses, city streets, landscapes and, most of all, the people, creating a compelling body of work that captured the subtleties and layered complexities of day-to-day life in Cuba. Twenty years after the publication of her first book of Cuban photographs, Cuba: The Elusive Island, Giovan has returned to these images, rediscovering in them a record of a Cuba that no longer exists. Tria Giovan: The Cuba Archive selects 120 of these images, many of which have never before been shown. Giovan reveals Cuba at a pivotal point in its fascinating history and bears witness to an inimitable, resilient and complex country and people.

Raised in the Caribbean, New York–based photographer Tria Giovan (born 1961) has published her work in Aperture, Esquire, Harpers, Travel & Leisure and Vogue, among many other publications. Her most recent monograph, Sand, Sea, Sky: The Beaches of Sagaponack, was published by Damiani in 2011. Her work has been exhibited internationally and is in the permanent collections of The Museum of Modern Art, The Brooklyn Museum and the New York Public Library, among others. Photographs from The Cuba Archive will be featured in a 2017–18 exhibition on Cuba at the Annenberg Space for Photography, Los Angeles."
"In 1977 William Eggleston released Election Eve, his first and most elaborate artist's book, containing 100 original prints in two leatherbound volumes, housed in a linen box. It was published by Caldecot Chubb in New York in an edition of only five, and has since become Eggleston's rarest collectible book. This new Steidl edition recreates the full original sequence of photos in a single volume, making it available to the wider public for the first time.

Election Eve contains images made in October 1976 during Eggleston's pilgrimage from Memphis to the small town of Plains, Georgia, the home of Jimmy Carter who in November 1976 was elected 39th President of the United States. Eggleston began photographing even before he left Memphis and depicted the surrounding countryside and villages of Sumter Country, before he reached Plains. His photos of lonesome roads, train tracks, cars, gas stations and houses are mostly empty of people and form an intuitive, unsettling portrait of Plains, starkly different from the idealized image of it subsequently promoted by the media. The book includes a preface by Hollywood screenwriter (The Mummy, 1999), director (Gotham, 1988) and author Lloyd Fonvielle."
"Mysterious, introspective, fiercely private, and self-taught, street photographer William Gedney (1932–1989) produced impressive series of images focused on people whose lives were overlooked, hidden, or reduced to stereotypes. He was convinced that photography was a means of expression as efficient as literature, and his images were accompanied by writings, essays, excerpts from books, and aphorisms. Gedney avoided self-promotion, and his underrepresented work was largely unknown during his short lifetime. He died at the age of fifty-six from AIDS.

William Gedney: Only the Lonely, 1955–1984 is the first comprehensive retrospective of his photography. It presents images from all of his major series, including eastern Kentucky, where Gedney lived with and photographed the family of laid-off coal miner Willie Cornett; San Francisco and Haight-Ashbury, where he attached himself to a group of disaffected youth, photographing them as they drifted from one vacant apartment to the next during the "Summer of Love"; early photo-reportage of gay pride parades in the eighties; Benares, India, Gedney's first trip abroad, during which he obsessively chronicled the concurrent difficulty and beauty of daily life; and night scenes that, in the absence of people and movement, evoke a profound universal loneliness. The most complete overview of Gedney's work to date, this volume reveals the undeniable beauty of a major American photographer."
"In this two-volume set, two artists and two writers explore the concept of the "model city" through the lens of New Haven, Connecticut. This collaboration grew out of a 2013 joint residency at the Yale University Art Gallery by acclaimed photographers Jim Goldberg (b. 1953) and Donovan Wylie (b. 1971). In Candy, Goldberg uses Super 8 film stills, images of New Haven's urban landscape, Polaroid portraits, and collaged archival material to create a layered reflection on 20th-century American cities that the artist calls a "photo-novel." A Good and Spacious Land, with photographs by Wylie, examines topographic changes resulting from the construction of the I-95/I-91 highway interchange in New Haven and connects a contemporary American interpretation of the "promised land" to the underlying biblical narrative. The accompanying text in both volumes includes narratives woven throughout the images as well as essays reflecting on the photographs' symbolism, social import, and historical contexts."
"The first publication to situate the work of Richards in the long photographic tradition that merges personal artistic vision with documentary practice.

Eugene Richards (b. 1944) is a documentary photographer known for his powerful, unflinching exploration of contemporary social issues from the early 1970s to the present. This handsome book is the first comprehensive and critical look at Richards's lifelong achievements.

Reproduced in tritone and color, the extraordinary images in this volume explore complicated and controversial subjects, including racism, poverty, drug addiction, cancer, aging, the effects of war and terrorism, and the erosion of rural America. The authors of the book situate Richards's work in the long photographic tradition that merges personal artistic vision with documentary practice, following in the tradition of W. Eugene Smith and Robert Frank."
"First published in 1992 to wide critical acclaim, Pictures From Home is Larry Sultan's pendant to his parents. Sultan returned home to Southern California periodically in the 1980s and the decade-long sequence moves between registers, combining contemporary photographs with film stills from home movies, fragments of conversation, Sultan's own writings and other memorabilia. The result is a narrative collage in which the boundary between the documentary and the staged becomes increasingly ambiguous. Simultaneously the distance usually maintained between the photographer and his subjects also slips in an exchange of dialogue and emotion that is unique to this work. Significantly increasing the page count of the original book, this MACK design of Pictures From Home clarifies the multiplicity of voices – both textual and pictorial – in order to afford a fresh perspective of this seminal body of work.

Emphasising the cinematic motion of the family's home videos, the Super-8 film stills have been newly digitised and magnified, with select scenes running full-bleed across double-page spreads. Meanwhile, Sultan's photographs of his parents as they go about their daily lives – against the quintessential backdrop of the Reagan-era American dream – are supplemented with previously unpublished images. Most significantly, the book honours Sultan as the oft-hailed 'King of Colour Photography'."
"The black and white photos in Mean Streets, collected here in print for the first time, offer a look at the infamously hardscrabble NYC in the 70s and 80s captured with the deliberate and elegant eye that propelled Grazda to further success.

In the late 1970s and early 80s, the institutions of power in New York had failed. A bankrupt city government had sold its power over to the banks, and the financiers' severe austerity programs gutted the city's support systems.

Most of the city's traditional industries had already left, and those power brokers in charge of the new system retreated to their high rises and left the streets to the hustlers, preachers, and bums; the workers struggling to get by; and a new generation of artists who were squatting in the empty industrial buildings downtown and bearing witness to the urban decay and institutional abandonment all around them.

For the tough and determined, the quick and the gifted, the prescient and the prolific, a cheap living could be scratched out in the mean streets.

Renowned photographer Edward Grazda began his career in that version of NYC. The black and white photos in Mean Streets, collected here in print for the first time, offer a look at that desolate era captured with the deliberate and elegant eye that propelled Grazda to further success. It's a version of New York that has been all but scrubbed clean in the financially solvent years that have followed, but the character of the city has been indelibly marked by the scars of those years."
"Raghubir Singh (1942–1999) was a pioneer of color street photography who worked and published prolifically from the late 1960s until his death in 1999 at age 56. His vivid, intensely hued photographs capture rural and urban India and iconic depictions of Indian culture though a truly cosmopolitan approach that succeeded in blending East and West. This richly illustrated volume studies in depth the full breadth of Singh's work, situating it at the intersection of Western modernism and traditional South Asian modes of picturing the world. The book showcases 90 of his photographs, including some previously unpublished images, in counterpoint both with the work of his contemporaries and with images of traditional South Asian artworks that inspired his practice."
"Helen Levitt's earliest pictures are a unique and irreplaceable look at street life in New York City from the mid-1930s to the end of the 1940s. There are children at play, lovers flirting, husbands and wives, young mothers with their babies, women gossiping, and lonely old men. A majority of these photographs have never been published. Other pictures included in this book are now world-famous, now part of the standard history of photography. Together they provide a record of New York not seen since Levitt's pioneering solo show at The Museum of Modern Art in 1943.

Levitt's photographs are in some of the best photography collections in America, including: The Met, MoMA, The Smithsonian, Museum of Fine Arts Houston, and the Art Institute of Chicago."
Bonus: Compilations
"This celebration of contemporary street photography—in all its edgy, strange, beautiful, haunting, colorful, and humorous glory—brings together the work of a new generation of talented artists. Over the past few decades, the long tradition of street photography has been wholly transformed by the proliferation of digital cameras, the Internet, and smartphones. A new generation of photographers have embraced this modern technology to capture the world around us in a way that is un-staged, of-the- moment, and real. Exploring this rich seam of emergent and exciting street photography, the 100 photographs featured in this book—the majority of which are previously unpublished and taken in the last few years—are presented on double-page spreads along with commentary about the work and its creator. Curated by David Gibson, a street photographer and expert in the genre, this stunning book offers a truly global collection of images. Gibson's insightful introduction gives an insider's overview of street photography, illuminating its historic importance and its renaissance in the digital age."
"Celebrating Magnum's photographic excellence in this captivating book, readers will travel around the globe with the world's finest photographers through 365 images. Featuring new and iconic images, this follow-up to Prestel's highly successful A Year in Photography: Magnum Archive includes some of the most striking photography ever collected in one volume. As readers flip the pages they will find themselves traveling from west to east across the globe. Each country is represented in three or four images captured by a single photographer. While renowned figures such as Robert Capa, Bruce Davidson, and Martin Parr are included, readers will also find younger photographers such as Olivia Arthur, Alessandra Sanguinetti, and Mikhael Subotzky, all of whom present dazzling new views of our changing world. Shining a light on the human condition in every corner of the globe, this compilation exemplifies Magnum founder Henry Cartier-Bresson's vision of 'a community of thought, a shared human quality, a curiosity about what is going on in the world, a respect for what is going on and a desire to transcribe it visually.'"
Hopefully, you all can find something to add to your photo library, or someone else's. And if you have any books from 2017 to add to the list, please comment them below!