I love photo books, but traveling and being away from the U.S. all year makes it difficult to pick up many new ones. Still, I make sure I have a few purchased online waiting for me when I visit home over the holidays. So in honor of it being that time of year again, I compiled a list of photo books published in 2016 that should appeal to any street photographer.
Since it is the holidays, photo books do make a great gift for any photographer too. And if that photographer is you, even better. Gift yourself. 
So here's 20 photo books published in 2016 that are definitely worth checking out.
20 Photo Books from 2016 for Street Photographers
"La Calle brings together more than thirty years of photography from the streets of Mexico by Alex Webb, spanning 1975 to 2007. Whether in black and white or color, Webb's richly layered and complex compositions touch on multiple genres. As Geoff Dyer writes, Wherever he goes, Webb always ends up in a Bermuda-shaped triangle where the distinctions between photojournalism, documentary, and art blur and disappear. Webb's ability to distill gesture, light, and cultural tensions into single, beguiling frames results in evocative images that convey a sense of mystery, irony, and humor."
"The eminent American photographer William Eggleston (b. 1939) was a pioneer in exploring the artistic potential of color photography. Eggleston made a name for himself with his eccentric, unexpected compositions of everyday life that were nonetheless rife with implied narrative, elevating the commonplace to art. This sumptuously illustrated book features Eggleston's masterful portraits, including many familiar and beloved images as well as some previously unseen photographs from his long and productive career." 
"American photographer Lee Friedlander (b. 1934) has had an expansive career, photographing his subjects—from family and friends to political figures and celebrities—in their everyday environments, while simultaneously changing the very landscape of his chosen media. In his Human Clay series, images of people in their surroundings are presented together thematically. Each book features hundreds of photographs, many never before published, chosen and sequenced by the artist himself from his vast archive. This latest volume in the series compiles some of Friedlander's street photography taken over the course of more than 50 years—including images of Atlanta, Buffalo, Denver, Los Angeles, Miami, New Orleans, and San Francisco, as well as more than 125 photographs of New York City."
"From 1977 to just weeks before September 11, 2001, Richard regularly walked through the streets of Boston and New York, making incisive and humorous pictures that read the pulse of that time. In the 1980s crime and crack were on the rise and their effects were socially devastating. Times Square, Harlem, and the East Village were seeded with hard drugs, while in Midtown Manhattan, and on Wall Street, the rich flaunted their furs in unprecedented numbers, and "greed was good." In the 1990s the city underwent drastic changes to lure in tourists and corporations, the result of which was rapid gentrification. Rents were raised and neighborhoods were sanitized, clearing them of both crime and character. Throughout these turbulent and creative years Sandler paced the streets with his native New Yorker's eye for compassion, irony, and unvarnished fact. The results are presented in The Eyes of the City, many for the first time in print."
"This survey focuses on the work that has made Davidson one of the most influential documentary photographers to this day. In addition to his civil rights series and his work in Harlem, the book includes Davidson's well-known series Brooklyn Gang, Subway, and Central Park. The book also highlights more recent projects, such as his explorations of Paris and Los Angeles landscapes."
"Ernst Haas is one of the best-known, most prolific and most published photographers of the 20th century. He is famed for his vibrant color style, which, for decades, was much in demand by the illustrated press. This work, published in the most influential magazines in Europe and America, also produced a constant stream of books, and these too enjoyed great popularity. But although his color work earned him international fame, in recent decades it has been derided as "overly commercial" or not sufficiently "serious." Yet there was a side of Haas' work almost entirely hidden from view: parallel to his commissioned work, he made images independently, images far more edgy, loose, complex, ambiguous and radical than the work for which he is famed. Hass never printed these pictures in his lifetime, nor did he exhibit them, perhaps believing that they would not be understood or appreciated. This volume, intended to "correct" the record, compiles these photos of great complexity for the first time in print."
"Elliott Erwitt: Home Around the World offers a timely and critical reconsideration of Erwitt's unparalleled life as a photographer. Produced alongside a major retrospective exhibition, the book features examples of Erwitt's early experiments in California, his intimate family portraits in New York, his major magazine assignments and long-term documentary interests, and his ongoing personal investigations of public spaces and their transitory inhabitants. Essays by photography experts based on extensive new interviews with the photographer consider less-studied aspects of Erwitt's work: his engagement with social and political issues through photojournalism, the humanist qualities of his very early photographs, and his work as a filmmaker. Home Around the World traces the development and refinement of Erwitt's unique visual approach over time. With over two hundred photographs, and ephemera including magazine reproductions, advertisements, and contact sheets, this volume is the first to offer a comprehensive historical treatment of Erwitt's body of work and position in the field."
"Diane Arbus (1923–1971) is one of the most distinctive and provocative artists of the twentieth century. Her photographs of children and eccentrics, couples and circus performers, female impersonators and nudists, are among the most recognizable images of our time. This book is the definitive study of the artist's first seven years of work, from 1956 to 1962. Drawn primarily from the rich holdings of the Metropolitan Museum's Diane Arbus Archive, diane arbus: in the beginning showcases over 100 of the artist's early photographs, more than half of which are published here for the first time. The book provides a crucial, in-depth presentation of the artist's genesis, showing Arbus as she developed her evocative and often haunting imagery. The photographs featured in this handsome volume reveal an artist defining her style, honing her subject matter, and in full possession of the many gifts for which she is now recognized the world over."
"Between 1981 and 2003, Mark Cohen travelled to Mexico eight times. Seduced by the "surrealist" qualities he found there, Cohen took his camera to the streets of Mexico City, Oaxaca City, and Mérida, as well as other parts of the Yucatán. Following his split-second impulses, Cohen took his signature "grab shots," often flooding the subjects with the artificial light of the flash. His black-and-white photographs, taken at arm's length with minimal focus, capture the textures and rhythms of gritty city streets and city life. Reminiscent of Cohen's iconic photographs of working-class Pennsylvania towns, yet imbued with a perceptible sense of foreignness, these Mexican images convey the restless energy and strangeness of daily life."
"Taken in the "forgotten borough" of Staten Island between 1983 and 1984, the photographs in Christine Osinski's (born 1948) Summer Days Staten Island create a portrait of working-class culture in an often overlooked section of New York City. Captured on Osinski's large format 4×5 camera as she wandered the island, her candid portraits of strangers, vernacular architecture and quotidian scenes reveal an invisible landscape within reach of the thriving metropolis of Manhattan. The neighborhoods that Osinski captured are devoid of the skyscrapers, swarms of pedestrians and choking masses of traffic that are a short ferry ride away. Instead, she captures kids riding bikes on open, empty streets, suburban homes with neatly tended yards and the small-town feel of New York's least populous borough. Accompanying the series of images is an essay by Paul Moakley, Time magazine's Deputy Director of Photography and Visual Enterprise."
"Harry Callahan (1912–1999) was one of the most influential American photographers of the second half of the twentieth century. Callahan's highly original oeuvre involved a wide-ranging exploration of photographic techniques including experimentation with exposures, a strong sense of line and form, and light and darkness. A crucial addition to Callahan's critical presence and leading to a deeper understanding of the photographer's greater impact on the techniques and styles of modern photography, Harry Callahan: The Street explores the artist's lesser-known works, focusing on his black-and-white and colour street photographs. Bringing together documentary work, still life and staged photographs—many of his wife, whom he photographed throughout his life—this important review sheds new light on Callahan's personal and pioneering approach."
"Magnum photographer Carl De Keyze went to Cuba and came back with surprising, often tragi-comical pictures of a split country. Fidel Castro on a wall poster, while a man in the same picture wears a T-shirt emblazoned with' FBI'. Four Cubans withdrawing money in a bank, while Che Guevara watches them from a portrait above their heads.
In his new photography book, with an introduction by curator and publicist Gabriela Salgado, Carl De Keyzer captures Cuba's duality in pictures. With a master's eye, he paints the picture of a country that is still rooted in communism, while reaching for Western capitalism."
"Centered around the 2011 Libyan Revolution, Libyan Sugar is a road trip through a war zone, detailed through photographs, journal entries, and written communication with family and colleagues. A record of Michael Christopher Brown's life both inside and outside Libya during that year, the work is about a young man going to war for the first time and his experience of that age-old desire to get as close as possible to a conflict in order to discover something about war and something about himself, perhaps a certain definition of life and death."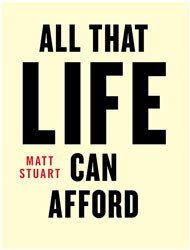 "All that life can afford is Matt Stuarts' first book of photographs taken in London between February 2002 & November 2015." 
(USA residents can pre-order here)
"Shot in the winter months from a raised platform in central London, Nick Turpin captures bus passengers unawares during their evening commute. The portraits are at once beautiful and dark and raise questions about voyeurism and public and private space.
Despite being shot from a long way off with a tele photo lens through thick windows that obscure or blur the subjects the images reveal an intimate glimpse into life of the city traveller. Some passengers interact with each other, some sleep, some are moody and pensive, others lost in faraway thoughts. All are strangely silent behind the cold wintery glass that, alongside the artificial light in the bus, renders these everyday scenes into something akin to classical paintings."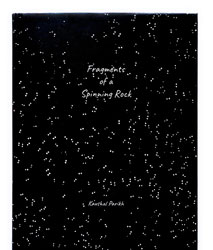 "Fragments of a Spinning Rock, a culmination of almost a decades work spread across India from Kaushal Parikh. The book also includes a short essay by talented writer Tara Sahgal tying the images together perfectly." 
For more details behind the book, check out my interview with Kaushal here.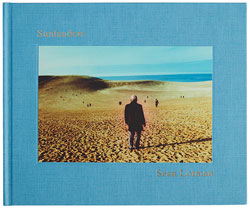 "Sean Lotman's photographs of Japan immerse us in his imagination and interpretation of reality in a land he has come to call home. His photographs encapsulate his existence in Japan, as a person who is intrinsically bound to his surroundings, yet still exists as a foreigner. His photographs are at times psychedelic, transposing what he sees to photographs as a maelstrom of mystery and wonder. Sunlanders is not a static document of Japan. Nor is it a journal or contest of image making. Rather, it is an exploration of existence, a dive in to a world unknown in suspended reality, imbued in colour and fascination. Each image in the book has been reproduced from carefully hand printed C-Type prints in the darkroom."
The last three photo books on the list come from the same publisher, Peanut Press. Co-founders, Ashly Leonard Stohl and David Carol, are both photographers themselves and wanted to create a different type of publisher. One with a focus on the book, photos and photographer over the business. With three photo books published this year, they've been busy making that happen.
"We don't want to be in the "book publishing" business. What we want to do, and are going to do, is make great books. We are going to make books for the right reasons. We are going to partner with great photographers to make the book they will love, that we will love, that exists for one purpose. Not to make money, though we hope it will, but to produce a beautiful and precious treasure that will put photographs first. The work comes first at Peanut Press, or we won't get involved."
-Co-founders, Ashly Leonard Stohl and David Carol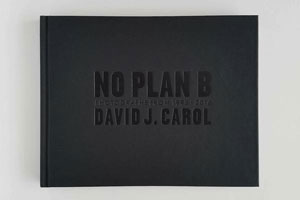 "This hard cover book is being published in conjunction with David's first retrospective show, "NO PLAN B" at the Leica Gallery in Soho, New York. This compilation of 32 photographs represents the last 25 years of his work. The photos of David's travels include images from Russia to Turkey, Mexico to the Canadian Arctic, all with his very unique and personal vision."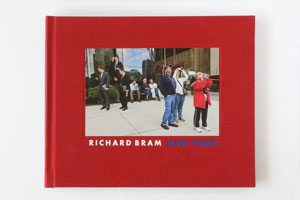 "From 2005 to 2015, Richard Bram's "NEW YORK" reflects his attention to the energy and people of the city. Richard is attuned to the small gestures that pass in an instant before his eye as he goes about the city."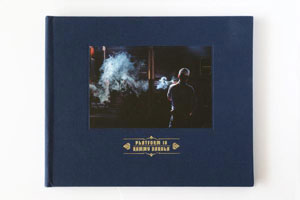 "Rammy Narula's journey in photography came when he was handed a camera and told to go take some pictures to clear his head. Very quickly walking the streets of Bangkok with it became an obsession that never relented. At Platform 10 in the Bangkok Train Station, Rammy finds a peace within the hectic city." 
For more details behind the book, check out my interview with Rammy here.
Bonus:
The Book on Photo Books
"Published on the occasion of Magnum Photos' seventieth anniversary, this fascinating in-depth survey brings Magnum's history alive through the genre of the photobook, an essential vehicle for photographers to share their work.
Its pages include unpublished behind-the-scenes material, together with ephemera from the photographers' archives about the making of their books. With an introduction by Fred Ritchin and texts by Carole Naggar, this book explores the evolution of the photobook, as well as the important role that Magnum has played in the history of documentary photography."
A Crowd Funding Campaign
This photo book by photographer Stephen Leslie isn't published yet, but you can help make it happen on his crowd funding campaign. 
"A family is brought to near ruin by a pet python, an Icelandic advertising agency has a problem with a campaign involving a dead seagull, a Chiropodist desperately wants to stop examining people's feet and dreams of becoming a Pirate. In India, a shopping mall owner laments the instillation of a new escalator and in Spain there are several possible reasons for a broken plant pot….. These are just a few of the many situations from SPARKS, a book that imagines the stories behind original street photographs.
SPARKS is a book of photographs taken over the past 20 years that now each have an accompanying story. All of the photographs in the book have been shot on film, both 35mm and medium format. The finished book will be produced to the very highest standards and be a real thing of beauty."
2016 was a good year for photo books so hopefully you all can find something to add to the photo library. And if you have any books from 2016 to add to the list, please comment them below!