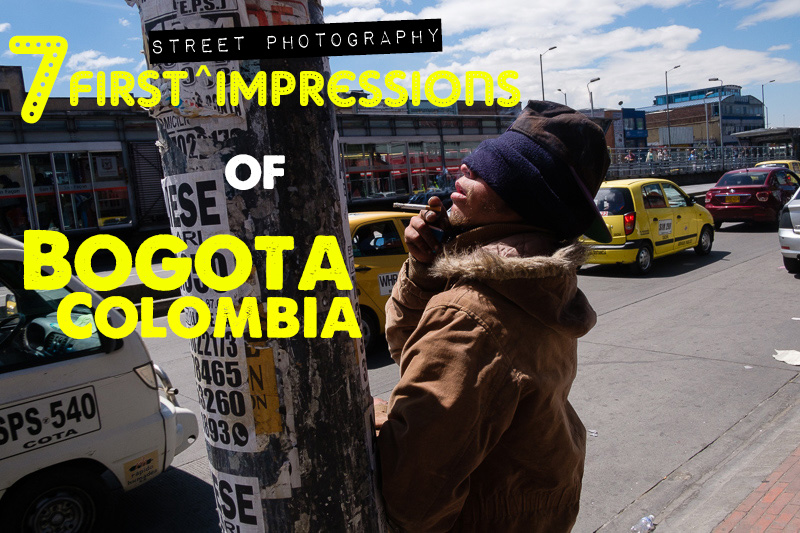 After photographing Quito, next up during my 100 City Project was an extended stay in Colombia starting in City #47 Bogota.
Bogota is the capital and largest city in Colombia. With all of Colombia's sunny destinations, this big urban metropolis up in the Andes might not be a long stay for most, but that doesn't mean it isn't packed with gritty character and a lively urban atmosphere. It's a little chilly here compared to the rest of Colombia, but it makes up for that in vibrance, culture and a coolness of its own. While it doesn't always feel safe, it's always filled with character and edge in this big, historic city.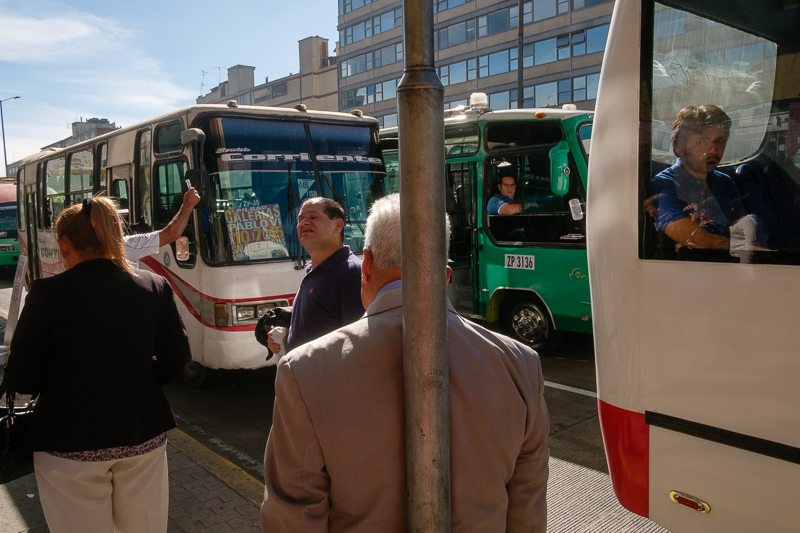 So here are my first impressions of Bogota, from my personal Street Photographer perspective…
7 First Impressions of Bogotá
(From a Street Photography Perspective)
1. Don't expect Colombian heat, but the graffiti helps brighten up the city
While imagining Colombia probably brings up images of the scorching sun, that's far from the case in Bogota. At its hottest, the monthly average high tops out at 20 degrees Celsius (68 degrees Fahrenheit), and that's only for 3 months. Bogota is located 8661 above sea level, giving it a cool climate, especially for Colombia. You'll also have less sunny days here compared to the rest of the country so it's something to consider when visiting. For both your clothing and photography.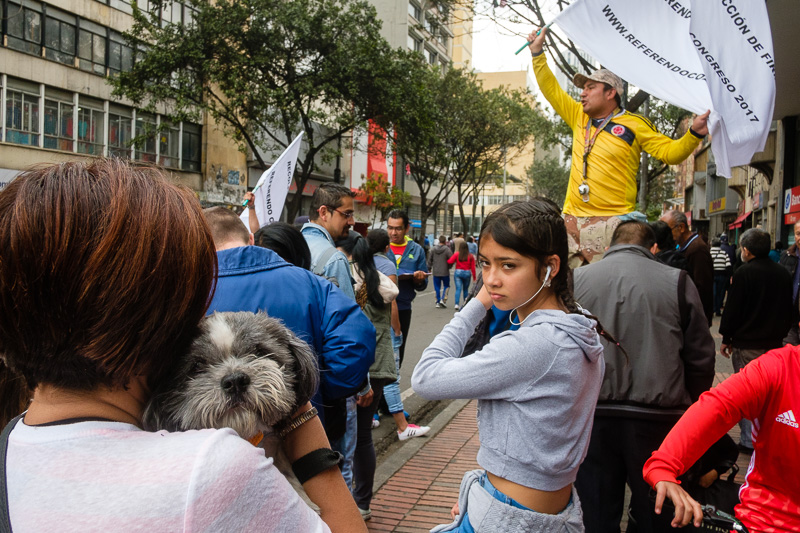 At the same time, this comes with a few pluses. For one, it gives a change of scenery in Colombia. Not only do you have its biggest city to explore, the climate gives a very different atmosphere. With all of Colombia's hot weather destinations, it also means many visitors skip Bogota, other than maybe as a quick transit city. Without crowds of tourism everywhere, you get an authentically local feeling. And even though you don't always have the sun lighting up the city, you do have some of the most vibrant and impressive graffiti I've seen to help make up for it. All over Bogota, you'll find world-class graffiti murals. For people who like photographing graffiti, Bogota, especially with its size, would give you endless street art to capture.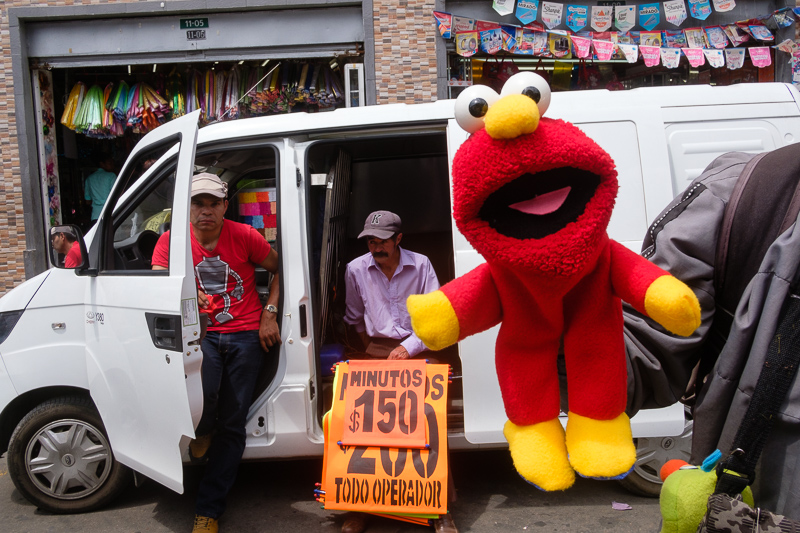 2. Some sketchy areas, most visitors stay inside specific areas
La Candelaria is the main tourist area and contains a lot of older character mixed with color. It's where many places to stay, eat and drink are located too, so you'll find plenty of tourists here. But it's also located near some sketchy areas they tell you not to go. Unfortunately, this is true for much of Bogota. I was stopped three different times by police while exploring outside of La Candelaria. Each time they treated me like I was crazy walking around by myself with my camera and told me I need to get a taxi home or I'll be mugged in broad daylight at any moment. Many locals treated me the same. Now, locals seem to always exaggerate danger of their own cities, but there was a clear reason for it here. It definitely felt sketchy exploring Bogota freely, constantly reading my surroundings to stay away from danger. Saying that, it was worth the risk for me, as I found quite a bit of interest walking Bogota.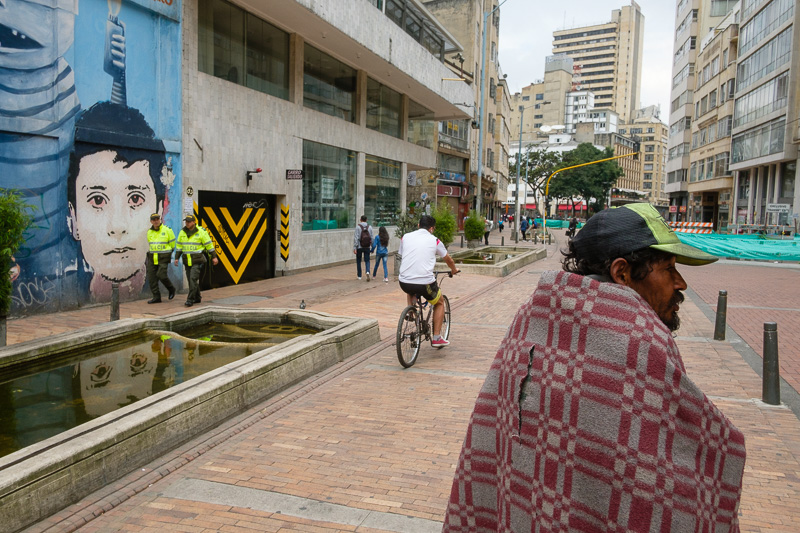 For the safest areas to explore activity, Parque 93 can be good. This commercial and recreational park is located in an upscale neighborhood and is one of Bogota's most popular shopping, night club and restaurant areas. Here, you can feel pretty safe exploring, but definitely gives a different, more polished atmosphere.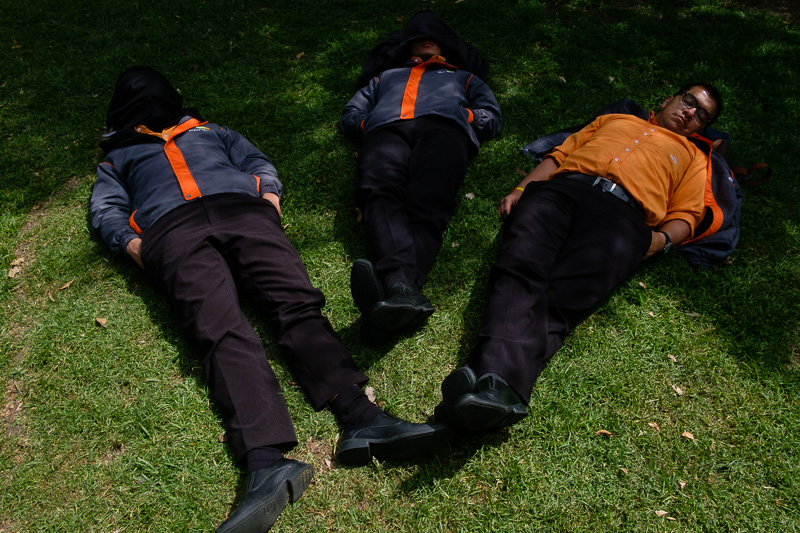 3. But I still explored the sketchy areas and made it out safe
You'll bump into sketchy areas wherever you go if you explore Bogota, but generally speaking, the north and east are comparatively safer sections of Bogota. Heading far west, and especially south, is when it can get more dangerous feeling. I was all over the north and east, but spent a couple of days exploring the west and south too. It wasn't always fun, but it was interesting. There's a lot of edgy urban character here. It's not something I'd recommend to most, but if you're like me at all, I don't regret checking it out. There was plenty of bad looks and a few people that followed, but I was able to get through unscathed. It wasn't without plenty of precautions, though, while continually moving. It was an adrenaline rush a few times, but here's some street smart tips I use in sketchier areas that definitely help the risk….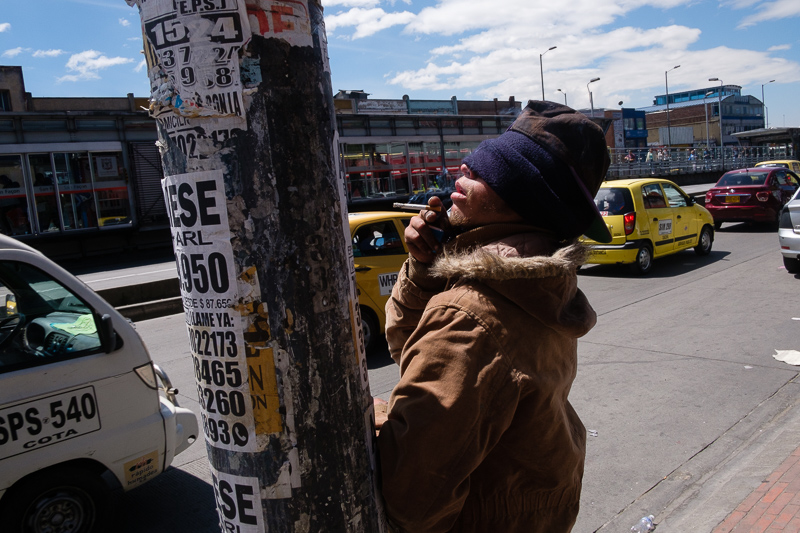 Street Smart Safety Tips
Constantly scan and read your surroundings. Remember faces.
Keep a distance from people on quieter streets. Watch if someone is moving towards you and move away in advance.
Walk on the outer side of the side-walk, not against the wall, so you won't be easily cornered.
Shoot longer at street corners with security/police. On some busy streets, police set up on the corner for safety.
Trust no one. Don't stop to talk to strangers. Be polite, but continue moving.
Don't look like an easy target. Walk confidently and with a purpose. Don't look lost and if someone stares at you, look at them back and even say "hola." 
Know where you are and where you can get to quickly if needed.
And don't photograph guys standing on corners constantly looking around. They're likely up to something that wouldn't want documentation :)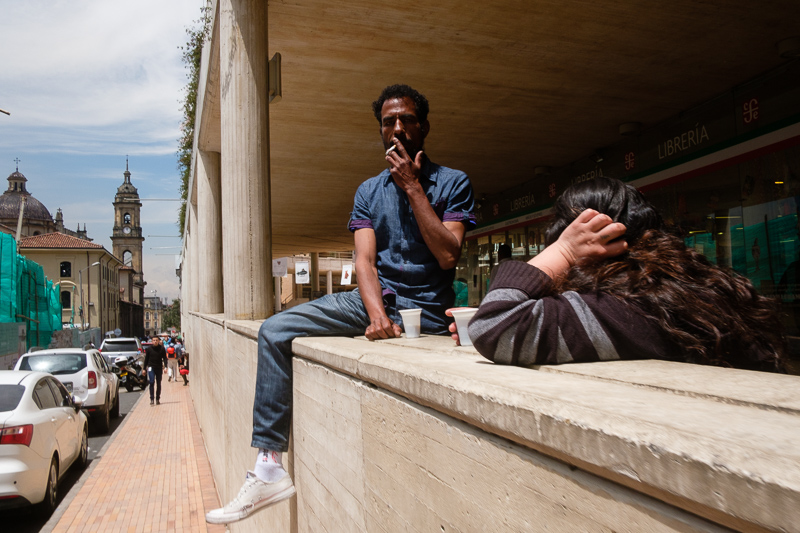 4. Carerra Septima is a great pedestrian street
Carrera Septima (Seventh Street) is the main thoroughfare in Bogota. It's also easily my favorite street for a street photography walk in the city for a variety of reasons. For one, it covers endless area, as it crosses south/north through La Candelaria, Santa Fe, Chapinero and Usaquén, which also happen to be some of the city's most interesting neighborhoods. Much of it is pedestrian only too, which makes it perfect for walking with your camera. It passes through important sites of Bogota, from history and culture to economy and recreation, while always being busy and full of life. And to top it off, it's one of the safest streets you can walk here.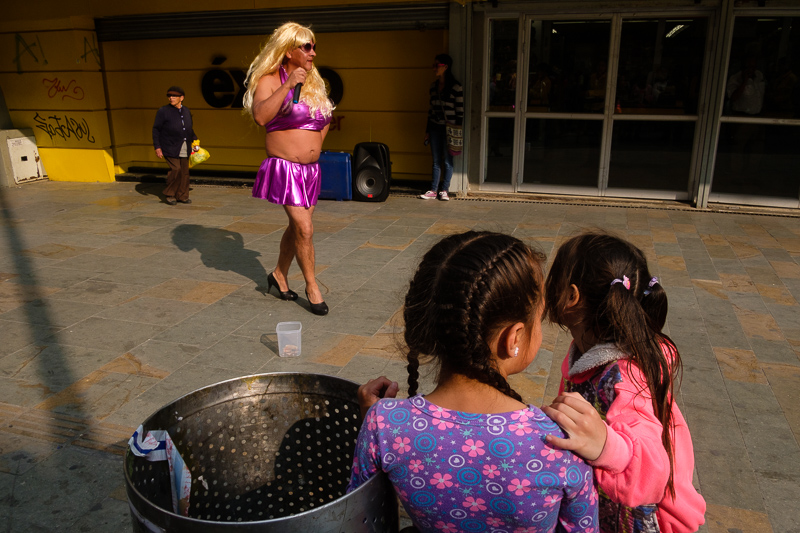 I walked this street every day in Bogota. No where else has such guaranteed life and variety of interest. Its location also puts it right in the middle of many nearby areas to hit up for street photography, so you can always walk back to Carrera Septima throughout the day. While every day is a good day to walk the street, Sundays are the best and most active, as the city closes sections of the road for everyone to come enjoy their day off outside. Which brings me to #5…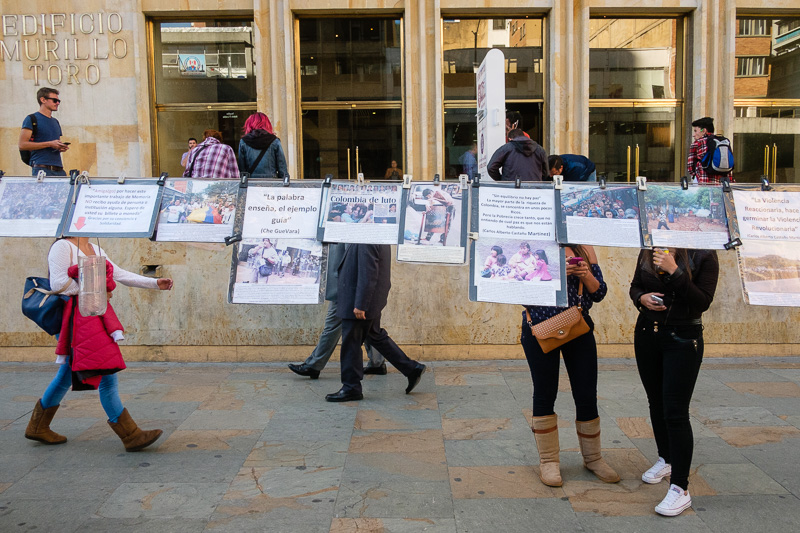 5. Sundays are the best day in Bogota
If you're in Bogota on a Sunday, you're in luck. This is when Bogota really comes alive and makes for the best day for street photography. Every Sunday, the city shuts down streets, turning them into bicycle and pedestrian roads for miles of activity. Street markets spill out onto the streets, taking advantage of the crowds of people coming to enjoy a leisurely day out in the city, and security and police are everywhere making sure it's safer than normal to walk Bogota.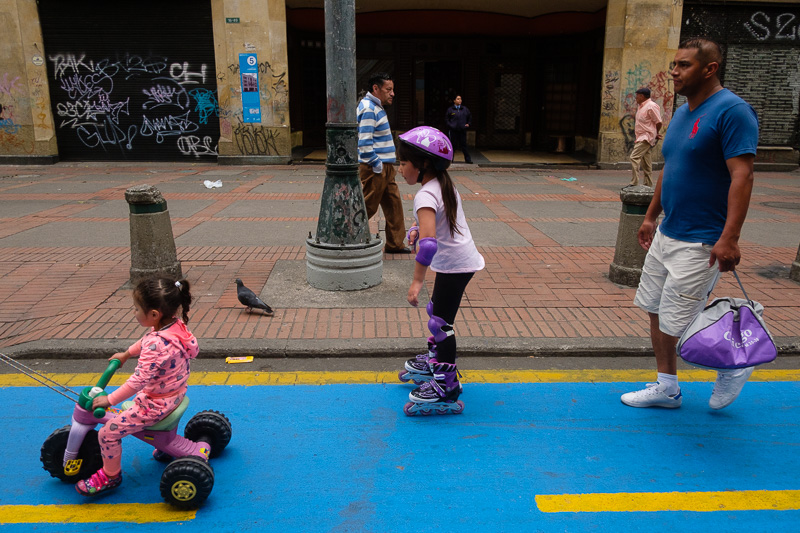 They call this Bogota Ciclovía because of all the bicyclists, skaters, and runners this was originally set up for. From 7am to 2pm, you'll see bicycles everywhere, but it's become much more than just that now. While this has also become a Sunday/holiday tradition in Colombia's other big cities, Bogota is credited for the inspiration and is where it's done the biggest. There's so much going on everywhere that it makes for a very interesting and enjoyable street photography walk. It's also the best day to walk Carerra 7, which goes on forever with pedestrian activity the whole way on Sundays.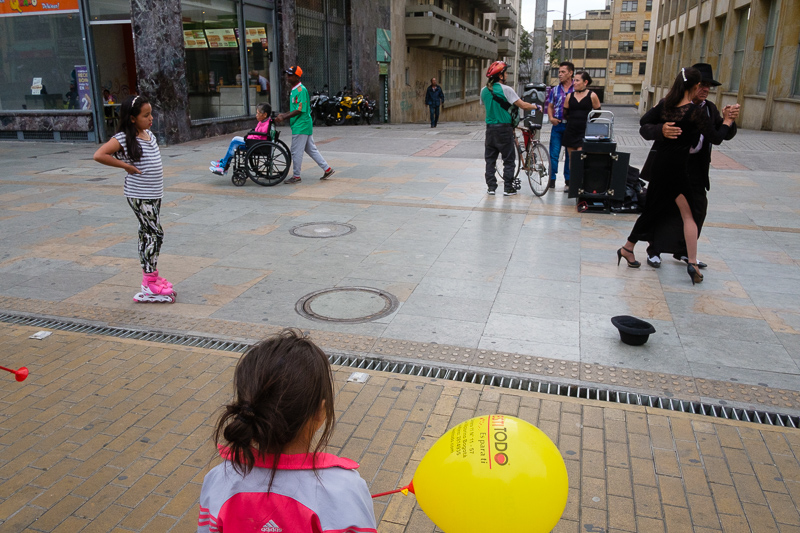 6. Police everywhere 
I already went over safety problems in Bogota, but it's clear the city knows about them. Police are everywhere in Bogota. Not just one or two here and there, but all over the city you'll see trucks and crowds of police. I don't think I've seen it to this degree anywhere else. In many areas, you'll find them stationed on corners too, which is one thing I really appreciated and took advantage of when out shooting. And then on some of the more popular squares, whole trucks will be stationed for the day and night with a team of police. Plaza de San Victorino is one busy square that always has a truck where police and prostitutes mingle among each other in the center. Not your average scene.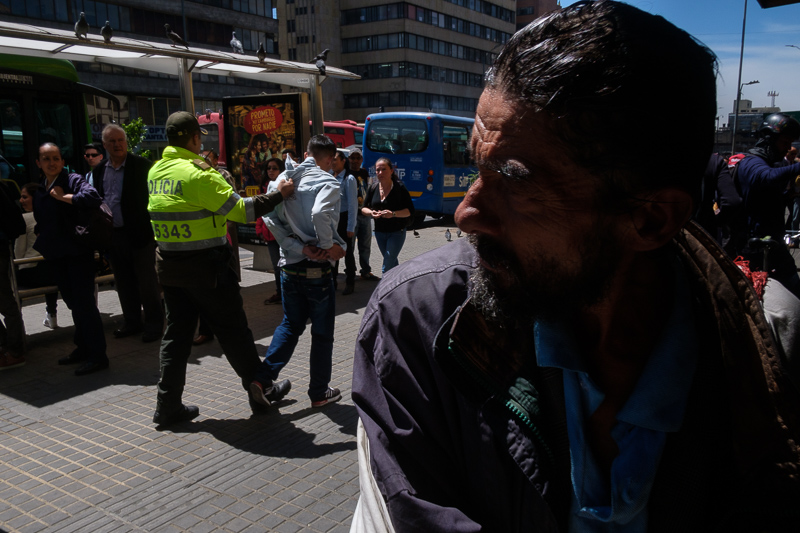 All this police doesn't stop crime by any means, but it makes busier foot traffic areas a bit safer and adds an interesting element for your street photography experience. You're bound to see some action too, as I saw countless arrests. This policing comes with its protests too, as I also walked through multiple anti-police parades over the week. 
7. Monserrate shows how big Bogota really is
I learned a while ago not to ask locals where to go for street photography. No matter how well you explain exactly what this type of photography entails, they still can only tell you the same tourist spots you'd find in a guide-book. In Bogota, you don't even need to ask, though, everyone tells you to go to Monserrate, anyway. This mountain not only overlooks the city, but towers over it. No matter where you are, you can see it, and its bright white church that sits atop. I usually don't do tourist things in cities so I can focus completely on shooting and exploring different parts of the city for street photography, but on my last day there I decided to give it a go, and maybe even find a street shot out of it.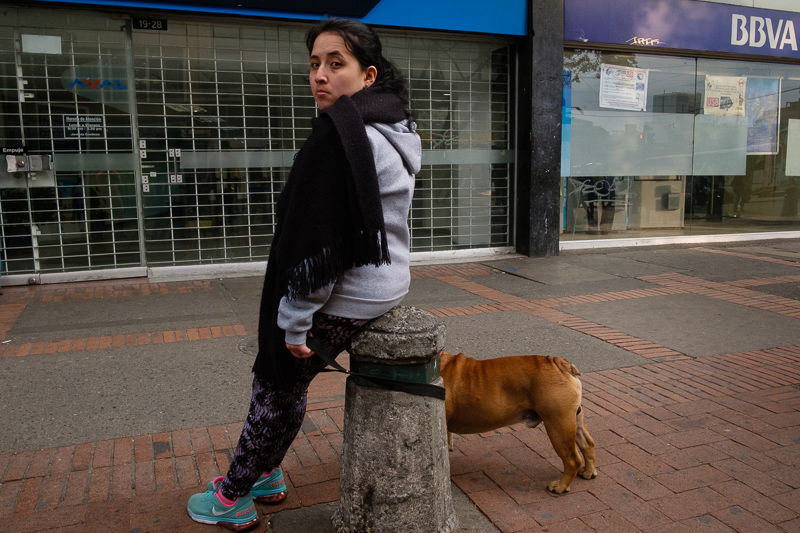 I didn't get any good street photos out of the experience, even though you possibly could get something out of the long cable car journey or the little tourist market up top. I'm still glad I went, though, because it showed me how truly massive Bogota is. At over 10 million people, it's one of the five largest cities in South America, but you don't feel it down below as much as you do from high up at Monseratte. The view shows this metropolis going on forever. For street photography, it would take a long time to truly explore this city.
Metropolis Urban Edge in the Andes
Mixed in with its fair share of danger, you'll find a trendy city with an artistic and historic side next to its grittier working class, police filled atmosphere. Bogota might not always make for a carefree walking experience with your camera, but it will always be an experience in this massive South American city.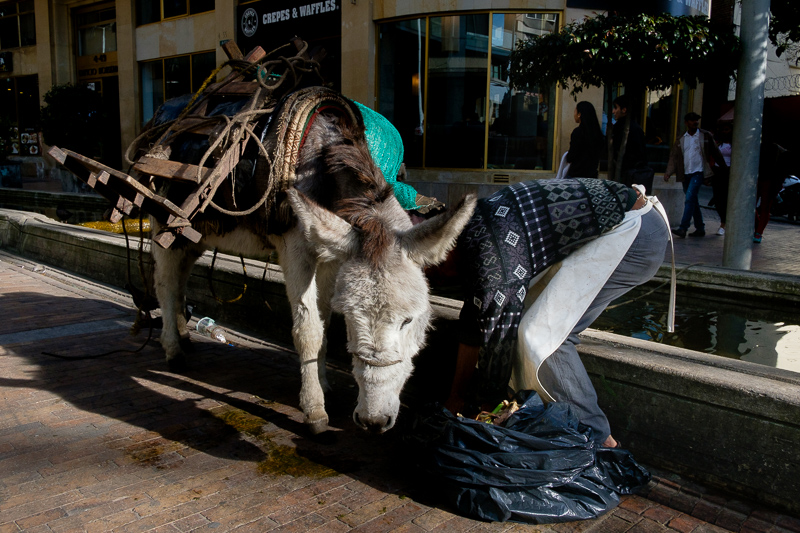 If any of you have been to Bogota before, tell me about your experience and impressions of the city and country in the comments below! And stay tuned for more on Bogota, including some of the best Street Photography shots I captured while there.
Click Here for More First Impressions on Cities Around the World 
(from a street photographer's perspective)