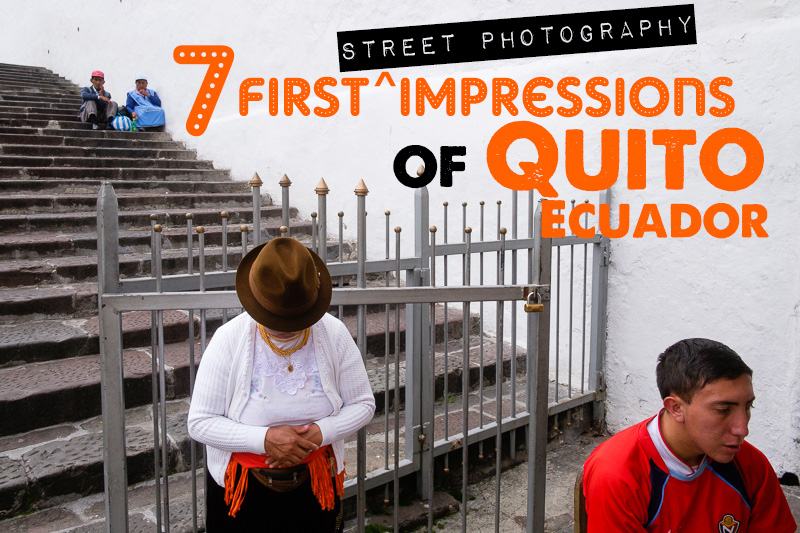 For the first South American city during my 100 City Project, I started in City #46 Quito, Ecuador.
Quito is the capital of Ecuador and the first city to ever be designated as a UNESCO World Heritage Site. Sitting up high in the Andes Mountains since 1535, you have a city full of history, culture and character surrounded by a beautiful backdrop of mountains. The Old Town is one of the more interesting and scenic old towns I've experienced anywhere. Quito has a mix of city and mountain not only in its scenery, but also its people and life, making it a good place for some photography.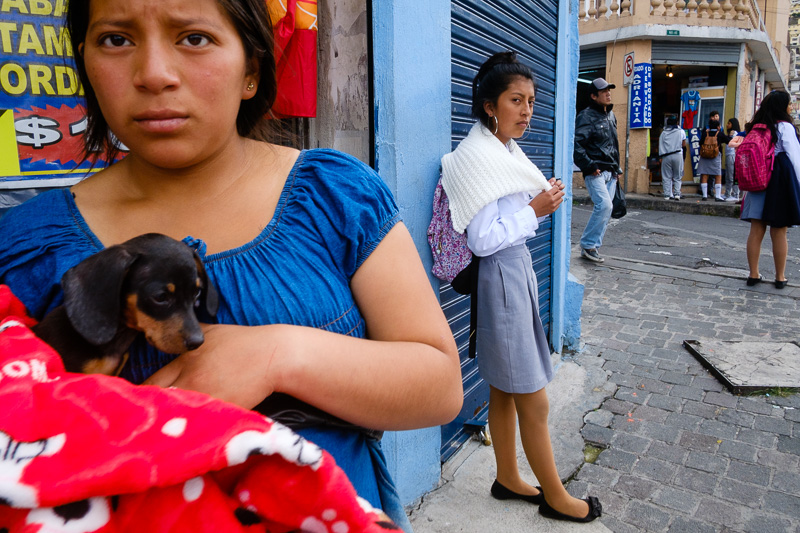 So here are my first impressions of Quito, from my personal Street Photographer perspective…
7 First Impressions of Quito
(From a Street Photography Perspective)
1. Oldest Unesco Heritage Old Town
Quito has the best-preserved, least altered historic center in Latin America. It's also the oldest Unesco Heritage old town. With all the history, Baroque architecture, churches, monasteries and cobblestone streets, this makes for a very interesting, character filled area to walk for street photography. I walked up and down its hilly streets every day in Quito and it never disappointed. For an old quarter, it provides plenty to discover, while still being compact enough for a nice walk where you can easily keeping coming back to your favorite spots. It's also the most popular attraction in the city so it fills with people and activity.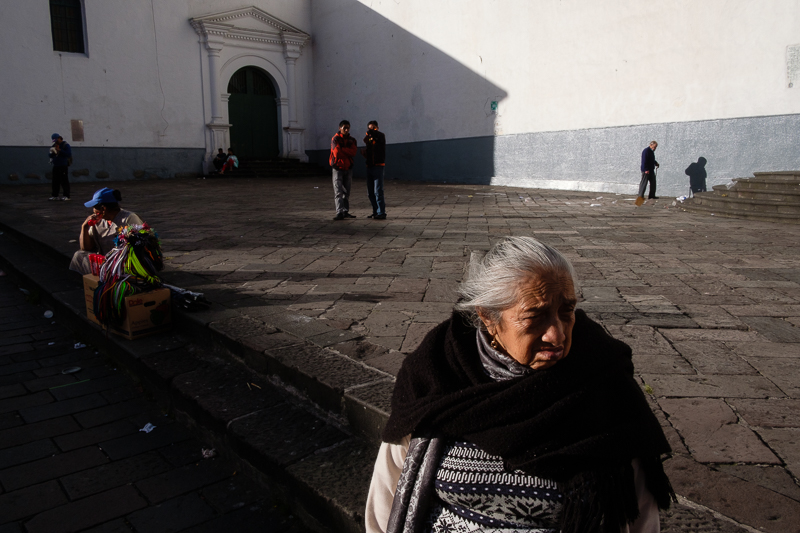 You'll find squares full of life, markets, and a mixture of locals and tourists. The size, variety of activity, preservation, character, and authenticity made it become one of my favorite Old Towns I've been to for street photography. Many old towns lose much of what makes them great due to tourism, construction, and lack of local life, but Quito's still keeps the atmosphere alive.
2. Interesting mix of Mountain and City in the people
One of my favorite aspects of Quito is the mix of city and mountain in the people too. It's a capital city, but located high in the Andes Mountains so you get all that traditional Ecuadorian Sierra culture mixed in. Being as old as it is provides a strong influence and pride that hasn't been erased by its urban growth. So you have people living the big city life next to people who hold onto the old mountain lifestyle. You see it in the overflowing market stands, food, traditions, clothing and more, while still having everything you'd find and people you'd see in a big city. It's great for character, interest and photography, unlike many places you'll find anywhere else.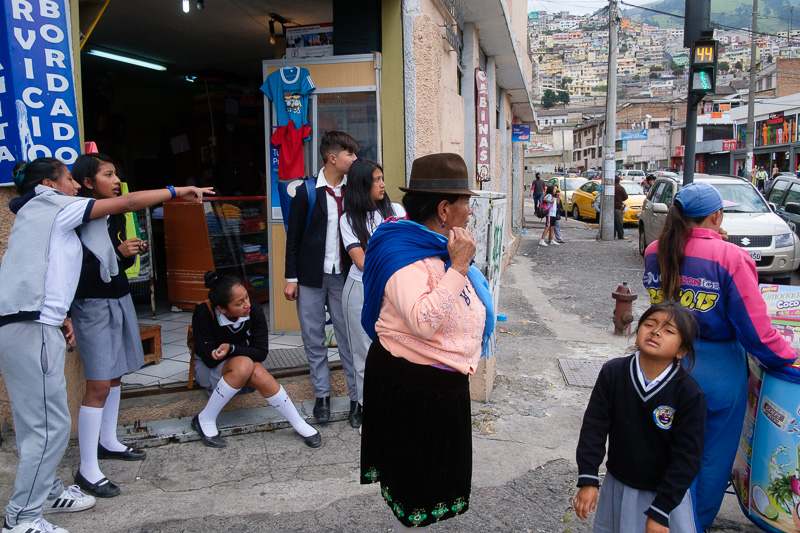 3. Thin Air, but it makes for great Mountain Backdrops
At 9,300 feet above sea level, Quito is one of the highest capital cities on the planet. This makes the air much thinner, which becomes even more noticeable for street photography. Walking around, exploring the city made me feel short of breath a few times, especially up hills, which I'm not used to. Luckily I didn't have any real problem, but altitude sickness can be a thing for some. Stay hydrated and get past the first day or two, and you should have no worry the rest of the way. For me, street photography in Quito just felt like I was walking a little faster and up hill, which honestly just made me feel like I was getting an enjoyable work out in while hitting the streets with my camera.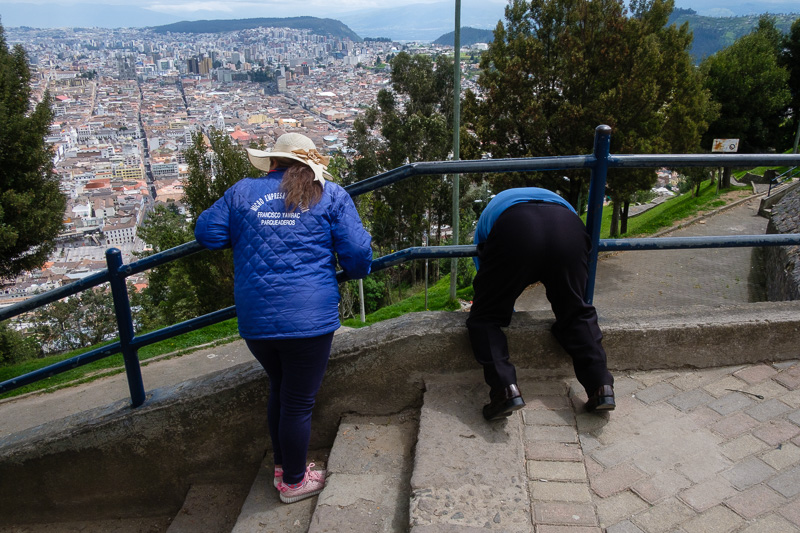 That extra few breaths needed is well worth the views you get walking around Quito too. The Old Town is picturesque enough with all its character, but having Quito's mountain backdrops really created some nice scenery. It's honestly, one of the better looking city views I've seen and it made walking around the city even more enjoyable. For street photography, I'd definitely try to use those impressive backgrounds when you can.
4. Chile is a great street photo walk
My favorite street to walk in the Old Town is Chile Street because of all the interest and spots it passes through along the way. Starting around Marin Central, you have all the foot traffic and activity from the bus station and a nearby market. Then walking northwest along Chile, you pass by San Agustin Iglesia and the Plaza Grande, also called Independence Square. This large plaza and park is in the heart and activity of Old Town. Always filled with people, it's lined with government & church buildings. It's also a popular spot for protests, celebrations and events. Walking further northwest along Chile, you'll pass by Iglesia de La Merced, another one of my favorite spots in the city. The big white church creates a nice backdrop with a large open square in front. Here, you'll also find the street lined with markets and street sellers until you walk up to the Mega Comercia Hermano Miguel shopping mall. I like to continue walking up the big hill here to the active bus stop Antonio Jose de Sucre Y Mejia. Here, you have activity and foot traffic moving in all directions below and above on overhead walkways. You also have close-up views of the many hillside homes that give Quito its interesting backdrops.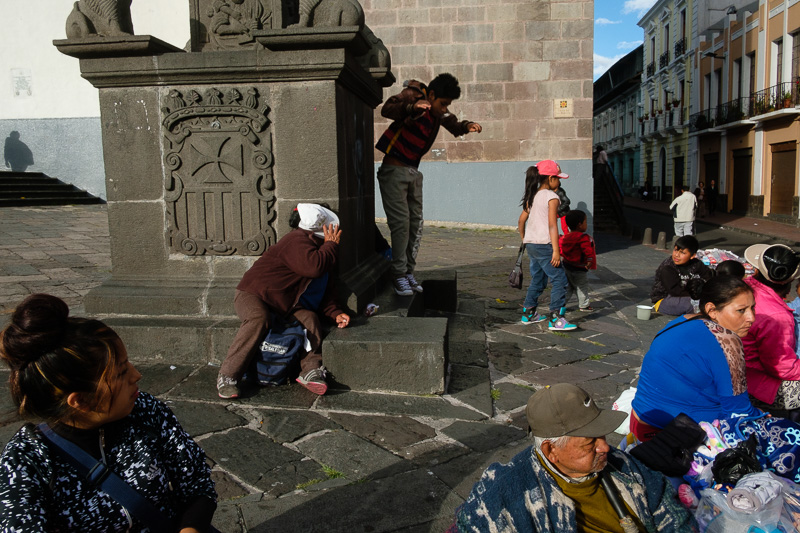 Only a couple blocks west of Plaza Grande, you'll also find Convento De San Francisco with another one of my favorite squares in the city. While not the longest street photography walk, it's as packed with interest as you can get the whole way, which had me coming back multiple times a day. 
5. The rest of the city isn't as pretty and lacks some character
Just outside of the Old Town, you'll find what's called New Town, better known as La Mariscal. Most of Quito is nothing like the Old Town photogenically. The Old Town is filled with an old world beauty and character, while the rest of Quito has little of that. It's 21st century urban concrete and mess without much authentic character or charm, but it does have some life while providing a different atmosphere. Still, La Mariscal is an attractive spot for locals, and especially tourists, due to its nightlife, shopping and eating. If visitors aren't staying in the Old Town, they are likely staying here. While the Old Town shuts down and gets quiet early, activity only grows in this area. Around Plaza Foche, you'll be surrounded by streets lined with bars, restaurants, discotheques, clubs, cafes, shops and more. While Plaza Foche is nice enough and feels westernized, it can get a little dodgy nearby. While not pretty, it's a completely different city to explore for street photography. So if you want more urban city life, it is worth making your way out here and further north for that change of scene.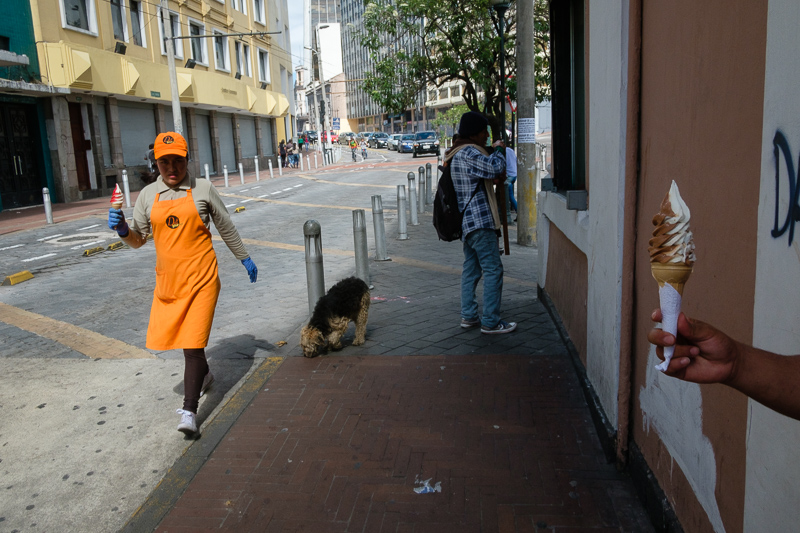 6. Parks like La Carolina worth visiting with your camera too
Quito has a few parks that attract a ton of activity and are more than worth visiting for street photography. Nearby, just north of the Old Town, you'll find Parque La Alameda and Parque El Ejido. Locals use the grass, trees and small lake for relaxing and recreation. You'll find a small market here too. Further north, you'll find Parque La Carolina, the largest park in Quito. This massive park is one of the more impressive I've visited and looks even more photogenic with Quito's backdrop of buildings and mountains. Jardin Botanico is a popular attraction here, but the most interesting part for me were all the recreational activities here. You'll find soccer fields, basketball courts, volleyball courts, a track field, bike paths, paddle boating, an outside gym, playground and more. Capturing people enjoying this variety of activities provided some interesting scenes with Quito's signature skyline background. For a relaxing change of scenery from the Old Town and urban sprawl, the parks can make for some nice spots for more photography.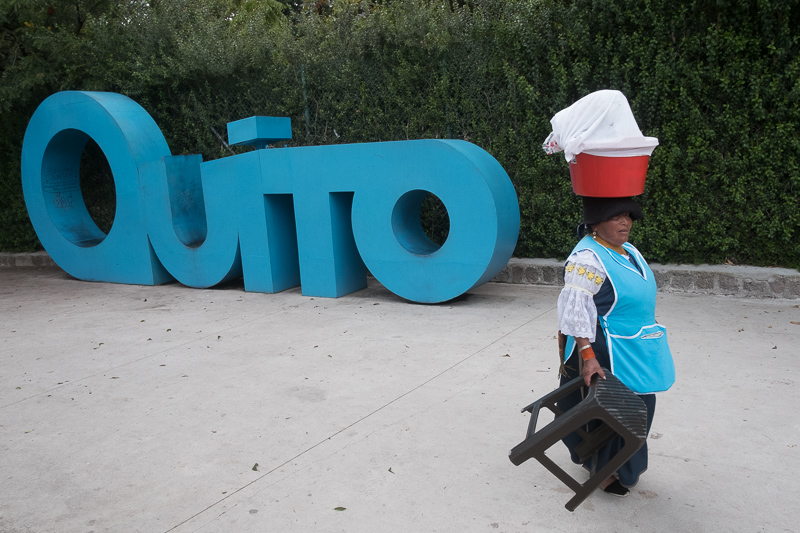 7. Safety warnings are justified, but overall Quito was better than expected
I was warned about safety quite a bit here from locals, including a good friend raised in Ecuador, but honestly I didn't have any trouble. I felt great walking around the Old Town, even though I was told different, and explored many other areas of the city without feeling danger. For me, normal street smarts will get you by just fine in Quito during the day. Emphasis on day, though, as it does get noticeably less safe feeling at night walking around. This was only my experience, though, so I did check crime statistics and while it is high on a world scale, especially petty theft, it's not high for Latin America. As far as major cities in South America, it's still on the lower end so I'm guessing its increase in crime over the last decade has exaggerated danger in the minds of locals a bit. Quito's crime index is down with Santiago, Chile, which has a much better reputation, while most countries in South America, from Argentina and Brazil to Colombia and Peru, have major cities higher on the list. So while this is still South America and you should use plenty of caution, I definitely wouldn't put Quito on any no go list due to safety.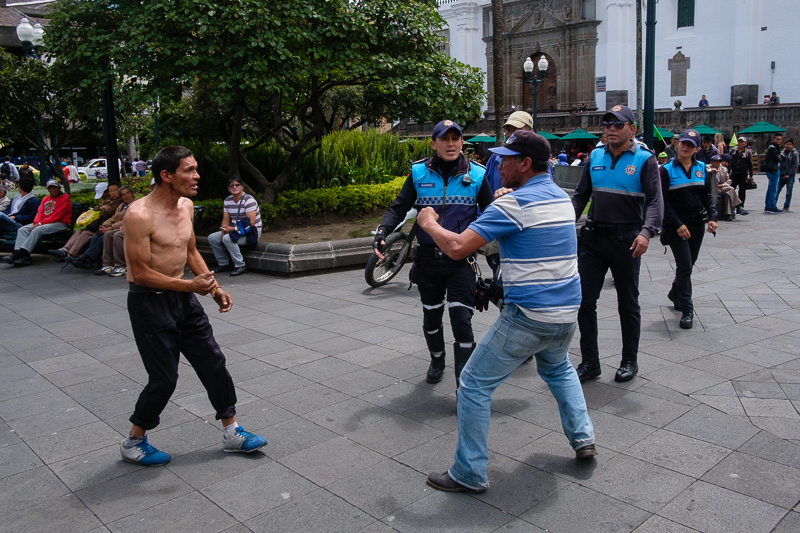 Exploring the Center of the Earth
I enjoy big cities in the mountains not only for their beauty, but also because they usually have an interesting mix of influences from the past and present. Quito was definitely no exception. Exploring the Old Town, you get a lot of character and interest packed into one area that is hard to beat, with a different side of the city to walk once you're done.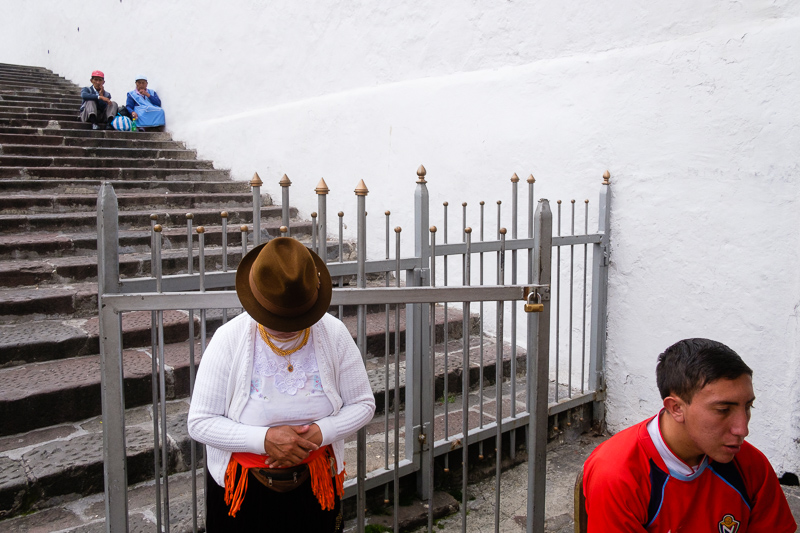 If any of you have been to Quito before, tell me about your experience and impressions of the city and country in the comments below! And stay tuned for more on Quito, including some of the best Street Photography shots I captured while there.
Click Here for More First Impressions on Cities Around the World 
(from a street photographer's perspective)