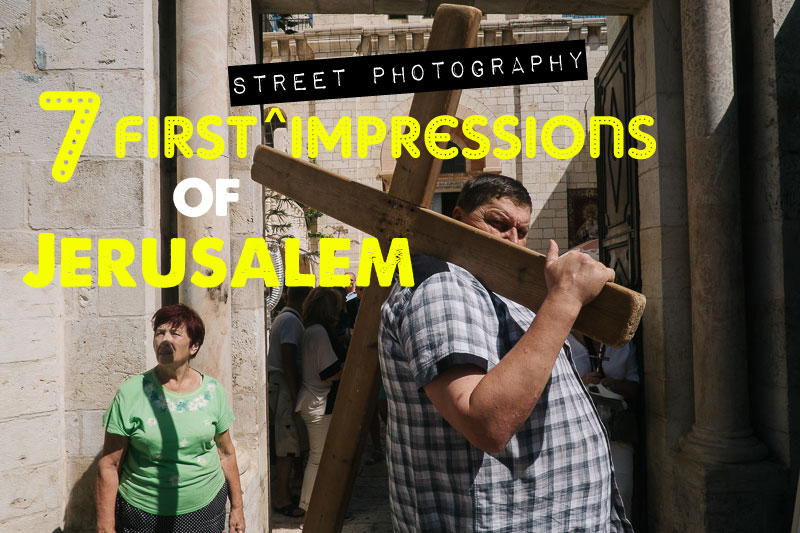 After exploring and photographing Tel Aviv, Israel, next up was a short bus ride to the holy capital of Jerusalem for City #41 during my 100 City Project.
It doesn't get more famous than Jerusalem. This holy city brings visitors and pilgrimages from all over the world. In the Old City, you have its quarters devoted to the Jewish, Christian and Muslim religions, with so much history it almost doesn't seem real. But the city doesn't end there, with plenty more to explore and see outside the walls. Jerusalem is a full experience and truly a city unlike any other.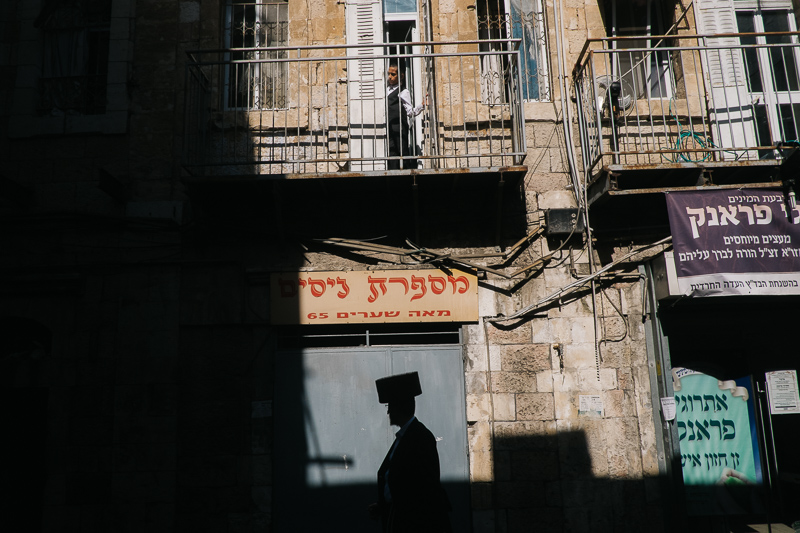 So here are my first impressions of Jerusalem, from my personal Street Photographer perspective…
7 First Impressions of Jerusalem 
(From a Street Photographer's Perspective)
1. Different Quarters of Character
There's more to the city of Jerusalem, but the Old City is what everyone pictures. One of the oldest and most famous Old City's in the world, this walled area is unlike any other. Packed with so many places that have been around since biblical times, it's a full experience just exploring its streets. The atmosphere and scenery are so old and beautiful that it almost doesn't feel real. 
The Old City is very densely packed with sites, but it's not really that big. If you keep moving, you could easily explore it all in an hour. Luckily, all the interest will keep you moving slowly. Furthermore, the Old City is divided into four quarters, Jewish, Christian, Muslim and Armenian. Obviously, you can see and feel the different influences from the churches, mosques and synagogues, but you can also feel different character in the atmosphere and people.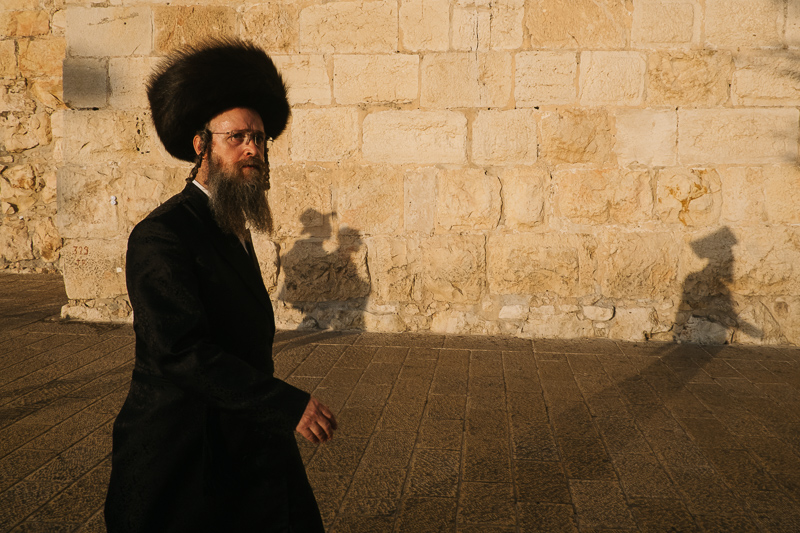 The endless groups of tourists do have some effect on the atmosphere too, making the narrow cobblestone streets constantly packed. You'll find the streets lined with souvenir shops and markets too. While this does take away a little from the authentic feeling, it still can't compete with the thousands of years of history written on everything you see. With the market life, especially in the Muslim Quarter, you can imagine the streets have been packed like this long before tourism. 
Each quarter brings something, although, the Armenian Quarter contains the least interest, in my opinion. In the Jewish Quarter, the Western Wall dominates the interest, while the rest can be somewhat quiet. The Muslim Quarter has the most market life, along its maze of streets, and the Christian Quarter brings the famous Church of the Holy Sepulchre, among endless other churches.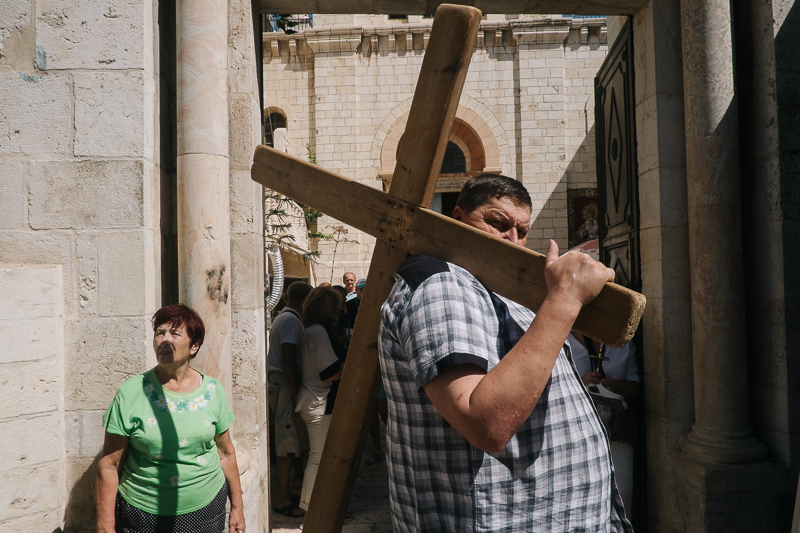 2. Mix of religions
Since this is the holiest city in the world where you even have divisions by religion within the walls, it comes as no surprise that the mix of religions is what stands out the most when here. I'd imagine no city in the world has more religious sites per square meter than here. Everywhere you walk and look, you're surrounded with different religious influence. This feeling is made even stronger by the people, many in their religion's specific garments. And then you have the crowds of visitors coming to experience their life long dream of visiting the holy land. Some even carrying a large cross following the path of Jesus. The intensity of religions, spirituality and faith in Jerusalem is something that needs to be experienced, it can't really be described. No matter your personal beliefs, it's a constant feeling when exploring the city with your camera. And while this intensity is packed into the Old City, much of it still spills outside the walls. Religion is a powerful subject to capture in photography and in Jerusalem you have a variety of it like no other place in the world.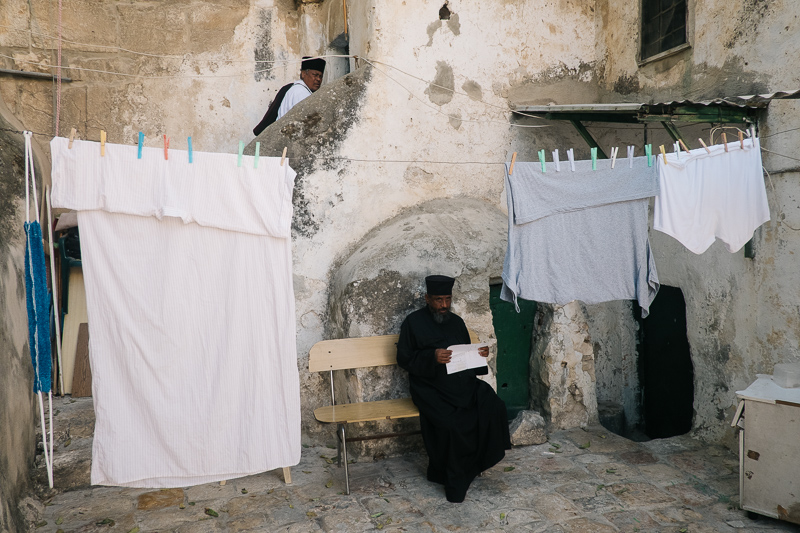 3. Mea Shearim is my favorite neighborhood
When I mentioned that the strong religious influence isn't only felt inside the walls, Mea Shearim is a shining example. In my opinion, it's the most interesting area for street photography in the whole city, even more so than the Old City. For one, it's not touristy so you can really feel the authenticity. Two, it's one of the most unique neighborhood immersions you can experience anywhere. And three, it's extremely photogenic due to how interesting and strongly felt the Jewish religion and history are here.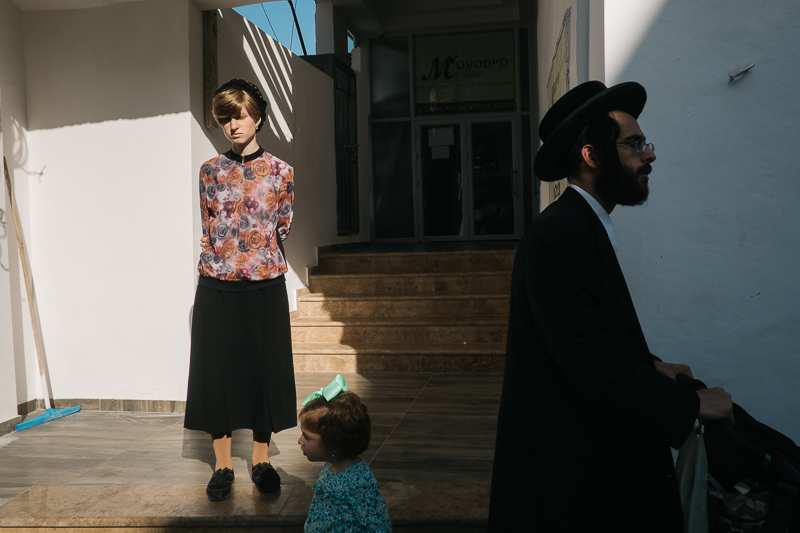 Mea Shearim is one of the oldest Jewish neighborhoods in Jerusalem. It actually has a somewhat of an old Eastern European vibe due to its population of mostly Hasidic Jews. Since they reject modern secular culture, it also feels back in time and very separate from the rest of city. You completely feel the change as soon as you enter the neighborhood. They adhere to very strict Jewish law here so everyone follows the most traditional dress code. The place is so interesting unlike anywhere else, that it's hard to leave for street photography, which is why I know many Tel Aviv street photographers that regularly make the trip out to Jerusalem just to visit Mea Shearim. It's a special place.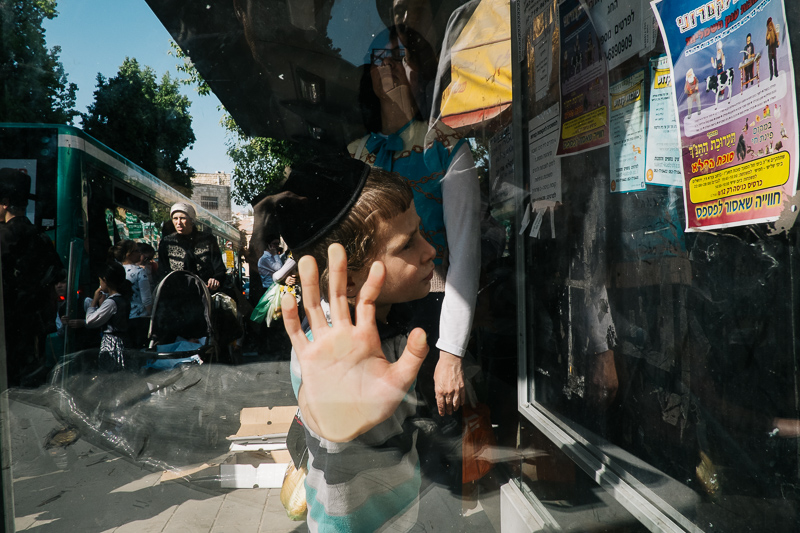 One more thing I'll add is I've read online that it's not a welcoming place, but I didn't find that to be true at all. My only guess is these people went on Saturday (Shabbat), when no electrical devices are allowed to be used on this day, which includes your camera, of course. But outside of that day, I didn't find any pushback for photos and was even asked multiple times if I'm getting good photos. From my experience, you're more likely to get bad looks for dressing too casual than carrying a camera.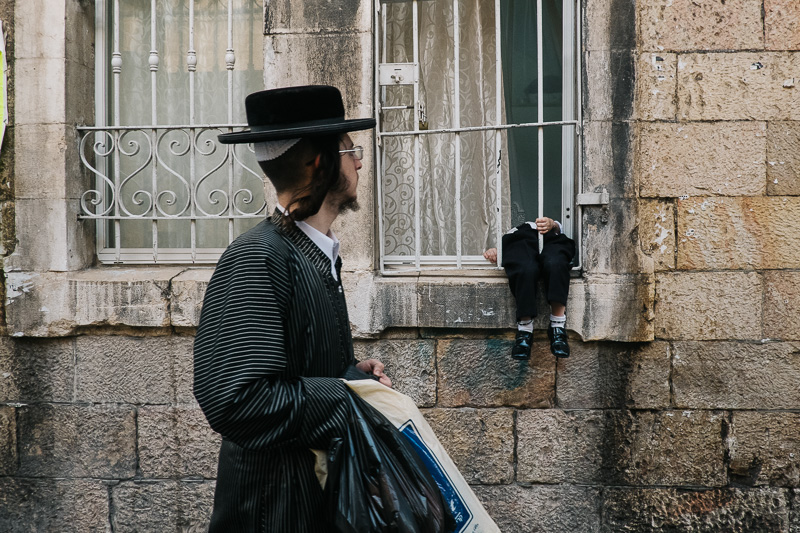 4. Holidays and Saturdays shut down much of the city
I wrote this in my post on Tel Aviv too, but unfortunately it hurts street photography more here. Every Saturday, Shabbat closes much of the city down. Stores, shops, restaurants and markets close before sunset on Friday and leave the city very different through Saturday. Public transportation is also shut down and the streets become more quiet. Cameras are also prohibited on Shabbat and holidays. So while public photography in Tel Aviv is more allowed in most places on Shabbat, it will offend many locals in Jerusalem. It's definitely something to keep in mind if visiting here for street photography, while also being prepared in general. The city life will not be active and if you get hungry, you might have some trouble finding a place to eat.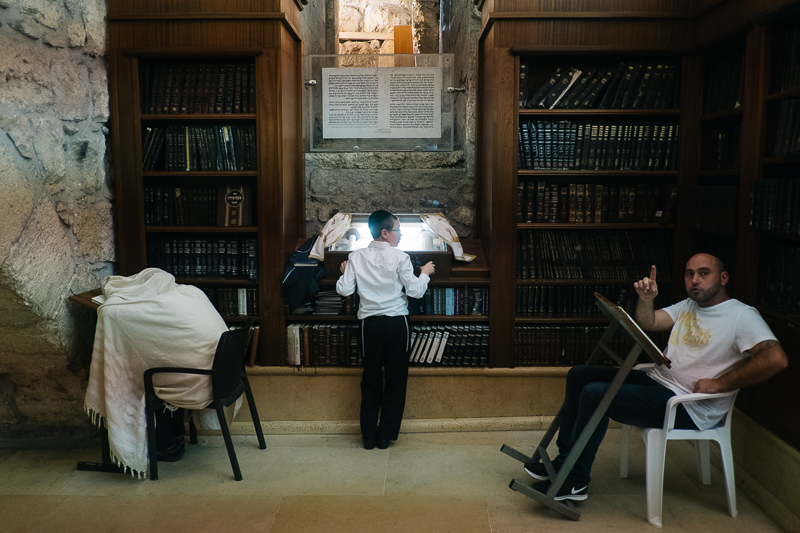 5. Explore the churches
While the Old City is filled with narrow alleys and markets to explore for street photography, some of the most interesting areas for photography are the churches. It doesn't get more famous than the Church of the Holy Sepulchre, where Jesus was crucified and laid to rest. This of course bring crowds of visitors daily so there's always groups of people throughout the church and in the square outside. It's not like your normal church, as it's huge and spans multiple areas. So I'd recommend exploring it inside with your camera too. The architecture, artwork, candles, rooms and atmosphere combined with all the people can create some interesting scenes. Outside within the walled the square you can get some good light coming down too for more photography.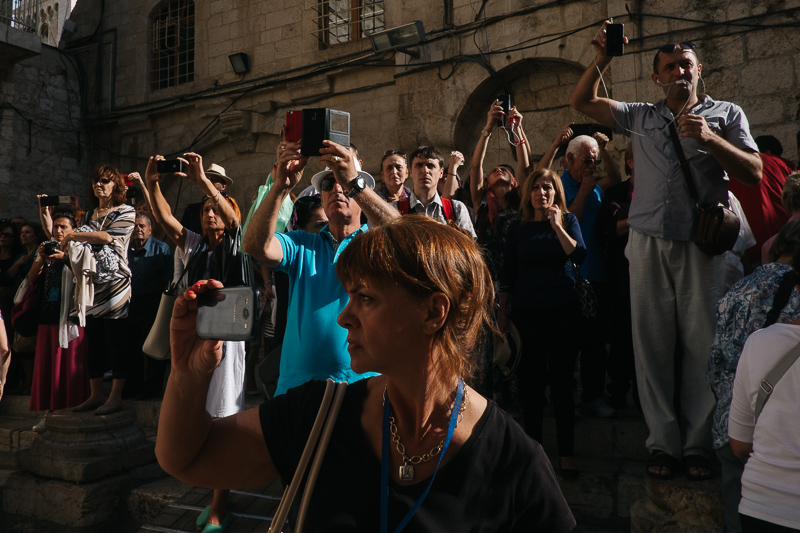 While this famous church here is great, the next door Ethiopian church is probably my favorite. You'll find a doorway to it in the right corner on the same square. So just walk in, check it out inside, and then walk up the stairs where you'll come outside to a large open area on top. Many times, you'll find friendly Ethiopians who moved here to the church too, which adds even more to the atmosphere. All in total, you can find over 50 churches in the Old City, many covering a range of countries, from Russian to Greek. It gives you a lot to check out and capture so to help out, here's a list and description of them all.
6. The Western Wall
The Western Wall is the western support wall of the Temple Mount in the Old City and has become the most religious site in the world for Jewish people. People from all over travel here to pray at the wall, either spoken or written down and placed in the cracks of the wall. Many locals come here daily to pray too, as there's also an attached Torah Library for reading and prayer. No matter your religion, visiting the Western Wall is a unique experience. Seeing the large white wall with people praying against the front is a sight to see. At different times, it can get pretty crowded too, with crowds of people praying. Unless it's a holiday or Shabbat, people don't mind photos here, either. So for street photography, it's a must to check out. You're bound to capture something you wouldn't anywhere else in the world.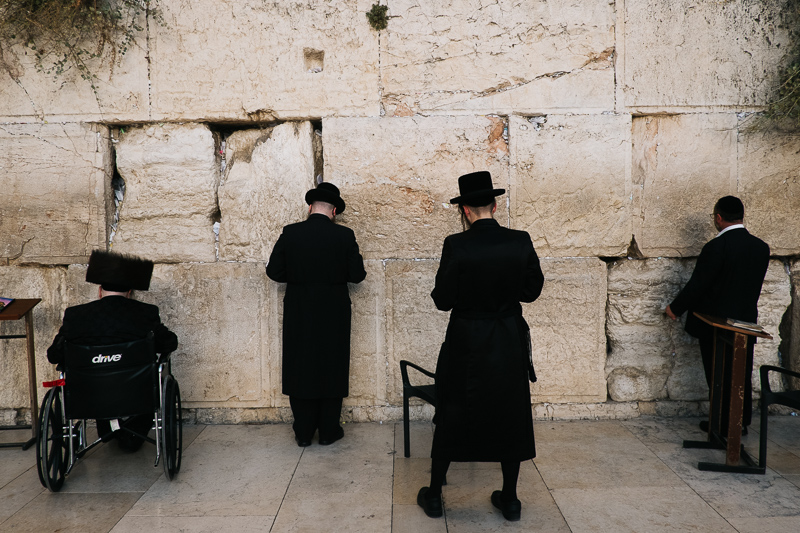 7. Different sides to the city
At over 800,00o people, Jerusalem isn't only the Old City. There's much more to it continually expanding outside of the walls over the years. While much if it is still very old, it feels much newer and more modern compared to the Old City. They're completely different atmospheres and you'll find a more urban downtown city vibe in the New City. The most popular street to walk is Jaffa Road, which takes you through the center of the city west to east, from downtown Jerusalem to the Old City. This long street is lined with shopping, restaurants and other businesses. No cars are allowed here, either, so it's a top spot for pedestrian activity and makes a good walk for street photography. It also takes you near other popular areas like Davidka Square and Machane Yehudah Market, a main bazaar in Jerusalem to go with your camera.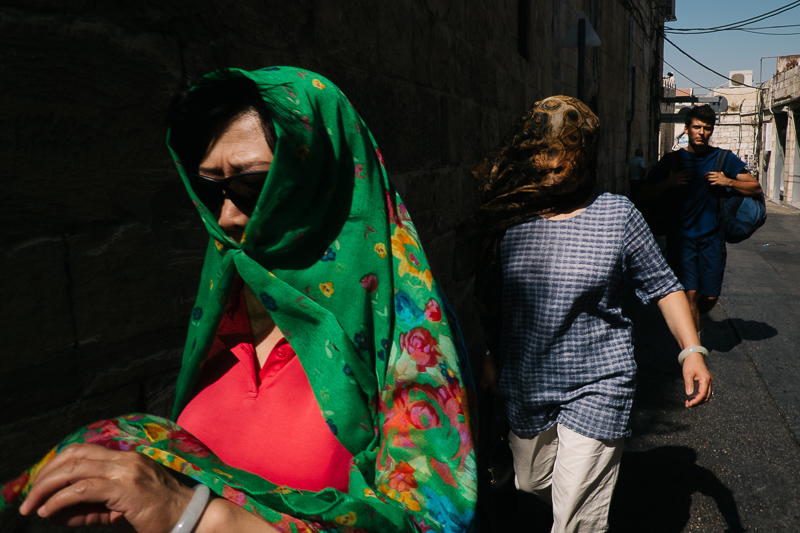 While the Old City is intensely packed with character, history and spirituality, you can take a break from much of the tourism out in the New City and capture a completely different atmosphere for street photography.
The Holy City
Jerusalem is a city you need to experience. Descriptions can't do it any justice. The spiritual atmosphere, history and mix of religions seen and felt wherever you walk make it a city like no other. At almost one million people, inside and outside the walls of the Old City, it provides plenty to explore and photograph too. All under the golden sun.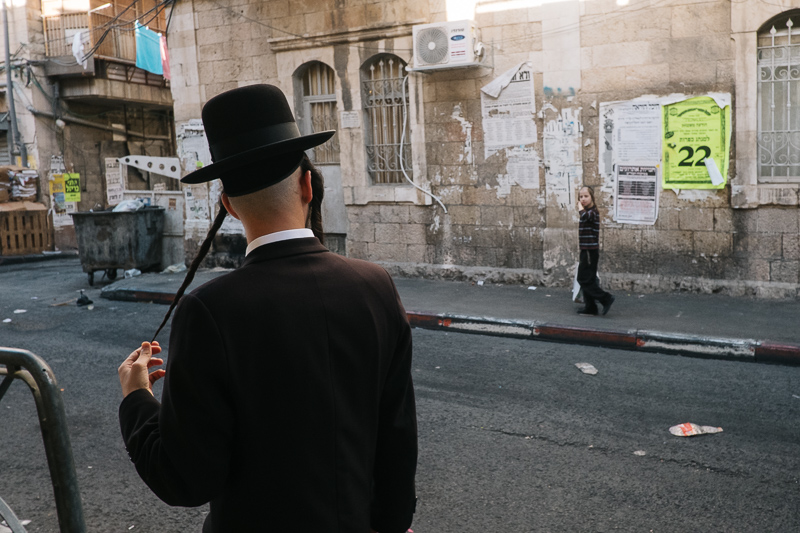 If any of you have been to Jerusalem before, tell me about your experience and impressions of the city and country in the comments below! And stay tuned for more on Jerusalem, including some of the best Street Photography shots I captured while there.
Click Here for More First Impressions on Cities Around the World 
(from a street photographer's perspective)