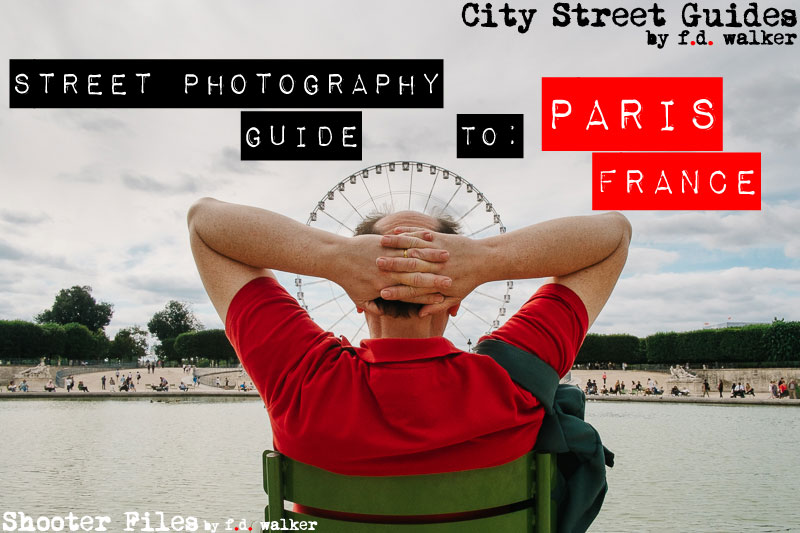 *A series of guides on shooting Street Photography in cities around the world. Find the best spots to shoot, things to capture, street walks, street tips, safety concerns, and more for cities around the world. I have personally researched, explored and shot Street Photography in every city that I create a guide for. So you can be ready to capture the streets as soon as you step outside with your camera!
Paris
Overview:
As far as cities go, it doesn't get more famous than Paris. Full of beauty, history, art, culture, architecture, romance and style. The atmosphere of Paris puts it in movies and brings people from all over the world, keeping it at the top of most visited cities. Paris isn't only that romanticized city you see in photos and on the big screen, though. It has its edgier, grittier side too, but with that Parisian character making it just as interesting for many street photographers. Personally, I appreciate being able to experience and capture the romantic and edgier sides of Paris. It is touristy, crowded and as photographed as any city in the world, but all that Paris brings more than makes up for it.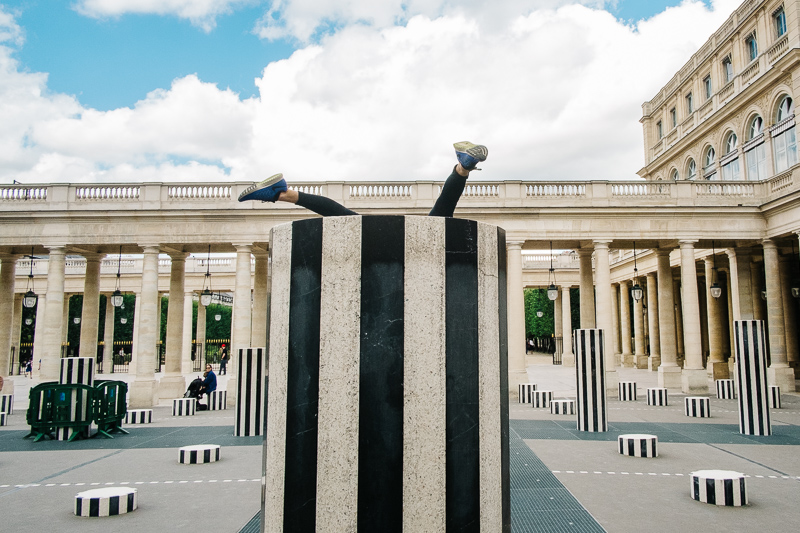 Long been a center for artists and writers, it's also considered the birthplace of street photography, conjuring the classic black & white street photos of the past. While you do have to watch out for the cliché, Paris is so visually rich, there's still plenty to capture today.
So here's a Street Photography guide so you can be ready to capture all that Paris has to offer before you even arrive!
Map:
Rue de Rivoli
Tuileries Garden / Louvre / Les Deux Plateaux
Eiffel Tower (tocadero and park)
Champs Elysees
Boulevard de Clichy / Rue des Abbesses / Montmartre 
Notre Dame / Latin Quarter
The Canal Saint-Martin
Bonus: Saint-Ouen Flea Market
Bridges: Pont des Arts & Pont Alexandre III
Top 7 Street Spots:
1. Rue de Rivoli
Rue de Rivoli is one of the longest and most famous streets of Paris. A commercial street lined with a variety of shops and designers, it's also a picturesque city walk that brings images of the old Paris you see in photos. Much of the architecture and buildings date back centuries, while also passing by some of the city's most famous sites, including the Louvre and Tuileries Garden. Naturally, this street also fills with tourists and souvenir shops, but walking the full length gives a variety of activity and scenery that is very Paris. One of my favorite sections is by the Hôtel de Ville, where a large square fills with people. In the summer, they even set up beach volleyball courts.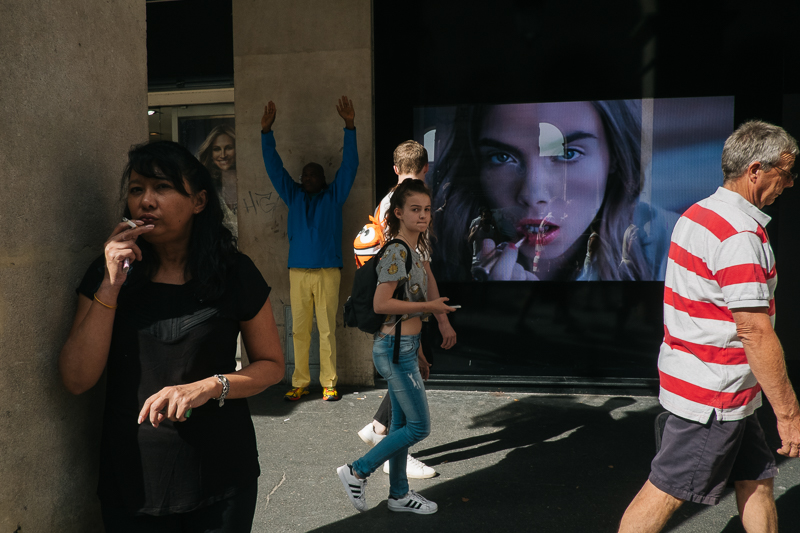 2. Tuileries Garden / Louvre / Les Deux Plateaux
There are picturesque parks almost everywhere you go in Paris, but Jardin des Tuileries stands out for how impressive, long and packed with photo opportunities it is. The Tuileries Garden is Paris' oldest and largest public garden and goes on seemingly forever between the Louvre Museum and the Place de la Concorde. It was built in 1564 as the garden of the Tuileries Palace and feels that way, only now it has the giant ferris wheel and thousands of people everywhere. In the summer, it even has a fairground open, filled with rides.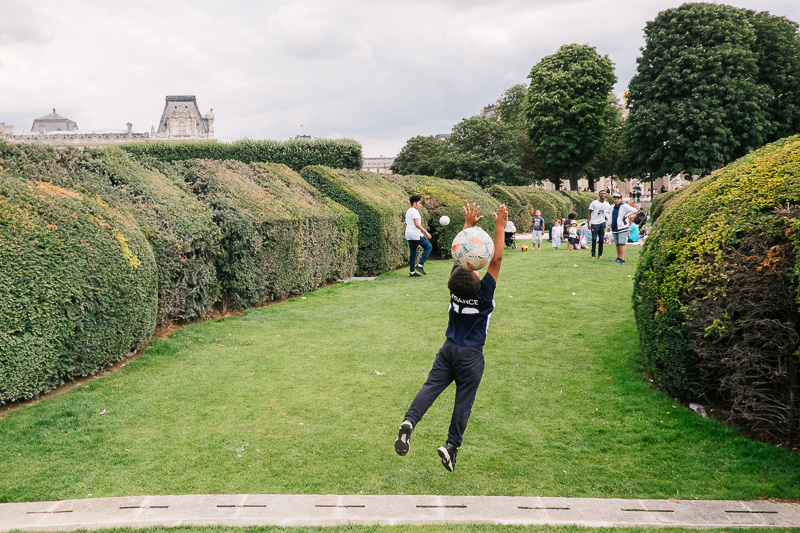 I walk through here as much as any place in the center. You can start at the Louvre courtyard with the pyramid, then walk through sand and green fields, in-between landscaped shrubs providing prime space for picnics, by ponds surrounded with moveable chairs, and statues and architecture that provide an atmosphere like no other. It's as visually fancy of a park as you'll find, while getting packed with a variety of life that you don't find many places.
Before you start at the Louvre, you can also check the nearby Les Deux Plateaux, famous for the black and white striped pillars of different heights installed by French artist Daniel Buren. It's located in the inner courtyard of the Palais Royal and although it has been photographed plenty of times before, it can make for some interesting visuals and photos.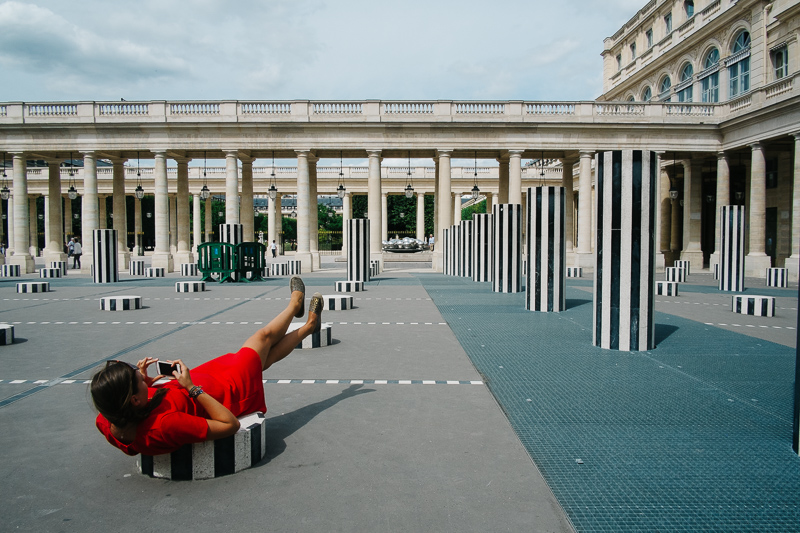 3. Eiffel Tower / Champ de Mars / Trocadéro
It's the Eiffel Tower so there's not much to say about it that you don't already know, but while it's one of the most touristy spots in the world, it's still worth coming to for street photography. And if you're visiting Paris, it's not like you aren't going there anyway. The surrounding areas are the best spots for street photography, though, particularly Champ de Mars and Trocadéro.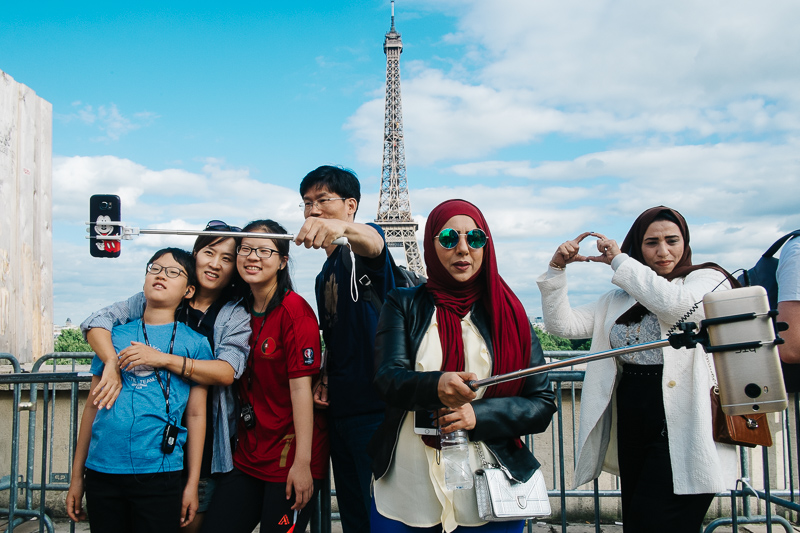 Champ de Mars is a large, long open green space in front of the Eiffel Tower. The grassy area is lined with trees, benches, picnickers and plenty of selfie takers getting the tower in the background. You'll find open light here and probably something interesting while watching all the tourists doing tourist things like fitting the tower between their fingers or capturing a photo while jumping in mid-air.
The Trocadéro is across the Seine from the Eiffel Tower. People come here for the views of the tower, but also the impressive architecture, fountain and more. At the top, you'll find a balcony lined with people taking pictures, while the rest is usually crowded with street sellers and more tourists. Down the first set of steps, there's a smaller balcony where street performers sometimes set up to put on a show. And then all the way down, you'll find a long fountain lined with some green space taking you on your way to the Eiffel Tower.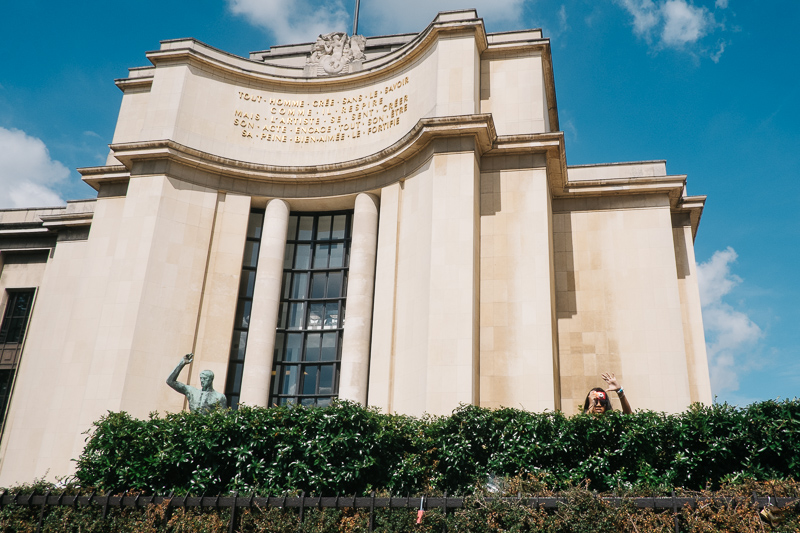 4. Champs Elysees
Arguably, the most famous avenue in the world, the Avenue des Champs-Élysées comes to its famous spot where the Arc de Triomphe is located. While you can try to get a photo here where the avenue meets the arc, like many others, there's also a 2 km stretch of sidewalk, along the wide avenue, filled with shops and people. The symmetrical landscaping adds to the ending vision of the arc that brings crowds, while you can find some more general street photo opportunities on the very commercial sidewalk. It's a mix of grandeur, tourism and urban life worth a walk with your camera.
5. Boulevard de Clichy / Rue des Abbesses / Montmartre
Montmartre is one of my favorite neighborhoods in Paris. This bohemian area is famous for the many artists like Picasso who came here because of its artistic scene and creative atmosphere. Although a tourist spot now, this atmosphere does live on. Walking around cobblestone streets like Rue des Abbesses provides a beautiful and charming walk full of winding alleys to explore with an older, artsy vibe and Parisian café and boutique culture.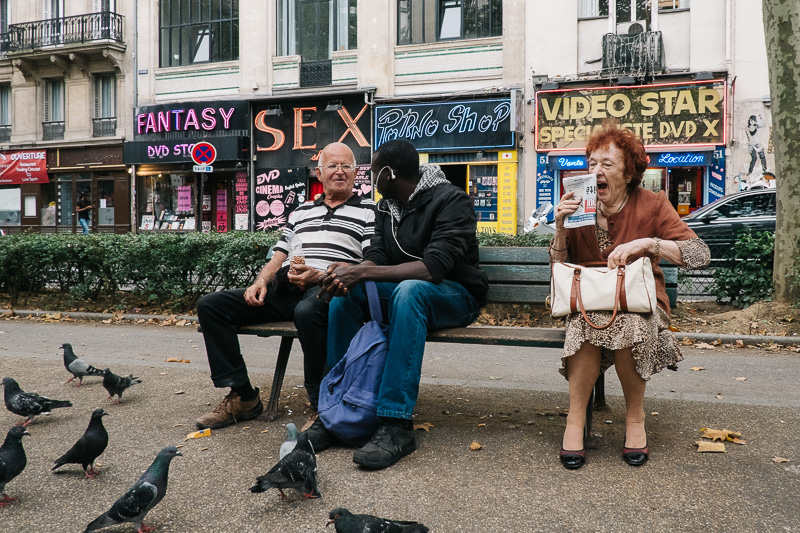 Montmarte is also known for its red light district, which includes the famous Moulin Rouge and Le Folie's Pigalle. Although, this is another tourist attraction, walking Boulevard de Clichy does give an edgier atmosphere that I find interesting for street photography. Neon signs, adult clubs and shops, restaurants and more provide a nostalgic red light experience with its fair share of strange characters that many will find interesting to capture. Boulevard de Clichy feels and looks dodgy enough for character, while keeping a charming Parisian vibe and less seedy feeling, which makes it a photo walk I'd come back to multiple times while in Paris.
6. Notre Dame / Latin Quarter
Nothing is to the degree of the Eiffel Tower, but everyone already also knows about the Notre-Dame Cathedral when they come to Paris. This medieval Catholic cathedral is looked at as one of the finest examples of French Gothic architecture and brings crowds of tourists to its front square at all hours. It's definitely an impressive sight and you have plenty of activity to walk through with your camera if looking for street photography opportunities. After giving the tourists some time with your camera, then you can explore the rest of the Latin Quarter too.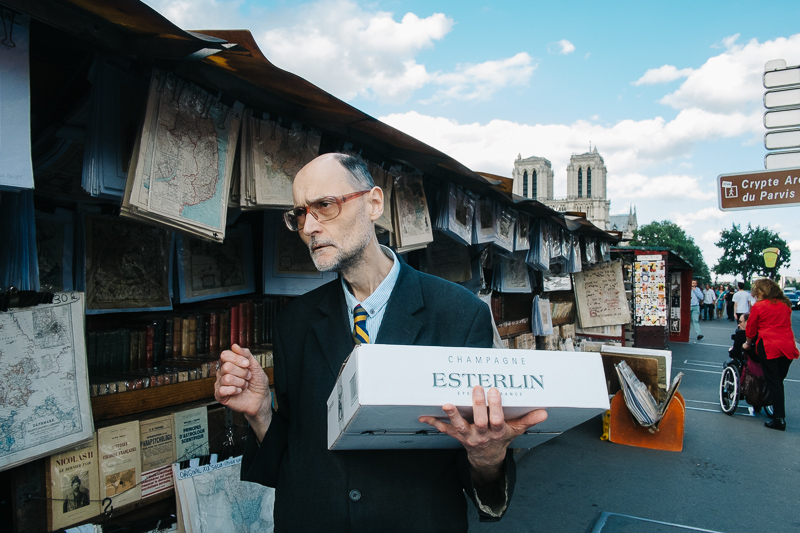 The Latin Quarter actually gets its name from the number of universities that have been here since the Middle Ages, when Latin was the language of learning. All the students and intellectual interests help give it a young, energetic vibe within some very impressive architecture. There's a very bohemian atmosphere with plenty of cafes and artistic influence to explore with your camera.
7. The Canal Saint-Martin
The Canal Saint-Martin is a 4.5 km long canal connecting the Canal de l'Ourcq to the river Seine. It's narrow and lined with shady trees, iron foot bridges, and if it's nice out, plenty of people hanging their legs over the shore's edge. There's a lot of atmosphere here, some of which has made it into movies like "Amelie." There's an older, vintage character to the area, including the surrounding neighborhoods filled with trendy Parisian cafes and shops. There's a hip, younger vibe mixed with its 19th century Paris scenery.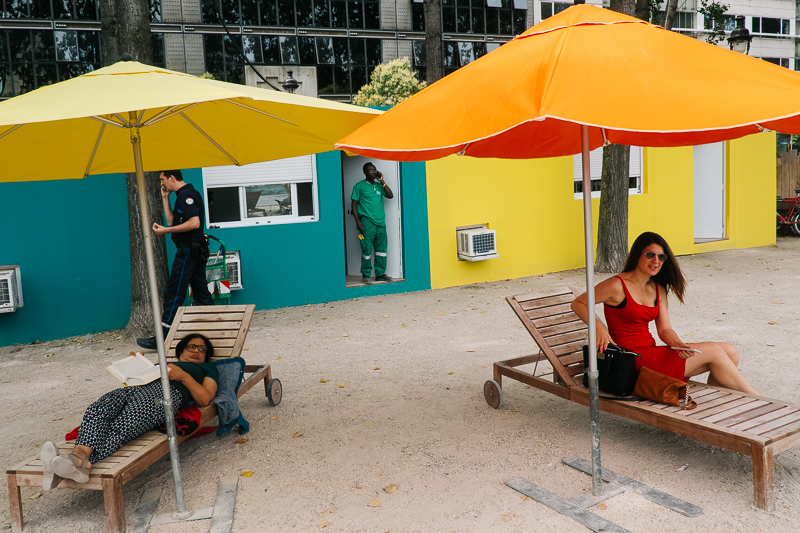 When the sun's out, though, the canal really comes alive. On a nice day, if you come out here a little later in the day and into the night, you can find both sides of the canal completely covered with picnics, wine bottles, laughter, and people sitting on the concrete's edge. It's a really fun and lively atmosphere unique to Paris.
Bonus: Saint-Ouen Flea Market
In the north of Paris, above Montmartre, you'll find one of the largest Flea Markets in the world. If you're in Paris on the weekend, this can be a good spot for street photographers that like markets. Paris already has a nostalgic feel, but here you'll find it even more. The streets are lined inside and out with antiques, old books, vintage items and more, with a Paris flair. The marketplace consists of over 2000 boutiques and has a unique atmosphere that should provide a couple hours of exploration.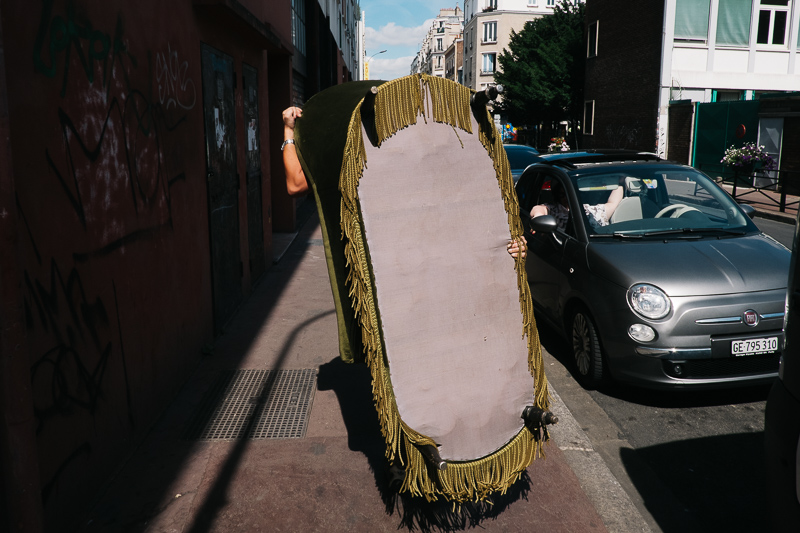 Bridges: Pont des Arts (lover's bridge near louvre) & Pont Alexandre III (prettiest bridge/blue&gold)
For me, the bridges usually come off a little too cliché and touristy, but Paris has some good ones. Pont des Arts fills guide books and photos of Paris, but it might be disappointing to many now. It was the famous bridge covered with locks from lovers, but it got a little too famous and the city decided to remove the locks due to weight. Still, the location and views will appeal to many even now. Then there's the prettiest bridge, Pont Alexandre III. Covered in blue and gold paint along with an elaborately royal design, it's a striking bridge that attracts eyes and photos. Maybe you can find interest within the scene.
Sample Street Walk:
For a full day of Street Photography, covering some of the best spots, you can follow this sample street walk for Paris:
Start your morning walking around Montmartre (5) and Boulevard de Clichy
Then take the metro down to the Latin Quarter (6) for more street photography before walking up to the Cathédrale Notre-Dame (6) 
After getting your fill of this touristic spot, walk north over the bridge and take a left to walk along the Seine River until you get to the Louvre (2)
After walking around the Louvre Pyramid, keep walking west into the Tuileries Garden (2). Make sure to spend time exploring the length of this impressive park, including the theme park if it's in season
From here, you can walk back through Tuileries Garden (2) and then walk up to Rue de Rivoli (1)
While walking east along Rue de Rivoli (1), you can stop at Les Deux Plateaux (2) and the Hôtel de Ville square along the length of this busy, picturesque street
Take a left on Rue de Temple for one of Paris' oldest streets. From here, if you're up for it, you can finish the day/evening walking along the atmospheric Canal Saint-Martin (7)
4 Things I'll Remember About Photographing Paris:
1. Big Parks
Not only does Paris have a lot of parks, but many of them are gigantic, beautiful and full of life. The green grass, trimmed shrubs, statues and architecture mixed in make them a visual experience to explore, while the variety of activity can provide the scenes and juxtapositions to play with. All in parks big enough to spend hours in.
Three of my favorite parks for street photography would be:
Jardin des Tuileries
Jardin du Luxembourg
Jardin des Plantes
Many of the parks in Paris don't have benches, but instead have moveable metal chairs. So everyone can just pick them up and drag them to their perfect spot to relax or talk with friends. It's not a bad idea and can add to the scenes you're trying to capture.
2. Romantic & Stylish Side of Paris
Paris is the city credited by many as the birthplace of street photography. When thinking of the classic black and white street photos from the past, scenes of Paris come to mind first for many. It's the most romanticized city in the world with the architecture, parks, river, bridges and famous sites providing the backdrop Paris is famous for. In the center is where you'll really find this look, and streets like Rue de Rivoli are as classic as they come.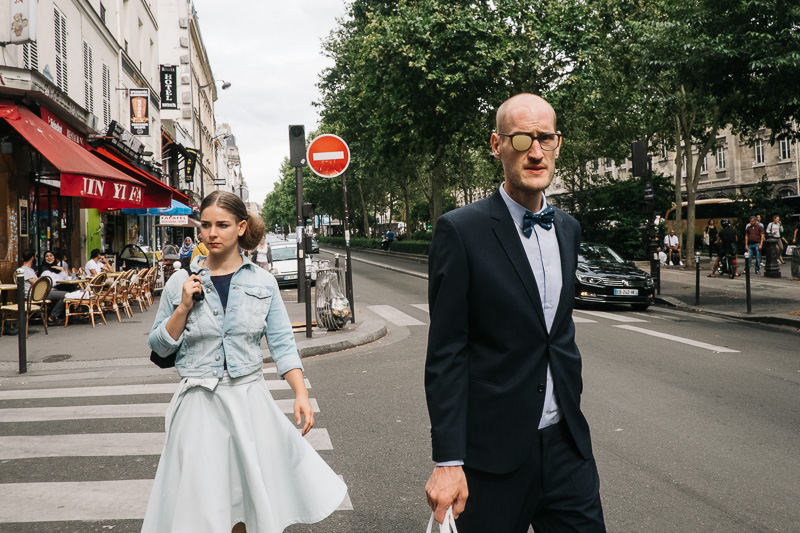 Being as photographed and romanticized as Paris is does come with its negatives. The cliché surrounds you, but there's still no where quite like the beautiful atmosphere of Paris' center. If you walk enough, the center is so rich and photogenic, that it's still one of the best places in the world for street photography. Everywhere you walk is stunning and impressive. And once night hits, Paris can become even more impressive. It's a one of a kind place that deserves its hype.
Parisians are also known for their style and the city is one of the fashion capitals of the world. When it comes to street photography, this translates into a city full of shopping streets and plenty of visual interest to capture from the people. The people are stylish, from the classic to the trendy. This style doesn't stop at the clothes, but extends to how they walk, talk, and smoke. Comparing it to other cities around the world, only cities in Italy, and maybe Tokyo comes close to all the style surrounding you in Paris. It's a vibe you can feel, see and capture with your camera. 
3. Canals & Cafes
If the weather is nice out, head to Canal Saint-Martin before sunset. This narrow canal connects to the river Seine and winds up north away from the most touristy center. Not only does it give you a picturesque 19th century waterway with trees and foot bridges, it's also become a trendy district filled with restaurants, cafés and bars.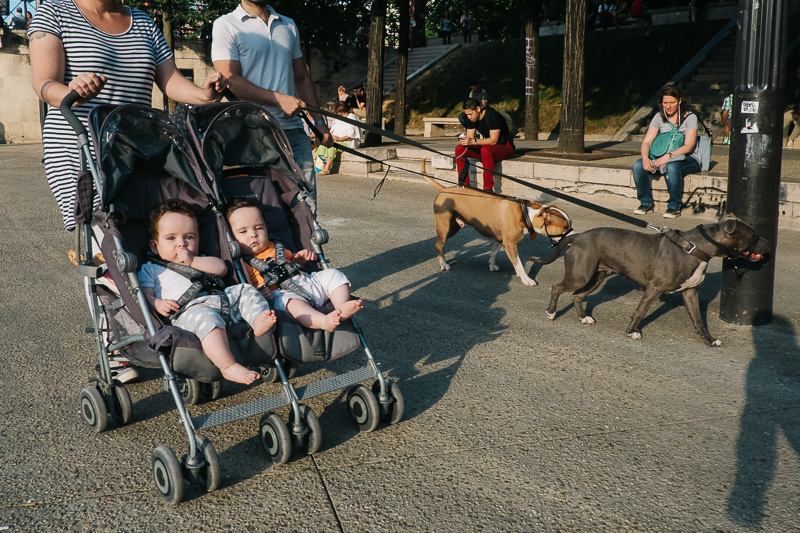 Along the canal, it can fill up with people picnicking and enjoying some drinks with friends. When it's busy, the shore is lined with feet dangling over edge the whole way. Complete with wine bottles and glasses. It's an enjoyable hot spot outside worth checking out with your camera later in the day, and night. It's a unique, fun atmosphere that makes me jealous I don't live here.
4. Multi-Cultural Mix of Character
When I look at most Paris street photography, I get a picture of chic french style, cafes, and shopping, but that's not the complete picture I've ever experienced in the city. At least not in today's Paris. Yes, you can definitely focus on this aspect of the city, but Paris is so multicultural and varied in atmosphere now. It's not all chic, there's plenty of edge and gritty character to find too.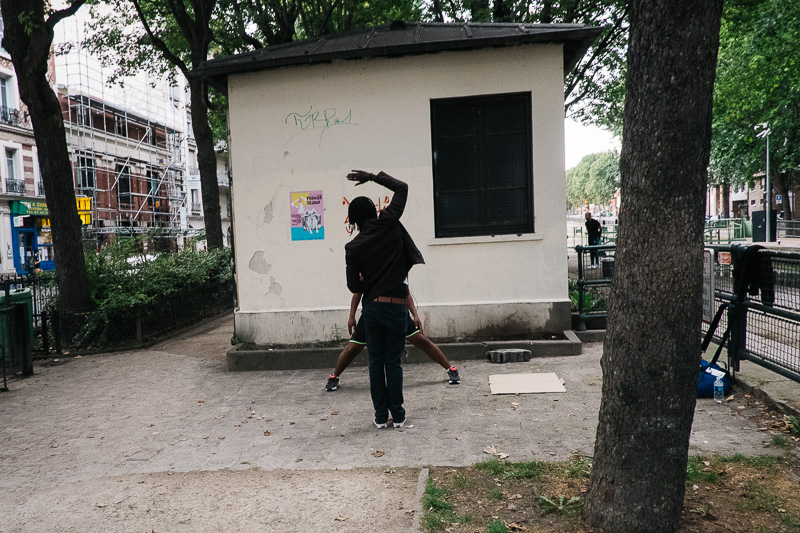 I'm attracted to the less polished sides of cities. Places with edge. Not necessarily pretty, but with character. I like the unpredictable and find them more authentic and interesting many times. Unfortunately, this can come with more danger too, but during the day it's worth it most times. A gritty not so pretty atmosphere that I happen to enjoy just as much as the fairy tale Paris, especially for street photography.
While some would tell you to be careful, you should be fine in these spots below during the day using common sense. Some are touristy with a roughness around the edges, but that roughness is getting rougher. For street photography they can be great, though.
Montmartre
Pigalle
Goutte d'Or district
Flandres
What To Do For a Street Photography Break?:
The Louvre in the Rain or Cafe & Canal in the Sun
The Louvre is the largest and second most visited museum in the world. With around 35,000 pieces and over 70,000 square meters, the Louvre makes a great stop when the weather outside isn't cooperating for street photography. But if the weather is nice, grab a seat at an outdoor café and enjoy the people watching. Or even better, grab a bottle of wine and sit along the canal for an even better people watching experience.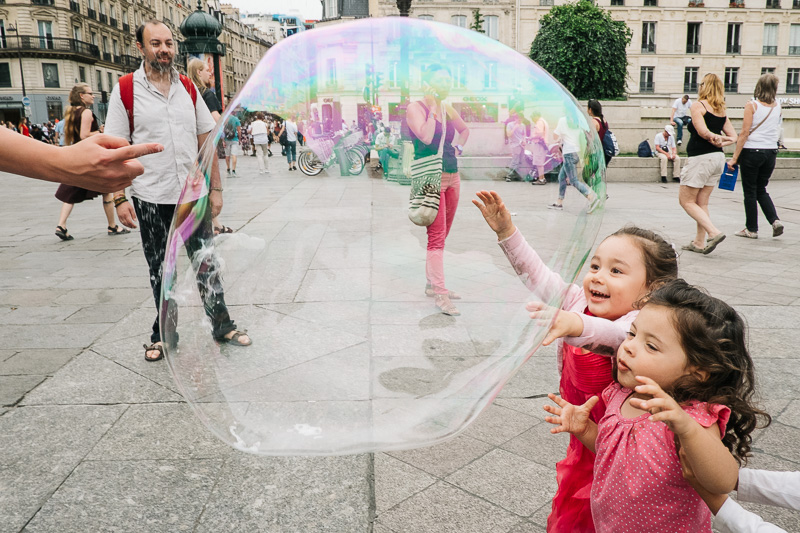 Street Safety Score: 7
*As always, no place is completely safe! So when I talk about safety, I'm speaking in general comparison to other places. Always take precaution, be smart, observe your surroundings and trust your instincts anywhere you go!
If we're comparing to the rest of Western Europe, Paris isn't the safest city. There are parts that come with risk and crime. Paris has an edgy feeling in areas, but during the day by keeping your street smarts and trusting your instincts, it's nothing to be scared of. I've never had a problem and freely walk the city. It's a big city so normal precautions should keep you fine.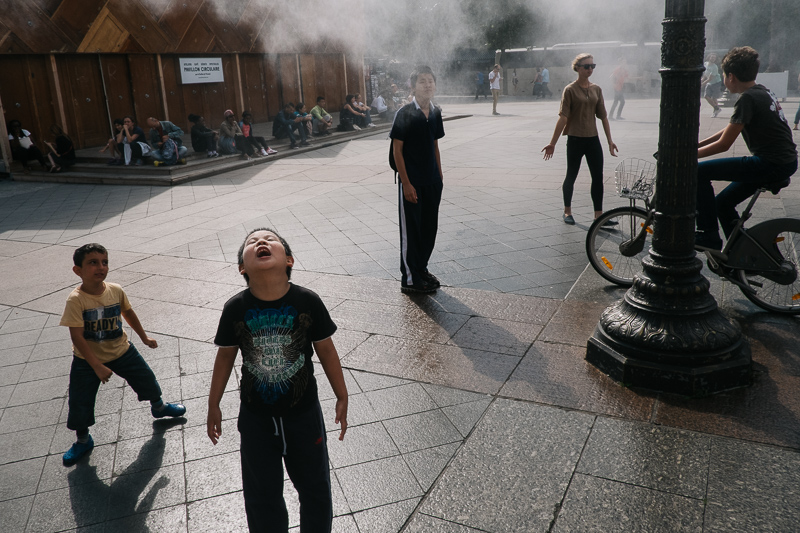 I will note that Paris does feel different of late due to the tragedies that have hit. Military carrying exposed guns patrol all over the city, especially around the more touristic spots and along the river. So depending on your view, that could make you feel safer or less safe. 
People's Reaction Score: 7
France does have rules against public photography, which you should be aware of. That being said, I never have too much of a problem here. People are slightly more suspicious of cameras than the average european city, but nothing to deter you.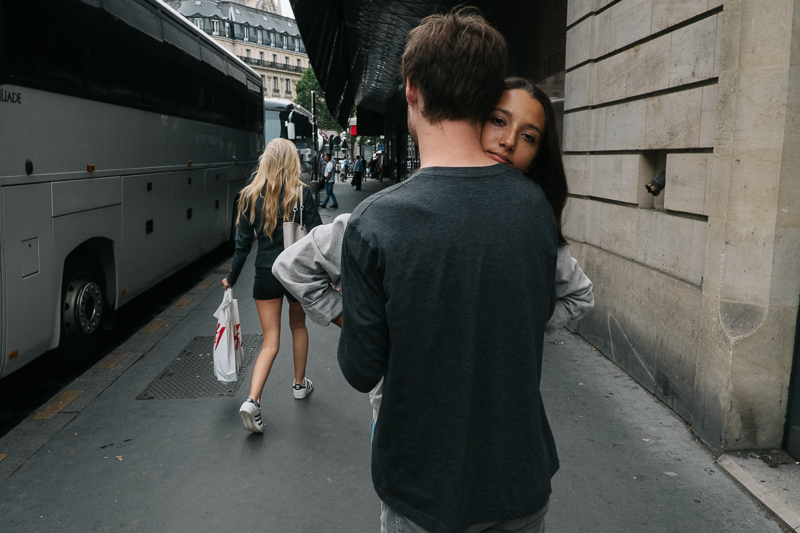 Street Tips:
Most efficient metro system in Europe
Paris' metro is great. It's considered the most efficient metro system in Europe with lines that take you everywhere you could need. It helps make the city feel smaller than it is. There aren't too many place you can't get near by taking the metro in Paris. You can pick an area, take the metro there, and spend hours exploring without walking through miles of nothing.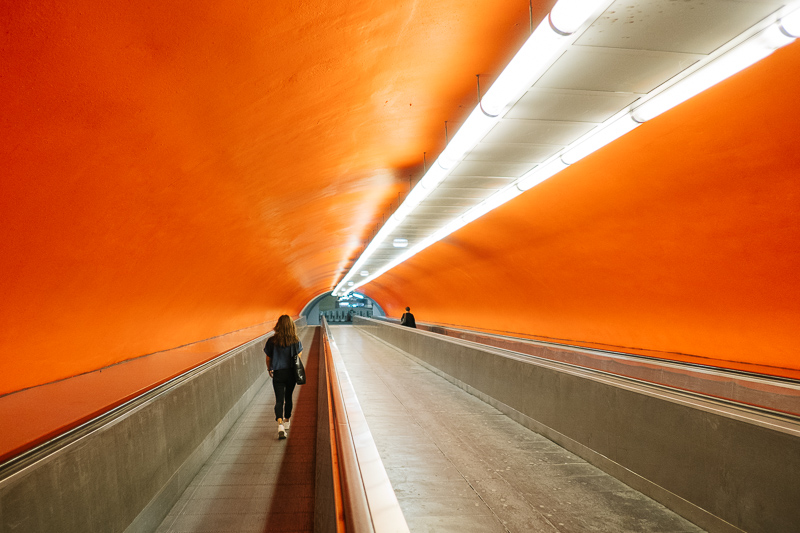 For a big, spread out city, it feels very walkable too
For how big and spread out it is, Paris is still a very walkable city. The metro system is one of the best in the world, with a high density of stations. This helps keep a range of spots in reach, while you get out and walk around each area. Also, since Paris' landscape is so flat, it makes long walks less noticeable. I normally walk a lot when out shooting, but in Paris, it's even more. Time and kilometers just seem to fly by.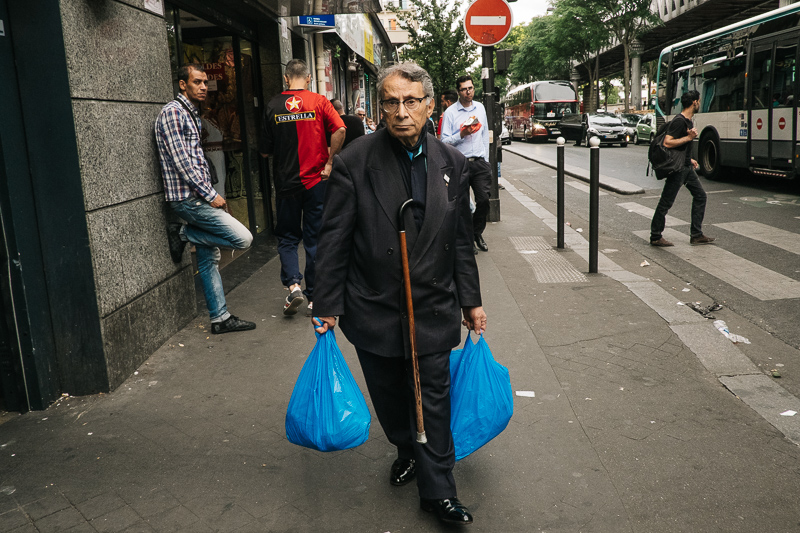 I would definitely bring a map or phone navigation, though, because it can be easy to get lost in Paris' labyrinth of never-ending narrow and winding streets. With all the sites and landmarks, map navigation is easy. And if you do get too off track, there's bound to be a metro station nearby.
Walk along Rue de Rivoli before sunset and then along the canal to see the evening activity
The sunlight comes down beautifully on Rue de Rivoli just before sunset. As I already talked about why this famous street is great for street photography, it makes it even better with how it's situated with the sun. All that atmosphere and activity gets highlighted perfectly when the sun's out and you come here at the right time. Just walk towards the canal the whole 2 kilometers for endless photo opportunities perfectly lit. And then since the weather is nice, the canals should be starting to get busy with activity too for more atmosphere and street photography. So just finish up with a nice walk along the Canal Saint-Martin.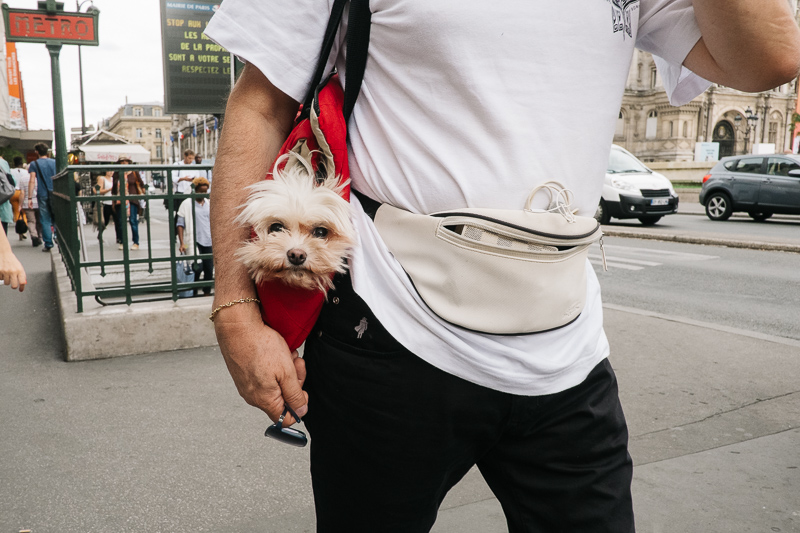 Inspiration:
When it comes to Paris, there's endless photographic inspiration to find. From the local photographers to everyone that visited it, there's too many photos of Paris to admire. For classic older work, there's the famous Henri Cartier-Bresson, among countless others, and for a newer look, you can check out Fabio Costa. And don't forget to check out 33 of my photos taken in Paris.
Conclusion:
Some cities give similar atmosphere throughout, while others provide a range of neighborhoods containing much different experiences. Cities like London, New York, Istanbul and Tokyo do this. And so does Paris.
Paris is a large and impressive city, but there can be an intimacy to it too. The different neighborhoods have their own style and community. The different sights and character can be seen in the shops, cafes and architecture that come with an authentic feeling. By just exploring, you can discover so many unique areas and aspects of Paris hidden away.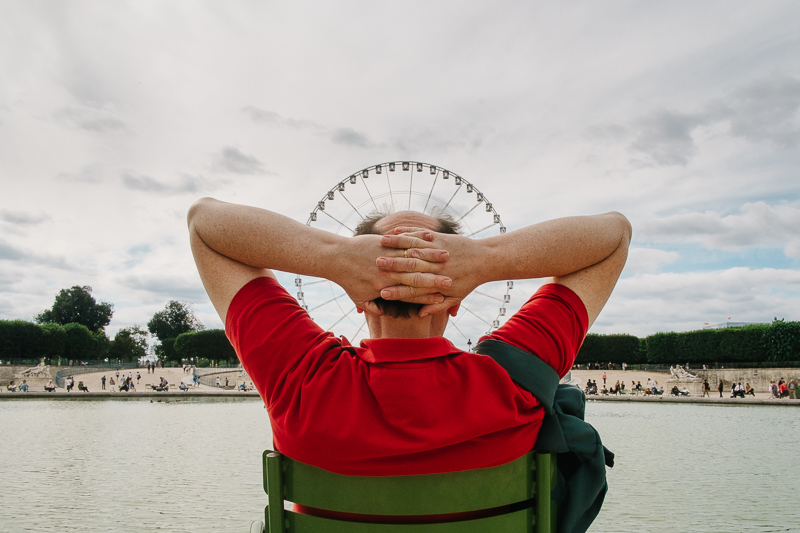 A magnet for artists and tourists alike, Paris is as classic as it gets and has been romanticized, photographed and etched into our minds as much as any city. But it still has to be experienced to get a real feel for it, including its edgier, less romantic areas. I hope this guide can help you find your own Paris. So grab your camera and capture all that Paris has to offer for Street Photography!
If you still have any questions about shooting in Paris, feel free to comment below or email me!
(I want to make these guides as valuable as possible for all of you so add any ideas on improvements, including addition requests, in the comment section!)
(A New Guide Posted Every Other Wednesday)