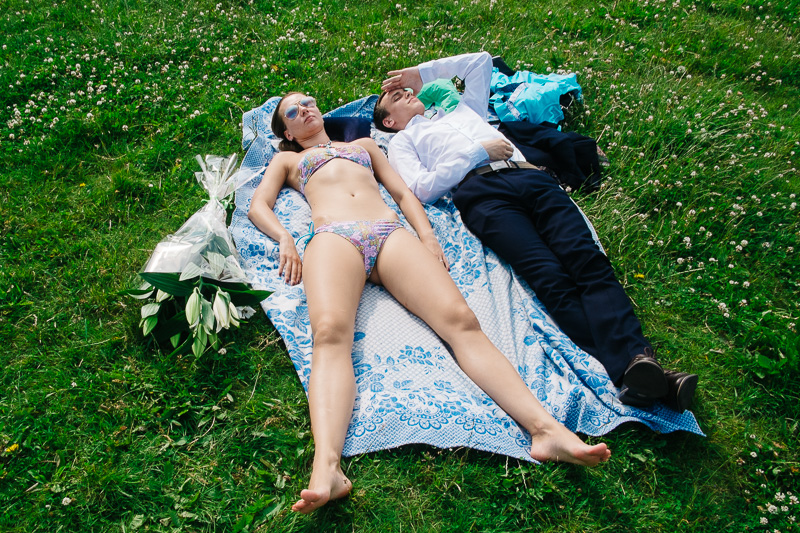 Street Shot Sundays Story & Stats
Story:
This Sunday's Street Shot of the Week was taken at Zayachy Island in Saint-Petersburg, Russia. I've already written about Zayachy Island, also known as "Hare Island," and even put together a photo series from it here. In the summer, this is one of my favorite places to come shoot because of all the interesting activity it attracts in a unique setting.
A section of the small island is covered in grass and this is where many people come to lay out in the sun. It was the peak weekend during the White Nights Festival, when the days last the longest and the celebration is the biggest. It's also become the time for graduates to celebrate. You'll see university students all over the city dressed up in suits and dresses partying and celebrating from day to night. 
I was walking through this grass field when I noticed this couple laying under the sun. Due to the day, his outfit, and her flowers, my guess is they were a young couple that had been celebrating their graduation. Of course, what interested me in the scene was him being dressed in a suit, while she lay next to him in a bathing suit. The old, soviet era blanket and her flowers added interest too. So I walked up and quickly captured the shot. There's a timelessness you find in Eastern Europe that you don't find elsewhere and it's one of the many reasons I love coming here for photography.
Stats:
Camera: Fujifilm Xpro1
Lens: Fujinon XF 18mm 
Focal Length: 18mm (27mm full frame equivalent)
Aperture: f/11
Shutter Speed: 1/500
ISO: 800