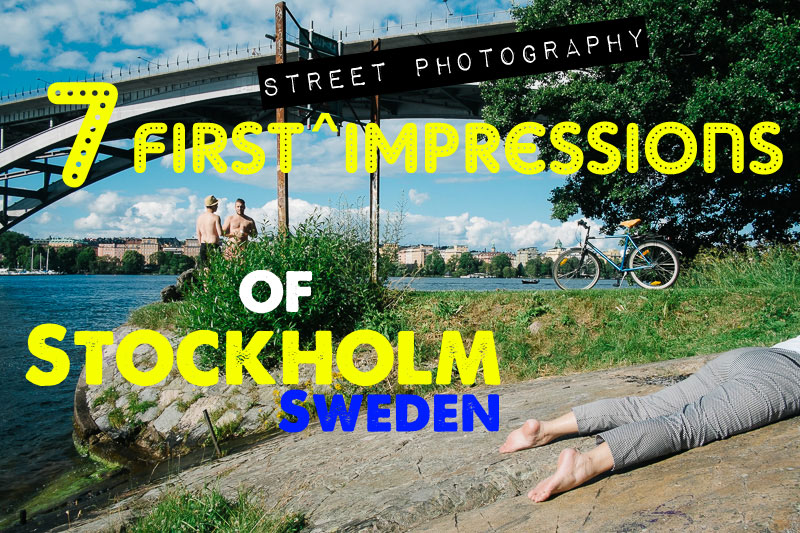 I'd never made it up to any of the Scandinavian countries before, but since summer had just begun and I was already up in Moscow, I decided it was as good of time as any to capture some of it. So in early July, I took a flight from Moscow to Stockholm, Sweden to see what it was all about.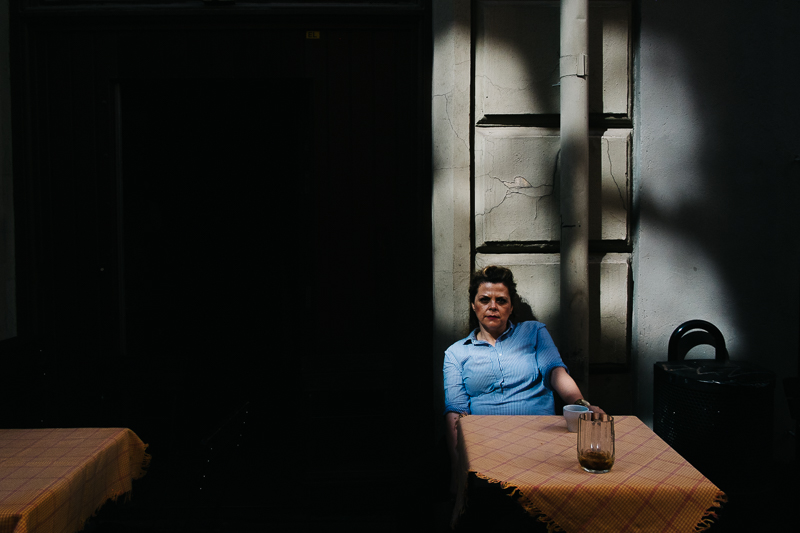 Exploring Stockholm on foot gives a tranquil feeling for a photo walk. There's a mixture of older architecture, modern lifestyle, and beautiful nature all in a city that gives a very organized vibe. The city is also spread across multiple islands so you're surrounded by water whatever direction you decide to take. It gives an interesting and relaxing atmosphere for street photography.
Beneath this picturesque yet modern exterior, there's more character to find in Stockholm, though, if you look for it. So here are my first impressions of Stockholm, from my personal Street Photographer perspective…
7 First Impressions of Stockholm 
(From a Street Photography Perspective)
1. Islands full of character
Stockholm is spread across 14 islands. They're closely connected, though, making the city compact and walkable. My favorite part is how many of them have their own character and vibe. Gamla Stan is most well-known to visitors, being one of Europe's largest and well-preserved medieval districts. The cobble streets and older architecture are all extremely well-preserved, giving it a somewhat storybook feeling. It's also extremely touristy, but you have plenty of nearby areas to explore for a change of scenery if wanted.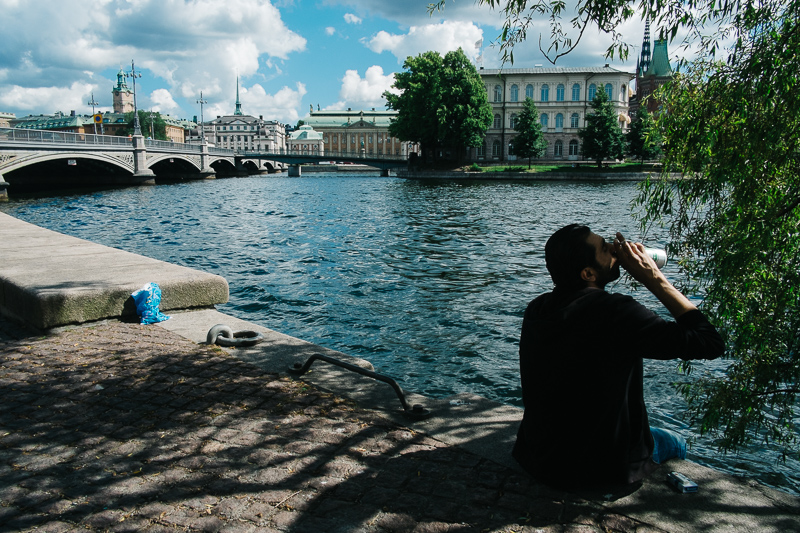 Some of the islands are filled with the more historic vibe, while others feel more modern. Some are filled with parks and nature, while others are good for shopping, restaurants and cafes. You get a mix of different atmospheres and scenery to explore when walking Stockholm. Since most districts are on self-contained islands, it's easy to break them down into well-defined areas. Below are 6 areas that I'd recommend exploring for street photography:
Norrmalm & Vasastaden
Östermalm & Gärdet
Gamla Stan & Riddarholmen
Södermalm & Långholmen
Djurgården & Skeppsholmen
Kungsholmen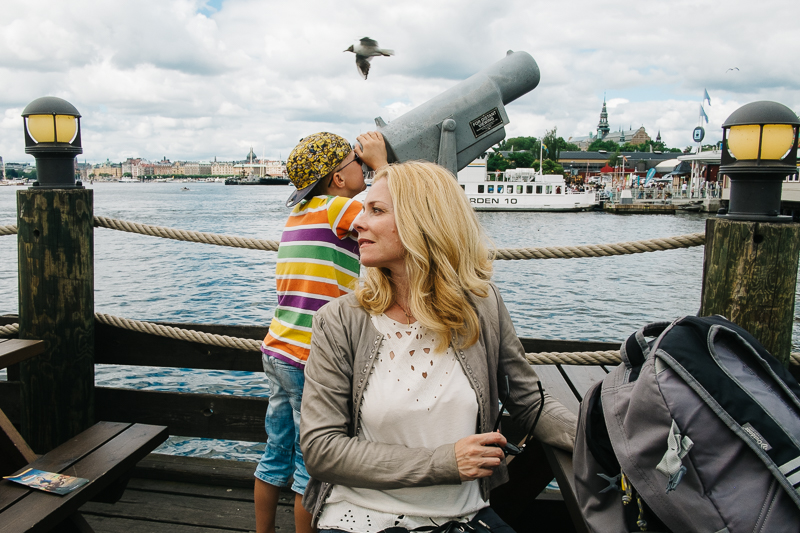 2. Organized
Stockholm gives off a very organized, clean and efficient vibe. Stockholm's historic buildings escaped destruction by war so they feel very preserved and almost newer than they are. Their style shows their age, but they don't look it. Outside of some of the older architecture, Stockholm feels very modern. Much of the city has new construction and development. Everything is clean, organized and running smoothly.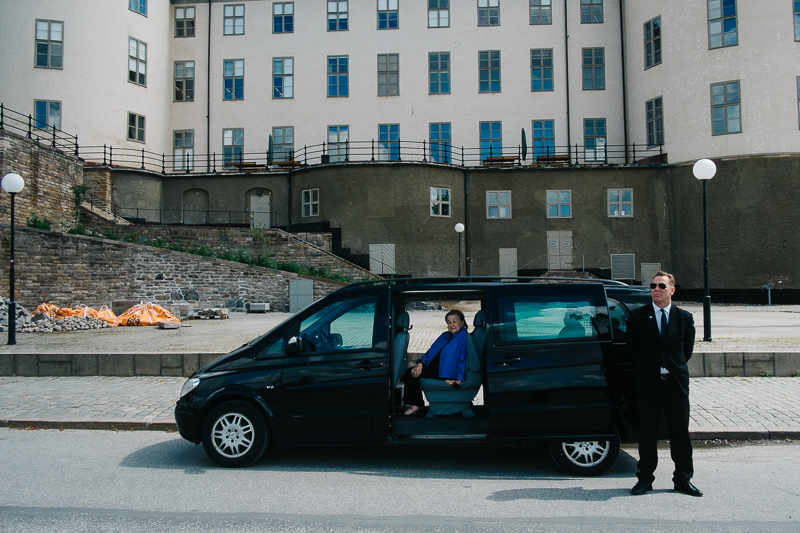 For an older city, it feels well-managed and chaos free with a simplicity and oddly enchanting organized atmosphere.
3. Lots of Nature
In addition to the pleasing architecture, Stockholm is filled with nature and beauty. With compact islands filled with parks, it means waterfronts, gardens, and even forests and beaches are part of street photography walks in Stockholm. It can make for some relaxing and picturesque photo walks. Below are 8 parks I'd recommend to check out if you want to shoot in this type of scene. If you like more of the urban atmosphere, though, central would probably be more your speed.
8 parks to check out:
Djurgården
Humlegården
Långholmen
Rålambshovsparken
Kronobergsparken
Observatorielunden
Kungsträdgården
Tantolunden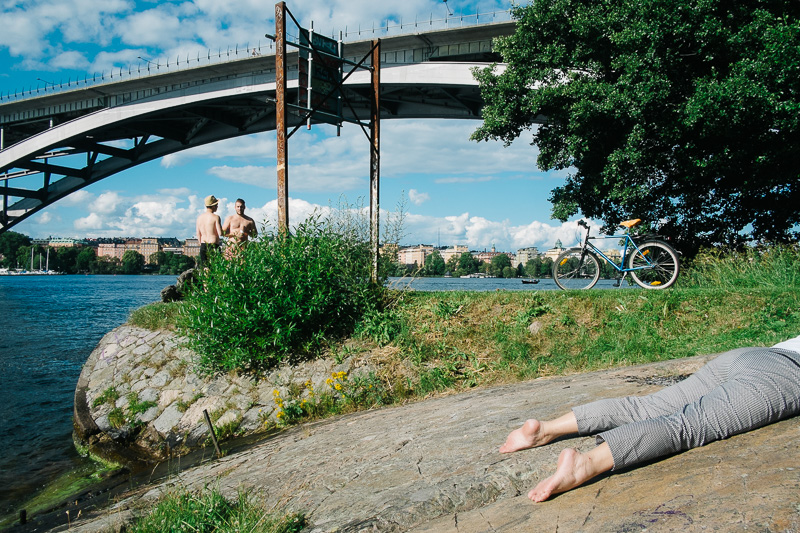 4.  Unpredictable weather, but Gamla Stan and old architecture catches light well (when you have light)
Stockholm can have very unpredictable and quickly changing weather. So if you see the sun out, make sure you take advantage of it. You never know how long it will last. Being so high in the north, the time of year affects the length of the days quite a bit, of course. Many local street photographers shoot flash, partly to combat this, but if you're there in the summer and are lucky enough for some nice weather, this is when the city really shines (pun intended).
The older architecture, especially in districts like Gamla Stan, can catch the sunlight very well too. The narrow cobblestone streets bring in the light at different angles and shadows mixed with the colors and textures of these older buildings. Depending on what you like to shoot, this could be a big attraction for many street photographers.

5. Quiet outside of the tourist spots and central
Outside of Gamla Stan, central and some of the more touristy spots, many of Stockholm's streets can feel quiet. Especially in districts like Östermalm, you can walk a while without seeing many people or much activity. There's a peacefulness to much of the city. Some of that is the mix of nature and water, but a lot of it is the city streets and city life itself in much of Stockholm. The city also has quite a few pedestrian streets, which get you away from any sights and sounds of traffic. For street photographers, it can bring a lack of activity and photo opportunities, but it's also part of the character of the city, especially for its size.

6. Amusement Park Guarantees Activity
Some advice I received from local photographers Jimmy Dovholt and Ola Billamont was when the city is feeling dead, head to Gröna Lund. This amusement park sits on the seaward side of Djurgården Island. And while it's not the biggest park, its location and history make it one of the locals' more popular destinations. It's Sweden's oldest amusement park and serves as a prime venue for concerts, in addition to its rides. The colorful atmosphere mixed with crowds of activity on a setting by the sea, make it a good spot for street photography.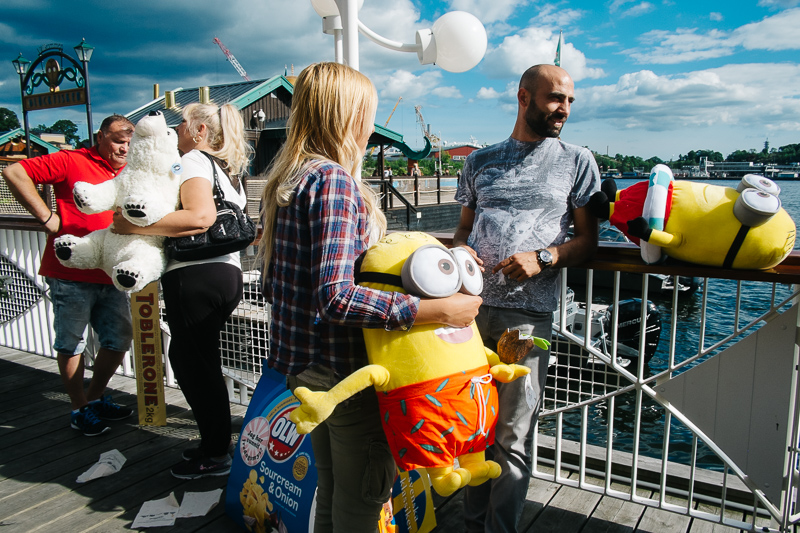 Especially when the city streets feel too quiet, it's great being able to come here for guaranteed activity and life to capture.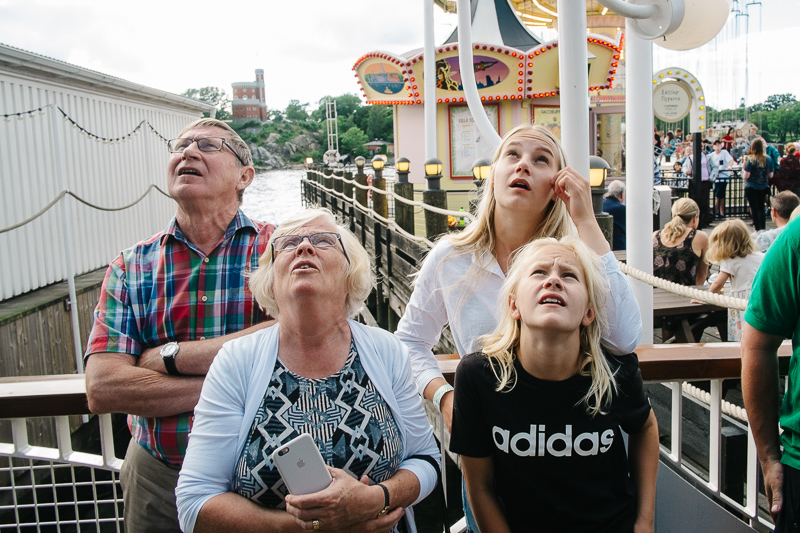 7. Bring a Credit Card
In Stockholm, everybody takes credit card for everything. From a pack of gum to a bus ticket. In Europe, there can be a very noticeable difference amongst countries when it comes to cash or credit. In countries like Germany and the Netherlands, many places won't even accept credit card. Plenty of undeveloped countries are more credit friendly than these countries, but Sweden is the exact opposite. Credit is preferred here and you can easily go a whole trip without spending a coin if you want. In many cases, credit card can even be your only option so it's worth noting for visitors.
*It's not a cheap city, though, so keep track of that credit limit.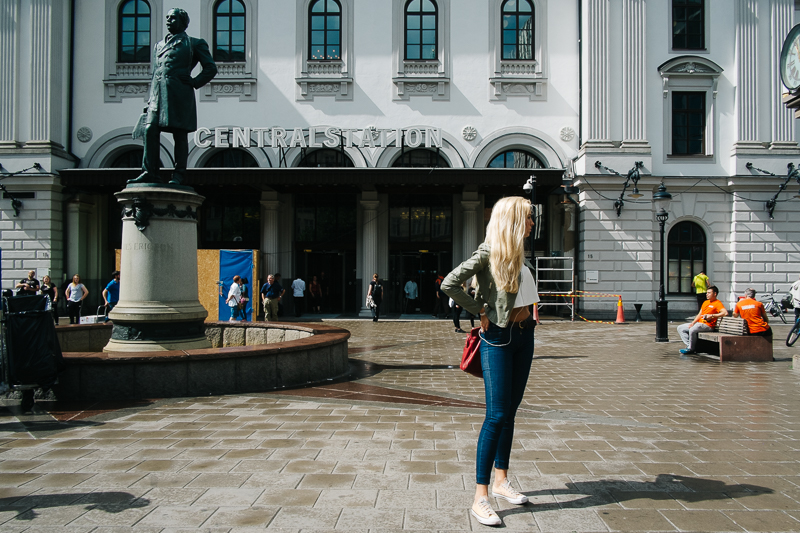 Old Architecture, Modern Organization and Beautiful Nature 
My impressions of Stockholm come from the summer season so depending on when you visit, you could have a much different experience. Being so high north, you won't see much sun in the off-season and the city could be gloomy and quiet. If you come in the summer, though, you'll get a beautiful, clean, modern yet old, mix of nature and urban organization of a city ready for walking. And you should even see some sun :)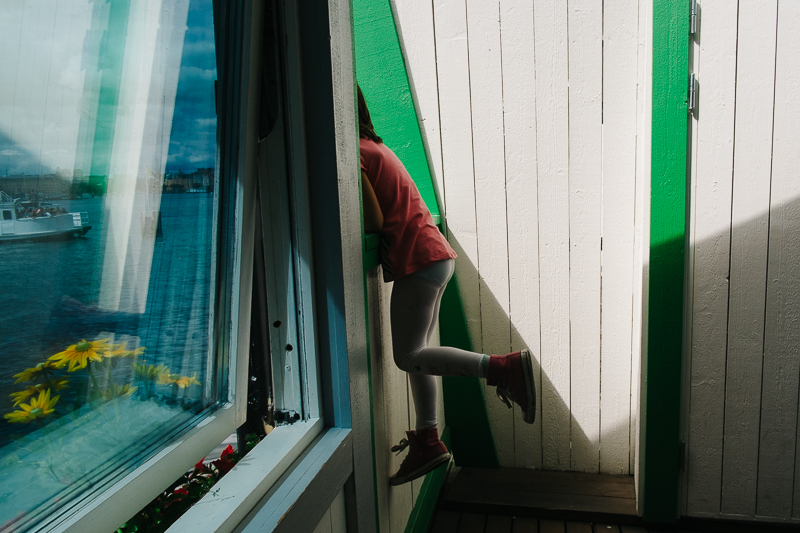 If any of you have been to Stockholm before, tell me about your experience and impressions of the city and country in the comments below! And stay tuned for more on Stockholm, including some of the best Street Photography shots I captured while there.
Click Here for More First Impressions on Cities Around the World 
(from a street photographer's perspective)