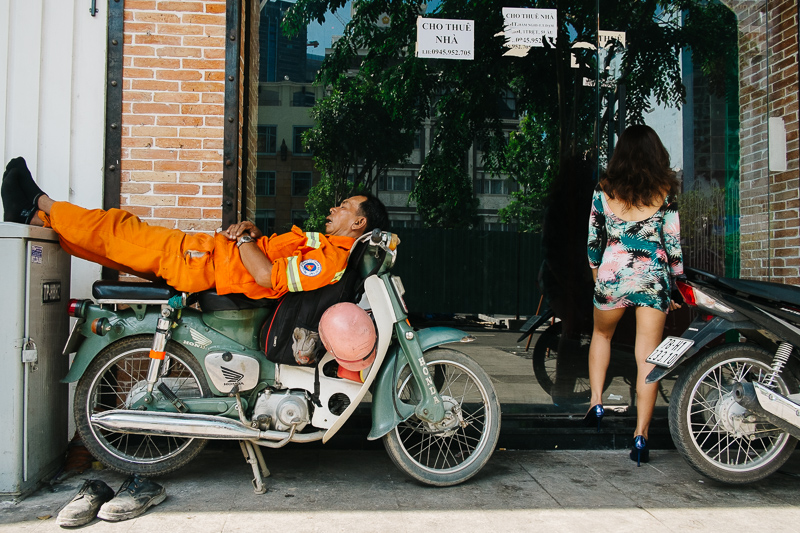 Street Shot Sundays Story & Stats
Story:
This Sunday's Street Shot of the Week was taken on Nguyen Hue Street in Ho Chi Minh City, Vietnam. Also called Walking Street, Nguyen Hue is the first pedestrian-only street in Ho Chi Minh City. The French colonial styled City Hall and Ho Chi Minh statue sit here, which can bring some tourists during the day, but it usually doesn't get crowded until night.
Streets run across each side of the walking lane, lined with cafes and shops. I was walking along when I noticed this attractive woman in a tight, short dress with an unusual pattern that stood out. She was also wearing purple high heels and looked like she was dressed for the club in the middle of the day. As she stopped at a closed business to look in the window, I also noticed a man dressed in a bright orange work uniform sleeping on his motorcycle, with shoes off on the ground and his feet resting above.
In Saigon, men sleeping on their motorbikes are about as common as Pho restaurants. So I normally avoid taking photos of them due to how common of a sight it is, but this scene gave me a reason to stop. I composed them together while catching some of the city reflection in the window, and making sure to expose correctly since they were under shadow, out of the bright Saigon sun. For me, this scene is 100% Saigon. 
Stats:
Camera: Fujifilm Xpro1
Lens: Fujinon XF 18mm 
Focal Length: 18mm (27mm full frame equivalent)

Aperture: f/5.6

Shutter Speed: 1/500
ISO: 800