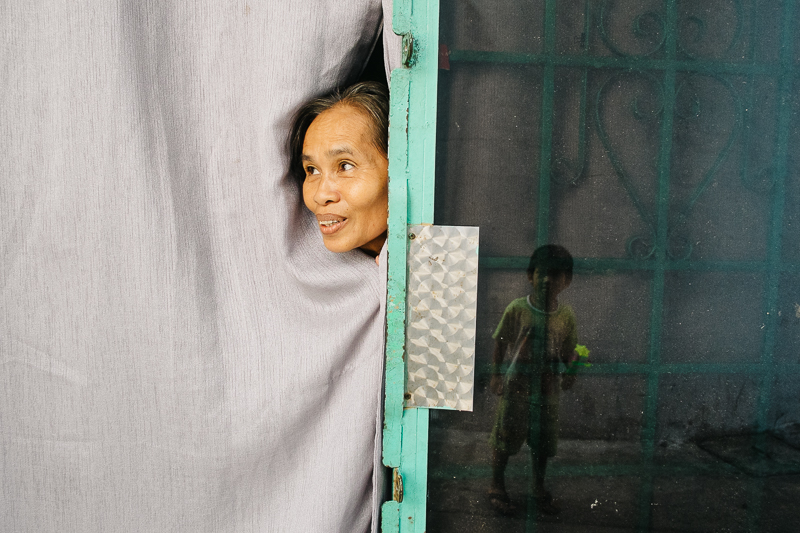 Street Shot Sundays Story & Stats
Story:
This Sunday's Street Shot of the Week was taken in the Gò Vấp district of Ho Chi Minh City, Vietnam. Gò Vấp is a district in the northwest of Saigon, just above the international airport. Having the airport right inside the city can provide some interesting captures from the planes flying so low over the buildings. This urban district also has some nice little alley neighborhoods and markets for street photography.
I was exploring the winding, narrow alleys with some local street photographers. It was pretty quiet, but around a corner, we came across a few people outside their home. Out of the corner of my eye I saw an older women quickly pop her head out of her curtain door. She popped back inside before I had a chance to capture it, but I decided to get my camera ready just in case she came out again. 
Sure enough, only a few seconds later, out popped her head. At the same time, I saw a little boy watching me in the door window's reflection. So just as she looked to talk to someone in the street, I snapped the photo to include them both. It doesn't get much friendlier than here so she had a good laugh about it before going back inside, while some of the curious kids gathered around to check out my camera.
Stats:
Camera: Fujifilm Xpro1
Lens: Fujinon XF 18mm 
Focal Length: 18mm (27mm full frame equivalent)

Aperture: f/5.6

Shutter Speed: 1/500
ISO: 1600