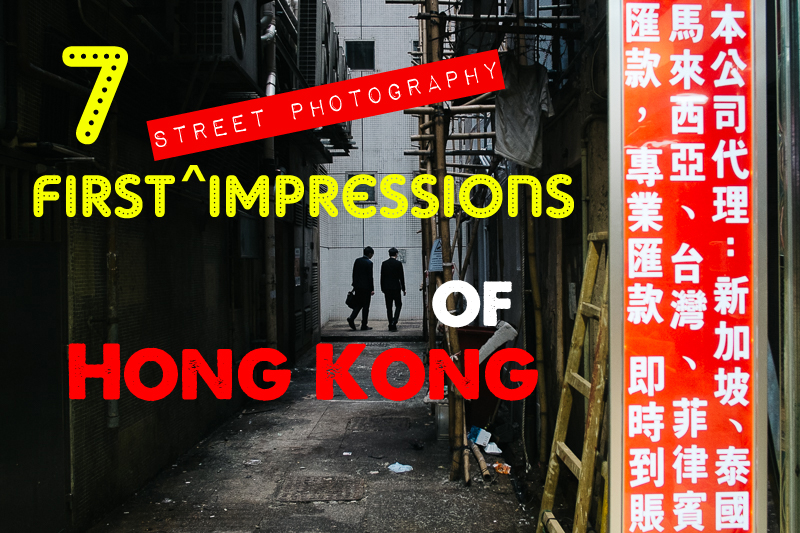 Unfortunately, I haven't had great luck with weather in Hong Kong. Mostly clouds and rain instead of sun. And while that can be frustrating, clouds can't cover the fact that Hong Kong is a one of a kind city full of character, variety and interest. A densely populated multi-cultural city that shows the future in one direction and the past in another, all wrapped up into one of the better big city experiences I've had. Clouds and all.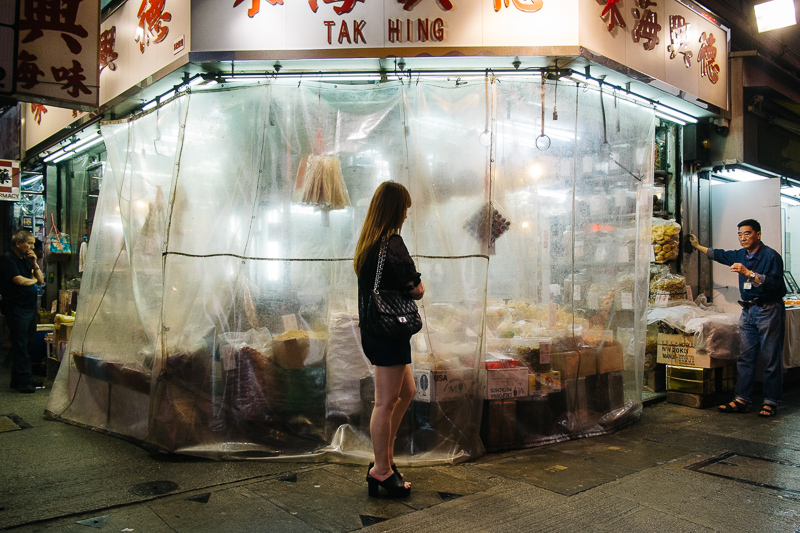 So here are my first impressions of Hong Kong, from my personal Street Photographer perspective…
7 First Impressions of Hong Kong 
(From a Street Photography Perspective)
1. Unique Mix of Old & New
Probably my favorite part of Hong Kong is the mix of old and new it has going. While it has some of the nicest sky scrapers and modern buildings you'll see anywhere, it's managed to keep the older buildings and narrow alleys from its past.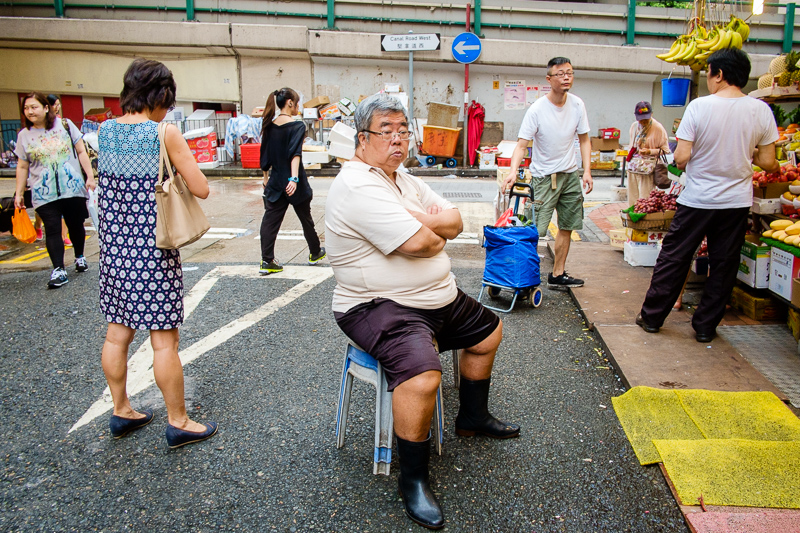 There's that beautiful Hong Kong skyline up high, but down on the ground you can find areas that take you back in time with old, Chinese neon signs, markets, dirty alleys and plenty of character. 

2. One of the Best City Skylines
I don't go as crazy over skylines as many people, but I have to admit the view of Hong Kong Island from Kowloon is one of my favorites in the world. The shiny and metallic buildings look beautiful with their variety of shapes and architecture. Then directly behind them you have the green hills providing a very interesting backdrop and juxtaposition. And while I didn't like all the clouds for photography light, they do provide some moody fog that adds even more to the skyline. Having all this set on the water with a great viewpoint directly across in Kowloon, it's one of the few skylines that I can remember enjoying as much as I did.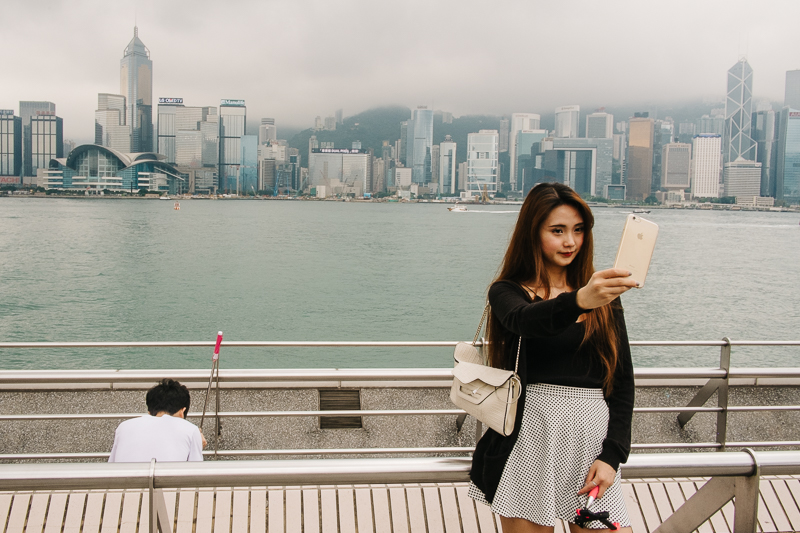 3. Narrow Alleys Show a Different World 
One of the best parts of Hong Kong is exploring the different worlds hidden within the narrow alleys. While being in such a developed international city, it immediately takes you back in time to a feeling of the Hong Kong of old.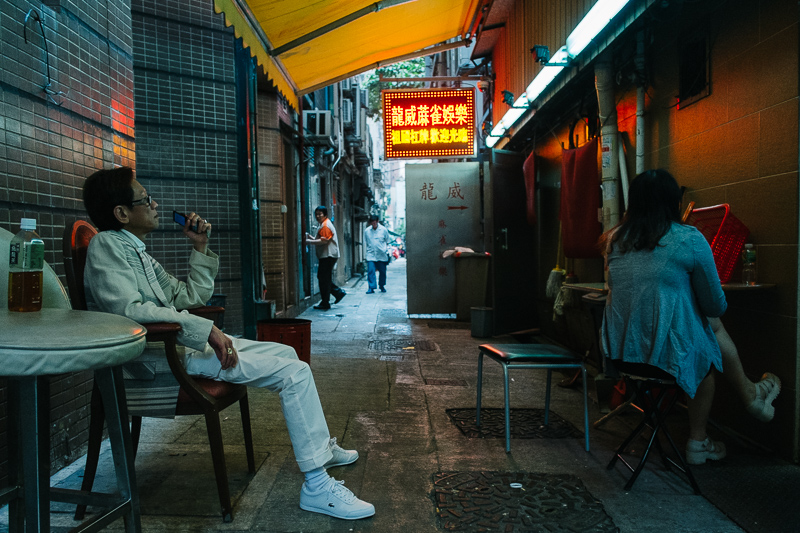 You'll find a lot of workers in the back alleys, especially from restaurants. There's junk and a dark, gritty atmosphere, but one that can make for interesting photos.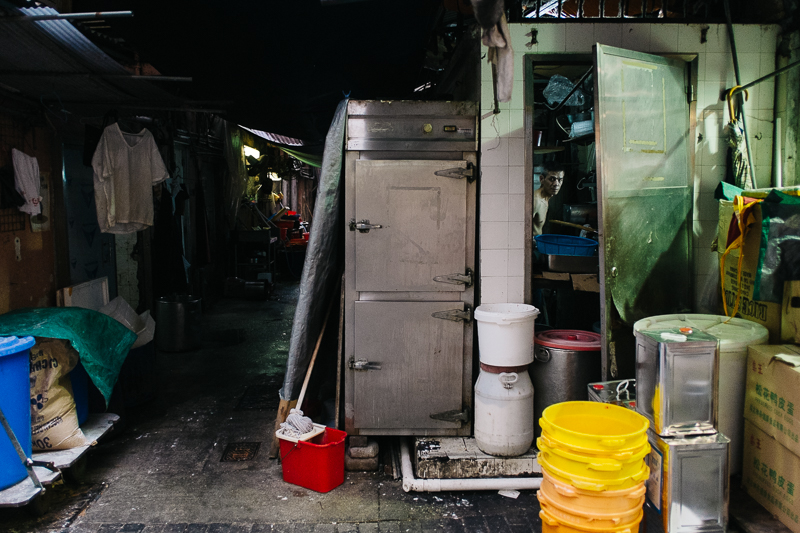 4.  Dark and Cloudy, Not the Best Light
My time in Hong Kong was dark, cloudy and rainy for the most part. I rarely saw the sun. Now I wouldn't include an impression based on bad luck, but this weather isn't completely out of the norm in Hong Kong. Gray days can be common here and sunshine levels aren't great. But that can be part of the mood in photos so it doesn't have to be a negative. With the lights and atmosphere, the wet weather can be used to add some interest.
5. Kowloon & Hong Kong Island are Both Great
A popular question online is where to stay, Hong Kong Island or Kowloon. Personally, if I had to choose, I'd pick spending more time in Kowloon, but you have to spend plenty of time on the island too. For most, it would be easy to prefer either because they both have lots to explore and provide their own vibes.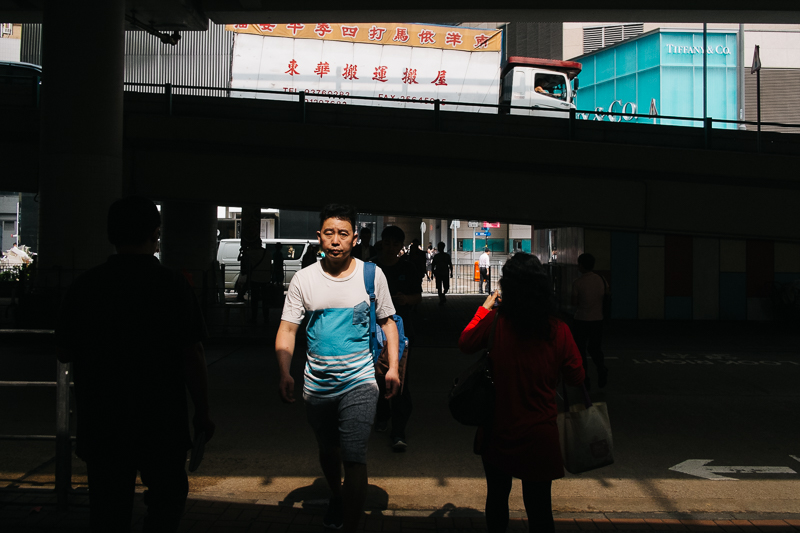 On Hong Kong island, you have the famous skyscraper skyline, Central/downtown, Hollywood street, Wan Chai/red light district, Causeway Bay/Times Square, and more. On Kowloon, you can see that skyscraper skyline and you have the famous Nathan street, Ladies Market, Goldfish Market, Temple street, and endless streets that give you that Hong Kong of old. Kowloon feels a little edgier, while the island feels more cosmopolitan, but both share these characteristics too. You just have to give both plenty of your time with your camera.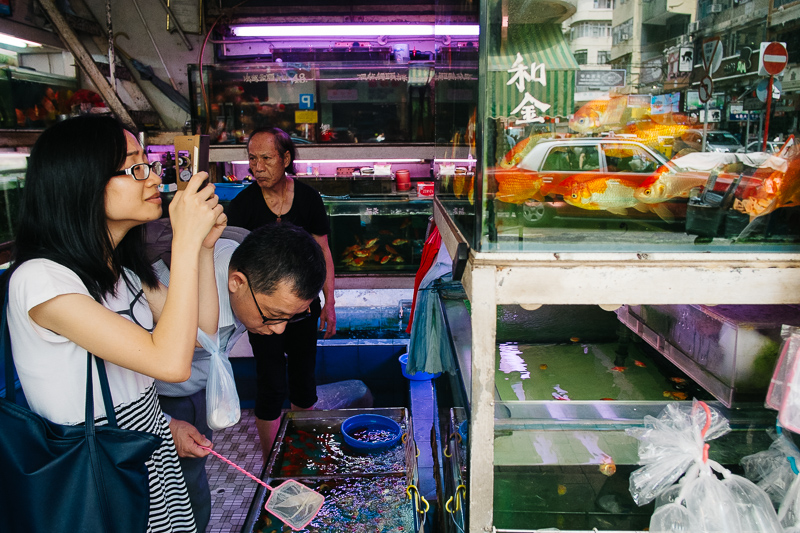 6. International Vibe
Hong Kong is an international city like no other. The blend of Asian and British influence is very felt. It has a mix of east and west maybe like no other city I've been to. You can find it all in Hong Kong. This can be seen in the architecture, signs, shops, restaurants and atmosphere. It can also be seen in the mix of nationalities crowding the streets around the city. There's a feeling that anyone around the world could move here, and they do.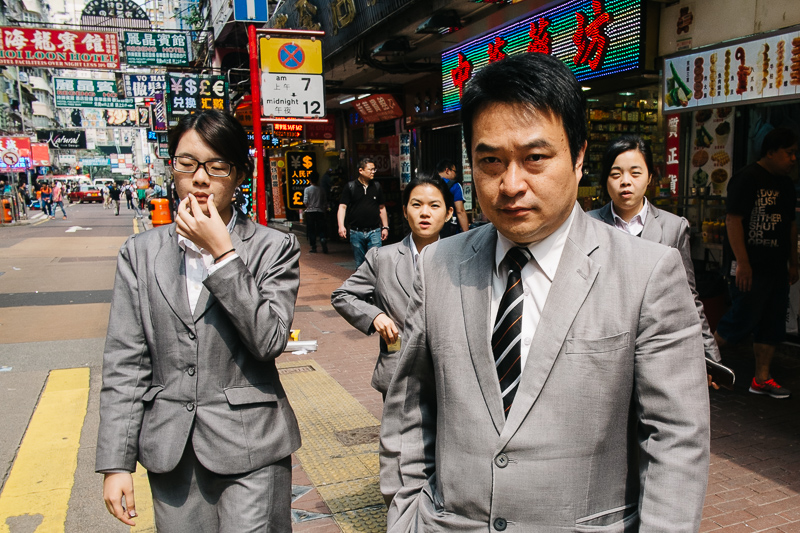 This, of course, creates an attractive environment for street photography with a variety of interest to capture.
7. Take the Ferry. Even to Macau.
You can take the underground metro across the water, but you have to take the ferry at least a few times too. I took it almost every time. It goes often and gives great views of the city. And while the ferry life doesn't compare to a place like Istanbul for photography, it still can provide some interest. 
You can also take an hour ferry ride to Macau for a day trip. Macau just passed Las Vegas as the city with the highest gambling revenue. This has more to do with the amount of Chinese tourists it attracts, as its casino atmosphere pales in comparison to Vegas, but it still provides bright lights and grand casinos. It also provides historic monuments and cobblestone streets of Portuguese influence, as Macau was actually the first and last European colony in China. If you have the time, I'd highly recommend the short trip for some more street photography with a very different change of scenery.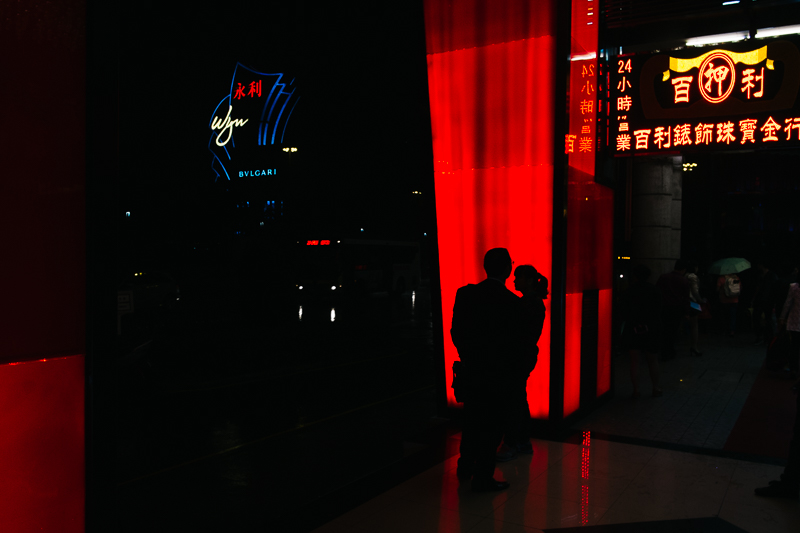 Didn't Love the Weather, but Still Loved Hong Kong
For someone that will search endlessly for good, bright sunlight, it's saying something that I left Hong Kong loving it after seeing mostly rain and clouds. While I was frustrated with the weather and lack of light, I still couldn't help, but appreciate all that the city has to offer. It's high on the list for a return someday soon.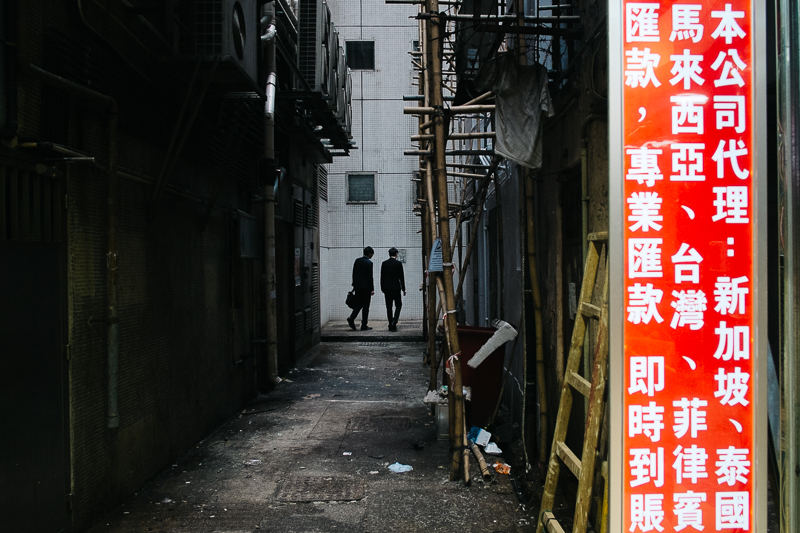 If any of you have been to Hong Kong before, tell me about your experience and impressions of the city and country in the comments below! And stay tuned for more on Hong Kong, including some of the best Street Photography shots I captured while there.
Click Here for More First Impressions on Cities Around the World 
(from a street photographer's perspective)