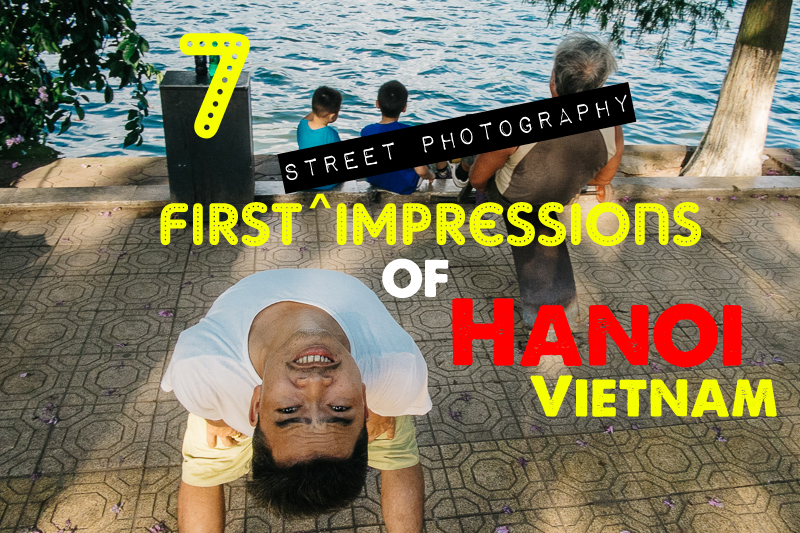 While living in Ho Chi Minh City, Vietnam, I made sure to make a trip up to the capital of Hanoi. I'd heard a lot of good things from locals, especially photographers, so I was excited to see another side of the country. I also met up with Hanoi's very own Chu Việt Hà, who thankfully showed me around his city. I'd recommend everyone check out his work, if you haven't already. Super talented.
Hanoi quickly grew on me and while I love Saigon, I'd have to say Hanoi is even better for photography. It has a more old world atmosphere full of character that's hard to beat. It's also extremely walkable and has some can't miss spots that you can go to over and over again.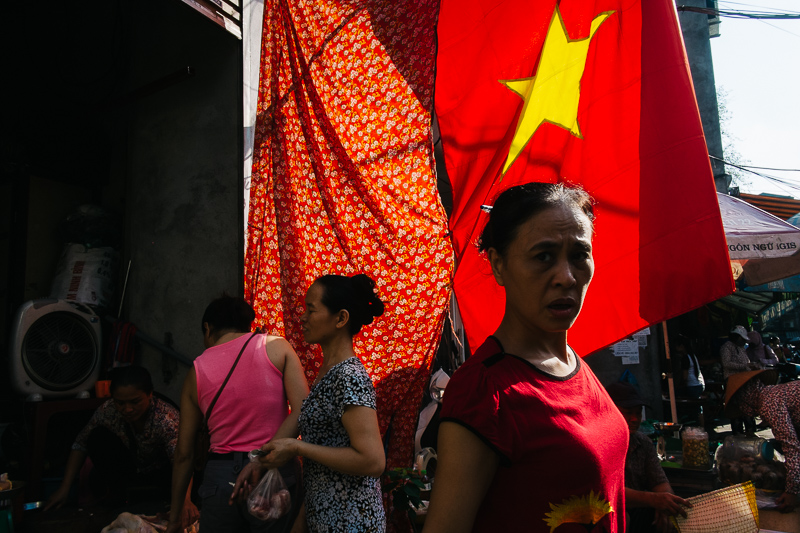 So here are my first impressions of Hanoi, from my personal Street Photographer perspective…
7 First Impressions of Hanoi, Vietnam
(From a Street Photography Perspective)
1. For places to shoot,  it's very walkable and compact
The more I shoot, the more I appreciate cities where I can walk most everywhere without taking transportation. I can step outside with my camera and walk all day exploring and shooting, and not go miles without seeing activity or interest. Hanoi is one of those cities. In comparison to Saigon (Ho Chi Minh City), it's a much more walk friendly city.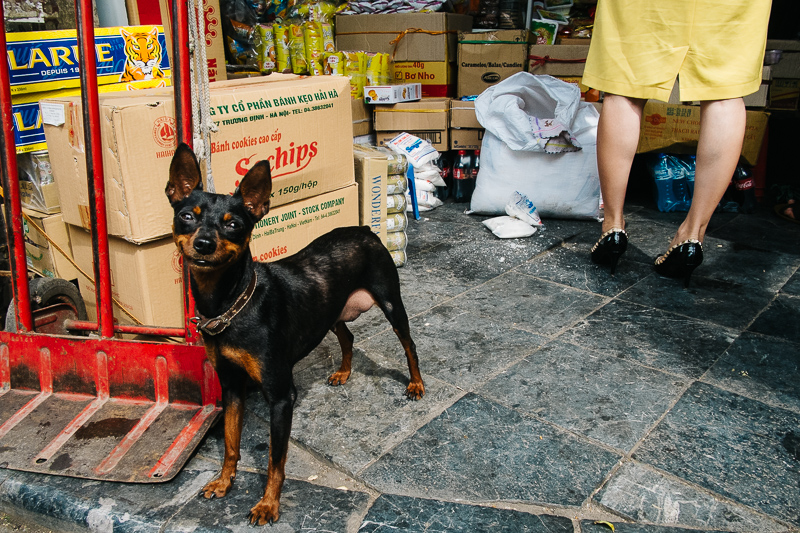 You have the Old Quarter, popular lakes, main markets, train tracks, and other neighboring areas of interest all condensed together. It's easy to go from one place to the next, while passing more activity and scenes most of the way. You can even make a few rounds of the main places as they change from morning to night. All in the same day without ever getting bored or needing to catch a ride. It makes for a great shooting experience and plenty of captures.
2. Lots of character in the old quarter and markets
Hanoi has been inhabited since before 3000 BC and recently celebrated its millennium of being founded. All that time has given the city a ton of character. You can really feel and see all the history when walking around Hanoi. And nowhere do you feel this more than in the Old Quarter.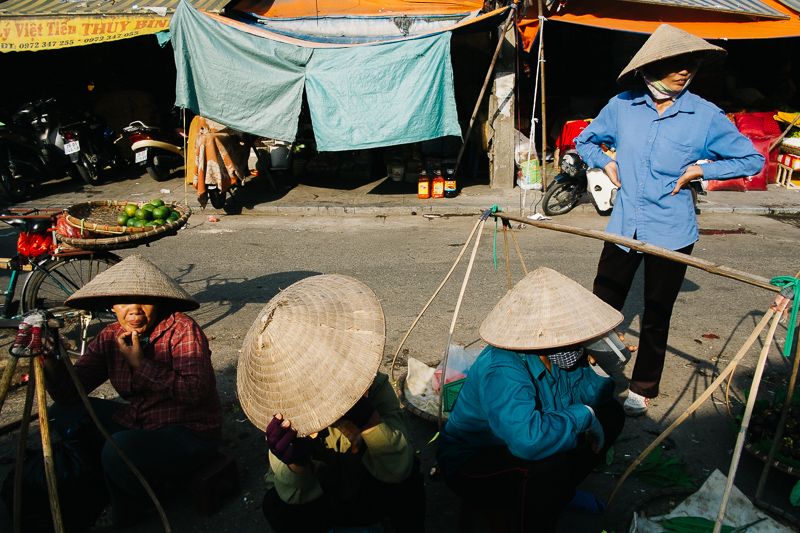 The Old Quarter is how you picture Vietnam many years ago, with women in their cone-shaped hats carrying goods, carts being pulled around markets and street sellers filling the streets everywhere. The French-colonial architecture and shop-houses are preserved from centuries ago, while still showing their age. Most of the buildings are narrow and low to the ground, and with activity moving in every direction around you, there's a feeling of life compacted around you where ever you go.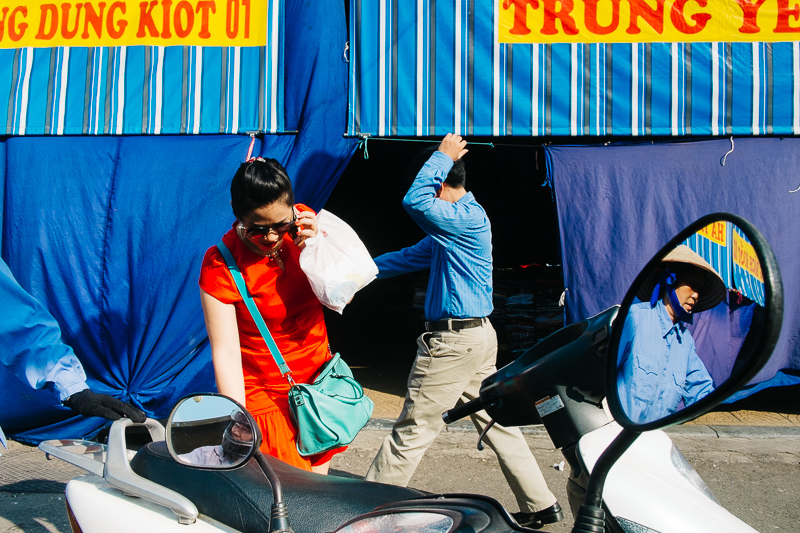 The old quarter is the heart and soul of Hanoi. Its ancient commercial streets take you back in time and give you an atmosphere made for street photography.  
3. The Lake is Always Full of a variety of Life
After the Old Quarter, Hoan Kiem Lake is another top spot that always supplies tons of life. It's one of the more unique city lakes you'll find with the amount and variety of activity it attracts. Locals, Tourists, traditional photo shoots, exercise, prayer, street sellers, performers, and more. It has it all, from sun up to sun down.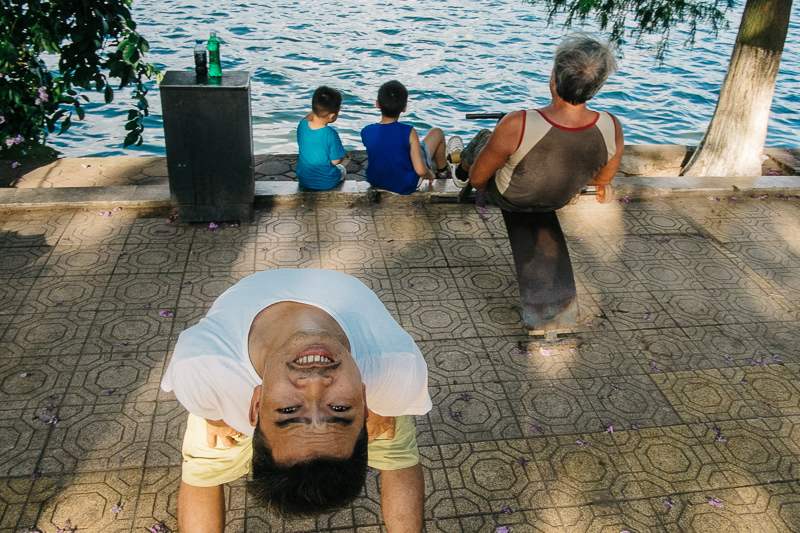 The morning has a more calm and peaceful atmosphere, but is definitely worth waking up early for due to the light and all the people coming to exercise or enjoy the peace. During the day it gets busier with tourists and a mix of locals, but just before sunset is my favorite time to come. The lakeside gym fills up with characters and the scene lining the whole lake really comes alive. The lake's center location right by the Old Quarter makes it a prime spot for coming back as often as you want.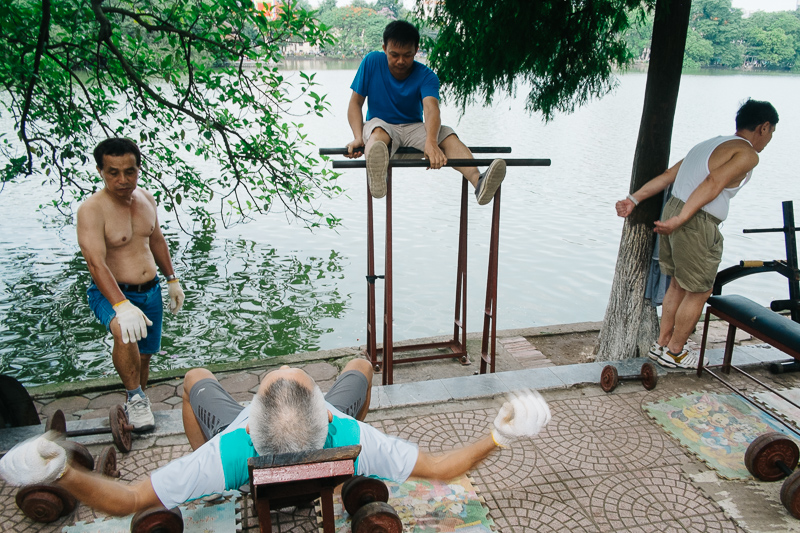 4. Just like Saigon, Plenty of Motorbikes
After living in Saigon, it wasn't as noticeable for me, but for any newcomers, it's definitely worth noting. The streets are dominated by motorbikes and scooters like no where you've seen outside of Vietnam. Everyone has a motorbike here and knows how to weave between each other, only inches apart.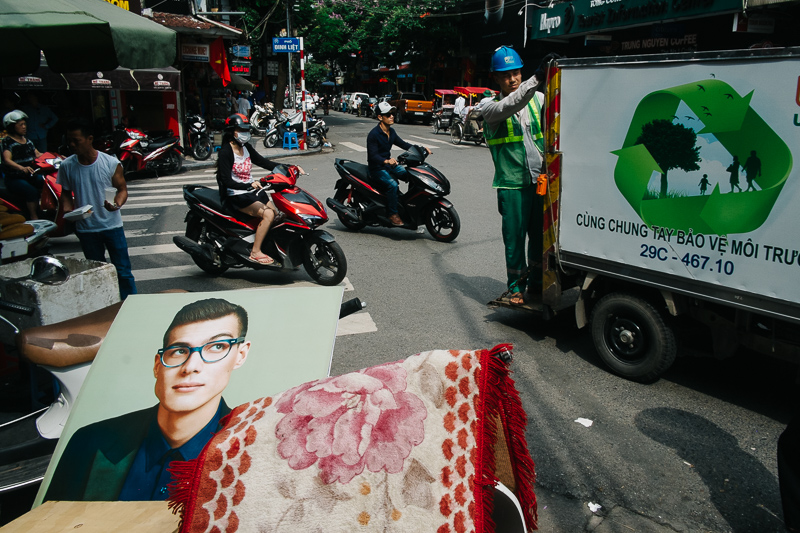 The sounds and sights of these motorbikes become a part of the atmosphere in Hanoi and is something you'll remember as much as anything. Also, learning how to cross the roads becomes part of the fun. It's a little more unorganized here than Saigon, but with smaller roads. For the most part, though, they still move in a flow that allows you to cross the street in rhythm. Hesitate or step backwards in the middle of the street, you might be in trouble, but as long as you confidently move across without stopping, you're good. 
5. Check the alleys!
This is becoming repetitive for asian cities, but so many people ignore the narrow side streets when a lot of time that's where the photos are. In Hanoi, these narrow alley gems are everywhere. It can be like finding a city within a city with all the life that goes on in these alleys. Also, if the light is good, it can create some great atmosphere and sun rays to play with.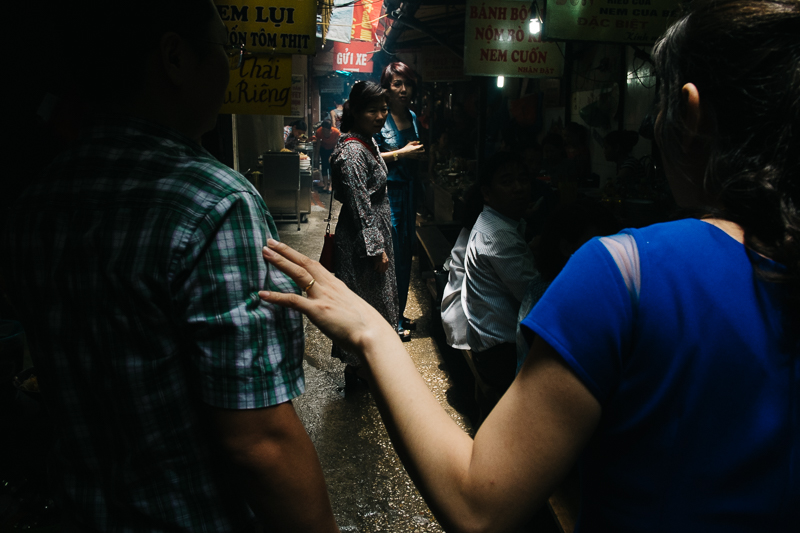 6.  Walk the railroad too!
The railroad became another favorite, and unique, street photography spot for me. You can start at one end and just walk along through the city center on these tracks. What's great about these tracks are the little homes lining them. The older buildings are only steps from the tracks and while they're slowly falling apart, they still hold plenty of life.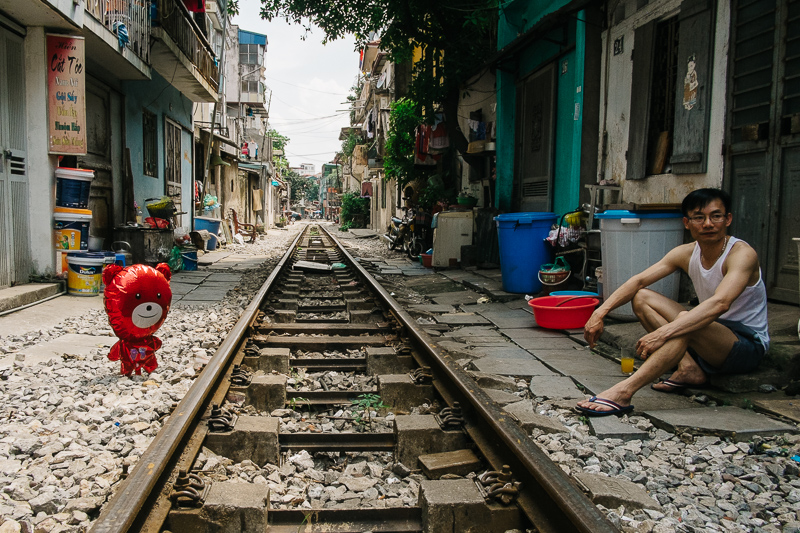 Many people leave their doors open and the outside feels like an extension of their home for them. Women hang clothes out to dry, men sit out for a smoke, kids play, and chickens hop around looking for feed. Not only does it supply photo opportunities, but it provides an enjoyable walk with friendly locals and a different atmosphere within the city.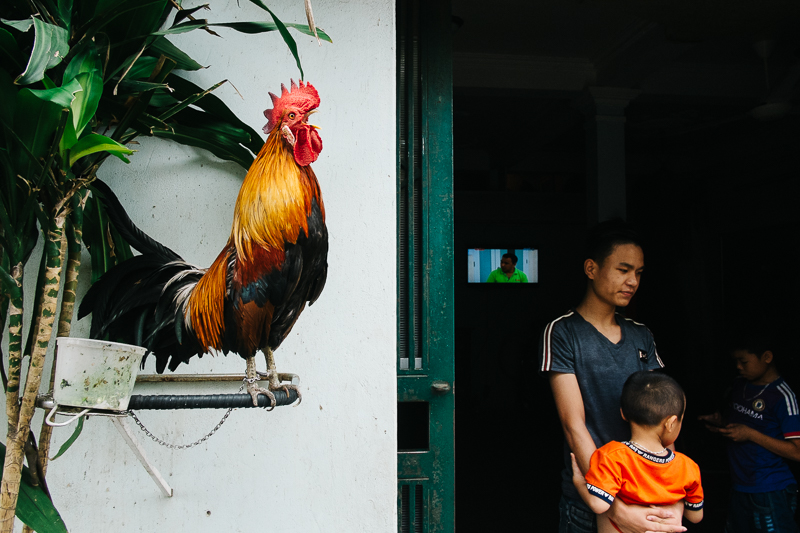 7. For Street Photography, Hanoi Beats Saigon
I lived in Saigon and loved it, but if I have to be honest, Hanoi beats it when it comes to street photography. This was an opinion that most local photographers shared with me beforehand too. Saigon is great city, but Hanoi is so much older and filled with even more character. It's also more walkable and better for a shorter visit with your camera. They share many similarities, including the friendliness of the people, but Saigon is a little more polished and urban, while Hanoi gives a little more character and authenticity. If big city skyscrapers and development are your preference, then Saigon might win out, but for me, Hanoi has a very attractive blend of big city and old world. Both cities are highly recommended, though, so visit both and decide for yourself.

High on my list for Asia
I'd have to put Hanoi up towards the top on my list of street photography cities in Asia. It has character, charm, plenty of places to shoot, some of the most photography friendly people you'll meet, and packs this all into a very walk friendly city. For visiting, there's nothing I can really think of negative to say about Hanoi. Just watch out for the dog barbecue stands…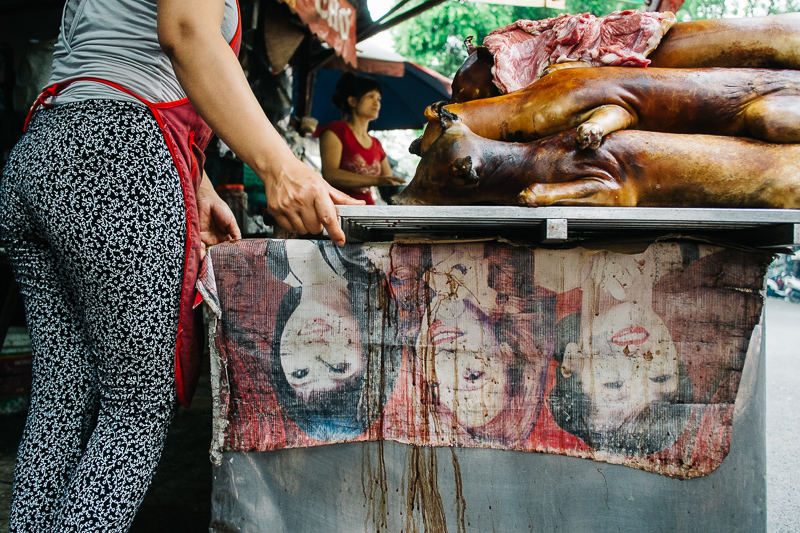 If any of you have been to Hanoi before, tell me about your experience and impressions of the city and country in the comments below! And stay tuned for more on Hanoi, including some of the best Street Photography shots I captured while there.
Click Here for More First Impressions on Cities Around the World 
(from a street photographer's perspective)