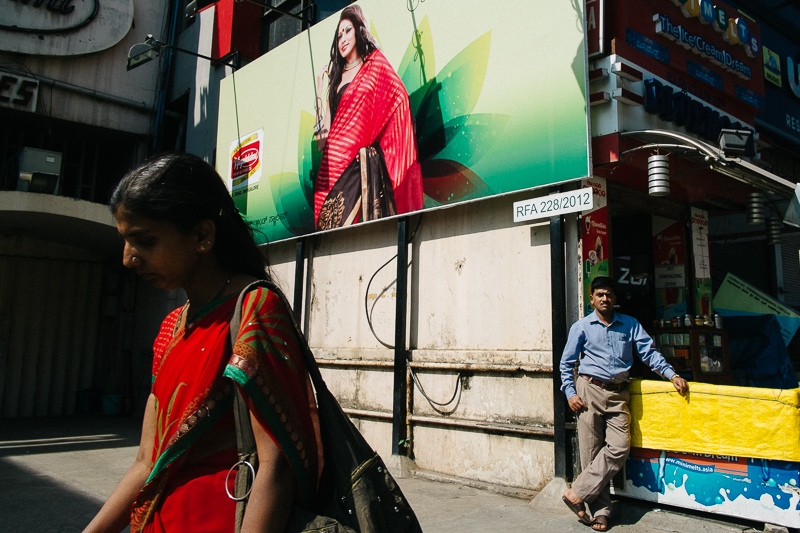 Street Shot Sundays Story & Stats
Story:
This Sunday's Street Shot of the Week was taken by Brigade Road in Bangalore, India. Brigade Road is one of Bangalore's busiest shopping streets and a popular spot to hang out due to all the restaurants and bars in the area. It attracts a trendier, hip and young crowd, but you'll find a mixture of everybody walking around here due to its center location.
It was my first day in Bangalore and I got up early to explore the new city, starting from the metro station here. Brigade Road is much quieter in the morning, with many of the shops not opening until later in the day, but it made for a nice walk compared to the more chaotic evenings.
I was at the bottom of Brigade Road heading towards KR Market when I noticed this billboard across the street. The light was interesting and in the advertisement there was woman wearing a red saree, matching a real woman I saw walking across the street. I also liked the splashes of yellow and blue a man in the background could add to the scene, so I crossed the road and timed the shot to include her with the matching advertisement and man in the background, all framed together in a triangular shape.
Stats:
Camera: Fujifilm Xpro1
Lens: Fujinon XF 18mm 
Focal Length: 18mm (27mm full frame equivalent)

Aperture: f/11

Shutter Speed: 1/500
ISO: 640