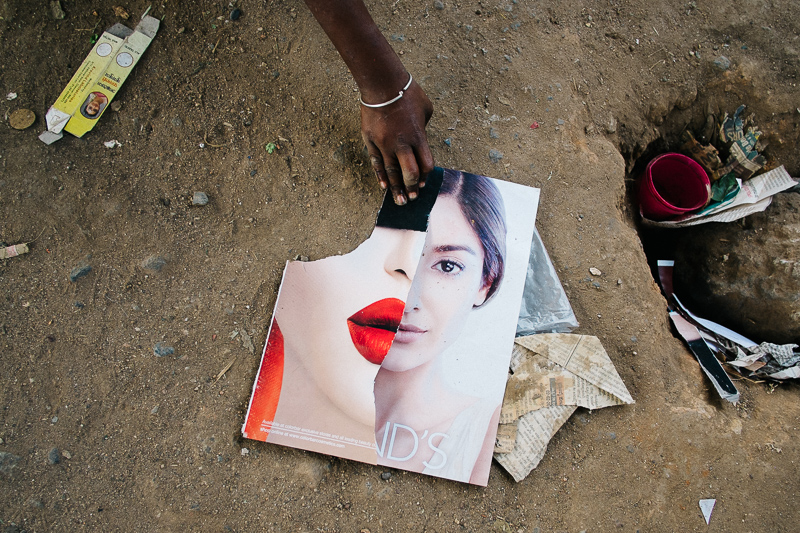 Street Shot Sundays Story & Stats
Story:
This Sunday's Street Shot of the Week was taken around KR Market in Bangalore, India. KR Market is probably the most active area in Bangalore, with multiple markets, each with their own specialty. There's not really a time of day, or night, that it completely shuts down. It's the beautifully chaotic India that you envision, surrounding you with a variety of activity wherever you go.
For this shot, the sun was setting so I was finishing the day shooting in the market's outside bus station before catching a ride back home. While walking, I noticed a magazine on the ground with its pages ripped in an interesting way, putting a woman's face on top of another (as seen above). So I started taking a few photos of it framed amidst the dirt and trash covered ground.
While shooting, I had a few people watching me curiously wondering what I was doing, probably thinking I was crazy. One of the most curious, a small girl, came up close to watch me. Then suddenly she kneeled down and touched the magazine during one of my shots. After looking back at these photos, it ended up being the one I liked the best. It added a little mystery and human touch.
Stats:
Camera: Fujifilm Xpro1
Lens: Fujinon XF 18mm 
Focal Length: 18mm (27mm full frame equivalent)

Aperture: f/3.6

Shutter Speed: 1/500
ISO: 640