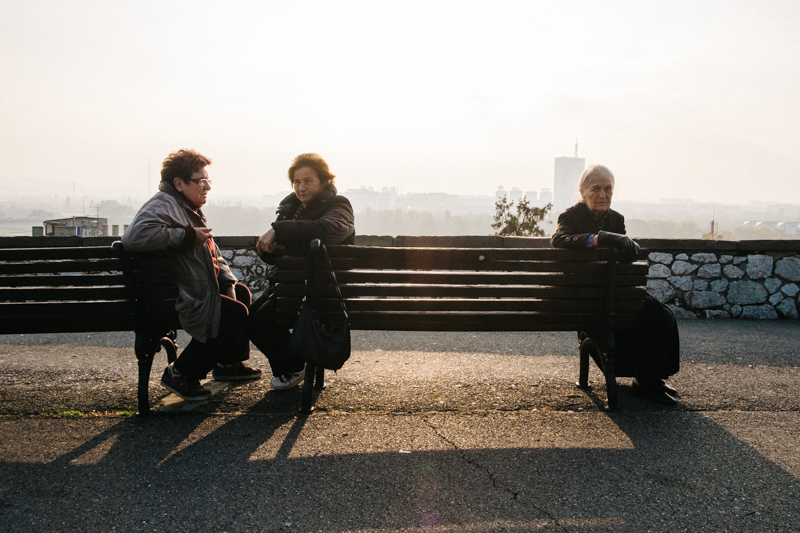 Street Shot Sundays Story & Stats
Story:
This Sunday's Street Shot of the Week was taken in Belgrade, Serbia at Kalemegdan Park by the Belgrade Fortress. This area not only has the best views of the city, but also has a unique atmosphere for Street Photography. Plenty of people come hang out around the large park and fortress, including locals. The light is interesting up here too, along with the backgrounds and scenery.
The sun was out and I was walking along the side of the park overlooking the river and city. People were enjoying the views and relaxing at the long row of benches. I noticed three older woman sitting on the benches, all facing backwards. I'm not sure why they were all turned opposite to the view. Maybe the sun was too bright or maybe they enjoy people watching more than views. Either way, I found them interesting, along with the juxtaposition, background, lighting and shadows. 
So I took a couple photos. Two of them gave me a glance on the second shot, which I ended up liking better. There's something about their natural looks, especially the woman on the far right. I'm not sure what they thought about me taking their photo, but they didn't seem to care much. So I kept on walking towards the fortress, while enjoying the sunny day on top of Belgrade.
Stats:
Camera: Fujifilm Xpro1
Lens: Fujinon XF 18mm 
Focal Length: 18mm (27mm full frame equivalent)

Aperture: f/11

Shutter Speed: 1/500
ISO: 800