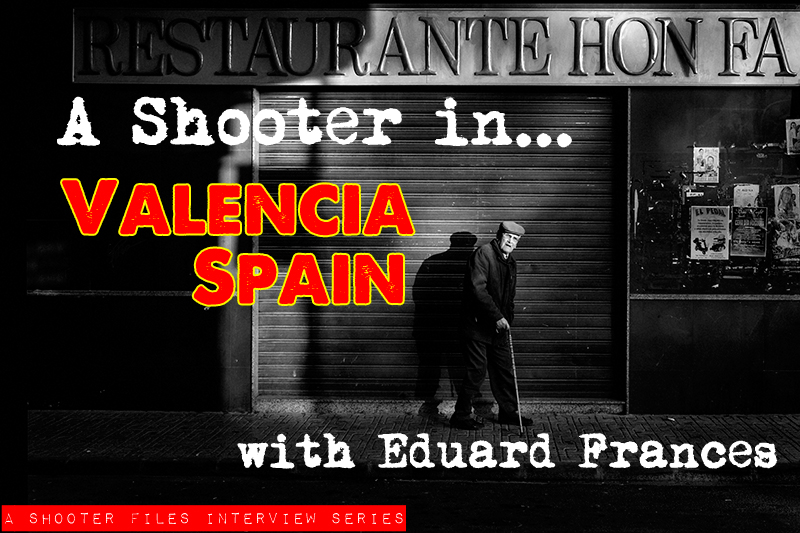 *A Shooter Files interview series featuring photographers from around the world, with a focus on capturing Street Photography in their own cities and countries
The Shooter :
Eduard lives in the east of Spain in Xàtiva, Valencia. He is also a member of one of my favorite photo collectives, APF.
Early on, Eduard learned Ansel Adams' zone system and experimented with different film techniques. While he works in digital today, he still gathers his technique from his film days, which can be seen in his work. People and moments in the streets are what he loves to capture most. Through light, shadow and his use of black & white, Eduard captures the soul of the people and surroundings he photographs.

In much of Eduard's work, you can see that he has a strong grasp of how to balance the humanity of the people within the aesthetics and geometry of their surroundings.  Light, tone, texture, lines, shapes and more play together as the perfect compliment to the people he captures on the streets. His command of photographing in black & white helps bring out the feeling even more in his work.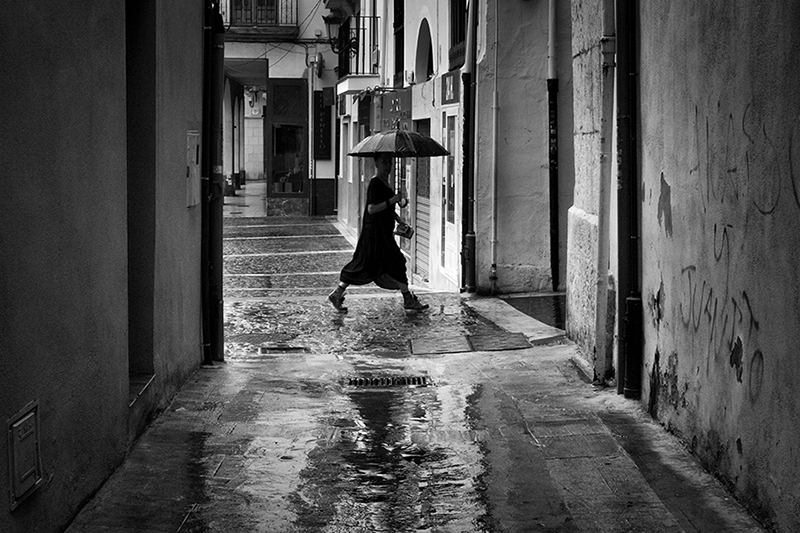 I'm very thankful that Eduard agreed to be interviewed and featured, along with his city and photos, for this installment of "A Shooter in…" interview series.
And now for the interview…
(All photos were made in Valencia by Eduard Francés)
1. Can you tell me a bit about how you got into Photography, and more specifically, Street Photography?
A cold morning in 1987, when I was walking the streets of Xàtiva (in Valencia), I found a beautiful shot of my piece "La pelu." When I captured this shot and I reveled in it, I realized my passion for something awesome; to capture unrepeatable moments from people's lives.

2. How would you describe your style/interests when it comes to photography?
I look around me, even without my camera. I'm thinking in the frame and how my shot can be better. It has to be a composition with harmony and calling the spectator's attention.
In my opinion, Street photography is unrepeatable. This is very important for me as an author. Overall, I work the light and shadows. I feel passion for these.

3. How long have you lived in Valencia, Spain?
I was born in Xàtiva, Valencia and I've lived here ever since.

The City :

 
Valencia, Spain
4. From a Street Photographer's perspective, what are the first descriptive words that come to your mind when thinking of Valencia? 
I know the places of my city. I like the streets and the people. Valencia is a modern city, but at the same time it has something special in all corners.

5. What do you like most about shooting photography in Valencia?  What makes Valencia unique to other places for photographing?
Well… it could be like another big city. It does have significant modern buildings, and old ones too. There is also a lot of tourism and our beaches are amazing.

6. Do you approach Street Photography differently in Valencia than you do in other places? How would you say people's reaction is to Street Photography in Valencia compared to other places?
Well, the people don't do strange things. I shoot with the viewfinder always in my eye.

7. Can you give a snapshot of a typical day for you shooting photography in Valencia?
Well… there is always something to tell. I go out and I watch people in their environment. Sometimes I don't realize any shot due to not finding inspiration. I love to play with the lights and shadows. There's faces out there that inspire me to leave photos for the future generations.

8. What are a few of your favorite streets and spots for shooting photography in Valencia?
I like the markets, beaches, and fairs.

9. What are some of your favorite subjects to shoot in Valencia? 
The people in action and working the light. The light in my area is very bright and makes me feel very comfortable in my job.

10. What is your favorite non-shooting activity when out shooting photography in Valencia? 
I have my friends, beer and talking photography.

11. Outside of Valencia, what has been one of your favorite places to shoot Street Photography?
For me, New York and Paris.

12. Last, but not least, what Tips would you give a Street Photographer coming to shoot in Valencia?

That the people take their cameras and observe. Then they can also visit The City of Art and Sciences, beaches and the old town.

A big thank you to Eduard for sharing his work, answers and city!  
For everyone who would like to see more of Eduard's work, just follow the link below…
The Link :