The Shooter :
Eolo Perfido
Eolo Perfido has lived around the world, but for much of his life, including now, the city of Rome has been his home. He has worked with some of the greats in photography, including Elliot Erwitt and Steve McCurry, and while his career focuses on advertising and portrait photography, Street Photography has become a big passion of his as well.
For Street Photography, Eolo likes to work in black and white, but his focus varies from street portraits to street scenes. His work shows a strong sense of humanity within the urban life. He also works with geometry, different elements and light to bring out complexity in his street scenes. His Street Photography possesses mood, style and his vision of life on the streets.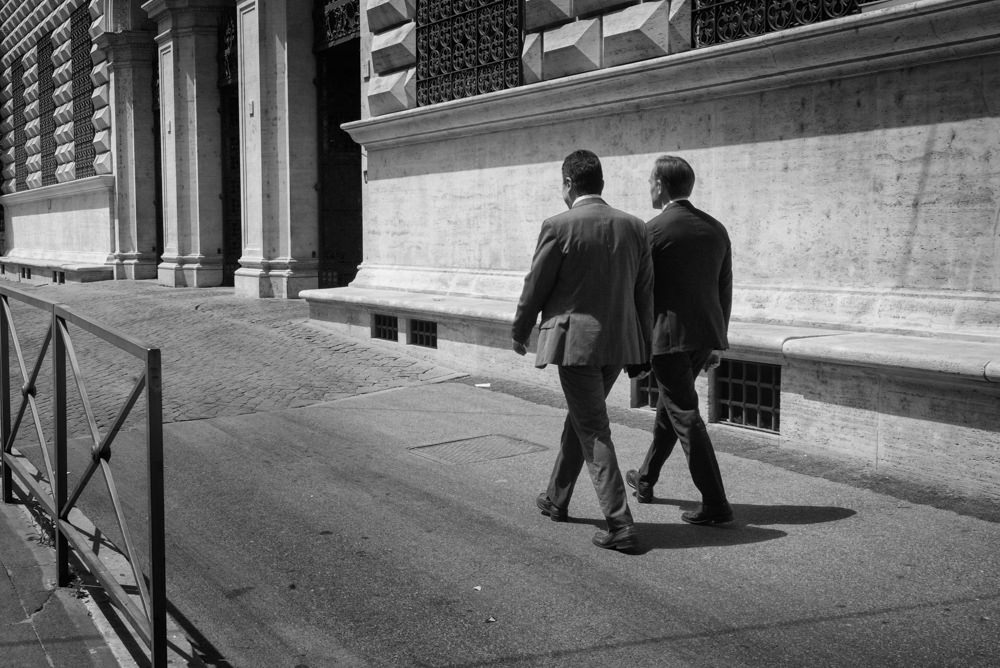 Thankfully, Eolo agreed to be featured and interviewed, along with his city and photos, for this installment of the "A Shooter in…" interview series.
So onto the interview…
(All photos were made in Rome by Eolo)
1. Can you tell me about how you got into Photography, and more specifically, Street Photography?
I got into photography when I was 28 years old. I never imagined that one day I would have been a photographer. I always loved the world of comics and illustration, but not knowing how to draw I was looking for a means of visual expression.
One day I saw a friend, a good photographer, taking pictures and I realized that photography could be what I was looking for. I felt in love with portrait photography and I found myself immediately at ease with the camera, as well as the composition and management of the subjects.
Street photography came in a few years later. After seeing the work of some great street photographers I felt a great desire to try to confront the street. I realized almost immediately how much I enjoyed walking with the camera around MY neck. The sense of freedom and discovery that gives you street photography is immense. It is also a tool for growth as a photographer and as a man.
If there is one thing I learned in those years. it's that Street Photography changes you.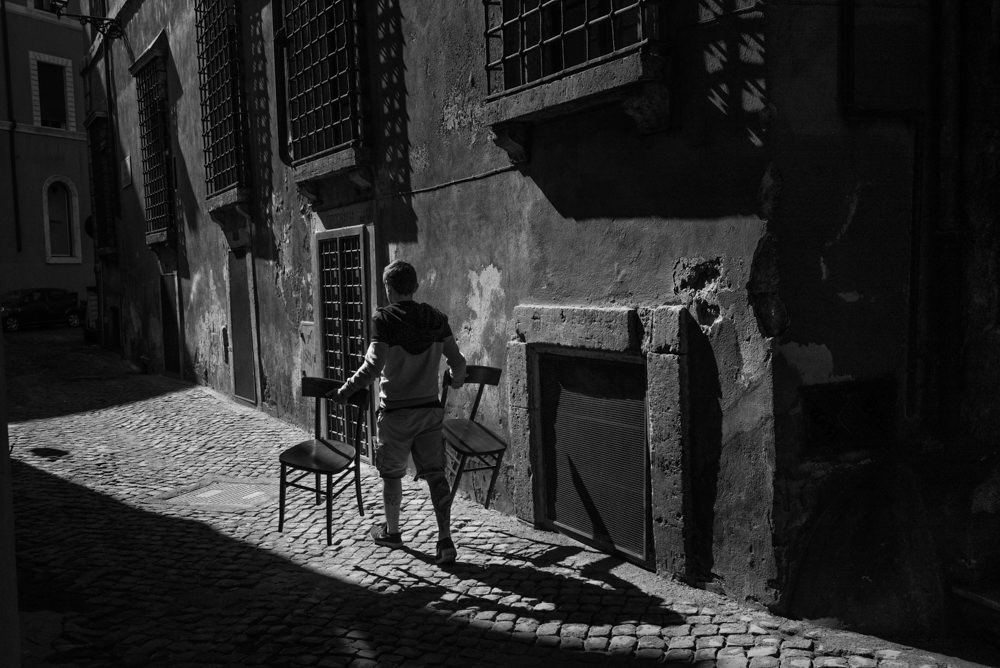 2. How would you describe your style/interests when it comes to photography?
I was always a very flexible portrait photographer and also my street photography reflects this characteristic. My approach, and then also my photographic style, changes much depending on where I am and on my mood.
Sometimes I feel more attracted by human contact while other times I focus more on street portraits. I never had problems interacting with people and it's fun to see how they react to my request of being photographed. If I feel more distant from humanity I dedicate myself to the construction of more complex images, made of elements not related to each other, but that when within the frame define a story or create beautiful geometry.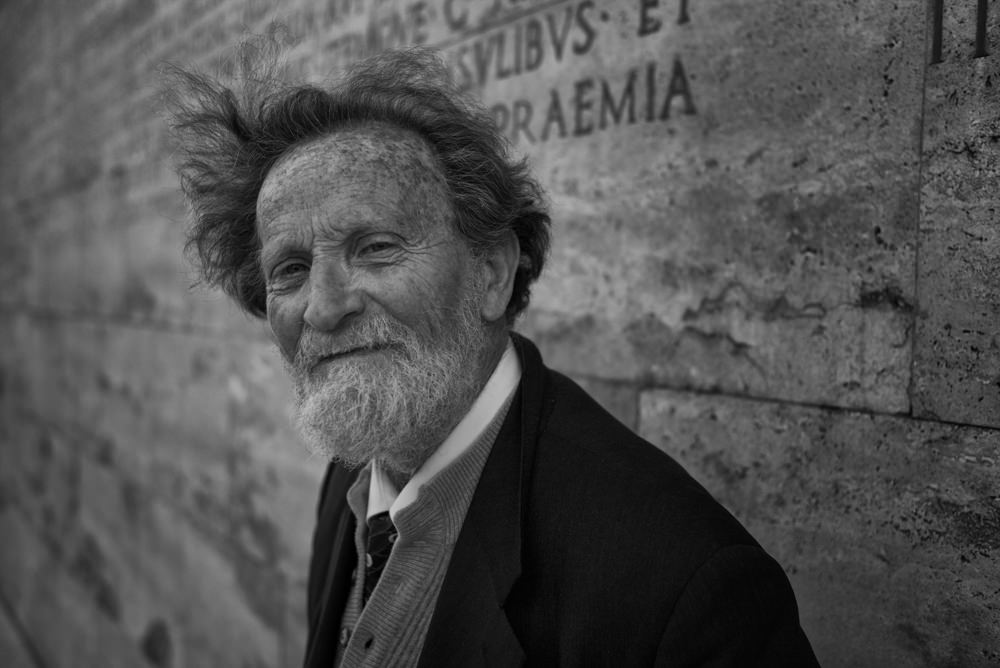 3. Can you name any influences and photographers you look up to?
I love the work excellence of photographers like Joel Meyerowitz, Bruce Gilden, Boogie, Daido Moriyama, Vivian Maier, Elliott Erwitt and Fan Ho.
4. How long have you lived in Rome, Italy?
I moved from Naples to Rome in 1984. Since then I lived in many cities around the world, but always came back to Rome. Now I'm stable in Rome since 2006.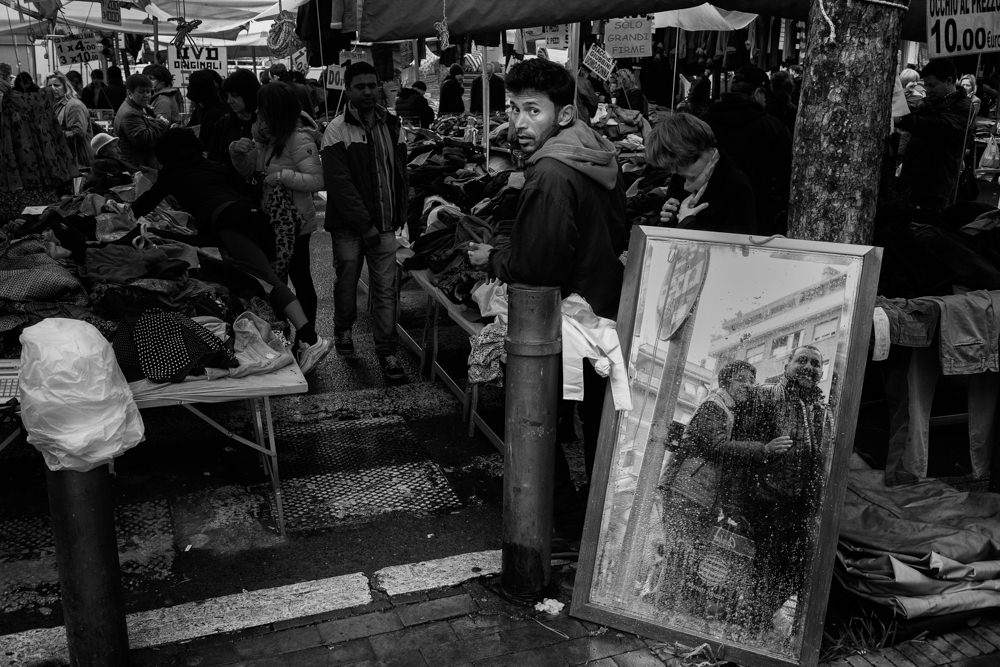 The City :

 
Rome, Italy
5. From a Street Photographer's perspective, what are the first descriptive words that come to your mind when thinking of Rome? 
Rome is a never changing city. And still is different everyday. So much life happening here. A street photographer's heaven.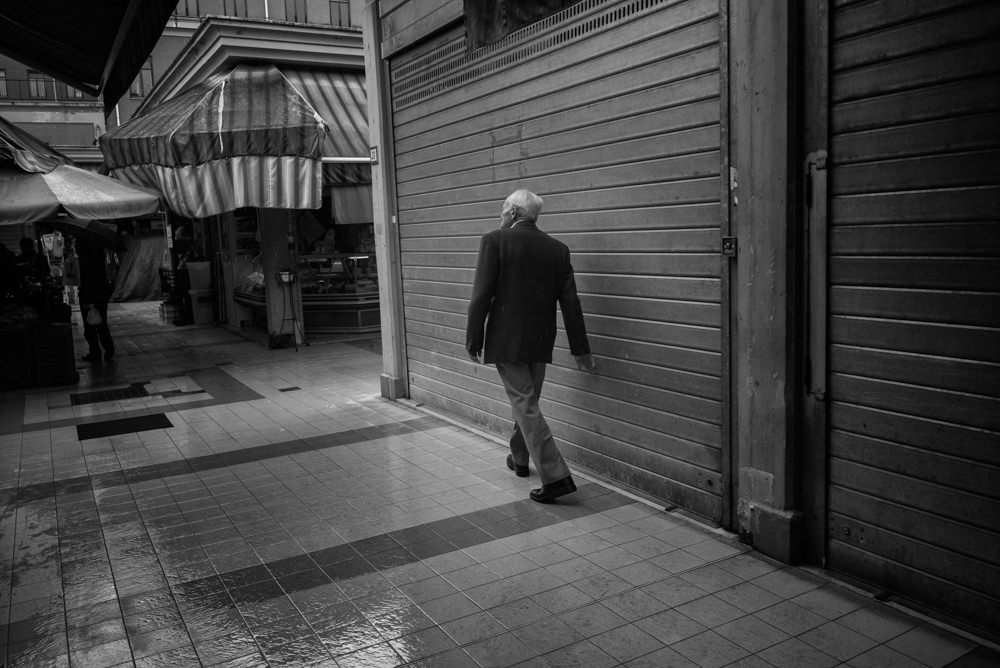 6. What do you like most about shooting photography in Rome?  What makes Rome unique to other places for photographing?
The classical architecture of Rome hides the features of a modern city, but also those of a South American metropolis. While having a walk in Rome you can discover several urban scenarios in a few minutes while remaining in the same neighborhood. This variety of environments makes Rome unique.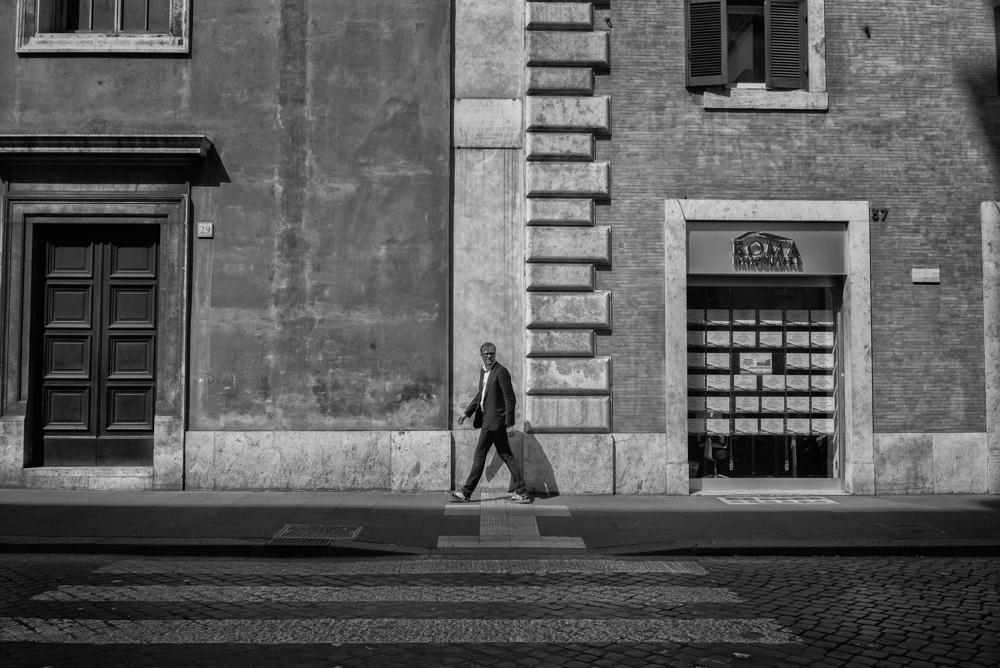 7. Do you approach Street Photography differently in Rome than you do in other places? How would you say people's reaction is to Street Photography in Rome compared to other places?
The Romans are tolerant. Often the contact results in a joke or a laugh. I never had any problems. In general, I never had many problems in any city in the world. I do not know if this is due to 185cm for 100 kilograms, or the fact that I have a good predisposition to the contact with people. Probably, it's a mix of both and anyway my smile is irresistible ;)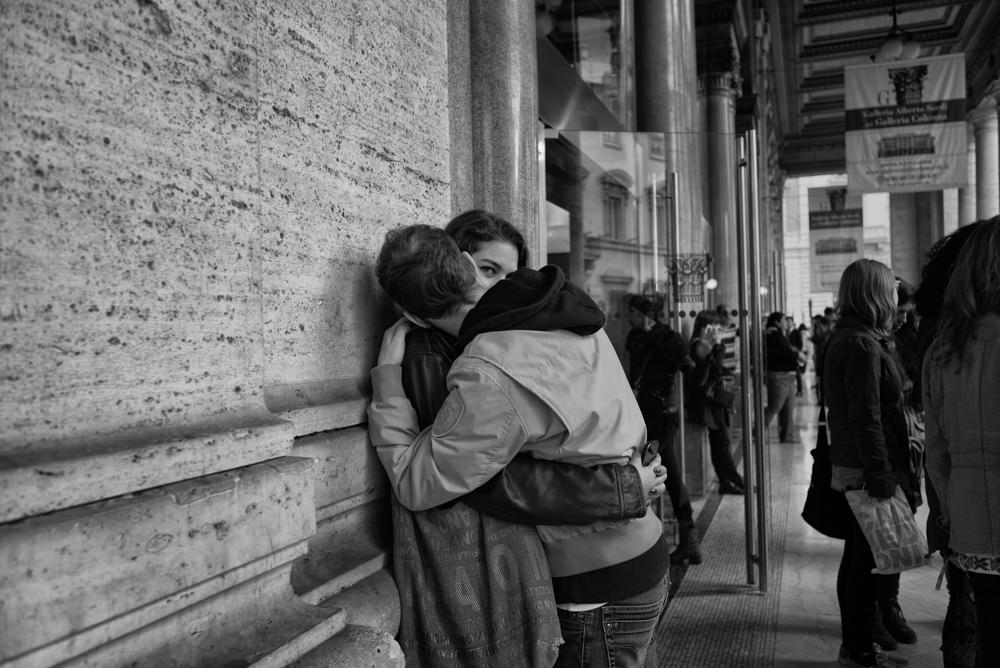 8. Can you give a snapshot of a typical day for you shooting photography in Rome? 
I always wake up early in the morning. If I have time, I always go to my studio to see how the boys are doing and organize their work day. Then I choose a neighborhood of Rome, and reach it with my scooter. Once parked, I begin to walk without a precise destination. Sometimes I go back to places where I wasn't able to take a particular photo, in search of the magic moment when all the elements contribute to the success of what I have in my head.
I usually eat on the way back home. If possible, i step back to the studio to see if the day went well and then I spend the dinner and evening with my family. Of course, while I AM having dinner, my computer is doing the backup of the daily session.
I try to go out and take street pictures as much as I can, but sometimes I'm travelling around Italy, or abroad for assignments, and I cannot shoot street.
As you can imagine I have many memories of my experiences doing street photography in Rome. Meetings with special people, pursuits, many hours spent waiting for the right person or the right light. There isn't an event more important than others, but a wealth of life that comes over me whenever I recall the hours spent on the street.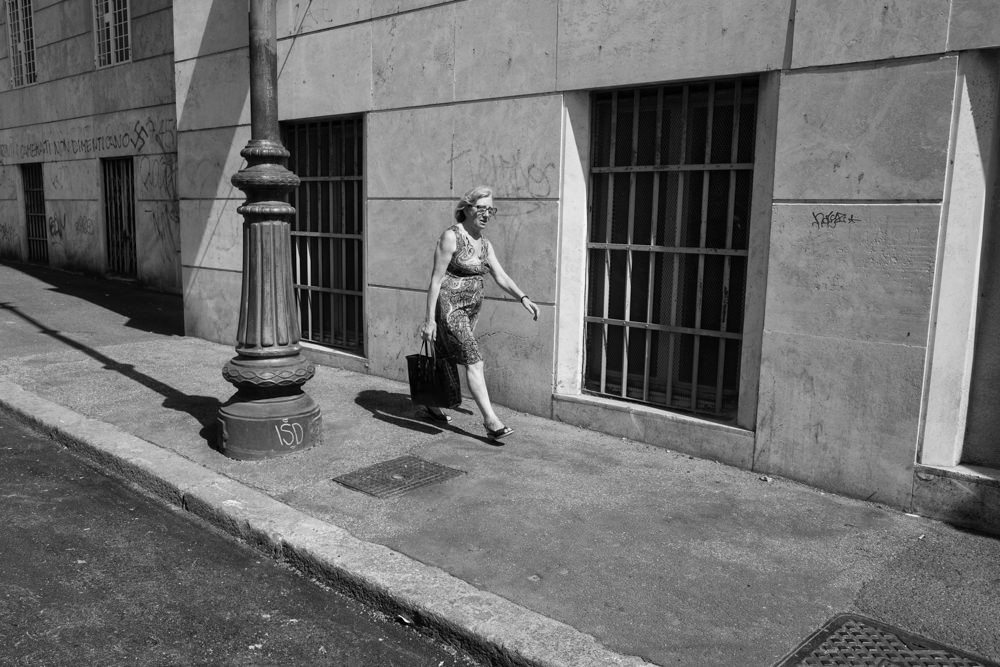 9. What are a few of your favorite streets and spots for shooting photography in Rome?
I love both the center and the suburbia. Central zones like Trastevere or Campo dei Fiori are among my favourites. In the suburbia of Rome I love zones like Ostia Lido, a district by the sea and where I've been living for more than 10 years when I was young.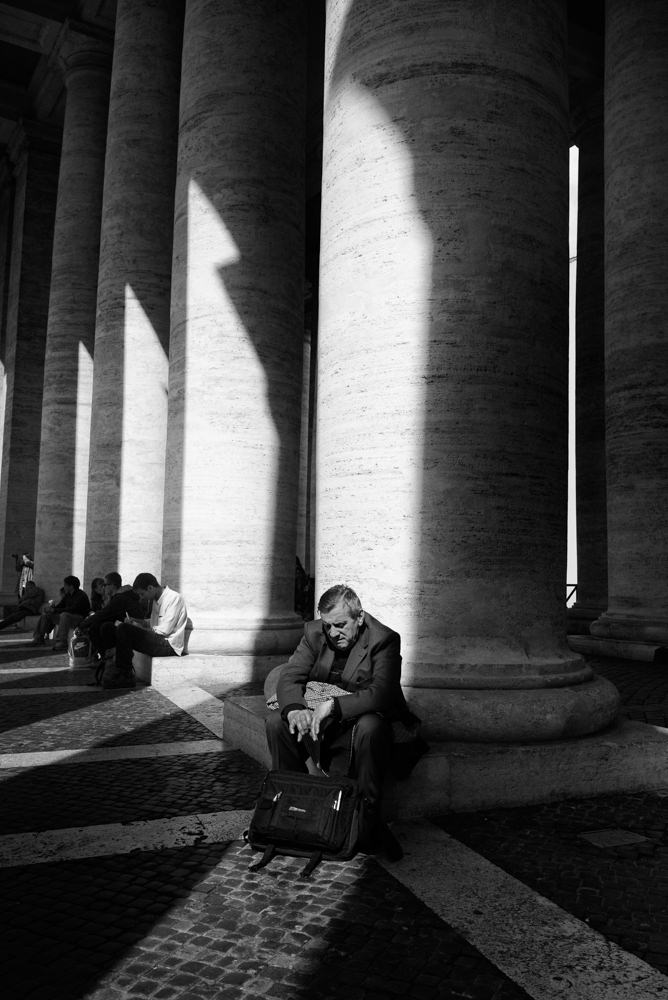 10. What are some of your favorite subjects to shoot in Rome? Do you have a favorite photo, or one that stands out in your memory, that you made in Rome?
I like to mix people and architecture in a meaningful way. The image of the Madonna and the African boy resting I think is a representative image of my work and the city of Rome. I also feel it represents one of the strong elements in a street photography image: elements that are not related, but that are put into a frame tells a story.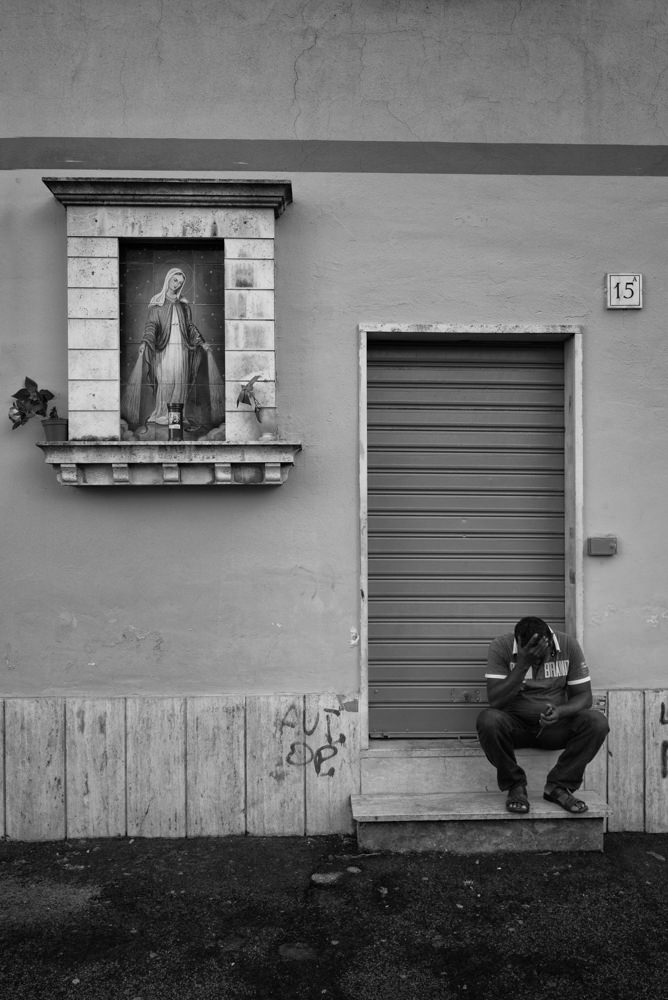 11. What is your favorite non-shooting activity when out shooting Street Photography in Rome? 
I have many hobbies and always too little time. Among my favorite recreational activities is retrocomputing (I collect computers from the 80s and 90s), video games, movies and hanging out with my girlfriend looking for some new restaurants. I'm also an avid reader and TV series addicted. I also love to travel, but since I travel a lot for work, sometimes I really enjoy to stay at home.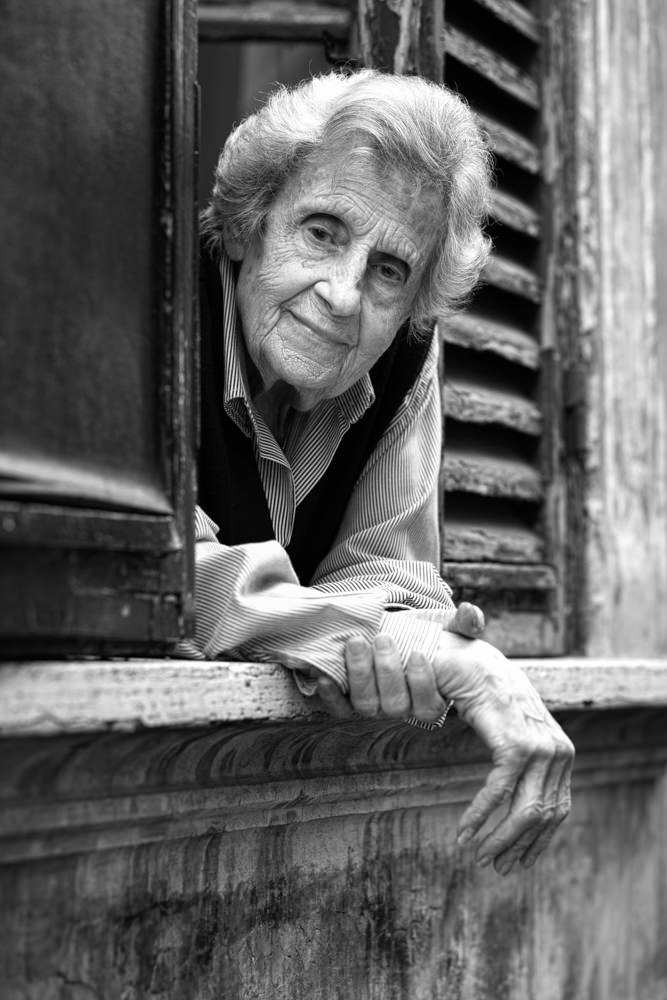 12. Outside of Rome, what has been one of your favorite places to shoot Street Photography?
I really enjoyed Tokyo. I will soon go back there to host a street photography workshop and to spend more time in a city that i really love. You can see some of the pictures of my first Tokyo session here: http://www.walkingphotographer.net/street-photography-tokyo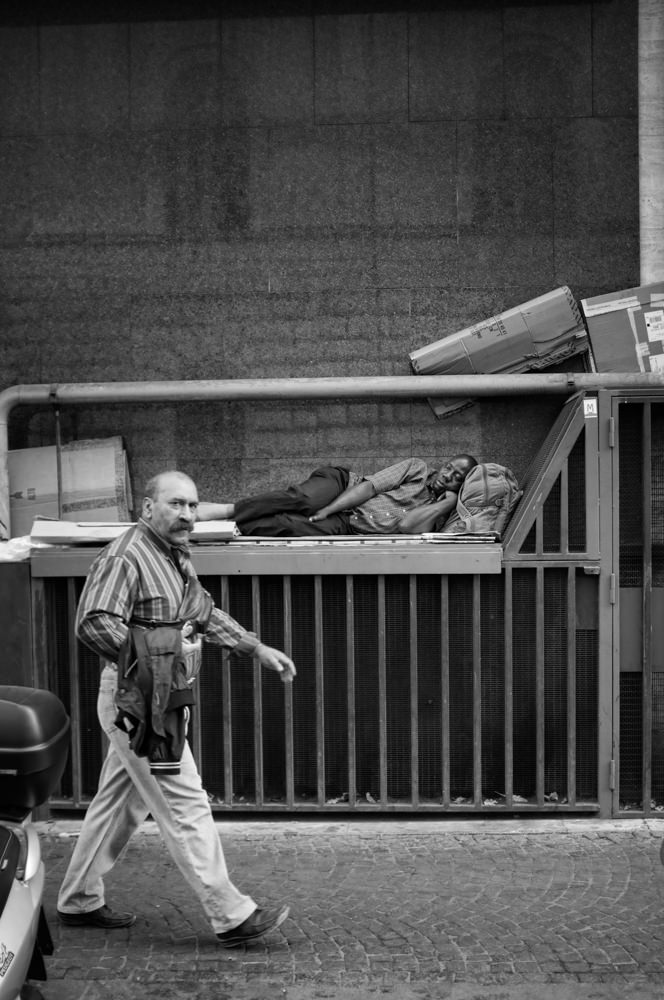 13. Last, but not least, what tips would you give a Street Photographer coming to shoot in Rome?
Rome is the open city. More than ever, prepare your best smile and you will have a great time shooting in Rome. Do not move with the underground or the bus. Just walk. Rome is big, but you will be able to experience it only taking the long way.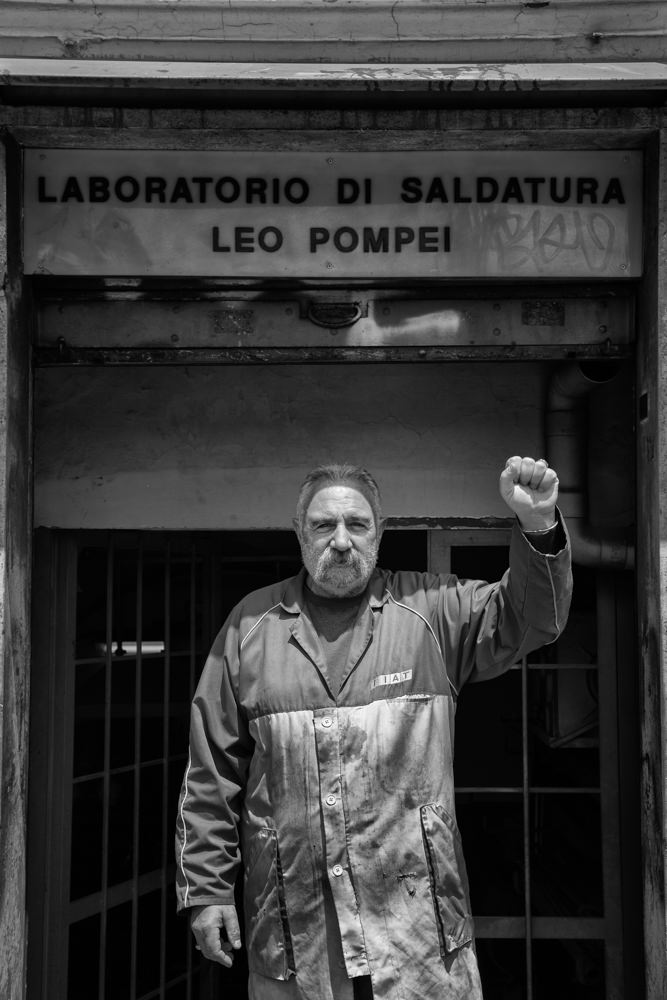 A big thank you to Eolo for sharing his work, answers and city! 
For everyone who would like to see more of Eolo's work, just follow the links below…
The Links :