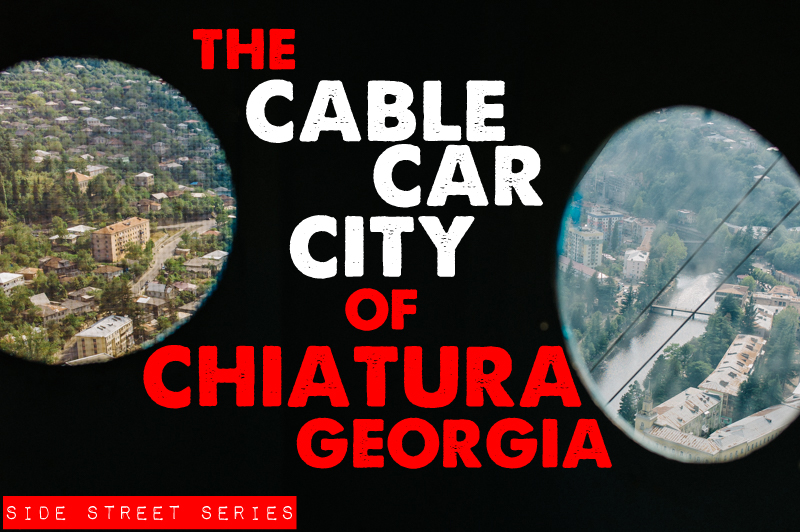 *Side Street Series ventures off the beaten city streets. Many times, the photography ventures away from Street Photography too.
The Cable Car City of Chiatura
One of the highlights of my trip to Tbilisi, Georgia was actually a place outside of Tbilisi. A city like no city I've been to before, but one most people have never heard of. 
Chiatura, Georgia
So What's So Unique About It?
A Brief History on Chiatura, Georgia
Chiatura is a small Georgian city located in a mountain valley on the banks of the Qvirila River.
In 1879 the Georgian poet Akaki Tsereteli explored the area in search of manganese and iron ores. He found plenty here so mining was started in Chiatura and Manganese production rose to 60% of the global output by 1905.
Almost 4,000 miners worked 18 hours a day and during the Russian Revolution, Joseph Stalin took over this mining city. Due to the extremely steep-sided river valley, workers spent a lot of time just walking up to the mines from the town. So in 1954, Stalin had an extensive cable car system installed to transport workers around the valley to the mines.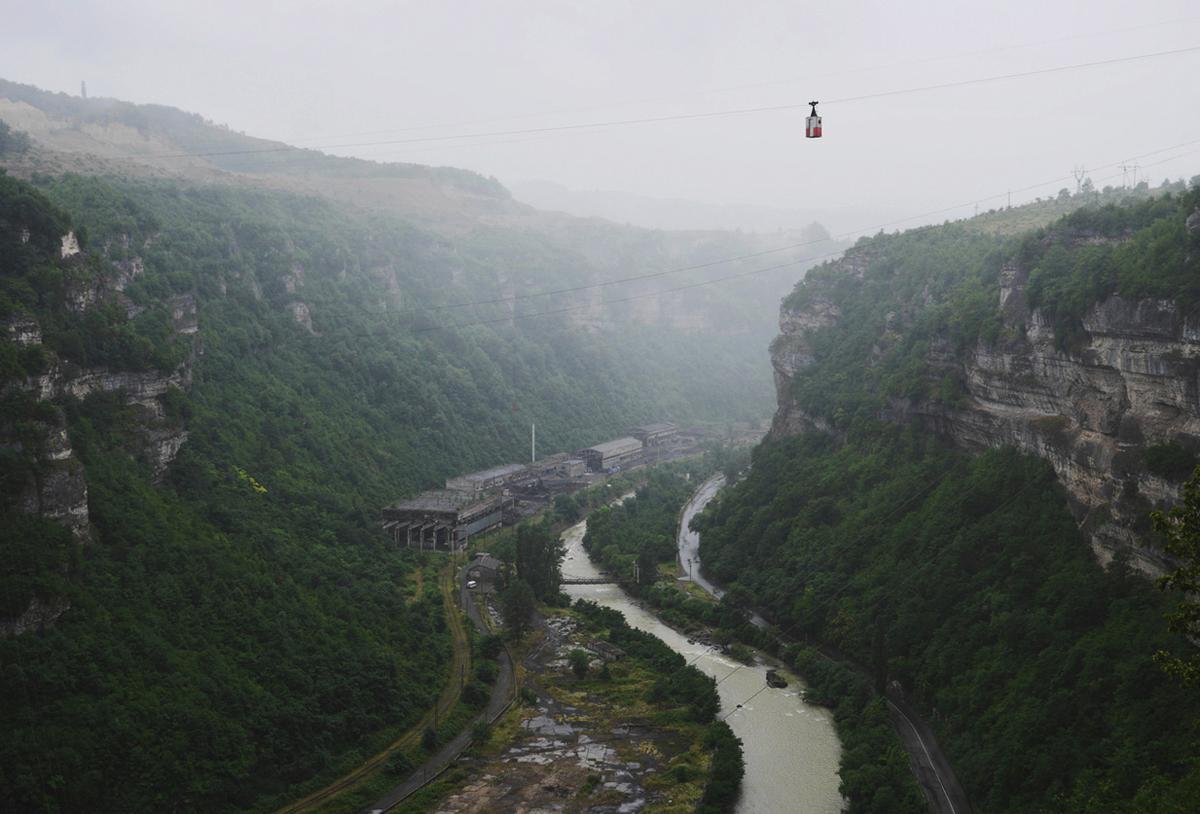 To this day, Chiatura is still using this aerial infrastructure from the 1950's. Seventeen different cable car systems are working daily around the town. Most of them use a system where two cabins are connected to the same haulage rope. When an electric motor pulls one cabin down, that cabin's weight pulls the other cabin up. While it looks somewhat suspect, it's actually a very solid system.
Riding the Cable Cars
When I first arrived, I was excited to experience the playground of cable car rides and explore the peaks, valleys and life of this unique city. Then I hopped out of the minibus and saw those old, rusty boxes going up into the clouds on nothing, but a few hanging cables. You can see these cables crisscrossing over the town while you watch the metal coffins slowly move across hundreds of feet in the air.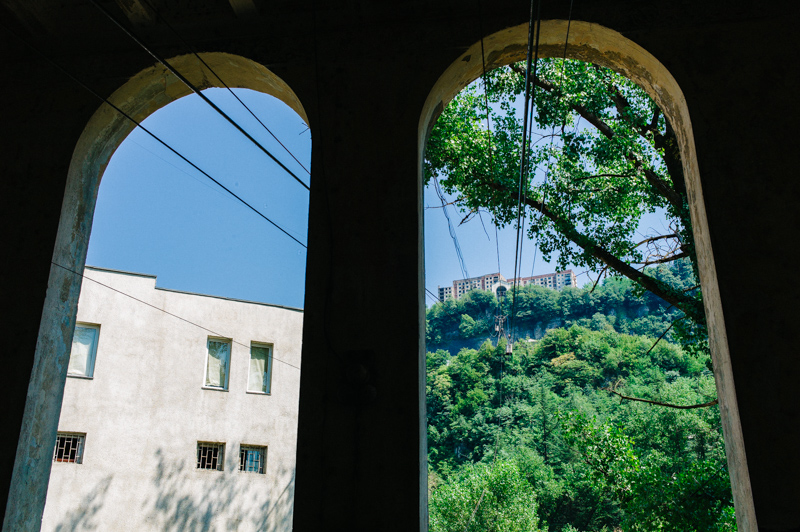 The cable system covers 20,000 feet and goes up 500 feet at some station peaks. The 60-year-old construction, the rust, the heights, and the fact you've never seen anything like it before can make things look a little unsure. Once you're inside the cable car, most of that feeling goes away, though. The solid, enclosed construction gives a feeling that you're not really in a small box 400 feet in the air.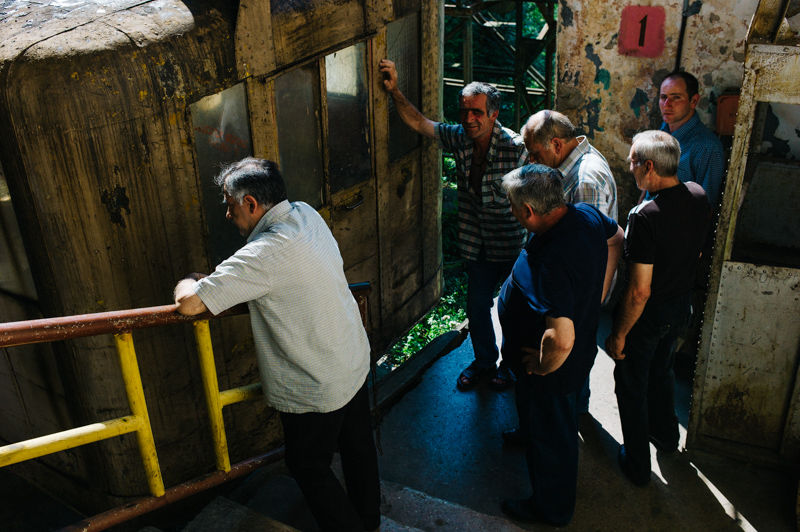 The people here ride the cable cars multiple times a day so it's nothing to them. It actually becomes somewhat of a social event where they get to talk to their friends about everything while waiting at the station and then taking their shared ride up or down. 
Why is Chiatura Good for Photography?
There's plenty of reasons to make it over to Chiatura for some shooting. You have the unique scenery of industrial Soviet style buildings built into a gorge. You have the old mining town life. And then you have the only city in the world that uses an elaborate cable car system for their main transportation. That alone provides more than enough photo opportunities. 
For details and photos, here's…
5 of my favorite things about capturing Chiatura
1. Soviet Era Influence
Being a small mining town partially constructed by Stalin himself makes this town's Soviet influence very obvious. It feels like you've stepped back in time into the Soviet Era. The deteriorating Soviet bloc apartments and the old, industrial buildings mixed into the greenery of the gorge mountains gives this influence even more of a unique feeling and look.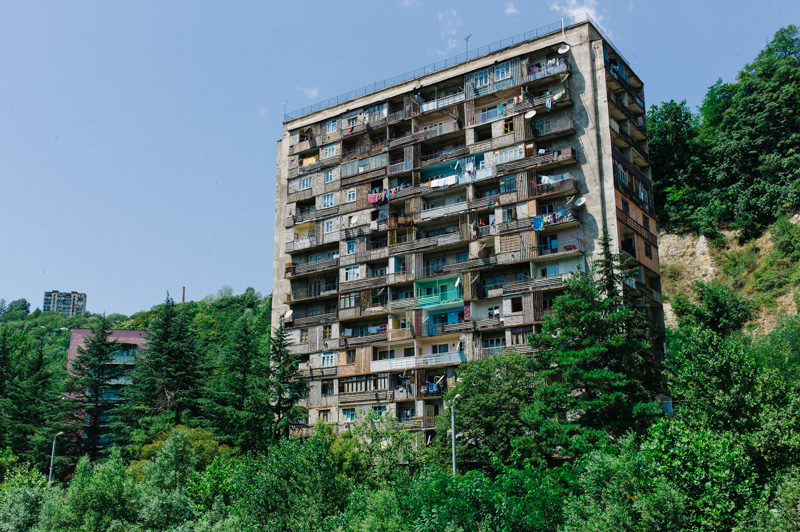 2. Inside the Cable Cars
The inside of the cable cars are just as rusty, old and worn as the outside, but they have a certain appeal. The smaller cable cars aren't as interesting, but the bigger ones have character, larger windows and a cable car operator joining you for each trip. Since this city isn't visited by many tourists yet either, you'll usually only be joined by locals, which adds even more to the experience. 
I found the cable car operators the most interesting. You could tell they'd been doing this job for a long time. Going up and down who knows how many times a day and getting to know all the locals better than anyone.
Another Cable Car operator fanning herself off:
Inside the cable car, a man waits to get to the ground station: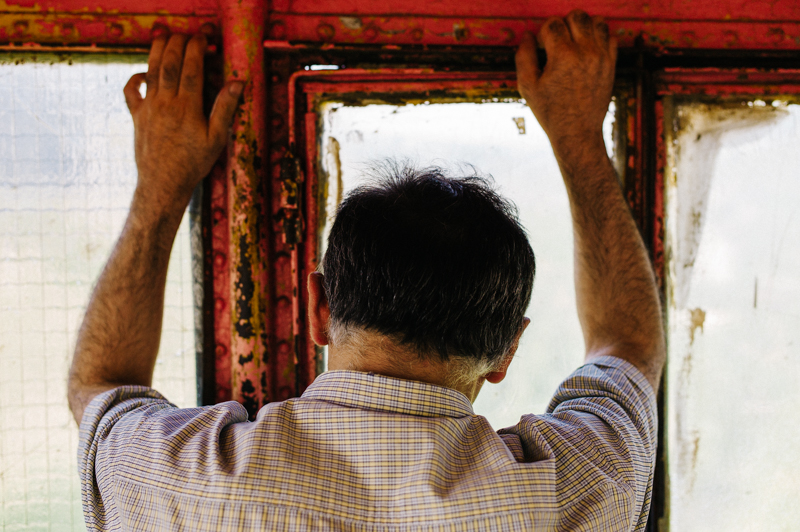 Cable Car Views
Once you feel safe, you might as well enjoy the outside views of the valley and city below too.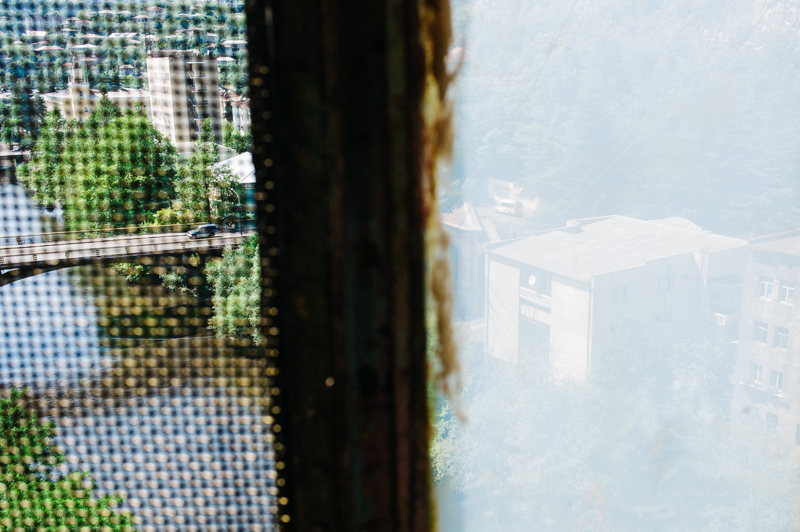 While the small cabins for the shorter rides only have small windows that you can only look through, the larger cable cars have windows that fully open.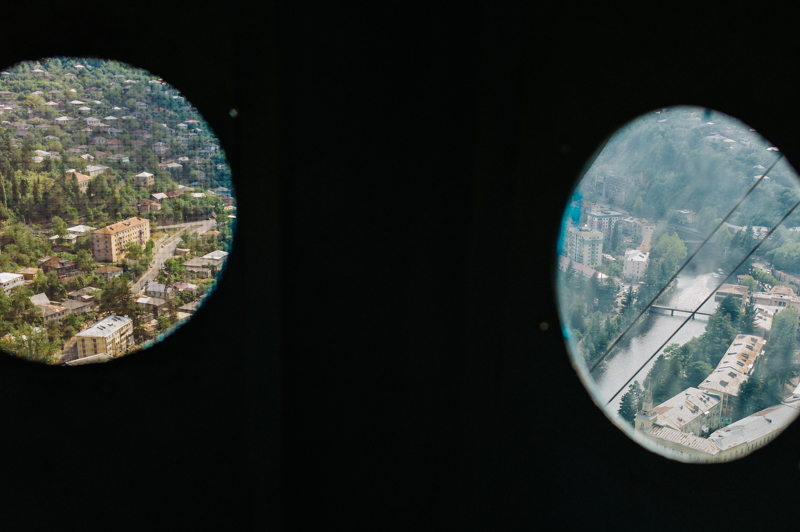 In the larger cabins, you can stick your head out the window and look far down below.

3. Cable Car Life
One of my favorite parts was photographing the locals and workers around the cable car stations. Everybody knows everybody and you can tell they've been in this little mining town their whole life. The people spend a lot time outside the stations talking to the operators and anyone who comes for a ride.
Some ladies sewing on a station bench: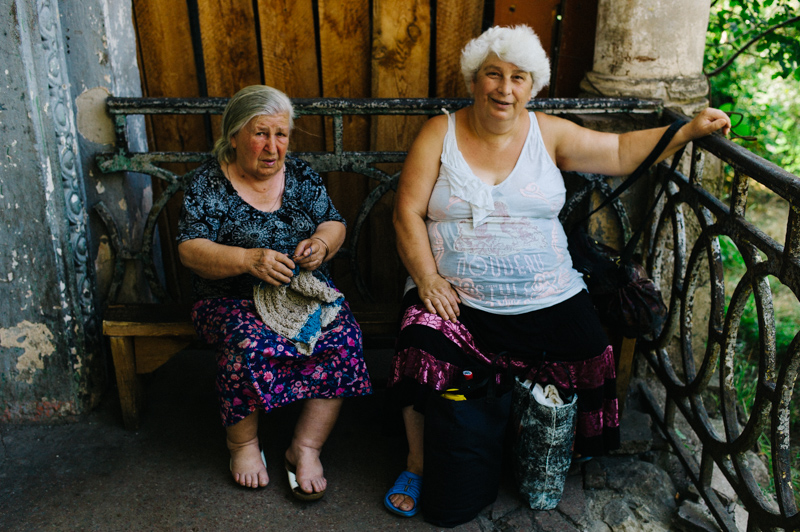 4. Mini Villages at the Top
Not everyone lives in the city on the valley floor. Around some of the stations at top are little villages with apartment buildings, playgrounds and people going about their daily lives.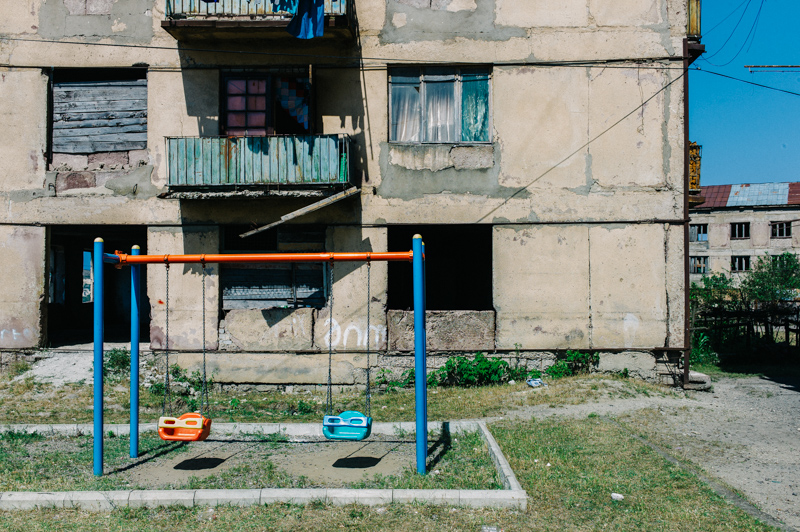 So not only do you get amazing views at each station top, but there's usually plenty to explore and capture too.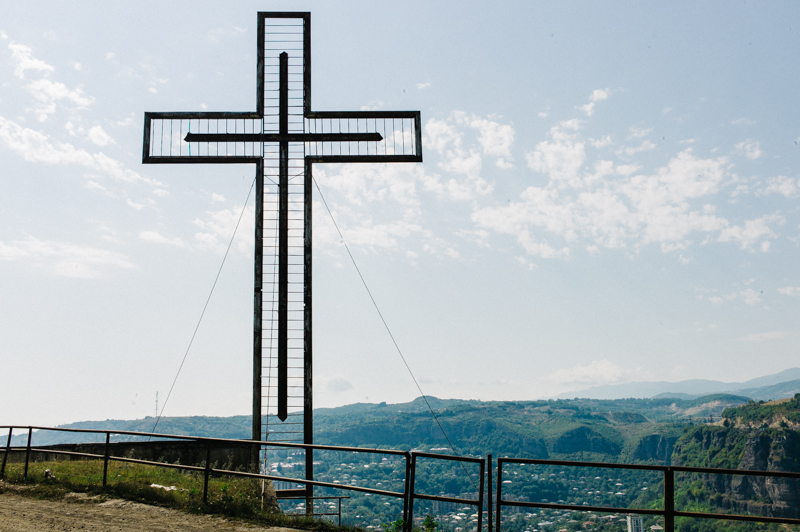 At one of the station villages, I spent a good hour walking around because there was so much life to capture. You get a different vibe up top and the people are so friendly and curious since they rarely see outsiders. I was even invited for a cup of coffee by one family, even though we couldn't speak a word of each other's language. 
5. Checking Out the City life too
If the old, Soviet Era construction interests you, like it does me, then you have to spend some time walking around the main city at river level too.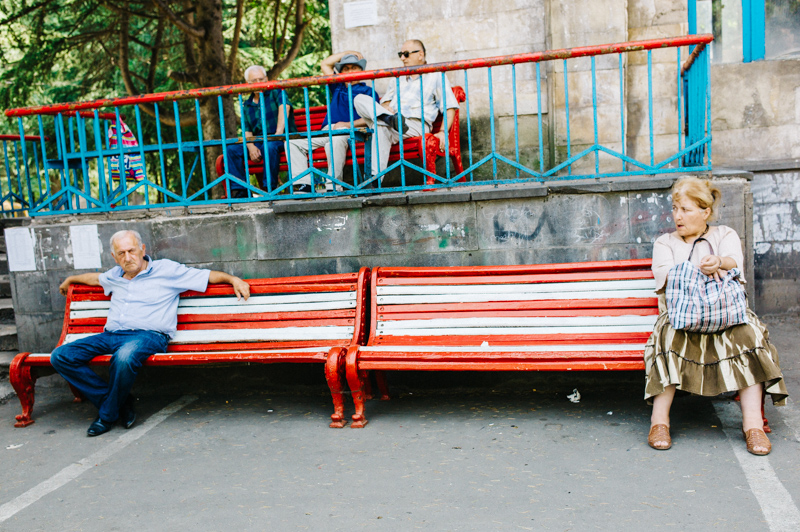 There's plenty of activity going on around the city center with markets, shops, parks and people walking the streets.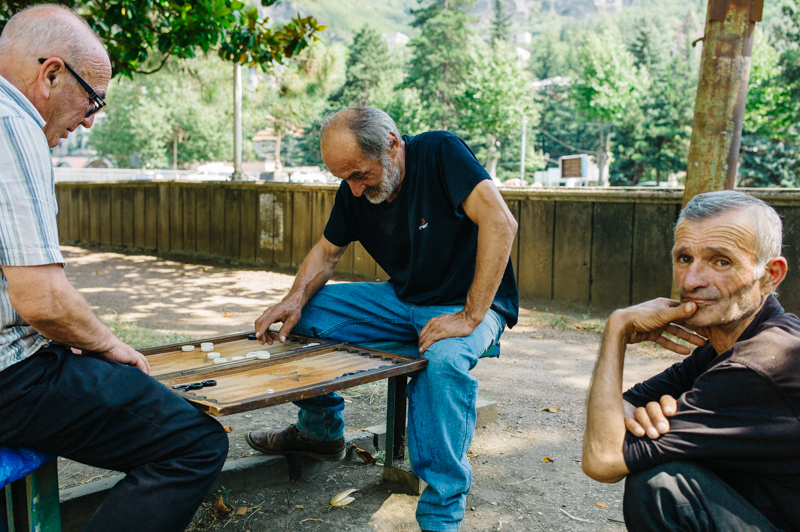 The whole city is lined closely along the river so you can easily walk from one end to the other and back to cover it all.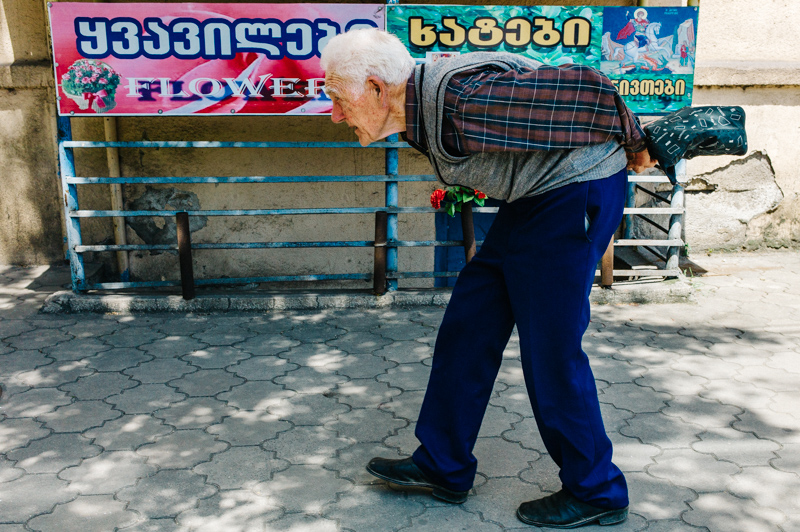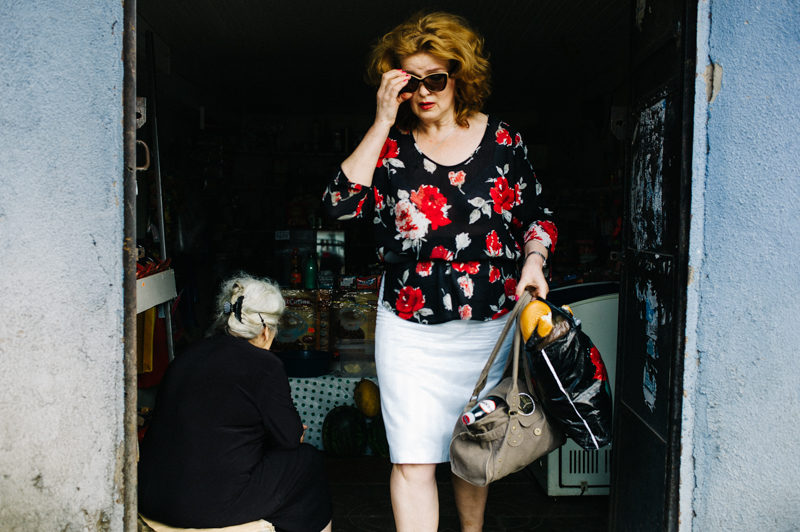 Photographing Chiatura
It was extremely easy photographing people in Chiatura. No one seemed to mind at all. Even inside the tight space of the cable cars, no one reacted to me taking photos of them. The people were either extremely friendly or paid no attention to me and my camera at all. 
If I was to go again, I'd try to visit all the stations up top and capture each of them and their surrounding villages. There's still a fully operating  mine too that you can visit, but unfortunately I didn't get the chance.
Side Street Difficulty: 2
Chiatura is only a cheap 3 hour minibus ride from Tbilisi so you can easily make this a day trip like I did. On the other hand, I wish I would have stayed longer so I could have explored the city more and attempted to ride most of the cable cars.
These photos are from only spending a few hours in the city because that's all I had, even when taking the first bus there and the last back to Tbilisi. This isn't a known tourist attraction yet so you'd probably have to stay the night at a close-by, larger city if you wanted to really explore Chiatura, but with 17 cable car destinations and all there is to see, it would be worth it in my opinion. 
A Few More Shots from Chiatura, Georgia
If anyone ever makes it over to Tbilisi, Georgia, this is a place I'd recommend experiencing and photographing. It's unique, has a feeling of going back in time and isn't well-known by tourists. If any of you have visited Chiatura, tell me about it below in the comments. If you've never been, but would like to, tell me about that too!