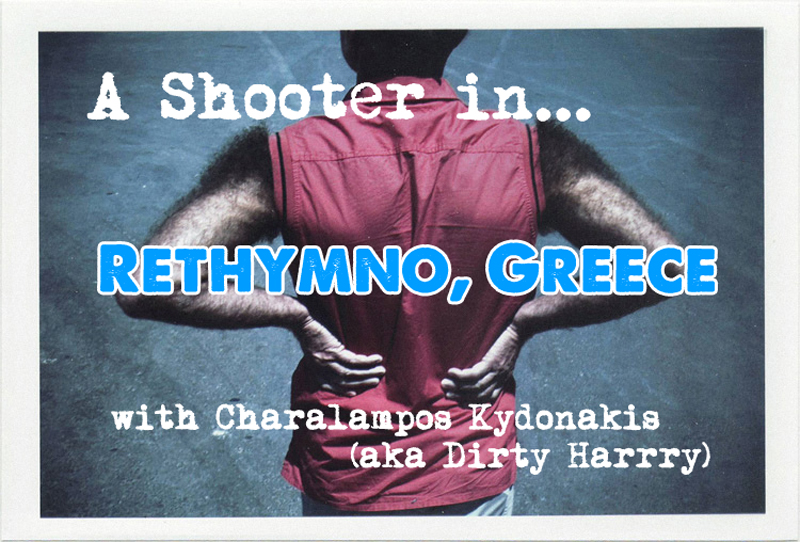 The Shooter :
Charalampos Kydonakis (aka Dirty Harrry)
Charalampos, who goes by the name Dirty Harrry in the photography world, was born in Heraklion and raised in Rethymno, both cities on the Greek island of Crete. I've admired his work for years now and he possesses a very unique and creative vision when it comes to photography. 
He has a style that has become recognizable when you see one of his photos, which is one of the hardest things to do in photography. His photos are surreal, dark, strange and almost magical. And above all else, they are interesting.  
Most of his work has been captured around his small coastal city of Rethymno and he makes Crete, Greece look like an extremely interesting place full of characters. Thankfully, Dirty Harrry agreed to be interviewed and featured, along with his city and photos, for this installment of "A Shooter in…" series. (All photos were made in Rethymno, Greece by Dirty Harry)
1. Can you tell me a little bit about how you got into Photography?
I started to shoot when i was studying architecture in 1997, but more intensively after 2008.
The City :

 
Rethymno, Crete, Greece
2. How long have you lived in Rethymno?
I've been in Rethymno since i was born with a pause between 1997-2004.
3. From a Photographer's perspective, what are the first descriptive words that come to your mind when thinking of Rethymno, or Crete in general? 
The things that first come in my mind for my place are my family and friends, the sun, the sea, the mountains, food and raki.
4. What do you like most about shooting photography in Crete?  What makes Rethymno and Crete unique to other places for photographing?
Crete has some interesting characters and some beautiful places. I've shot my favorite photos here simply because I've spent most of my time here, not for any reason of uniqueness of something.
5. Do you approach photography differently in Crete than you do in other places? How would you say people's reaction is to Street Photography in Crete compared to other places?
No, I think I shoot the same way everywhere. People's reactions here are more or less the same as everywhere. Generally, 99.99% of the time there's no problem.
6. Can you give a snapshot of a typical day for you shooting Street Photography in Rethymno? Has anything interesting happened to you while shooting photography in Crete?
I have the camera most of the times with me. The funniest incident is the one time that cops took me to the police station because i was shooting people late at night. The most surreal part was listening to the cops' lecture about aesthetics.
7. What are a few of your favorite streets and spots for shooting Street Photography in Rethymno?
During the day, at the beach. During the night, at some bars, weddings and local fiestas.
8. What are some of your favorite subjects to shoot in Rethymno or Crete? Do you have a photo that stands out in your memory that you made in Rethymno?
I don't have any favorite subjects. A photo that i remember is here:
9. What is your favorite non-shooting activity when out shooting Street Photography in Rethymno? (What do you like to do for Street Photography breaks in Rethymno?)
I used to drink beer and smoke. Now there are some months that I've quit smoking.
10. Outside of Crete, what has been one of your favorite places to shoot photography?
I don't know if I have a favorite place, I want to visit again almost every place I've been in the past.
11. Last, but not least, what Tips would you give a Street Photographer coming to shoot in Rethymnon or Crete?
There's google for every kind of tips, I don't have any.
:-)
A few more photos from Rethymno, Greece by Dirty Harrry…
A big thank you to Charalampos for sharing his work, answers and city! As always, I look forward to seeing what your creativity brings next. 
For anyone who would like to see more of Dirty Harrry's work, just follow the link below…
The Link :