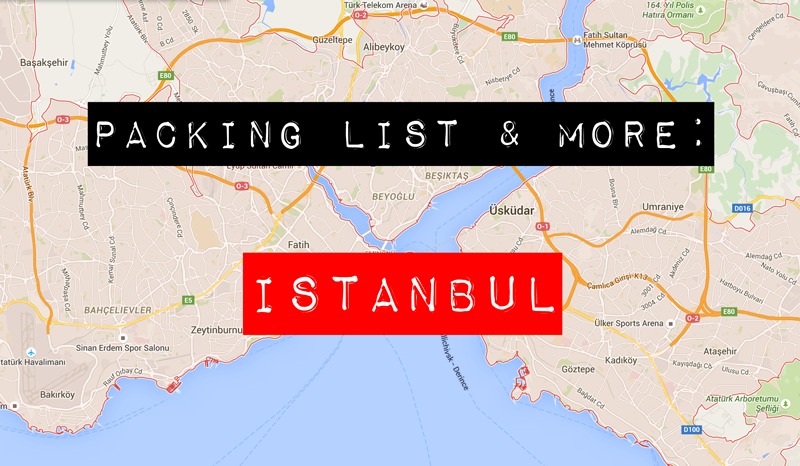 Off To Istanbul
So I'm off to Istanbul for the next few months for some photography projects. In case anyone wants to know what goes into packing and getting ready for my photography trips, here's an overview of what went into this one (with some added tips). 
What and how much I pack depends on the trip and the projects. It's also changed some over time. I've learned what I need and don't need to bring plus other ways to keep the packing down.
For me, there's 3 things I always need to bring: camera gear, passport and money/credit cards. For longer stays, my laptop is added as a 4th. After that, the basic rule is to take as little as possible. 
3 types of trips = 3 types of packing
1. For a short trip or a trip where I'll be moving around
I carry-on a backpack and my messenger camera bag.
2. For an extended stay of a month or more
I check a suitcase and carry-on a smaller backpack and my messenger camera bag.
3. For a longer stay of 3+ months with multiple projects
I check a suitcase with a daypack inside and carry-on my messenger bag and otter box camera gear case.
Current Trip: Istanbul
This trip to Istanbul falls under #3 so here's what I packed…
Long Stay Packing List: Istanbul (3 months)
Clothes
Shirts: 3 button-ups
T-Shirts: 10
Pants: 3 (2 jeans, 1 nice pair)
Shorts: 2 (1 cargo, 1 light pair)
Underwear: 12 pair
Socks: 5 pair
Jacket/Sweatshirt: 1 sweatshirt, 1 super light rain jacket
Shoes: 1 pair (nicer pair packed and casual pair worn on the plane)
Sandals: 1 pair
Toiletries
1 Toothbrush
1 Toothpaste tube
1 razor
1 small bottle shampoo
1 bar soap
1 Deod0rant
Bandaids
Geared Up (The long list)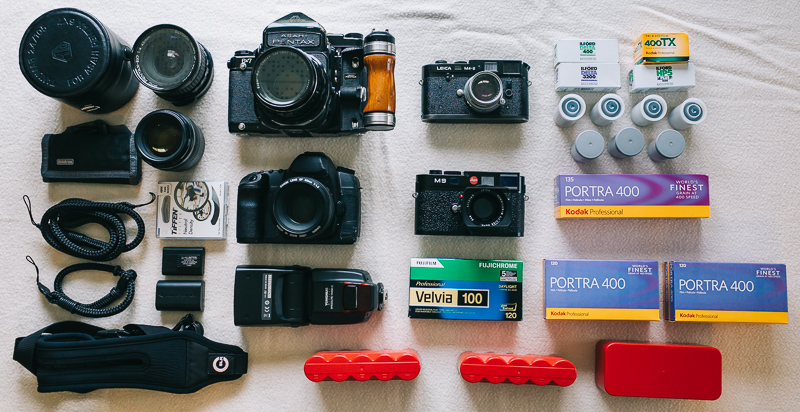 Photography:
Electronics:
Misc:
Bags
This is a max packing list for me, especially all that camera equipment, but I have a lot going on here that will need the different types of cameras. I'll basically be living here for the next 3+ months too so it should be fine. Anything else I need, I'll just buy in Istanbul.
10 Quick Tips For Long Stays
Pack light t-shirts. Synthetic materials and blends fold up small and light.
Leave around 20% of empty room in your bag for anything you might want to bring back home.
Go over everything you have and ask yourself "would I be ok without it?"
Passport, money, camera and electronic gear are what you need to worry about. After that, most things can be found wherever you go so it won't be the end of the world if you forget something. For long stays, you have plenty of time to find it too.
SmartWool Socks and ExOfficio Boxer Briefs are worth their weight in gold.
Packing folders and cubes save space and keep things organized.
Don't forget a universal adaptor. 
Apartments are much better, and cheaper, for long stays.
Learn some language basics for wherever you go.
Metro Apps on your phone are the best for working the transportations systems in bigger cities.
Last Minute Details
Insurance:
Health
I've used a few carriers for travel health coverage over the years, but this has been the one I've gone with lately. There's plenty of choices out there, but most provide similar coverages. World Nomads has solid coverage value and their site is very user friendly with good customer service compared to the rest I've used.
Gear
Clements International Business Property
I've always used Clements for my gear. Most travel insurance carriers exclude camera gear on their property coverage so it's a must for me. Clements international property coverage includes a base coverage of $5,000 for basic property and then allows you to add scheduled coverage individually for things like camera gear and laptops. You input where you're traveling to, but the coverage is good for anywhere in the world outside of your home country. They also provide International Non-Business Property coverage, which covers the same stuff, but for a slightly lower price since there's no business use with any of it.
Call Credit and Debit Card Companies
If you want to be able to access you're money abroad, make sure you notify your card companies beforehand or they might put a hold on your money/credit when they see it being used in another country. 
Luckily, this is much easier than it used to be. Now most companies have a place for you to go online where you can notify them of travel plans or input upcoming countries you'll be using your card. This is much quicker than having to call each one and go through the whole process that way. 
 Flight Out
And off I go from Portland, USA to Istanbul, Turkey.