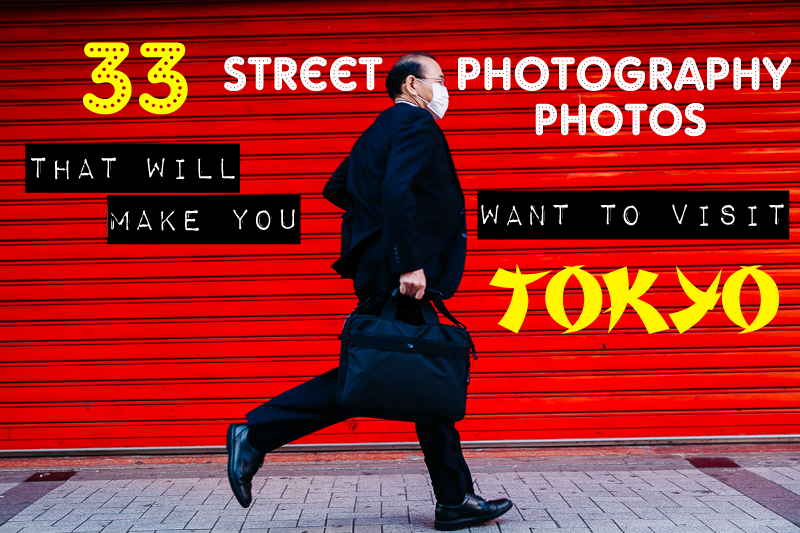 I spent a month on photography work in Tokyo and had an unforgettable time exploring the unique culture and chaotic streets of the city in my spare time. While Tokyo has the skyscrapers, lights, and millions of people running around everywhere, just like it's famous for, one of my favorite parts was the different neighborhoods it has too, each with its own vibe and character.  Also, when it comes to people watching, it doesn't get any better than here.
Tokyo is definitely a city I could live in and spend my days photographing its endless streets of life and lights. A month gave me some time to explore, but with so much to see and experience, I'd love to spend much more time in Tokyo in the future. Here's 33 Street Photography photos I took in my spare time during my busy month in Tokyo.
Tokyo Streets
Tokyo in the Morning
1. Saying Hello to a New Day in Shibuya
2. A Morning Bike Ride
3. Don't Be Late to Work
4. Almost There
5. Not Everyone is Excited to Get to Work
Smoke Breaks
6. A Designated Smoking Area in Shibuya
7. Smoking in Shinjuku's Red Light District 

8. Smoking in the Arcade
9. Smoking in Color
10. Smoking in the Bar
11. I Bet You Didn't Know Pikachu Smokes Too
12. Smoking in Tokyo Style
13. Ice Cream Break
14. Beef Bowl Break
 15. A Break From the Rain
16. A Break From the Day

17. A Girl in Shinjuku
18. A Baby in Shibuya
 19. Another Baby in Shibuya
20. A Beautiful Stranger in Shimokitazawa
21.  A Biking Chef in Asakusa
22. A Fish Seller in the Tsukiji Fish Market
Down to the Tokyo Metro
23. A Colorful Metro Silhouette
24.  Waiting with Women
25. Flowered Hat at the Metro
26. Waiting for the Train
27. The Tokyo Grind
28. Getting off at Shinjuku Station
Dinner Time in Tokyo
29. Looking for Food After a Long Day at Work
30. Looks Good Here
31. Going Inside to Eat
32. An After Dinner Smoke
33. Good Night Tokyo
Black & White Bonus:
Texting in the Shadow
Three Umbrellas

Be sure to also check out my Street Photography Guide to Tokyo, Japan
Hopefully some of these photos make you add Tokyo to your list. Tokyo is one of the most lively cities in the world with plenty to see around every corner. The unique culture and endless people watching is great for Street Photography, and for travel too of course. No matter how long you spend here, there's always more to see. 
Let me know your favorite photos below!