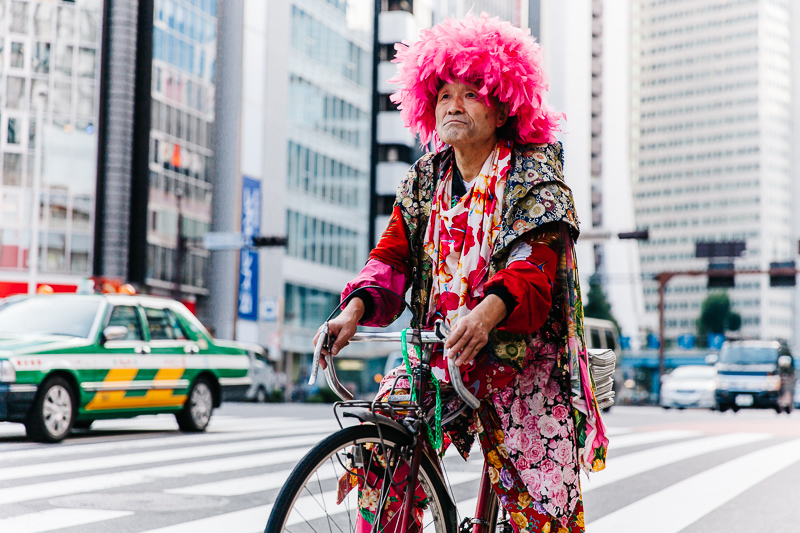 *City Street Profiles is a series of guides on shooting Street Photography in cities across the world. One of the biggest things I found lacking on the internet was Street Photography info for specific cities so you can be ready to shoot when traveling to a new city. Find the best spots to shoot, what to capture, safety concerns, street tips, and more for cities around the world.  (I have personally shot Street Photography in every city that I create a guide for and only include my photos)
Tokyo
Overview:
It's safe to say there's no other city like Tokyo. Even if you've lived here for years, this megatropolis will continue to surprise you with something new. It might be the most interesting city in the world for people watching, which is one of many reasons it's also one of the best cities in the world for Street Photography. From skyscrapers and bright lights to temples and narrow alleys from the 1940s, you could spend a lifetime capturing this city. If you won't have quite that much time in Tokyo, though, here's a Street Photography guide to help you capture this incredible city on your next visit. 
Street Spots Map: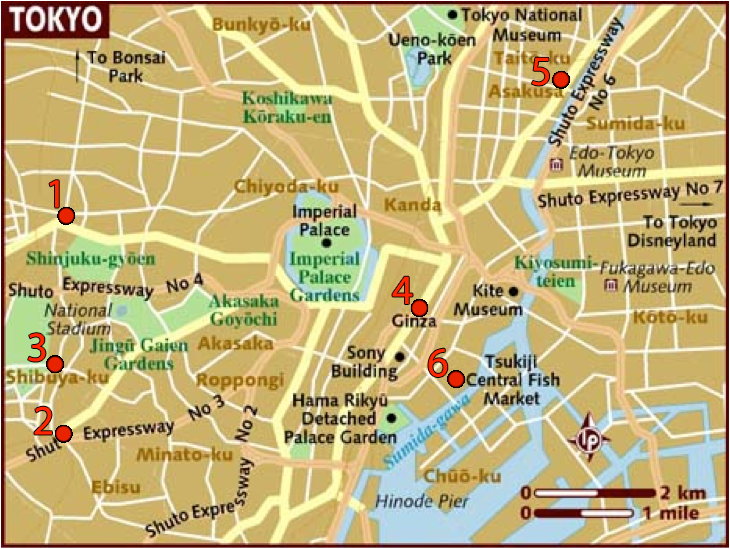 Top 5 Street Spots:
1. Shibuya Crossing:
Shibuya Crossing is most likely the Tokyo you picture in your head from countless movies. The famous crosswalk intersection in front of Shibuya Station is where thousands of people scramble 8 different directions at once every green light. Put that right in the middle of the tall buildings, giant video screens, and neon lights and you have a spectacle that is all Tokyo.
This area is also a center for shopping, entertainment and nightlife so it attracts a very young crowd too, which makes it a hotspot for youth fashion and culture. Shibuya Crossing was made for people watching. The mix of characters and fashion everywhere you look gives you something new to capture from morning to night.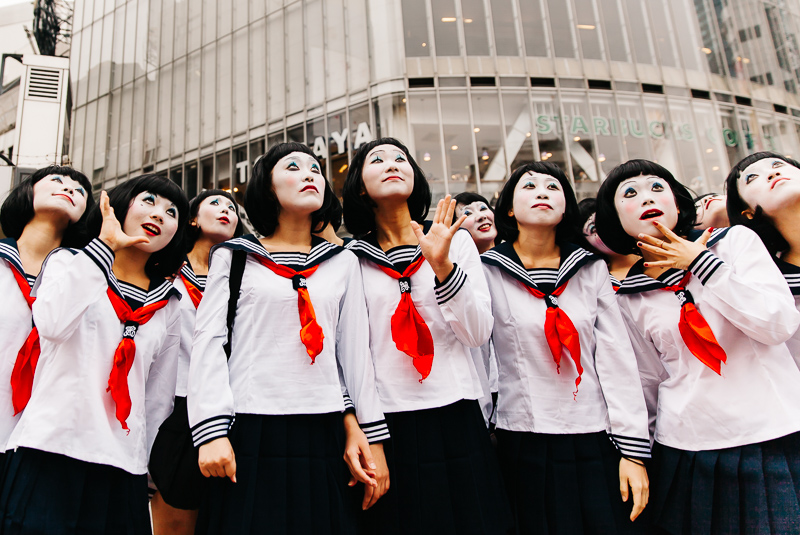 2. Shinjuku:
Shinjuku is home to the world's busiest railway station, handling over two million passengers each day. It is also home to Japan's largest red light district, the Skyscraper District and the narrow alleys of old world Japan.
You have the skyscrapers, wide streets, bright lights and crowded streets that Tokyo is famous for, but there's so much more here to capture too. There's Golden Gai and Memory Lane to take you back in time, there's the red light district, Kabukicho, to give you a glimpse of the seedier side of Tokyo, and there's an endless amount of streets to get lost in while finding something new to capture around every corner.
You could seriously spend months shooting Street Photography just in this district. It's that big and with that much variety of street life. This is where I stay when I'm in Tokyo because it has so many places to shoot, while also having Shinjuku Station, which can get you anywhere you need in Tokyo.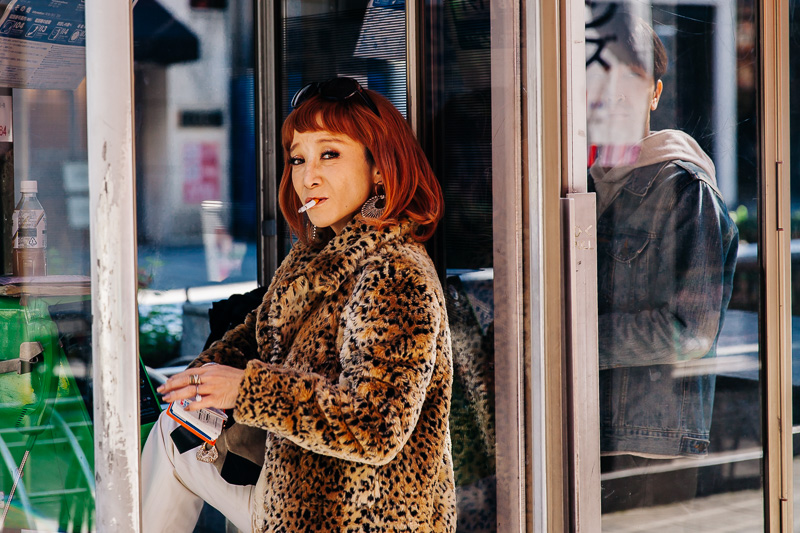 3. Harajuku:
Harajuku is the area right around Tokyo's Harajuku station, between Shinjuku and Shibuya on the Yamanote Line. This is where you'll see the most extreme of the Japanese teenage culture and fashion. 
At the center of Harajuku is Takeshita Dori, where the street is lined with the trendiest shops, fashion boutiques, crepe stands, and much more. This is a walk only street and it can get extremely packed with people.
Sundays are the busiest days and the best to really experience the unique teenage culture in Japan. Many teenagers hang out here to participate in cosplay ("costume play") so you'll see everything from anime characters to punk rockers.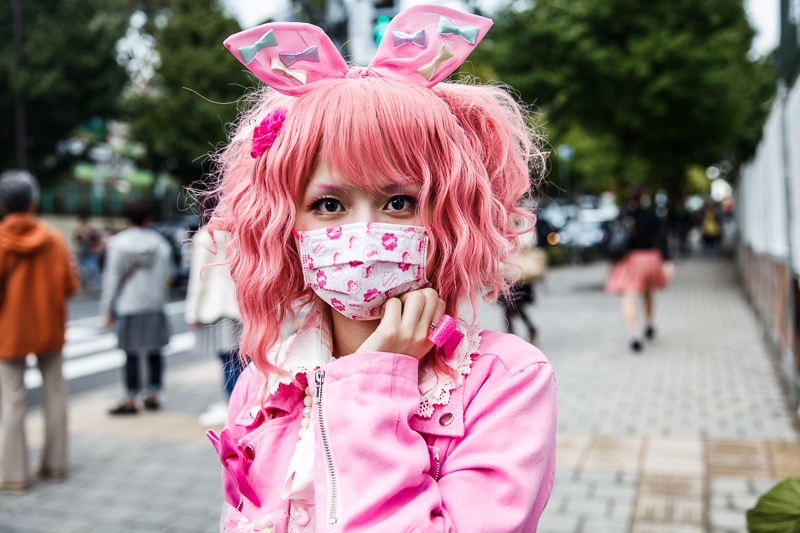 4. Ginza:
Ginza is Tokyo's most famous upscale shopping district. Everywhere you look you'll see some name brand shop or advertisement. Being recognized by many as one of the most luxurious shopping districts in the world, it attracts both locals and visitors from around the world with money to spend.
On Saturday and Sunday from 12:00 to 5:00, the main street through Ginza is closed off for walking only. This is a great place to come to see the upscale side of Tokyo.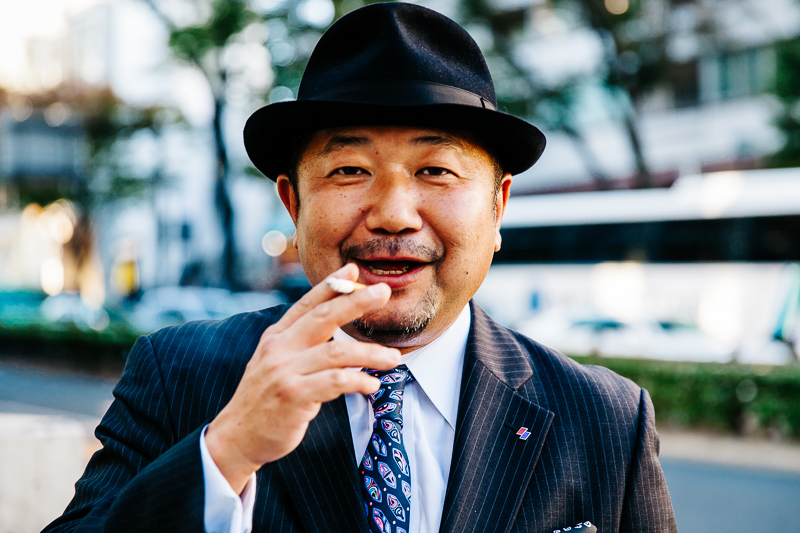 5. Asakusa:
Asakusa is Tokyo's famous district of old where Japan's past survives on. In past centuries, Asakusa was Tokyo's leading entertainment district. Now, it's become an attraction for tourists to see a glimpse of how Tokyo looked before the skyscrapers and lights.
The main tourist attraction here is Sensoji, a popular Buddhist temple, but the surrounding area is where you'll want to go for Street Photography. Once through the gate you'll be in Nakamise Shopping Arcade. This busy street is lined with colorful stalls selling traditional items and food. You can also walk around the surrounding neighborhood to catch life in Asakusa outside of the tourists.
There's plenty of people to photograph in the area and the old Japanese style of the district gives you something interesting and different to capture in the scene.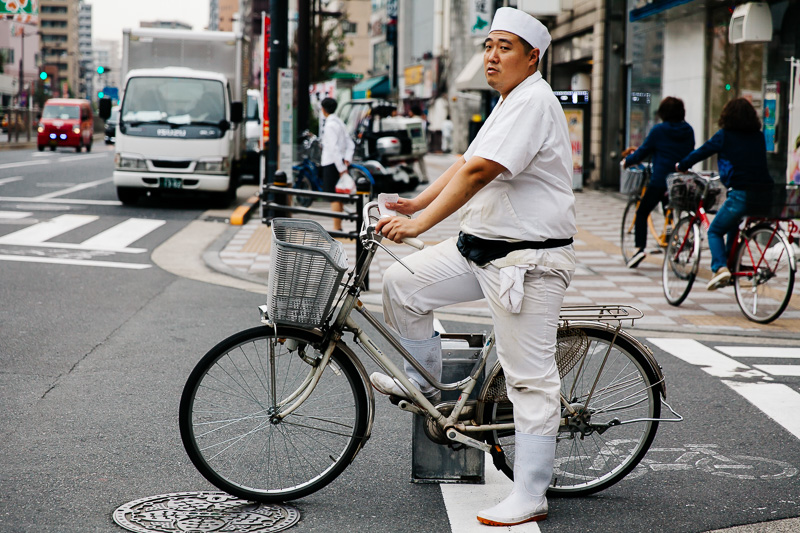 6. Tsukiji fish market:
Tsukiji Market is one of the largest fish markets in the world. It is also home to the famous early morning tuna auctions.
The endless variety of fish and other seafood you see here is interesting enough on it's own, but my favorite part is the busy atmosphere of the workers driving around in their scooters and the buyers and sellers slicing up and preparing their fish. You could walk around here for hours photographing everything that's constantly going on. 
The inner market is where the wholesale business and tuna auctions take place, while the outer market is where the restaurants and shops sell all that fresh seafood.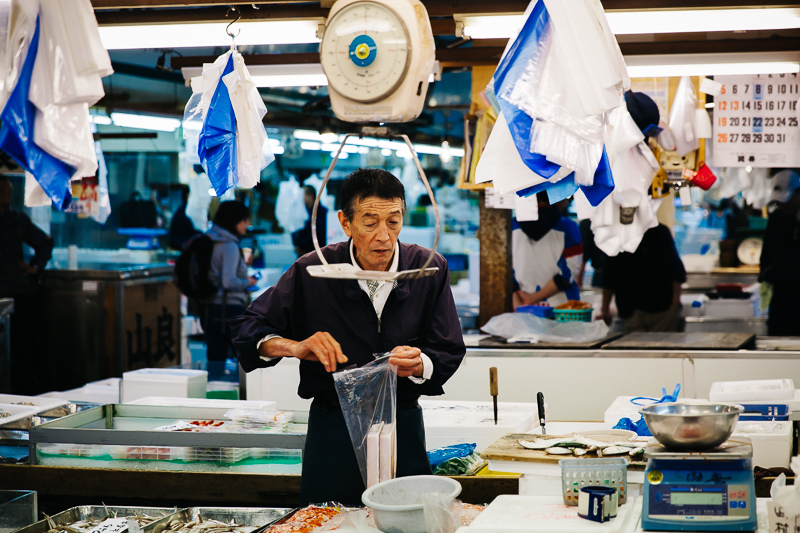 The famous tuna auction is limited to 120 visitors per day and you will have to arrive there very early to make it on that first-come, first-serve list. By early, I mean around 4:30 in the morning early. I did it, but I stayed the previous night in a hotel just down the street since the metro doesn't start until 5:00 in the morning.
*The market is scheduled to move to a new site in Toyosu in November of 2016, partly due to the unanticipated amount of tourists it now attracts.
Top 5 Things to Capture in Tokyo:
1. Business Suits:
No where in the world will you see more black business suits walking the streets. It's a reflection of the culture in Japan and something you must capture.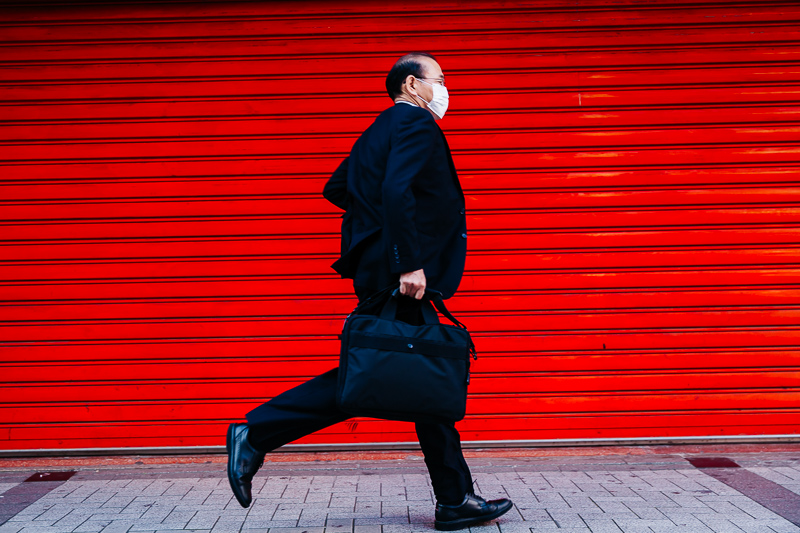 2. Tokyo Fashion:
Without a doubt, Tokyo has the largest variety and most unique fashion I've ever seen. 
Cosplay, anime, maid outfits, punk rock, hipster, american culture, colored hair, countless accessories, those cartoonish eye contacts and much more, all done with Tokyo flair. I could go on and on about all the fashion statements I've seen here, but it's best for you to come see it for yourself.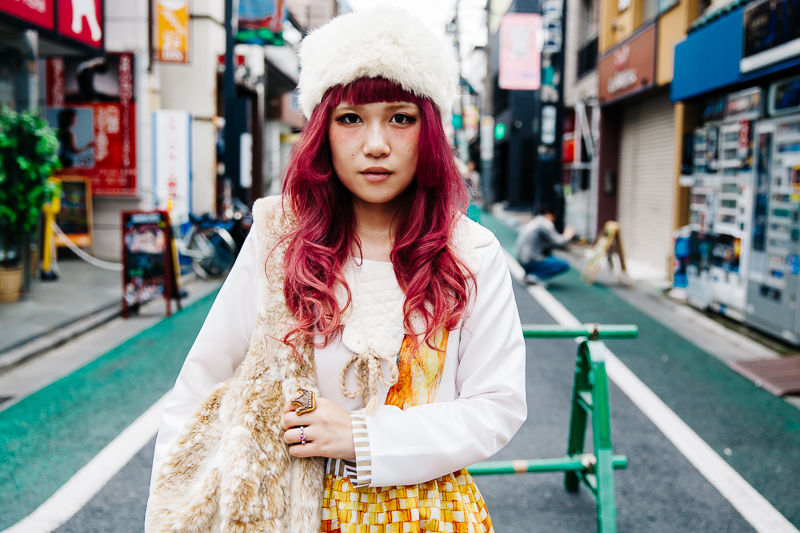 3. Alley Bars:
When you think of Tokyo, you think of sky scrapers, neon lights, busy metro stations, and wide streets with crosswalks to match. But hidden throughout Tokyo, you can find little blocks of alleys that take on a completely different character.
The narrow alleys are cramped, dark, and dingy. Tiny shanty-style bars and restaurants are squeezed together, most of which are only one or two-stories tall. Some are so small they can only fit five or so customers at a time.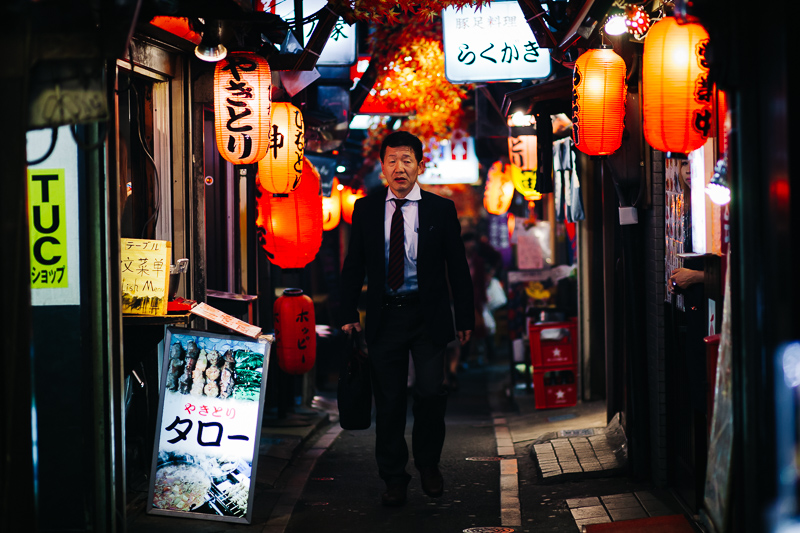 The ramshackle buildings and dimly lit alleys give a very scruffy and run-down appearance, but they also give off a personality and character that brings you back to the post war past of Japan. The smells of food, the smoke filling the air from yakitori grilling, the lights from the old plastic signs, and more all add to this unique feeling. 
I would highly recommend spending some time with your camera walking through these alleys, such as Golden Gai and Memory Lane. It's one of my favorite parts of Tokyo. For some more photos of these alleys, you can check out my short photo series on them here.
4. Maids:
If you don't know what Maid Cafes are, they are the most popular of the cosplay restaurants, where women dress up and play a specific character and theme for you. In this case, waiting on you like your personal maid. Only in Tokyo.
You will see these "maids" dressed up everywhere in certain districts, especially Akihabara. They stand out on the streets advertising and trying to get people to come to their cafe, or at times just walking around on their own. Their colorful maid outfits, hair and make-up can definitely add something interesting to a street photo, while also capturing one of the many things that make Japan unique.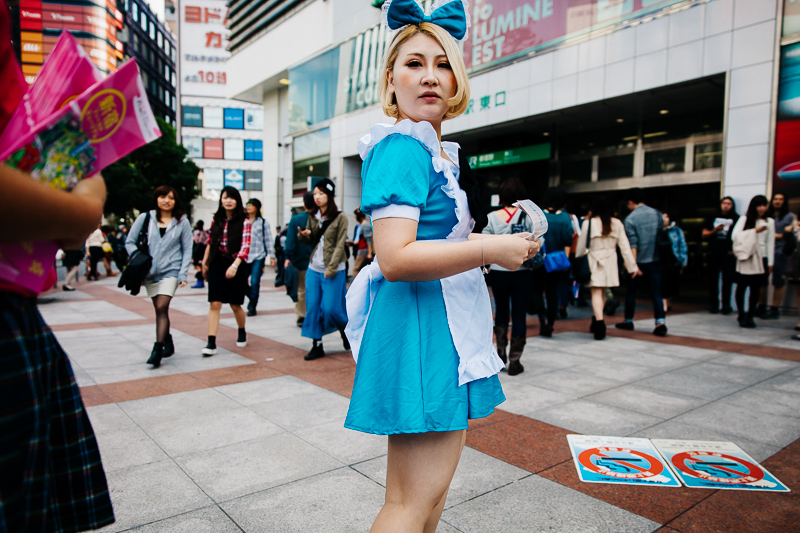 5. Subway:
Tokyo's metro system is famous for a reason. It is gigantic, it is chaotic, and it can be overwhelming at first.
Everyone takes the metro in Tokyo. For one, taxis are beyond expensive here. People would rather sleep and wait for the morning train than pay $40 to go 3km home. So mix this with a population the size of Tokyo and you have the busiest metro system in the world.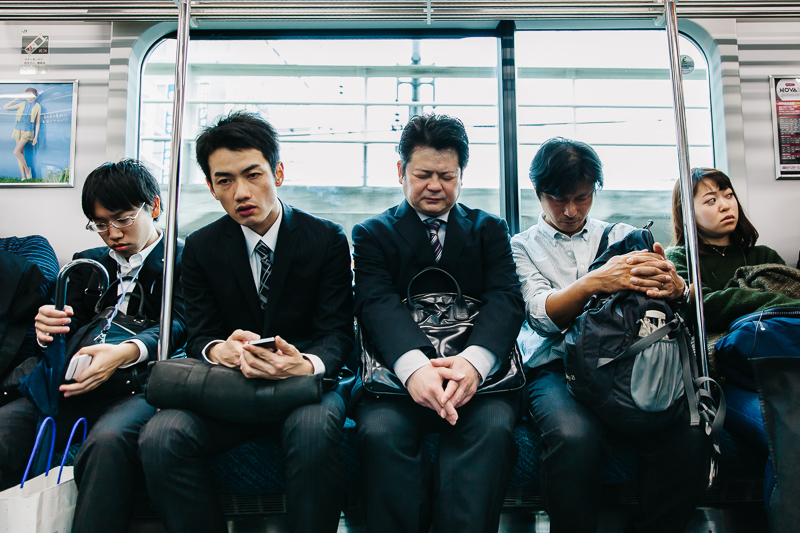 The chaos of an endless number of train lines, the grind of the working class, the fashion and culture of the youth, and all the people sleeping on the train. You can capture all of this and more by spending some time on the Tokyo metro.
What do for a street photo break?:
Shop
I don't mean mall shopping. I don't even mean actually buying anything, but you have to check out the little shops everywhere in Tokyo. No where have I found more interesting, unique or downright "what the ?" products than In Tokyo. From the interesting to the strange, it's great for a break to step into one of the little shops and browse away.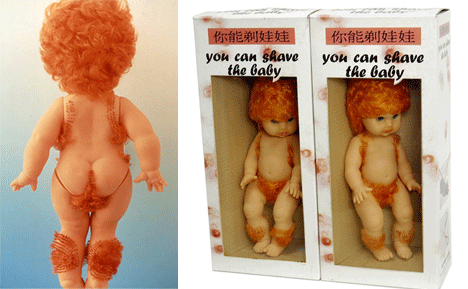 Safety Score: 9
As far as big cities go, it doesn't get any safer than Tokyo. People don't even lock their bikes here. The friendliness and politeness of the people will become apparent as soon as your first customer experience at a McDonalds.
Now saying that, of course no city is completely safe, especially the size of Tokyo. While I never felt unsafe, there are some seedy areas, like in Shinjuku, that you should keep aware of when out. Most of the people in these areas won't be dangerous, but they might not want their photo taken for certain reasons.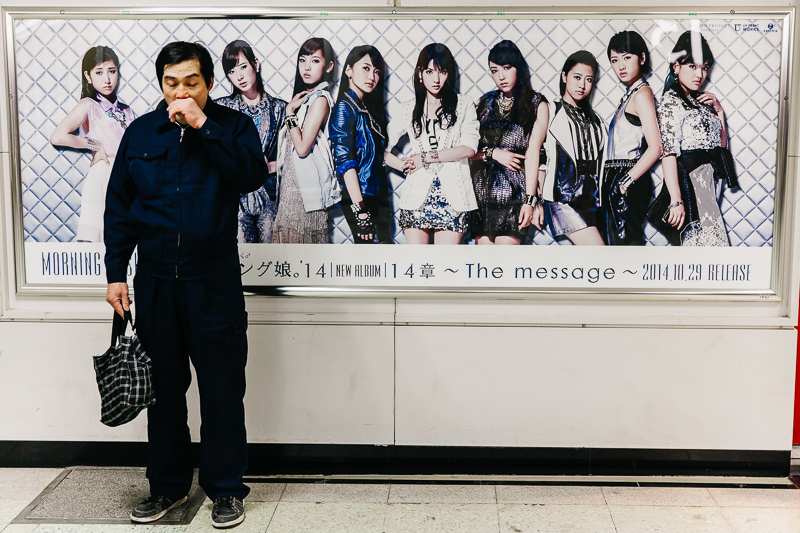 People's Reaction Score: 8
People are beyond polite in Tokyo. A violent or rude reaction is just not part of the culture. They are also used to seeing plenty of cameras and photography in public. This is the home of basically every major camera manufacturer after all. You do have to be quick, though, before those peace signs make their way into the photo. 
On the other hand, some people can be shy and not want their photo taken. People here are also very aware of cameras around them. I have been told by locals that this is partly due to a problem in Japan with cameras being used with other motives, which would explain this sign…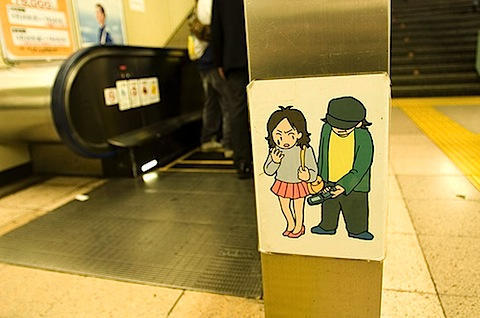 Overall, you shouldn't ever have to worry about a negative reaction or conflict, but don't take advantage of politeness, and make sure you move quickly. 
Street Tips:
Get a Suica card
The Suica card, as well as the PASMO, is a prepaid fare card for the metro lines in Tokyo. The Suica is issued by the JR lines, while the PASMO is issued by the private lines, but both will work on any of the lines. 
You do save a little money on fares with the card, but the main reason to get one is the convenience. You can load it up once and then continuously use it without having to go through the hassle of waiting in line and purchasing a ticket each time you ride the metro. It has a microchip inside which allows you to just slide it over the card reader at each turnstile.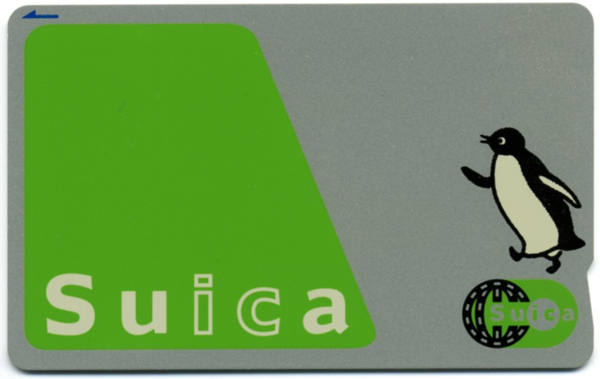 Less time waiting in lines means more time shooting on the streets. You can even personalize your Suica card too :)
7-Eleven is Your Friend (and your bank)
The convenience store 7-Eleven is a big deal in Japan. So big that they even have their own banks. One problem in Tokyo, as a foreigner, can be finding a bank or atm that will allow you to draw money. Add this to the fact that many places in Tokyo don't take credit cards and you might find yourself wasting time on the streets searching for a bank instead of taking photos.
Luckily, 7-Eleven's are everywhere in Tokyo and they always have an atm that will let you draw money. So if you find yourself out on the street needing some cash for a bite to eat or maybe another memory card, just look for the nearest 7-Eleven.
Wake Up Early
Try getting up extra early for Street Photography at least once while in Tokyo. Being such a modern city with so many people filling its wide streets at all times, just seeing the streets empty will be an experience on its own. Capture the skyscrapers and bright lights of Tokyo without the chaos on the street. The juxtaposition can create an interesting mood and feeling that you can't get during the day.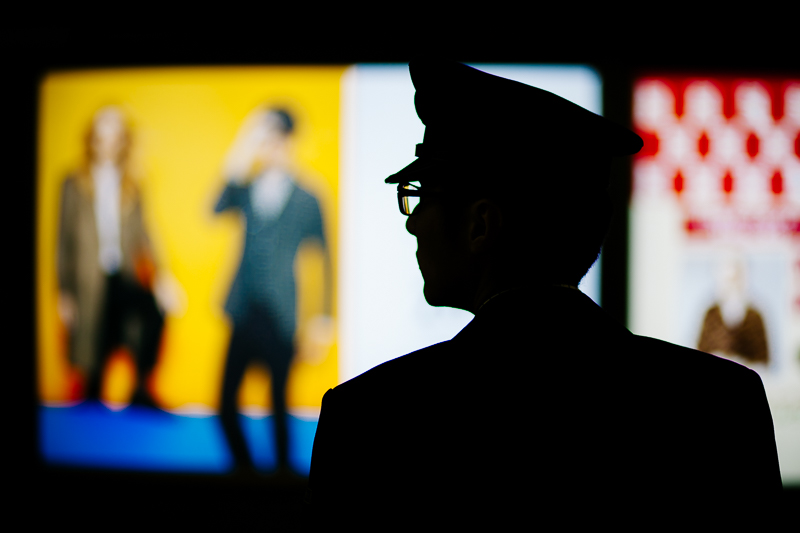 I hope this Street Photography Guide to Tokyo helps you get ready to photograph these wonderfully busy streets. I want to make these guides as valuable as possible for all of you so please add any ideas on additions or improvements below in the comment section!
Also, if you've ever been to Tokyo before or shot the streets and life there, be sure to tell me about it in the comments below!