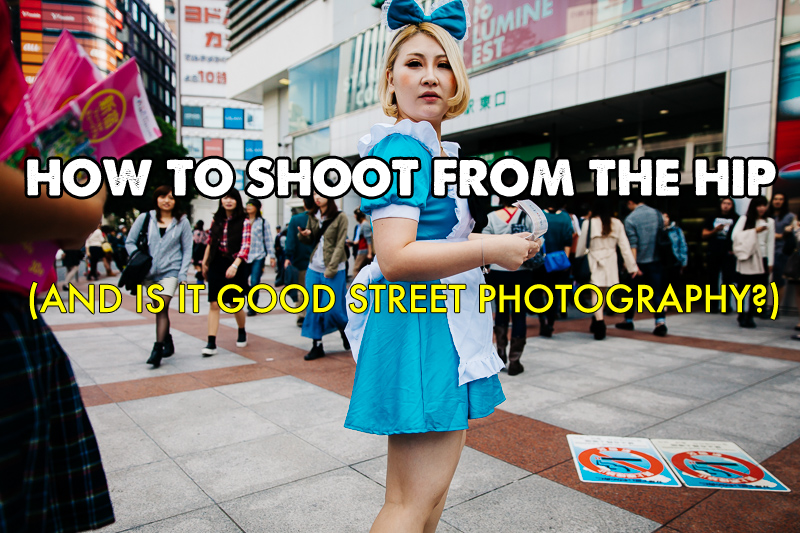 What is "Shooting From the Hip?"
Shooting from the hip means that instead of bringing the camera up to eye level to take the photo, you hold it down at waist level and take it. Since you're not able to frame or focus it with your eye, you have to rely on pointing and guessing instead. This sacrifice allows you to be much less noticeable on the street when taking the photo.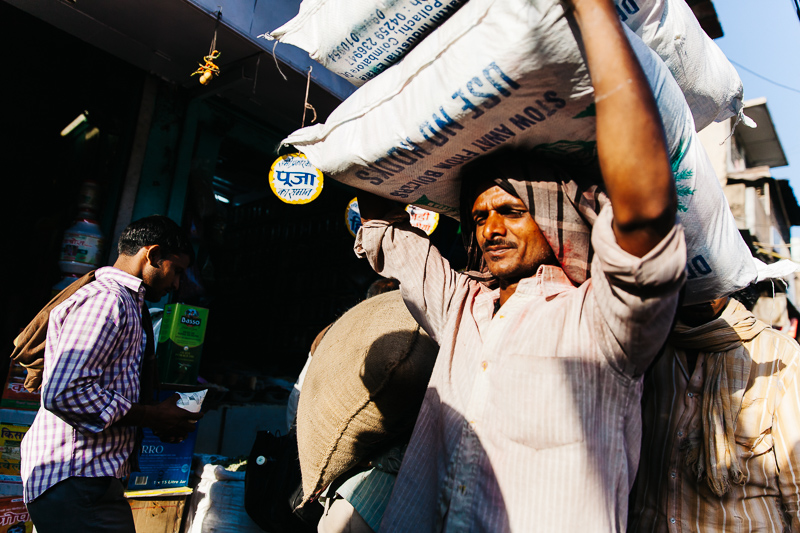 How to Shoot From the Hip
1. Use a Wide Angle Lens
I'd recommend 28mm or less (18mm in digital frame). Anything higher will make it difficult to capture the scene completely, specifically the subject. Personally, I find 24mm to be the perfect focal length for shooting from the hip since it's plenty wide enough, but doesn't cause the level of distortion of a 21mm or wider lens.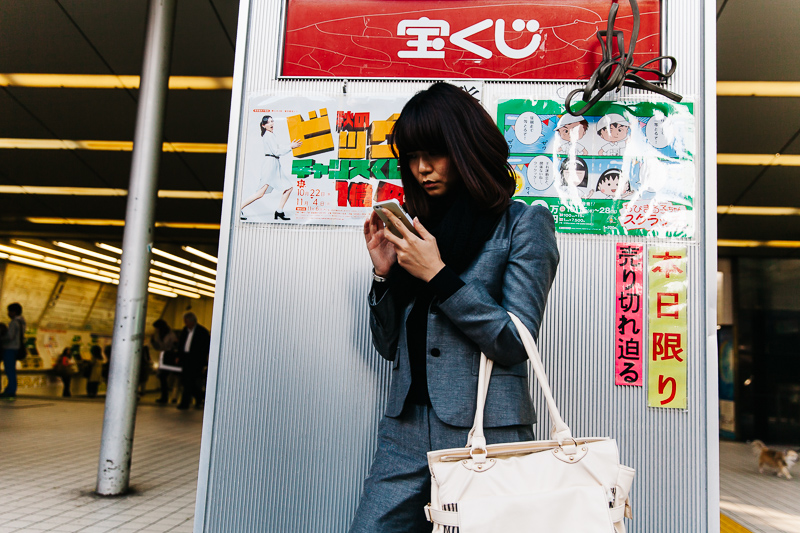 2. Set Your Camera for Zone Focusing
You could rely on auto focus by pointing the camera and hoping it focuses on what you want, but I wouldn't recommend it. You'll probably end up with too many back focused shots. Instead set it for zone focusing at the ideal distance you'll be taking your shots.
To do this, set it to manual. Choosing the aperture is the important part for zone focusing. I'd recommend f/8-16 to keep enough of the scene in focus. Then set the shutter speed (I'd recommend 250-500 to stop motion, but allow good exposure with the high aperture). And then set ISO for the correct exposure depending on how much natural light you have.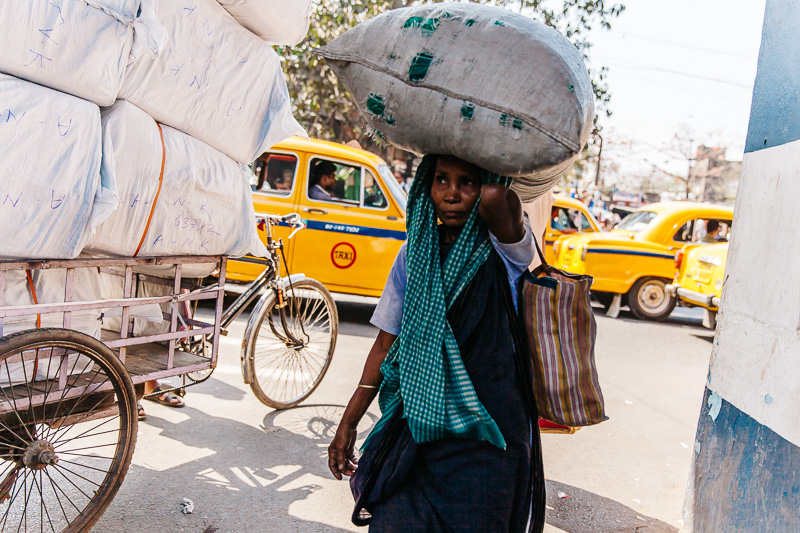 You can find out your ideal focal distance by taking a few practice focused shots. Then just leave the focus set there and try to always click the shutter at that same distance from the subject. Depending on your aperture and your sensor size, your focal zone will now be set by this chosen focal distance.
Zone focusing gives you a nice "buffer" for keeping your subject(s) in focus, even if you're off a little in your distance. Also, keep in mind that the zone focusing "buffer" goes twice as far behind the focus point than it does in front of it.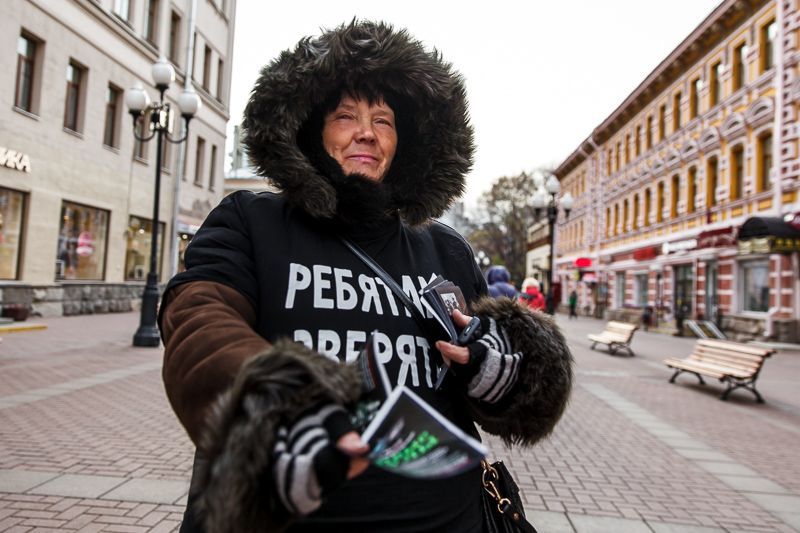 3. Practice
Now it's time to go shoot. Make sure you hold the camera down at your waist while pointing the lens slightly up so it will get the subject's head in the frame at that angle. Then practice, practice, practice. It will take a little while getting the hang of framing in this way so the only way to learn is by shooting a lot.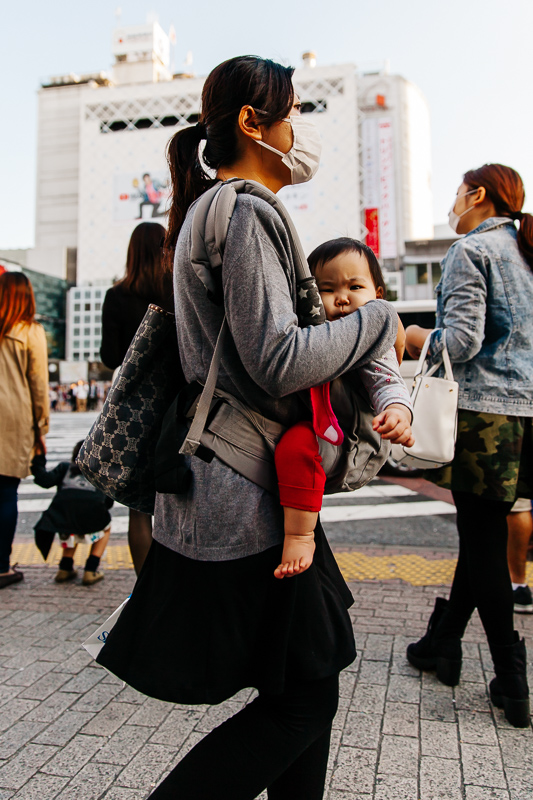 After a while, you'll be able to picture the frame in your head pretty well by how you point the camera and when you click the shutter. Still, don't expect every shot to be framed well. No matter how good you get, there's still a bit of luck and guesswork since you can't actually see the frame before you click the shutter.
Why Do It?
Shooting from the hip can be fun. It makes it much easier to go unnoticed and capture candid shots. It also gives you an interesting view since you're shooting up from a lower angle. Each shot can be a surprise to look at and see what you captured. Did you nail it? Did it capture things you didn't even notice? Sometimes it's surprising how well they can turn out.
Why is it Not Taken Seriously by Most Street Photographers?
Most Street Photographers don't take it too seriously because you aren't capturing the scene with your eye and you're not in complete control of the composition. Some feel it's too easy and involves luck over skill. Others don't like the very noticeable "shooting from the hip" look of the photos. 
You can get good at capturing the shot well with practice, but you're still not viewing and framing the scene. That lower angle can be cool for a different view, but it's not the best angle for most shots. Also, no matter how good you get at it, many of your shots will still be off in some way.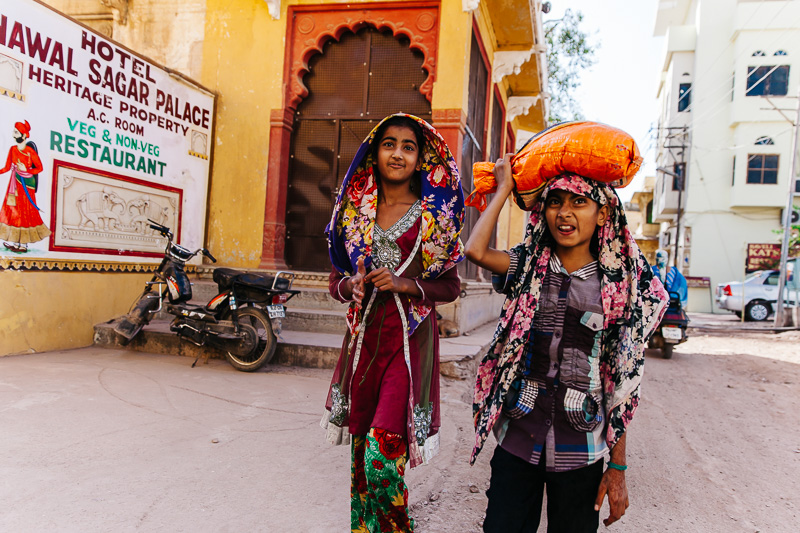 Personally, shooting from the hip can be fun, but it's something I don't do too often. Sometimes I'll do it for a break or just to experiment, but I prefer using the viewfinder. I like having complete control over the photo and while it can give an interesting view, it's always the same view and isn't the best one for capturing most scenes. 
But…
Whatever reasons others don't like something shouldn't affect how much you like it. So if you try it out and enjoy shooting from the hip, then do it as much as you like. It's not going to teach you as much about improving composition and all that, but it's something new and different to try.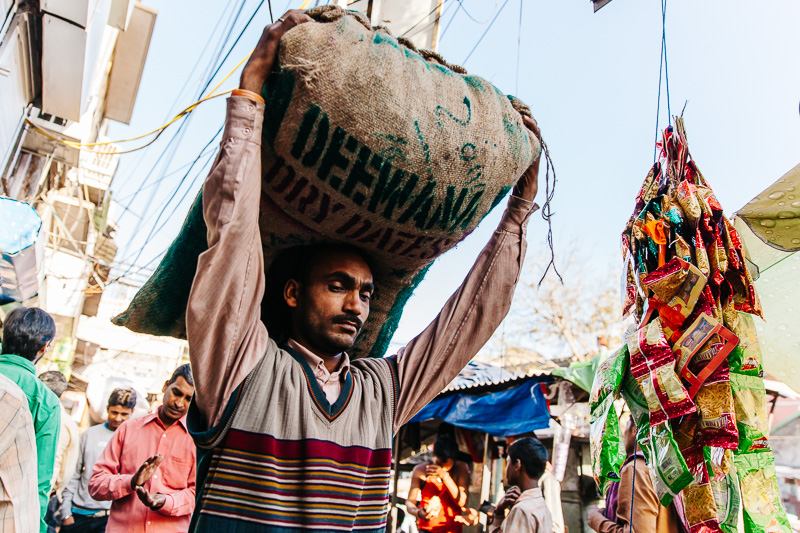 If you're having trouble getting close-up candid shots, you can also try this out and see how you like it. It might help you take a step closer to capturing Street Photography without fear. 
Either way, shooting from the hip is something I'd recommend having some fun with and seeing what you can capture.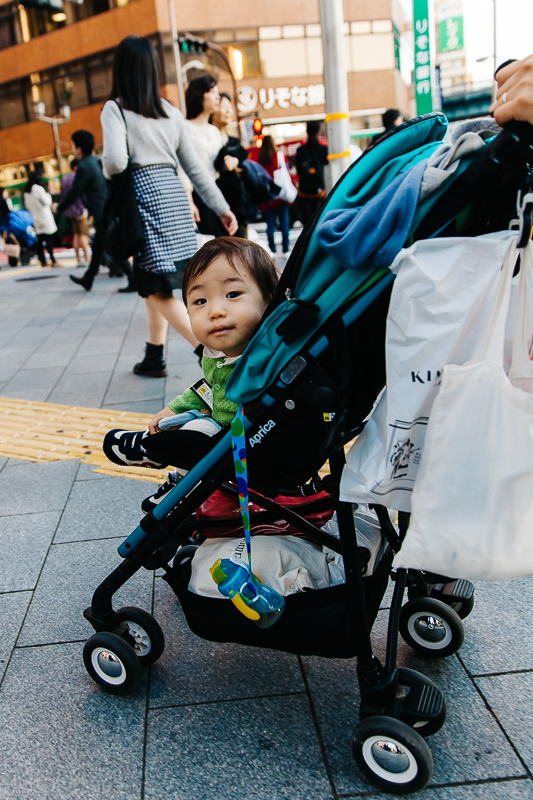 Try it out and tell me how it goes in the comments below! Or if you're already familiar with shooting from the hip, comment what you think about it!