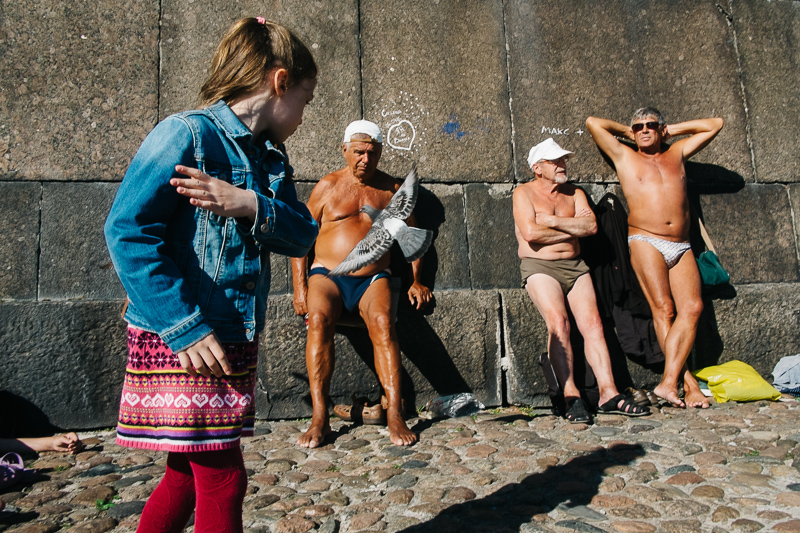 Street Shot Sundays Story & Stats
Story:
This Sunday's Street Shot of the Week was taken at Peter and Paul Fortress in Saint-Petersburg, Russia. Zayachy Island, also known as "Hare Island," is a very small island in the center of Saint-Petersburg connected by two pedestrian bridges. In 1703, Peter the Great began construction of the Peter and Paul fortress here, which is a big tourist draw today. The shore surrounding the fortress wall is also a draw for the locals too, though. Especially in the summer.
Since the large stone wall faces the sun, it heats up and becomes a warm spot for locals to lay against in relaxation while they sunbathe. Combined with the mix of characters it attracts, it can create a very interesting, slightly surreal scene. People walk around the cobblestone shore, locals sunbathe, and pigeons come hoping for feed.
With so much interest here, I took plenty of photos, but for this one I noticed the man on the right kept waving a pigeon away. Since there was still feed on the ground, the pigeon kept returning. I took a few shots of this scene, but just as the man finally gave up, a girl came walking in-between us. She startled the pigeon, who then startled her, as she brought her hand back and the bird quickly flew away. It was an instant reaction shot as the action happened so fast, but luckily I caught something. This wall attracts some interesting scenes to say the least.
Stats:
Camera: Fujifilm Xpro1
Lens: Fujinon XF 18mm
Focal Length: 18mm (27mm full frame equivalent)
Aperture: f/11
Shutter Speed: 1/1000
ISO: 800