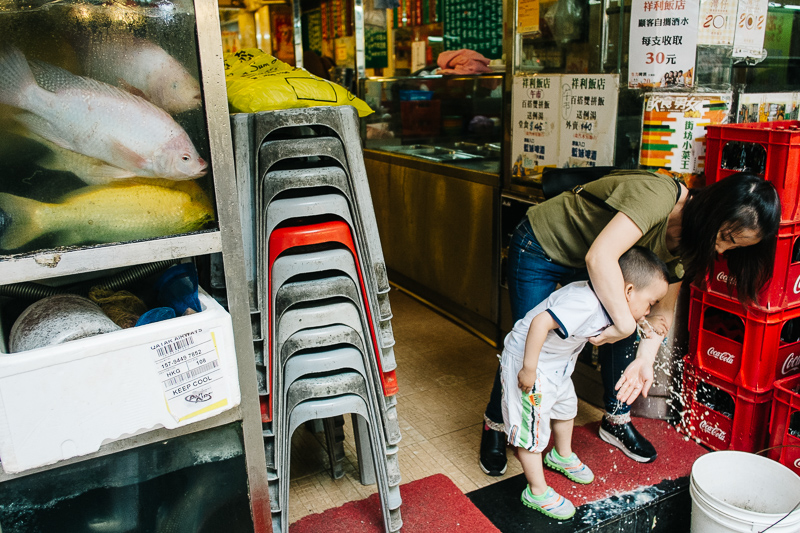 Street Shot Sundays Story & Stats
Story:
This Sunday's Street Shot of the Week was taken in the Wan Chai district of Hong Kong. Sorry if this shot turns anyone off, but it makes me laugh. Life isn't always pretty, but at least it can still be laughed at. Wan Chai is Hong Kong's famous red light district, where sailors came for some R&R in the old days. Today, much of that has changed with shopping centers, sky scrapers, markets, restaurants, bars and more.
On this day, the bad weather in Hong Kong was only getting worse for me, as it started to pour rain once again. So I took cover under the sidewalk awning of a restaurant in Wan Chai. I was looking at the fish in the tank when all of a sudden a mom came rushing out pushing her child. Just before they made it to the sidewalk, the boy couldn't hold it in any longer. Needless to say, I didn't go in for a bite to eat after that review, but I did decide to capture the moment. I doubt this is what Henri Cartier-Bresson was thinking of when he termed "The Decisive Moment," but those fish do look interested. 
Stats:
Camera: Fujifilm Xpro1
Lens: Fujinon XF 18mm 
Focal Length: 18mm (27mm full frame equivalent)

Aperture: f/2.8

Shutter Speed: 1/500
ISO: 1600