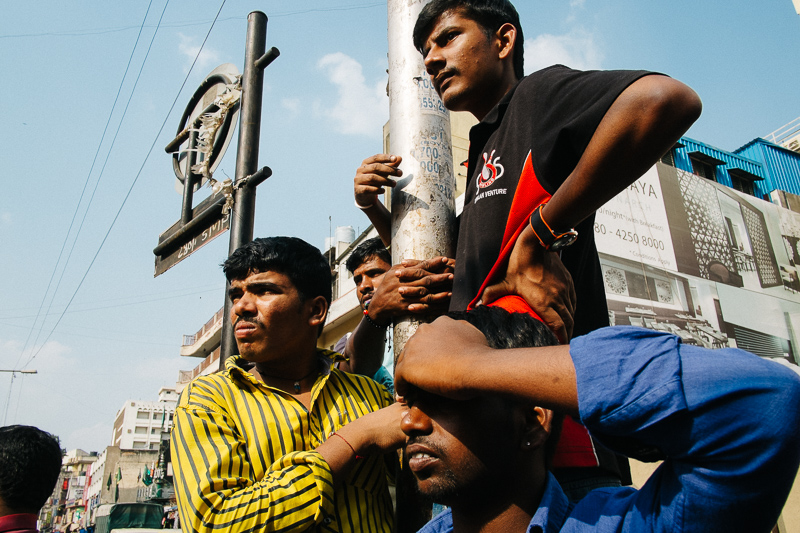 Street Shot Sundays Story & Stats
Story:
This Sunday's Street Shot of the Week was taken on Avenue Road in Bangalore, India. Avenue Road  is one of the busiest shopping streets in Bangalore and stretches from the popular KR Market all the way up to KG Road. When in Bangalore, this is a great street to include in a photography walk because you can spend hours shooting around the market area and then slowly head up Avenue before exploring the Majestic area. 
Avenue Road is always packed with people, covering the sidewalks and street the whole length. The mix of shops, restaurants, and prime location keep the activity coming. During one of my days walking this street, I saw a group of people ahead that looked even more packed than normal so I went to check what was going on. It turned out a small film crew was shooting a few actors inside a blocked off area. So everyone was curiously trying to see what was going on through the makeshift barriers put up by the crew. 
I noticed these four men all trying to peak in, with three of them using the pole for help. A few things grabbed my attention. First, was how I could fit them all together into four separated layers. Another, were the different gestures of their hands. And a third, was how I liked the different colors of yellow, blue and red shirts they were wearing. So I framed them all together to get these pieces separated as much as possible, while making sure to snap the photo while they were still intently looking in that same direction. 
Stats:
Camera: Fujifilm Xpro1
Lens: Fujinon XF 18mm 
Focal Length: 18mm (27mm full frame equivalent)

Aperture: f/8

Shutter Speed: 1/500
ISO: 640