Street Shot Sundays Story & Stats
Story:
This Sunday's Street Shot of the Week was taken around Bab Doukkala in Marrakech, Morocco. I had just finished making my way out of the medina and started exploring outside the wall. This actually became one of my favorite spots for street photography in Marrakech. The Grand Taxis, for long distance travel, are all located here and there's plenty of merchant stands around too. It's more open so you get good light, the long stretch of Grand Taxis bring a lot of activity, and most of the tourists don't venture this far out of the medina. 
Marrakech is known for being a difficult place to shoot Street Photography. There's so much to capture here, but most want money first, or they don't want any photos at all. They are very aware of any nearby cameras too.
While walking down the street, I noticed this man looking up into the sky with a ray of light hitting the side of his face. I knew I'd have to be quick and wouldn't have time to get any closer before the moment was gone. I also saw there was more going on around him, so I fit it in. 
Unfortunately, I wasn't quite quick enough, as the extremely attentive man on the right put his hand up just as I clicked the shutter. So it's another "almost" shot, but it probably would have been better closer up, anyway (as cropped below). That's way too much cropping, in my opinion, but it would have been nice to be able to get up as close as this during the actual shot. That's Street Photography, though. Moments happen in the blink of an eye and you have to be in the right place at the right time.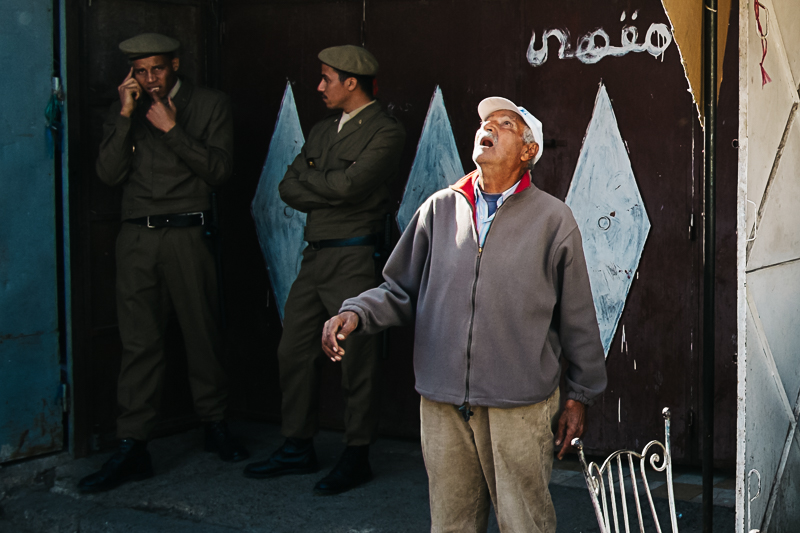 Stats:
Camera: Fujifilm Xpro1
Lens: Fujinon XF 18mm 
Focal Length: 18mm (27mm full frame equivalent)

Aperture: f/5.6

Shutter Speed: 1/500
ISO: 1600