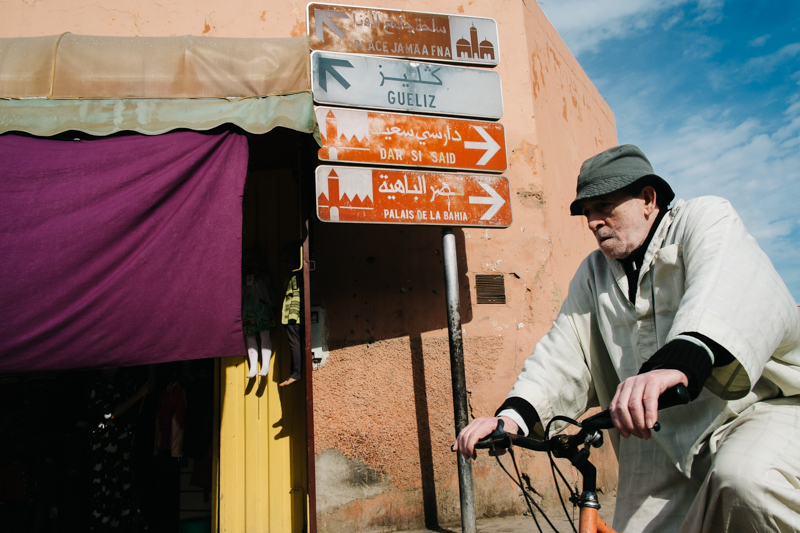 Street Shot Sundays Story & Stats
Story:
This Sunday's Street Shot of the Week was taken by Place des Ferblantiers in Marrakech, Morocco. This square is in the heart of the Mellah, the old jewish quarter, and just north of the Bahia Palace. It's also known as the tinsmith's square due to all the artisans that hand make items out of tin sheets. In addition to these craft shops, there's a few restaurants too that make it a popular spot to stop.
You also have some busy streets intersecting here, which combined with all the other attractions in the area, make it one of the busier spots to capture life in Marrakech.
For this shot, I had just finished shooting most of the day around the Mellah and was making my way back up to Jemaa el-Fnaa to catch it before sunset. While carefully walking across traffic at the chaotic intersection here, I noticed how nice the light was hitting a collage of colors across the street. The complementary colors of the orange signs and building next to the blue sky, and the purple cloth against the yellow door caught my eye.. 
Just as I noticed the beautiful light and mix of complementary colors, I saw a pale man dressed in matching off-white coming towards me on a bike as I was crossing the street. So while trying not to get hit by any motorcycles, I quickly lowered down and captured the shot as he rode by against the colorful background. The great light and abundance of color within the desert make Marrakech one of the most photogenic cities I've been to yet.
Stats:
Camera: Fujifilm Xpro1
Lens: Fujinon XF 18mm 
Focal Length: 18mm (27mm full frame equivalent)

Aperture: f/11

Shutter Speed: 1/500
ISO: 400