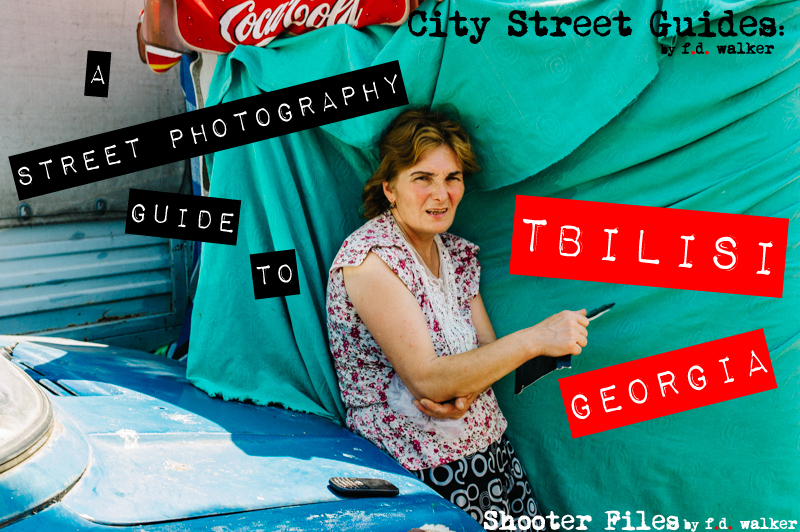 *A series of guides on shooting Street Photography in cities around the world. Find the best spots to shoot, things to capture, safety concerns, street tips, and more for cities around the world. I have personally researched, explored and shot Street Photography in every city that I create a guide for. So you can be ready to capture the streets as soon as you step outside with your camera!
Tbilisi
Overview:
There's not too much information online about Tbilisi, Georgia. When it comes to Street Photography and finding the best places to shoot, there's close to nothing. That doesn't mean Tbilisi isn't a great destination for photography, though. The opposite is true.
Due to its prime location, in the heart of the Caucasus between Europe and Asia, the city has been a target for various powers over the centuries. This has given Tbilisi a diverse mix of culture and backgrounds, which is reflected in both its people and architecture. It's also given the capital city a dark history of struggle and war. While most recently, Tbilisi has seen this struggle with Soviet control, the city is showing a strong movement towards its own future today. 
So here's a Street Photography guide to help you capture the streets of Tbilisi on your next visit. 
Map:
Old Town
Rustaveli Avenue
Freedom Square (Liberty Square)
Station Square
Didube Station
Bridge of Peace & Rike Park
Top 6 Street Spots:
1. Old Town
The main attraction for visitors to Tbilisi is its Old Town. Cobblestone streets, brick buildings and old Georgian Orthodox churches fill this unique and charming district.
Much of the Old Town has been reconstructed, though, leaving the more touristic parts feeling a bit less than authentic, in my opinion. I prefer walking around the older parts of the district where it doesn't feel so polished and touristy. 
You can also wander around the older neighborhoods to the northeast of the Old Town, which share a similar vibe, but are even further away from that tourist polish. They also give an interesting look at the day-to-day life of the locals.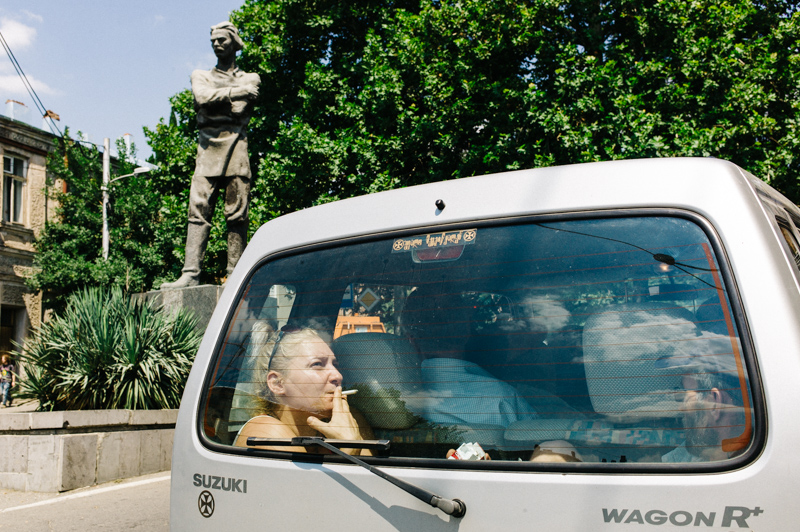 2. Rustaveli Avenue
Rustaveli Avenue is the central avenue in Tbilisi. This main thoroughfare is a mix of modern and 20th-century architecture, with some of the most important government and cultural buildings in the city. The avenue is also full of cafes, shops, restaurants and entertainment, so it packs with more people than any other street in Tbilisi.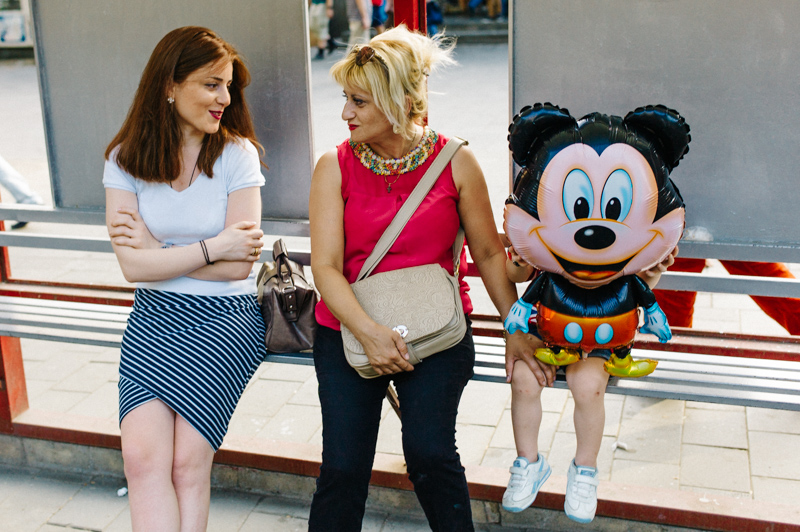 Rustaveli attracts locals, visitors, and people of all ages. Being by Freedom Square, they both serve as the main spot for outdoor events or public protests too. There's probably more city activity going on in this area than other in Tbilisi, so it's a top street for Street Photography.
3. Freedom Square (Liberty Square)
Freedom Square (also called Liberty Square) is the main square of Tbilisi and has a mix of locals and tourists. It's right by the Old Town and most of the shopping and nightlife of Tbilisi. It's also where Rustaveli Avenue starts, so it's in the middle of most of Tbilisi's attractions.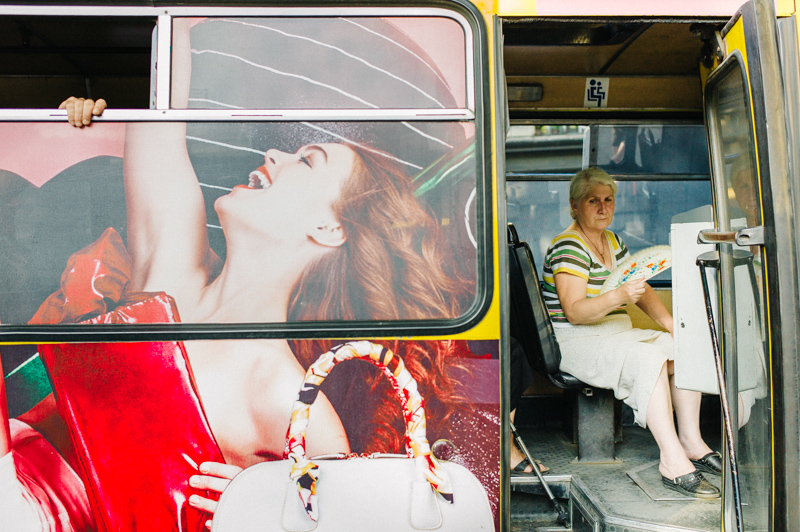 Freedom Square has been the location for many mass demonstrations, including those for Georgia's independence. It's easy to recognize by the tall Freedom Monument in the middle, which also centers a main turnabout of traffic. There's a popular bus stop here too, in addition to the underground metro station. So Freedom Square is a major transit spot, tourist spot and shopping and nightlife spot, which makes it a great starting point for a day of shooting.
4. Station Square
Station Square is one of my favorite spots in Tbilisi to spend some time walking around with your camera.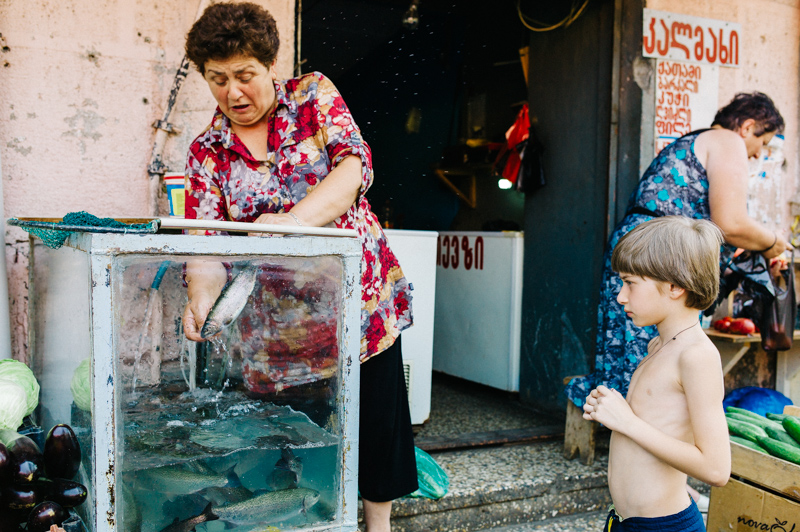 Surrounding the Station Square station is the biggest market in the city, which spans multiple street blocks. Produce and cheeses are the big sellers, but you can find plenty of other stuff too, including non-food items. The vibe at this market is very local, which makes for much more interesting Street Photography opportunities, in my opinion, compared to other cities' tourist driven markets.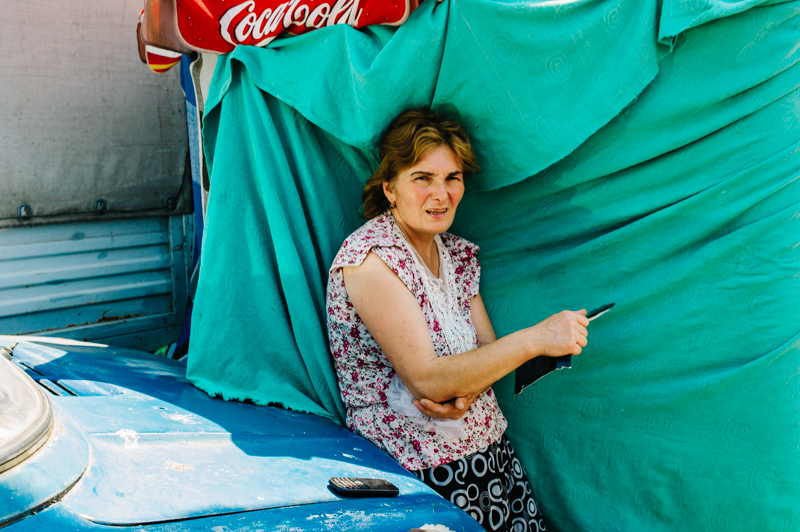 Not too far off is Marjanashvili station, so you can spend some time around Station Square and then walk to Marjanashvili, where you will walk through one of the more trendy and modern areas of Tbilisi.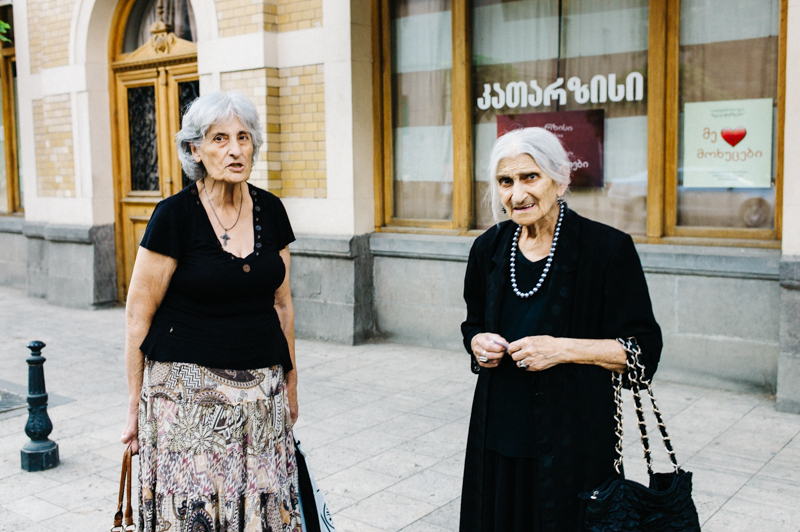 5. Didube Station
Didube Station is one of the busiest and most chaotic stations in the city because it's also the main area to grab a marshrutka.  These minibuses/vans are the most popular form of transportation to other cities. They're basically like a shared taxi service and are constantly being filled by men walking around the large parking lot outside of the station.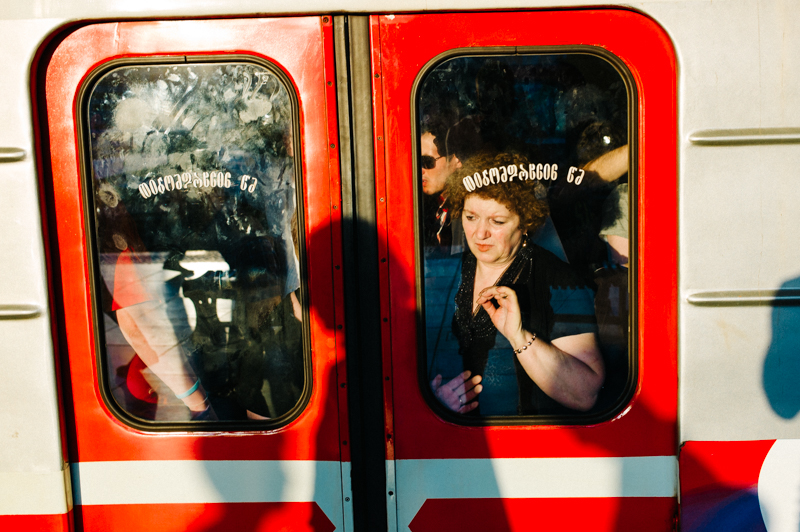 In addition to the metro station and marshrutka lot, there's a smaller street market here too. Walking around this area for some Street Photography is worth the metro ride up north for some different scenery and a little more chaos.
6. Bridge of Peace & Rike Park
If you walk towards the river from the Old Town, you'll notice an extreme change in scenery from old to modern. The "Bridge of Peace" is a pedestrian bridge that looks like something out of the future. 
The bridge takes you over to Rike Park which keeps the modern style going. Rike Park is one of the newest public recreation areas in Tbilisi and it shows. The city put a lot into and it's a very interesting park with its Dancing Musical Fountain, curvy pathways, and beautiful greenery.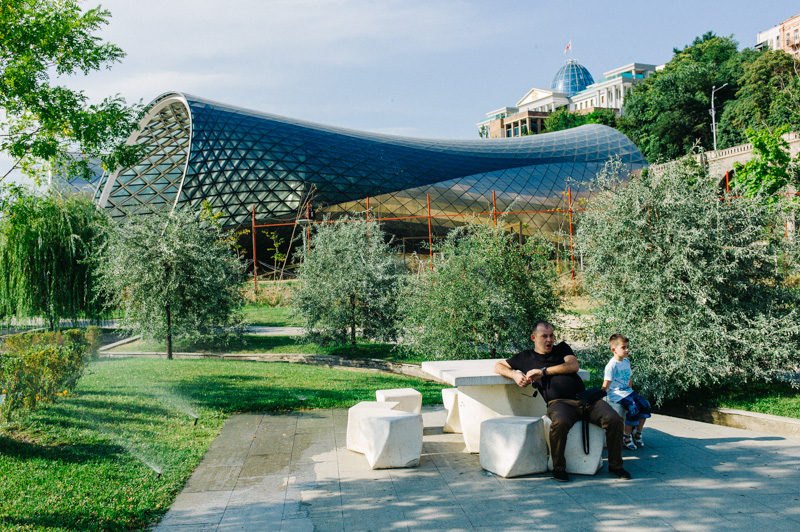 The president's official home is also located here and was designed with the same architecture and modern style as the bridge. The curvy steel and glass canopy top couldn't give off a more contemporary style. They even fitted it with thousands of LED lights for night. 
This strange clash of old to modern looks out-of-place, but can help capture some interesting Street Photography.
Sample Street Walk:
For a full day of Street Photography, covering some of the best spots, you can follow this sample street walk for Tbilisi:
Start at the Liberty Square Station (3)
Walk southeast through the Old Town (1)
After exploring the Old Town (1), walk across the Metekhi Bridge to Rike Park (6)
Walk around Rike Park (6) and cross back over on the Bridge of Peace (6)
Walk to Liberty Square (3) and then go up Rustaveli Avenue (2)
Stop at Rustaveli Station (2) and take the metro to Station Square (4)
Finish the day shooting around Station Square (4)
Top 4 Things to Capture in Tbilisi:
1. Markets
I'm not as big of a fan of going to markets for Street Photography as many. They can be too busy with messy backgrounds and also lose authenticity when they become too touristic. Luckily, the markets in Tbilisi are a different story. I love them.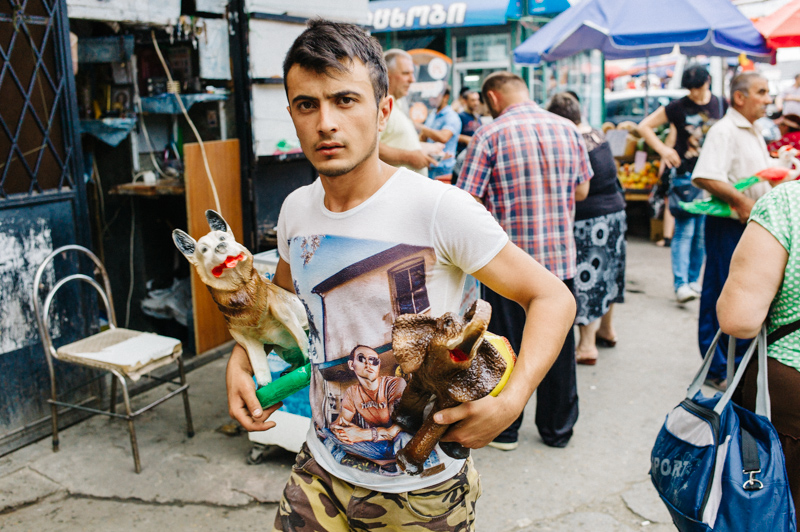 The market around Station Square is my favorite, but there are others around the city too. They have a really authentic feeling and are a very integral part to life in Tbilisi. They're full of characters, interesting moments and scenery.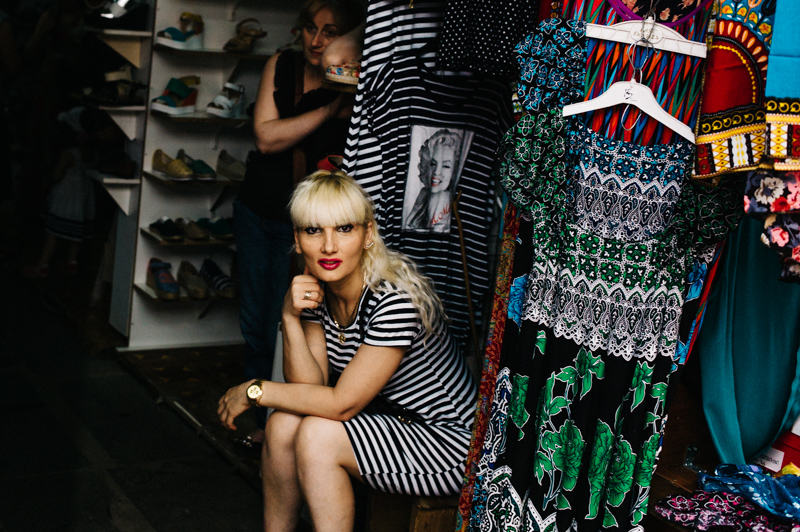 And the big outside markets go 7 days a week here, which makes it even better.
2. Religion
Most of the population in Georgia practices Orthodox Christianity, primarily in the Georgian Orthodox Church, which makes up 83.9% of the population. So you'll see plenty of churches when walking around the streets of Tbilisi, especially around Old Town.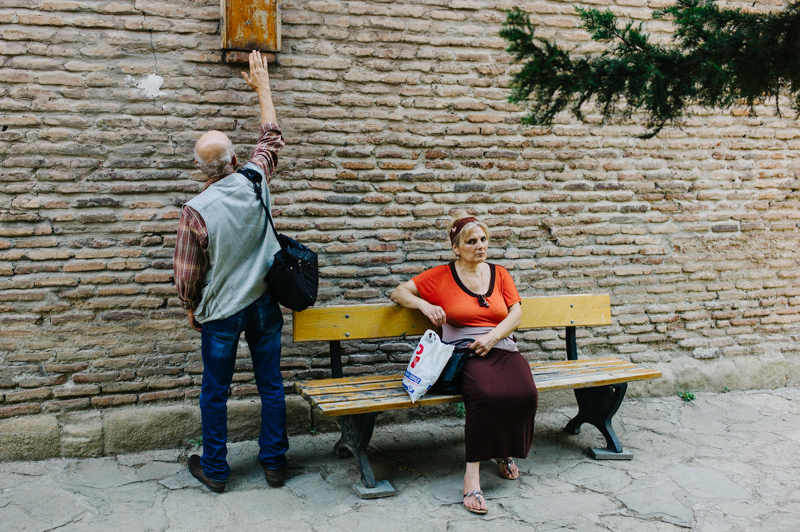 Most of the churches are built with a similar rectangular style and old bricks that blend in with the surrounding buildings and homes at street level. They usually aren't too colorful or fancy on the outside, except for some of the architecture and domes at the top, but they provide their own atmosphere to the city.
Some of them are definitely worth checking out inside too when the sun is out. While it might not be considered Street Photography, playing with the rays of window light they create should be fun for any photographer.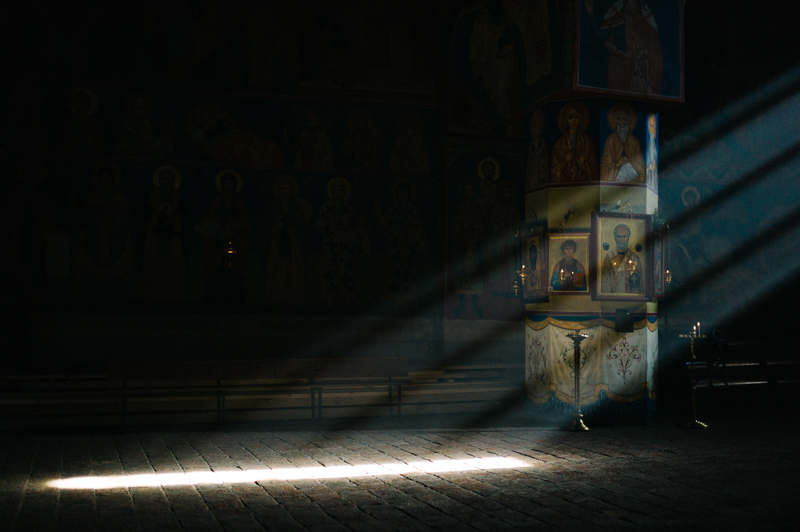 3. Old Streets
Tbilisi has been rebuilt many times due to its past struggles of war, from Iran to Russia. That being said, it still feels very old and has its own style.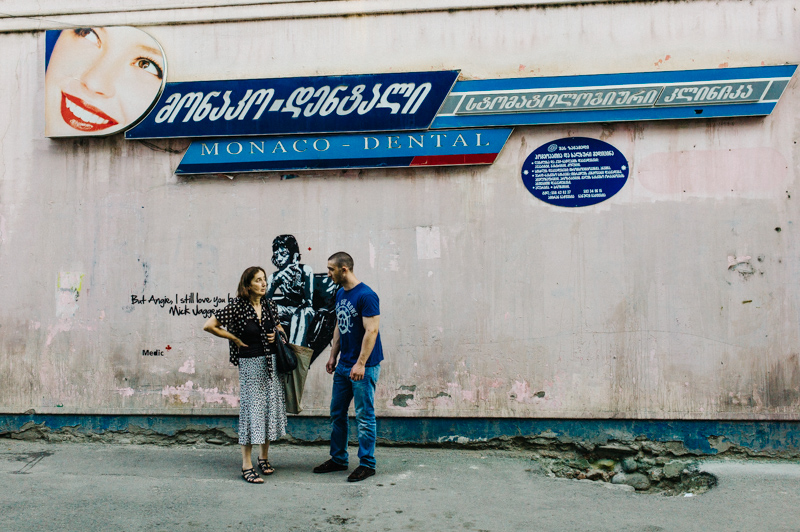 The soviet influence of the past can be most seen in the many crumbling soviet bloc buildings around the city, while the Old Town brings its own style.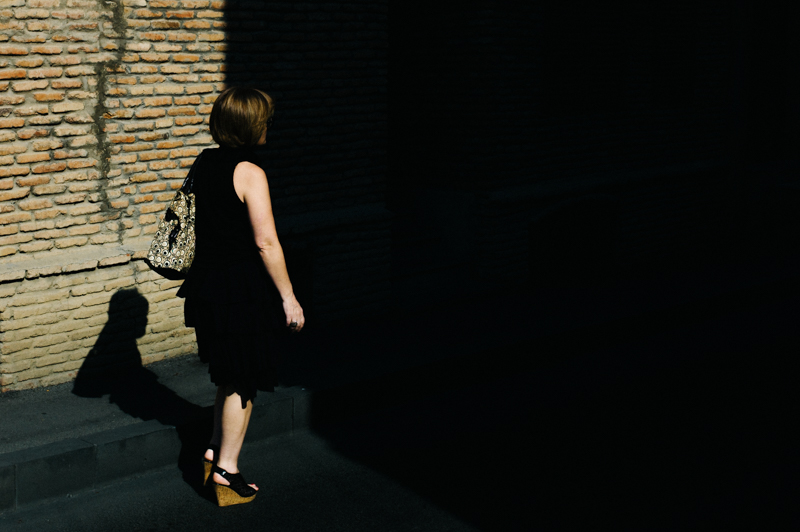 Most people will find the architecture in the Old Town more appealing than the soviet influenced areas, but I still find them interesting and photogenic in their own way, especially for Street Photography.
4. Clothing
At one time, Tbilisi was known for everyone having one color in their closet. Black. While this is still a popular look, things have changed some, especially with the women. Capturing the look of all black and some of the newer, colorful styles might make for some interesting photos visually.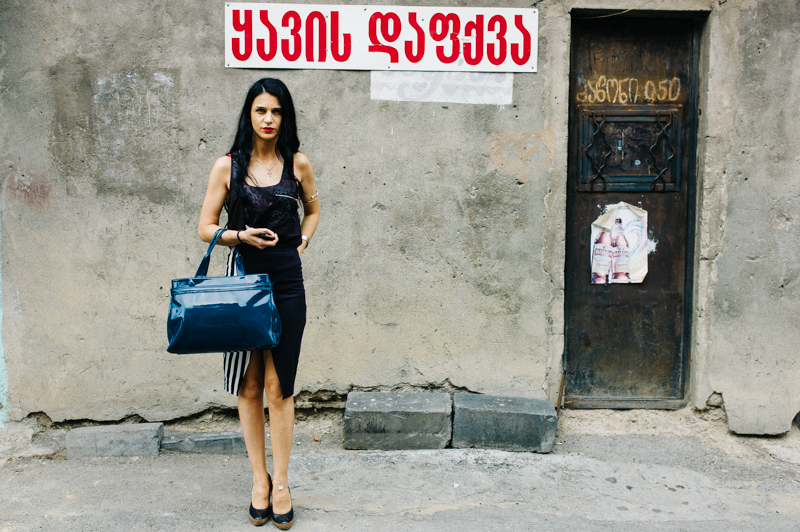 5. Watermelon
They love watermelon in Tbilisi. A lot. I've never seen so much watermelon in my life. Everywhere you go, you see stands, vans and trucks full of watermelons. And plenty of people carrying them home.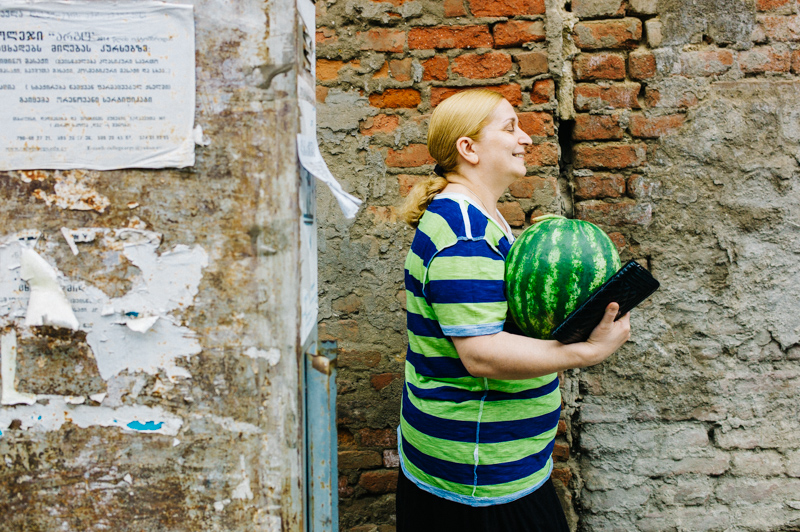 Colorful, green watermelons can be something interesting to add into your Street Photography, but while you're there, you should probably try some for yourself too. It'll be the cheapest, best tasting watermelon you've had. 
Street Safety Score: 8
*As always, no place is completely safe! So when I talk about safety, I'm speaking in general comparison to other places. Always take precaution, be smart, observe your surroundings and trust your instincts anywhere you go!
Tbilisi feels relatively safe. Some parts of the city might look a little dangerous due to crumbling buildings, but looks are deceiving in this case. The city's had a rough past and it shows, but when it comes to safety, you should be just fine with normal precautions.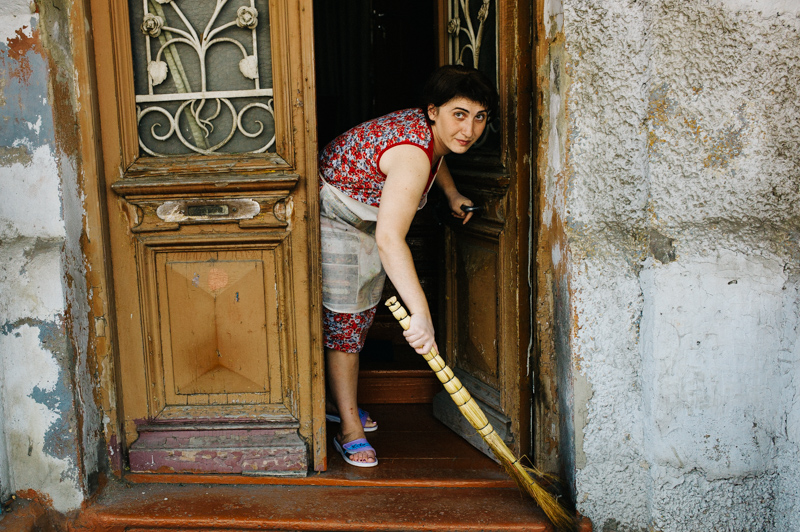 People's Reaction Score: 7
Tbilisi is more conservative and old-fashioned overall compared to most places, but it's also a friendly city. When it comes to cameras, many people aren't as used to being photographed by strangers or tourists so there's some confusion, but they find it more humorous than off-putting.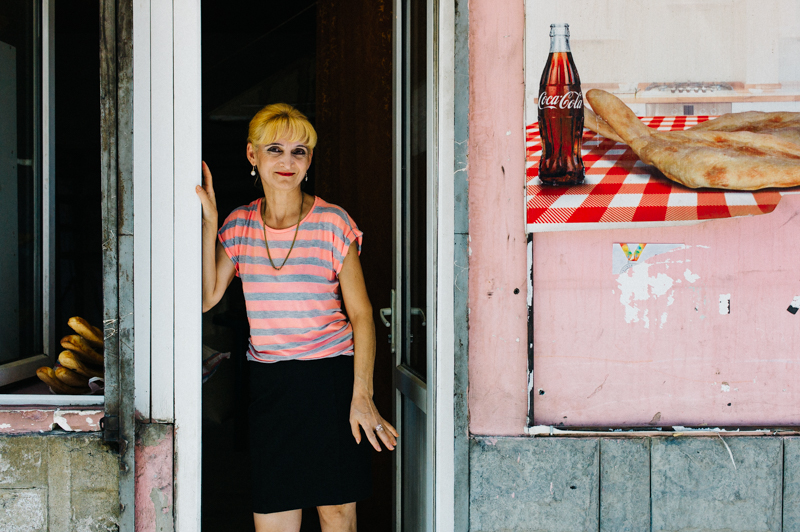 Outside of the markets, I've never had any negative reactions. As for the markets, many of the merchants aren't always the biggest fans of cameras, but just being respectful should be enough.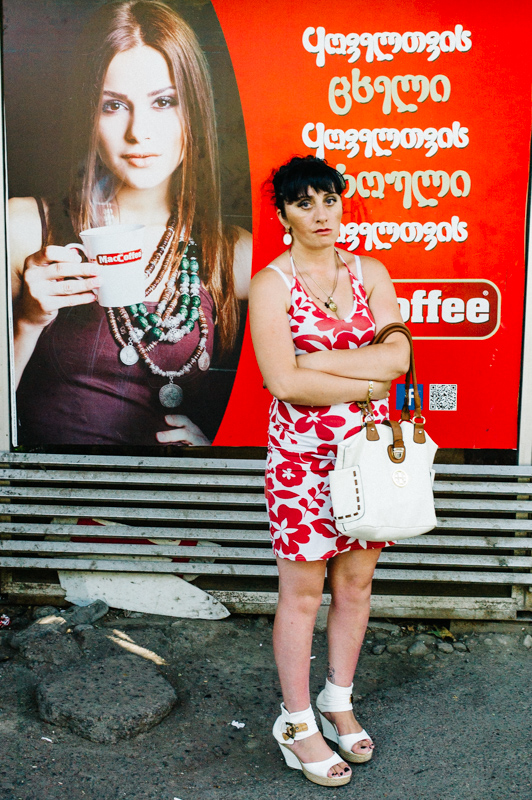 What To Do For a Street Photography Break?:
Taste some wine
Most people don't know this, but Georgia is currently recognized as the birthplace of wine. Nope, not Italy, but Georgia. The world's first cultivated grapevines and neolithic wine production, from over 8,000 years ago, were found in the South Caucasus of Georgia. 
Even more so recently, wine is extremely popular in Georgia, especially the semi sweet variety. If wine isn't your thing, though, they are also very proud of their rakiya and cognac.
Day Trip to the Mountains
Many people visit Georgia just for the mountains. The Caucasus Mountain ranges are some of the most beautiful you will find, with amazing views and scenery. There are also plenty of villages in the mountains of Georgia, which could make for some interesting photography too.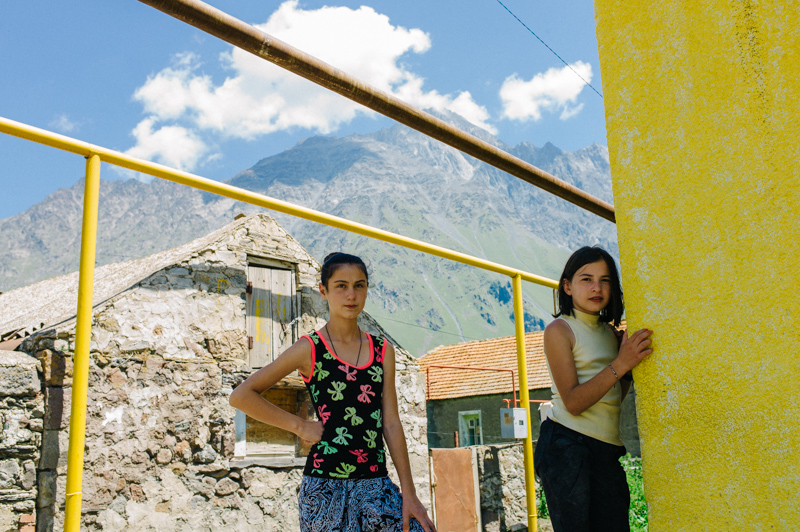 Street Tips:
Bring good shoes
Tbilisi is a city of cobblestone streets with a variety of stones, some more jagged than others. So make sure you have a quality pair of shoes or sandals with good soles. The metro in Tbilisi is extremely cheap, but not very useful or fast with only two lines.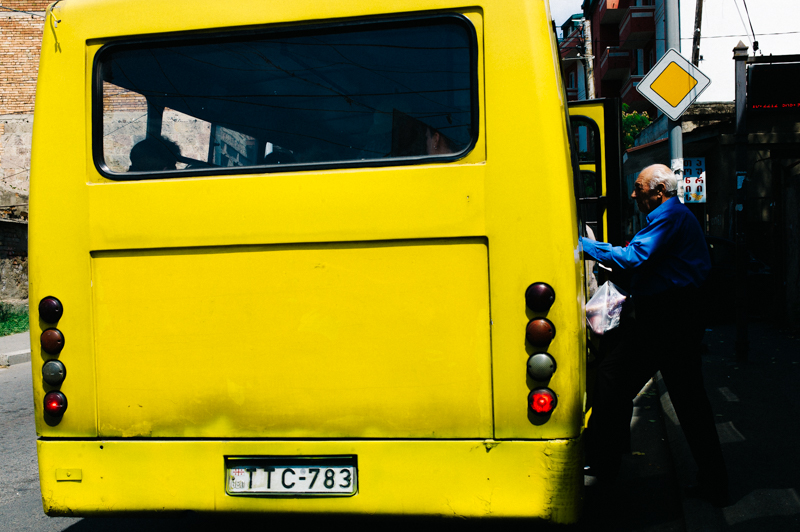 Save Money
As long as you're outside of the touristy spots of Old Town and Liberty Square, Tbilisi is a very inexpensive city. A bottle of water might cost 1.80 lari ($0.90) in Liberty Square, but walk a couple blocks away and it goes down to the normal price of 0.40 lari ($.20).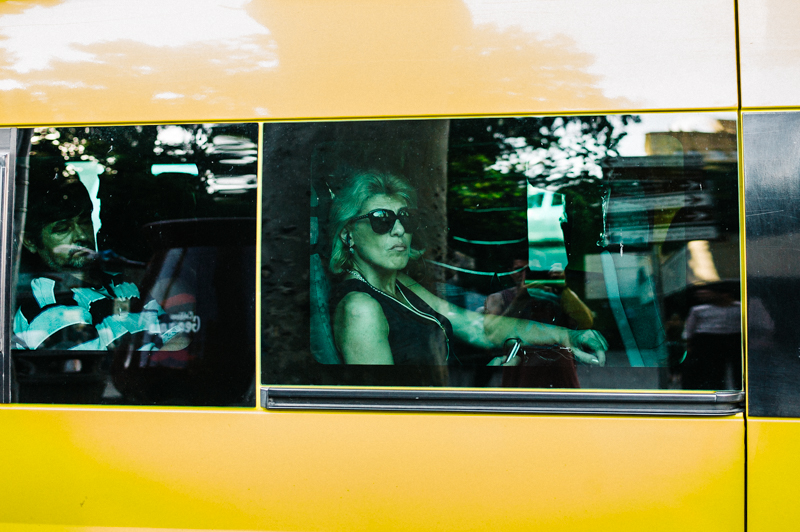 Get Lost
Tbilisi is not a huge city so you can get lost and find you're way back easily. So get lost in the cobblestone streets away from some of the busier areas.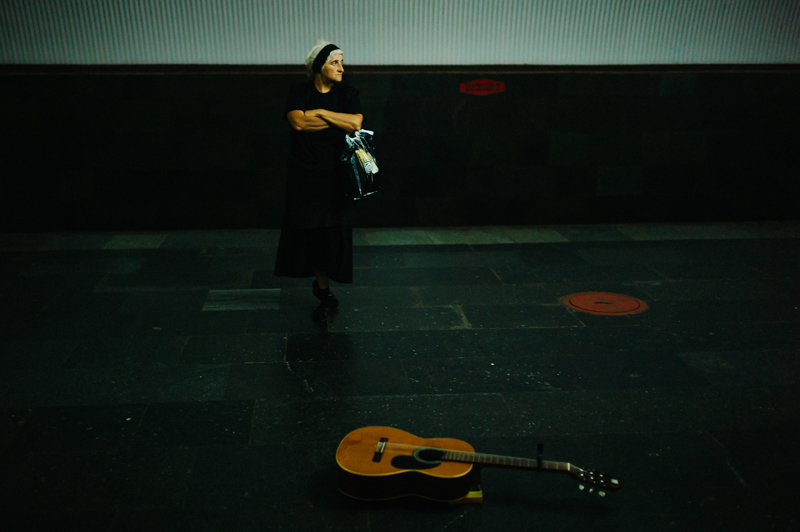 Inspiration:
For some more inspiration, you can look through "Georgian Spring," a photographic journal created by 10 Magnum Photographers' impressions of the country during the spring of 2009. And check out 33 of my photos from Tbilisi.
Conclusion:
I hope this Street Photography Guide to Tbilisi helps you get ready to photograph a city that goes under the radar, but has plenty to capture.  Tbilisi is a unique city due to its chaotic past of struggles and war, while also bringing diverse cultural, ethnic, and religious backgrounds. Combine this with the fact that not enough people put this on their travel or photography list, and you have the opportunity to capture an amazing city that most haven't. So grab your camera and discover all that Tbilisi has to offer for Street Photography.
If you still have any questions about shooting in Tbilisi, feel free to comment below or email me!
(I want to make these guides as valuable as possible for all of you so add any ideas on improvements, including addition requests, in the comment section!)