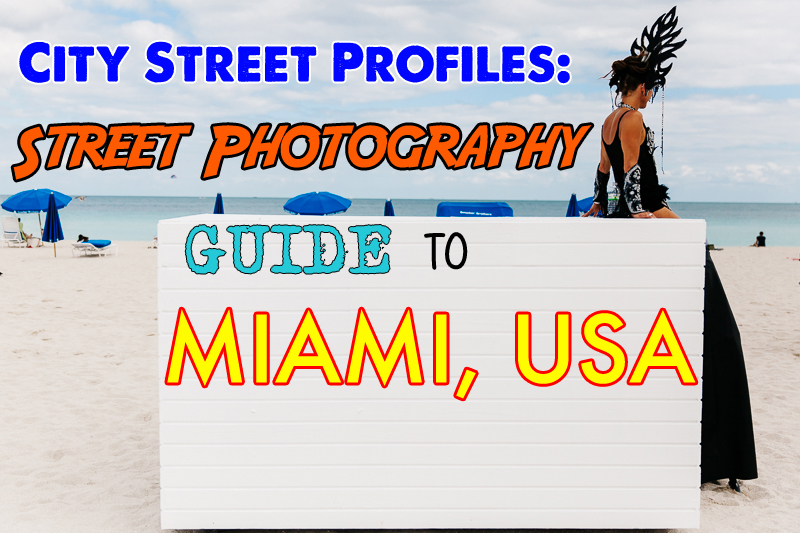 *City Street Profiles is a series of guides on shooting Street Photography in cities across the world. One of the biggest things I found lacking on the internet was Street Photography info for specific cities so you can be ready to shoot when traveling to a new city. Find the best spots to shoot, what to capture, safety concerns, street tips, and more for cities around the world.  (I have personally shot Street Photography in every city that I create a guide for)
Miami
Overview:
Miami is a city of sun, latin flavor, urban glamour, parties, crowded beaches and much more. A lot has changed in Miami over the last 30 years, as it has become a premier hot spot for the rich and famous, but there's more to it than that. Here's a Street Photography guide to help you capture the streets of Miami on your next visit. 
Map:

 Top 5 Street Spots:
1. Lincoln Road
This pedestrian only street in the heart of South Beach is the premier spot for people watching. The double wide walkway is lined with upscale retail stores, restaurants, cafes and bars. Here, you'll find a mix of locals and visitors from around the world walking the streets or taking a break at the outside tables.
I love the diverse mix of people here. It's why I chose to do a "Shooting Strangers" photo project here years ago. You can walk back and forth on the 10 main blocks of Lincoln Road or relax between the walkways and watch the people walking by in all directions. There's never a lack of activity here.
2. Ocean Drive
This is the Miami you probably think of if you don't live here. This 15 block street runs along the main beach access of South Beach on one side and the famous neon lit art deco buildings on the other. 
The art deco side consists of hotels, restaurants, bars and clubs, which helps make this the most touristy spot in Miami. This sidewalk is packed with outside tables, people walking and restaurant workers trying to get you to stop for a drink or bite to eat. The other side of the street is where I'd recommend to go for Street Photography, while the art deco side is best used for its backdrop.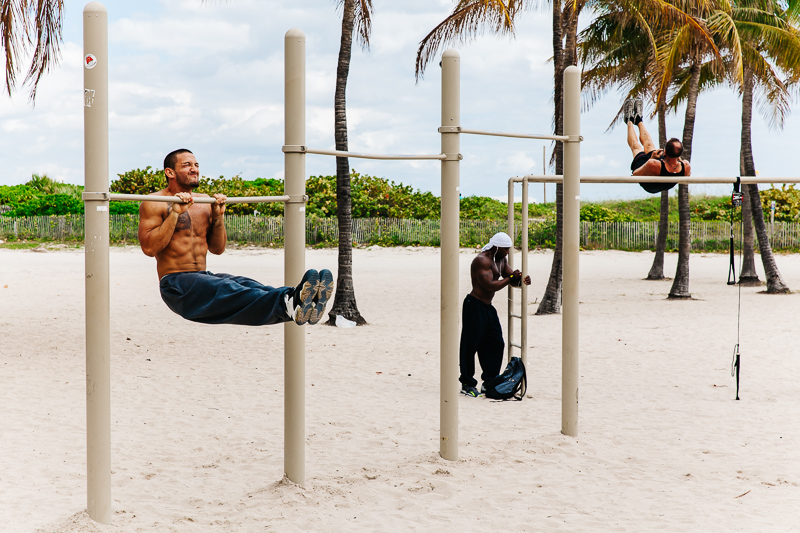 On the beach side, there's so much to capture. You have rollerbladers, bicyclists, Segways, and runners speeding by on the boardwalk. There's the beach volleyball courts and beach gym that attracts the regulars. And then of course there's the huge beach with all the sun bathers and bikinis that Miami is famous for. The beach here has a culture of its own.
3. Biscayne/Downtown
Biscayne Blvd is part of U.S Route 1, which runs from Key West up to Georgia. It's also a main street in Miami. Where Biscayne Blvd runs by Bayside Marketplace and Downtown Miami is a great place for Street Photography too. 
Bayside Marketplace is an entertainment complex on the bay front. It was also often featured on the famous crime drama TV series, Miami Vice. My favorite part for Street Photography here is by the outside stage where people of all ages come to dance to live music at all times of the day. You can see some colorful characters here.
Across Biscayne from Bayside, you have the heart of Downtown Miami. I wouldn't say Miami's downtown is special compared to other cities, since other areas of Miami attract more of the attention, but it's still a downtown and has plenty of people and streets to capture.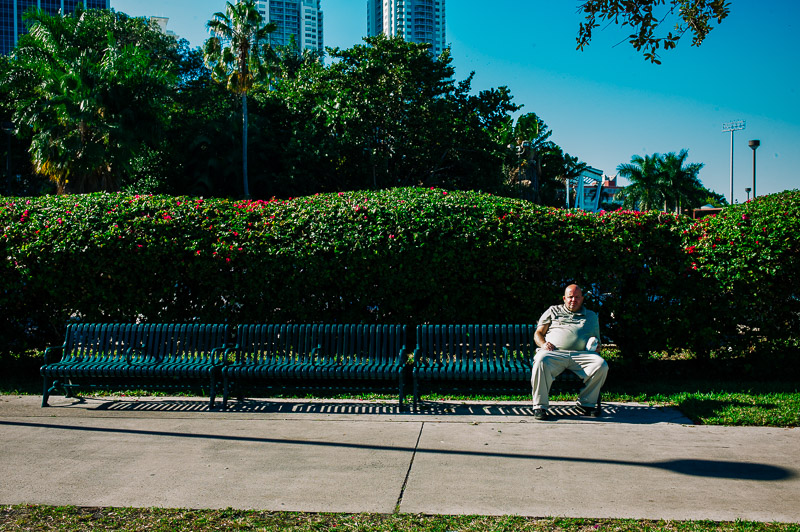 4. Calle Ocho
Calle Ocho is in the heart of Little Havana, the famous Cuban neighborhood of Miami. Walking these streets, you might feel like you're actually in another country. The latin flavor is in full force here.
Walk by the cigar and barber shops on every corner and stop at Maximo Gomez Domino Park to catch the old men playing some serious games of Domino. If you're looking to capture Miami's Cuban influence, this is the street to go to.
5. Wynwood
Wynwood is the home of the Art District and The Wynwood Walls. This fast growing neighborhood is also my favorite in Miami.
Wynwood has a different feeling than the rest of Miami. Instead of the glamorous hotels, clubs and beaches, you get graffiti covered walls, art galleries and hipster bars. If you want to capture the more artistic side of Miami, come here.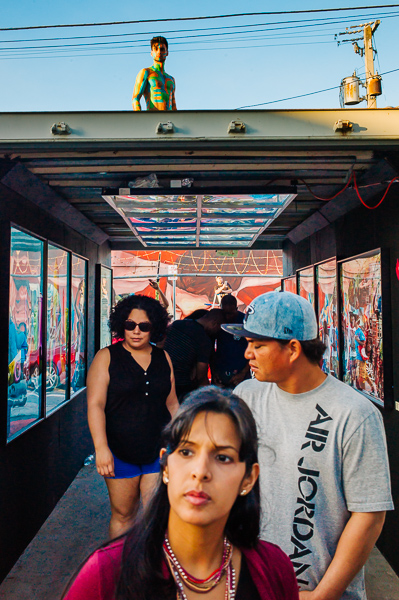 Top 5 Things to Capture in Miami:
1. Beach
This should be obvious. Miami is known for its beaches and for good reason. South Beach is what Miami is famous for, but you can go north from there and capture plenty of other beaches, each with their own vibe.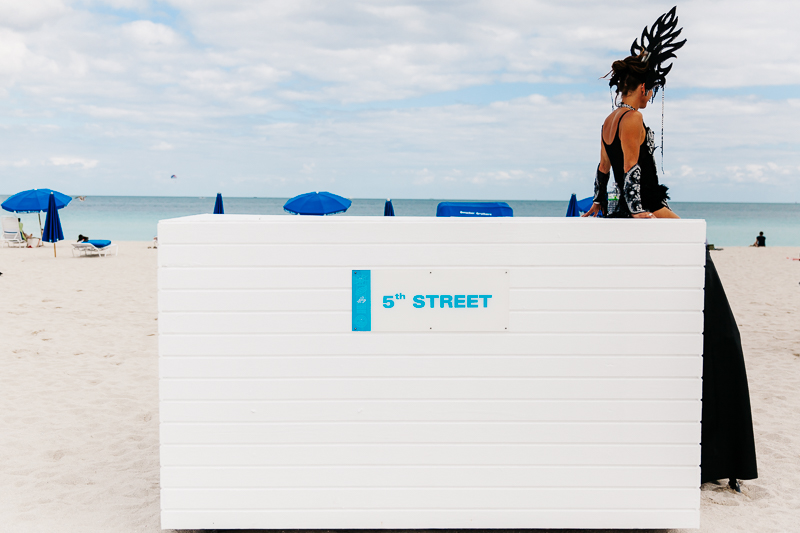 2. Sex 
Miami is one of the sexiest cities in the world. Sex, glamour, image and indulgence has become a big part of the city, especially around South Beach. This is showcased on the streets and beaches of Miami day and night.
3. Latin Influence
Honestly, Miami can feel more Latin than American. It's a diverse mix of latin cultures too. Cuban, Puerto Rican, Dominican, Venezuelan, Colombian, Brazilian, Argentinean and many others show their influence in Miami wherever you look. The food, art, style, music and people all add to Miami's latin experience.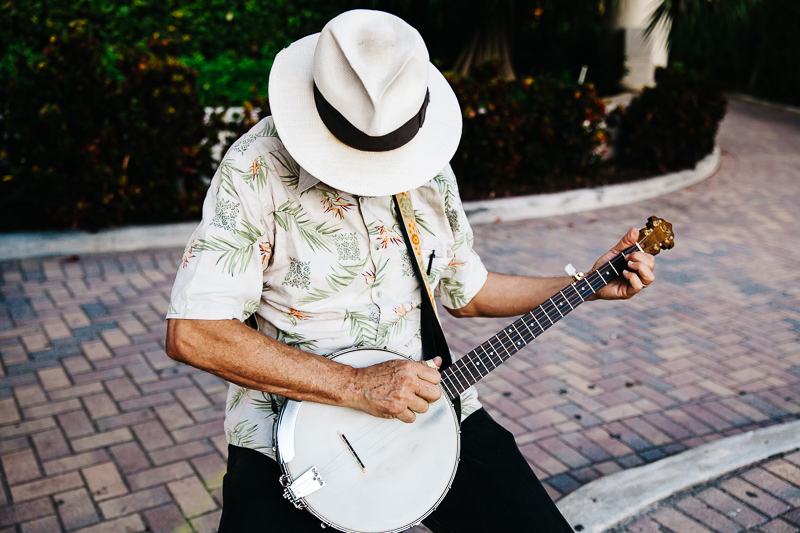 4. Graffiti
Colorful graffiti is big in Miami and Wynwood is the heart of that scene here. Every year during Art Basel Miami, the neighborhood's walls are used as a canvas for some of the best urban artists in the world. Graffiti artists don't stop after the event is over, though, so you can catch new work anytime of the year around The Wynwood Walls.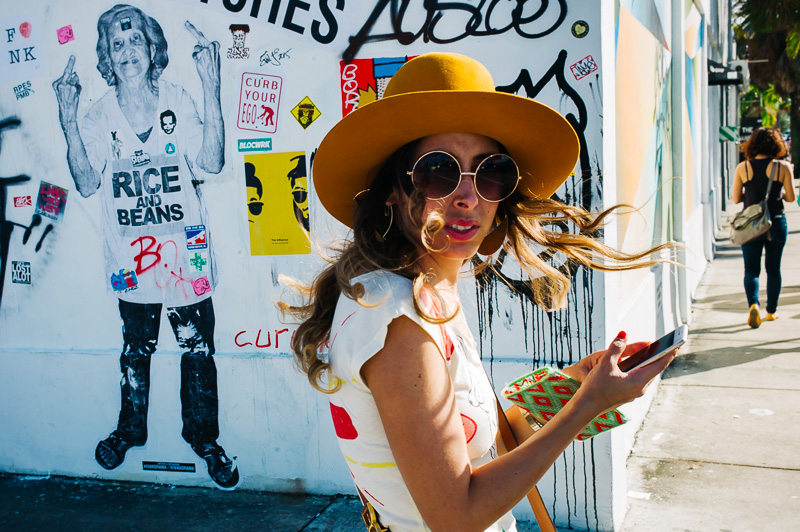 5. Color
Miami is a very colorful city. The latin fashion, neon lights, beach attire, art deco and Miami style all bring bright colors. The Miami sun can be used to bring these colors to life even more too.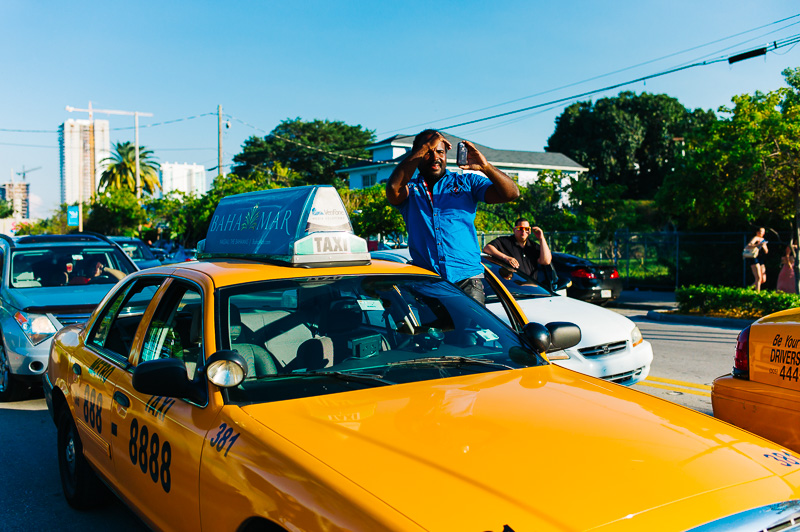 Street Safety Score: 7
*As always, no place is completely safe! So when I talk about safety, I'm speaking in general comparison to other places. Always take precaution, be smart, observe your surroundings and trust your instincts anywhere you go!
Like most cities, it all depends on where you go when it comes to safety. I find Miami Beach to be relatively safe and there are plenty of police around to help make sure Miami's prime tourist area stays protected. Once you go west across the bay, you can get into some more dangerous neighborhoods. The top streets I mentioned above are pretty safe, but you might not want to venture too far outside of these areas, especially in Wynwood and Little Havana.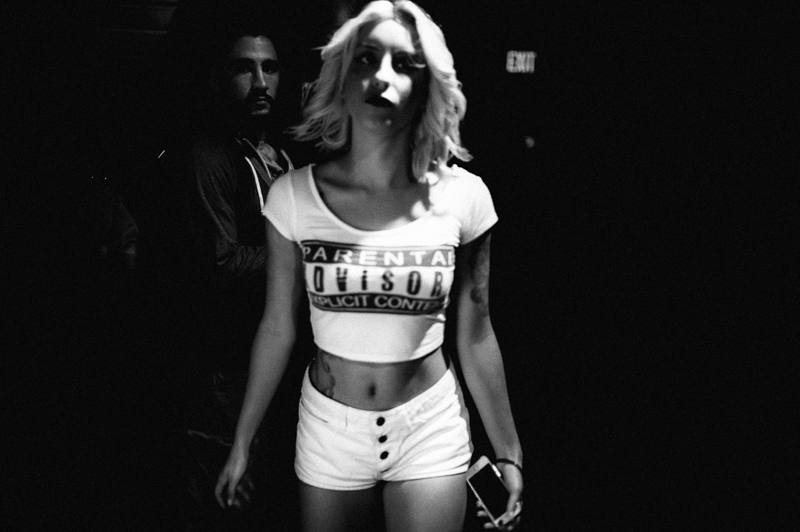 People's Reaction Score: 6
I've actually lived in Miami and find reactions to be worse here for Street Photography than most US cities. That doesn't mean it's always negative, it's just that I've found most people don't like their photo taken comparative to other cities in the US. Some can be rude about it, but most react self consciously. Image is very important in Miami after all. 
Don't let this deter you from shooting the streets here, though. Plenty of Street Photographers do. Just be ready for some reactions now and then.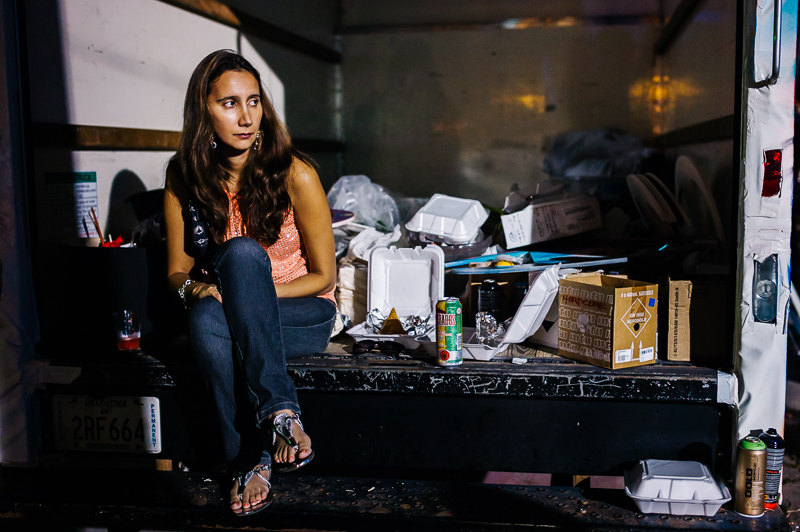 What To Do For a Street Photography Break?:
Soak up some sun
Take a break to lay in the sun for a few, get some Vitamin D and listen to the ocean (or the salsa music blaring on the stereo next to you). Walking by the ocean can be great for a break during a long day of shooting too.
Street Tips:
Bring shorts and flip-flops
Miami has the tropical heat and you're probably going to walk on sand at some point. Overheating with shoes full of sand doesn't make for comfortable Street Photography so dress accordingly.
Wear Sunscreen
That Miami sun will get you if you don't put on some protection.
Lower Your ISO and Bring a Neutral Density Filter
The sun is bright in Miami and if you're anywhere near the sand or white art deco buildings, it will only intensify this. So make sure your ISO is low enough that it's not overexposing everything. Also, if you want to shoot anything at a wider aperture, a neutral density filter can help make this much easier.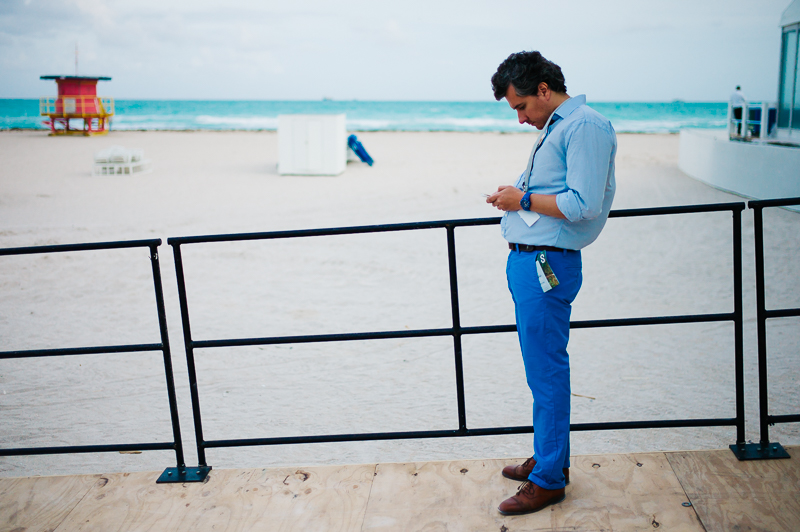 I hope this Street Photography Guide to Miami can help you get ready to photograph these hot and sexy streets. I want to make these guides as valuable as possible for all of you so please add any ideas on improvements or additions below in the comment section! And be sure to check out my other Street Photography Guides to cities around the world.
Also, if you've ever been to Miami before or shot the streets and life there, be sure to tell me about it below in the comments!